The expected favorites dominated, but a couple bottom seeds also impressed on Day One in Denver.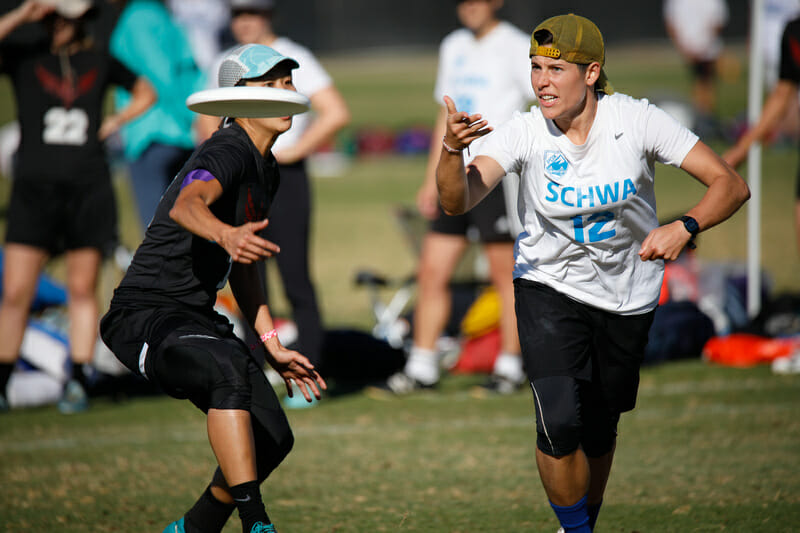 AURORA, CO – Were it not for the lightning delays that postponed prequarters early into the round, the first day of the Pro Elite Challenge went off without a hitch. The heat, altitude, and eventual wind couldn't prevent the 16 teams competing in the women's division from finishing out their pools and setting the stage for a dramatic Sunday. And while the temperature may have risen past 95 degrees as the day wore on, the standard of ultimate rose to match it.
Only one pool went according to seed by the end of Saturday, and there were plenty of surprise wins to keep the tournament on its toes. Before we get to the teams that left their mark on Saturday, here's a quick glance at the bracket for tomorrow: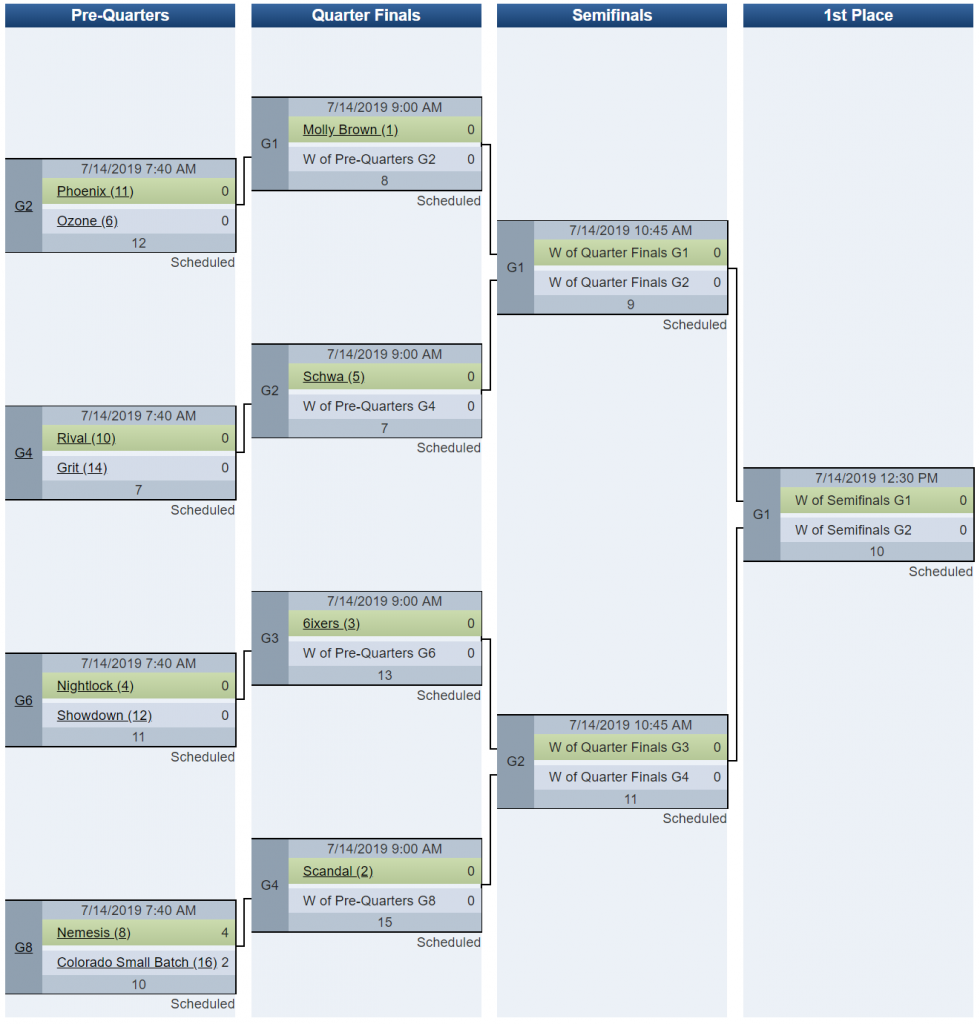 With prequarters still to be played, Sunday's games might start earlier than expected for many teams with dreams of making semis or even the final. This could put them at a major disadvantage when compared to the teams that clinched their pools and earned a buy into quarters. This isn't the first time that this tournament has had to pack on an extra game at the start of Day Two, but it does hold massive implications for teams going forward. But before we get too carried away looking forward, here are the major storylines coming out of Day One.
Bottom Seeds Make it to the Big Leagues
At the beginning of the season, we speculated that there was a chance we'd see some fresh faces at Nationals this year. It's early in the season, but we're getting a glimpse of who those teams might be, starting with Denver Small Batch and #17 Washington DC Grit.
Small Batch entered the weekend as the bottom seed in the tournament, and could very well have been playing at SFI if the cards had been dealt differently. The team had a middling Solstice performance and still is only a Select team this season. However, if Small Batch hadn't been chosen for PEC, we would have missed out on their emphatic upset of #21 Minneapolis Pop to end pool play.
Even though Pop's roster turnover had raised some red flags at the start of the season, you would have been hard-pressed to find someone who wouldn't claim Small Batch to be the underdogs. Don't tell that to the Denver women, though. Throughout the game, they played with a composure and tenacity that is uncommon in teams trying to play above their station. Fern Beetle Moorcroft, Kati Turner, Carolyn Vlach, and Lo Guerrin all stepped up in major ways for their team. Perhaps most importantly, Small Batch wasn't careless with the disc against Pop. They had shot themselves in the foot the game before against Nightlock, losing 13-2 against the Bay Area team, but cleaned up their game in time for their contest against Minneapolis. Being locals definitely helped. Where Pop looked worn out at altitude, Small Batch was focused and disciplined. Their backfield chemistry showed through especially, as there were multiple points where they worked the disc up the field through their handlers before picking off their cutters for the goal.
Grit's journey to the bracket started much sooner, as they earned a first game upset over #14 San Diego Wildfire on double game point to earn the only win they'd need to make it into prequarters. This was particularly impressive considering how large a comeback the win required. Midway through the first half, DC was down 5-1; then came a massive rally right before half to get back into contention. The players that brought them there — and ultimately earned them the win — deserve a ton of respect. Molly Barlow and Becca Arbacher were demons in the deep space, punishing almost every defender that San Diego threw at them. It helped that they were complemented by Elizabeth Pugh in the handler space. Her throws could not have been more dialed in. On so many points in the second half, Wildfire could do little more than look on as Pugh's throws hit her cutters in stride. Grit also has their zone defense to thank — San Diego couldn't solve that puzzle all game, and ended up simply tossing jump balls that frequently were gobbled up by DC defenders.
With impressive play from both Grit and Small Batch, they've positioned themselves to have a real shot at earning a bid to Nationals, assuming they can continue to play tight against top teams in the bracket tomorrow. It's a long season and there's plenty of time for these teams to improve — making the bracket at PEC might only be a start.
Schwa's Found a New Gear
Two bottom seeds earning their way to the bracket is surprising, but there was one more upset from today that may have trumped both of them. #8 Portland Schwa cleaned up against #7 San Francisco Nightlock in a game that was not as close as the 10-9 scoreline indicates. The Oregon women – without Shea Brennan and Ella Hansen — played at a pace that Nightlock could not contest for most of the first half, and took a commanding 7-3 lead that effectively sealed the game for them.
To hear coach Matt Melius frame it, Schwa's victory was a matter of three simple things: roster retention, tempo, and eschewing traditional 'handler/cutter' roles. "Our offense doesn't have the traditional roles that most teams assume. We ask everybody to do everything and it showed in this game [against Nightlock] in particular. If you look at how many points each player had on offense and defense, everyone got their moments on both the lines."
Pace was really what set Schwa apart. Nightlock was on the backfoot all game against Portland — and they weren't the only ones. Schwa had been practicing keeping the tempo of their game high and keeping the disc moving, which caught their entire pool off-guard. It's hard to express exactly how quickly they move the disc, except to say that the only other teams at the tournament that seemed to match their pace were #5 Molly Brown and #4 Scandal. Make of that as you will.
Schwa's success on day one truly was a team effort, but that does not take away from the standout performances of a few key players. Mariel Hammond is a legend, and played like one. Emily Flock, Madeleine Franz, and Eva Popp also deserve to be proud of their gameplay on Saturday. Finally, Laura Bitterman, who was easily the team's biggest offseason pickup, might have disrupted the tournament more than the lightning delay. She was everywhere on the field for Schwa, and was a large part of the reason why the team could play at such a fast pace.
This pool win is particularly sweet for Schwa, as historically they haven't performed well at PEC. Schwa had never won their pool, and often never made it to the bracket. Earning the bye into quarters is a well-deserved, and long-awaited reward.
Molly Brown and Scandal Largely Untested
While Schwa's win in Pool D might have been a bit of a surprise, no one should be shocked that Denver Molly Brown and Washington DC Scandal managed the same feat. The two tournament favorites took care of business on Saturday, and didn't stumble enough in any of their games for warning bells to go off.
Scandal's closest game came against #11 Raleigh Phoenix, as they started a little slow to begin their weekend; once both teams had settled, it was clear that DC had a little more firepower on their lines. Alex Ghesquiere's established lines had their way against Raleigh, especially when given the chance to attack full field. Of the new pieces on Scandal's roster, Austin Prucha seemed to fit in the most seamlessly, filling her role to perfection. It's clear that Caroline Normile and Robyn Fennig still have some growing pains to work out, but that's only because they soak up so many touches on their new team. Once they hit their groove, they'll be a deadly combination.
Molly Brown's new core also had a few chemistry issues, but not enough that it would have mattered in their pool play games. Even in their match against #15 Austin Showdown — a rivalry game of note — the home team took a comfortable lead that they would never relinquish. Most of the problems just involved the newer players trying to cut within Denver's system, and avoiding cutting in the same space. Luckily, their athleticism and general talent level more than made up for any wrinkles they were ironing out. Rena Kawabata, Ronnie Eder, and Stephanie Pritchard were welcome contributions to the Molly Brown offense. It's also worth calling out Bert Abbott, a player whose impact cannot be understated.
Both of these teams will be looking forward to the bracket, where we'll really see if they are likely to be closer to the division's absent top tier or the rest of the pack. Neither has yet to really be tested at the tournament.
Limited Roster Enough for 6ixers to Take Care of Business
Thanks to u24 Worlds and other previous engagements, there were a number of teams that came to PEC with shorter rosters — many brought only 20 players to the tournament.
#6 Toronto 6ixers were one such squad, missing many of their starting rotation players for the weekend. If that was a concern for them, they didn't show it. The Canadians marched through their competition, led by the unassailable Lauren Kimura, and cleaned out the toughest pool in the tournament. #10 Columbus Rival and #12 Atlanta Ozone threw everything they had against the 6ixers, to no avail. In both games, Toronto did not hold a size advantage, especially on offense, but they made up for it with speed and decisive cutting downfield.
The 6ixers will have a few questions to answer during bracket play, but after one day of pool play, they should be plenty happy with the results their short roster delivered.