Poland upsets Australia and the battle in Pool A continues!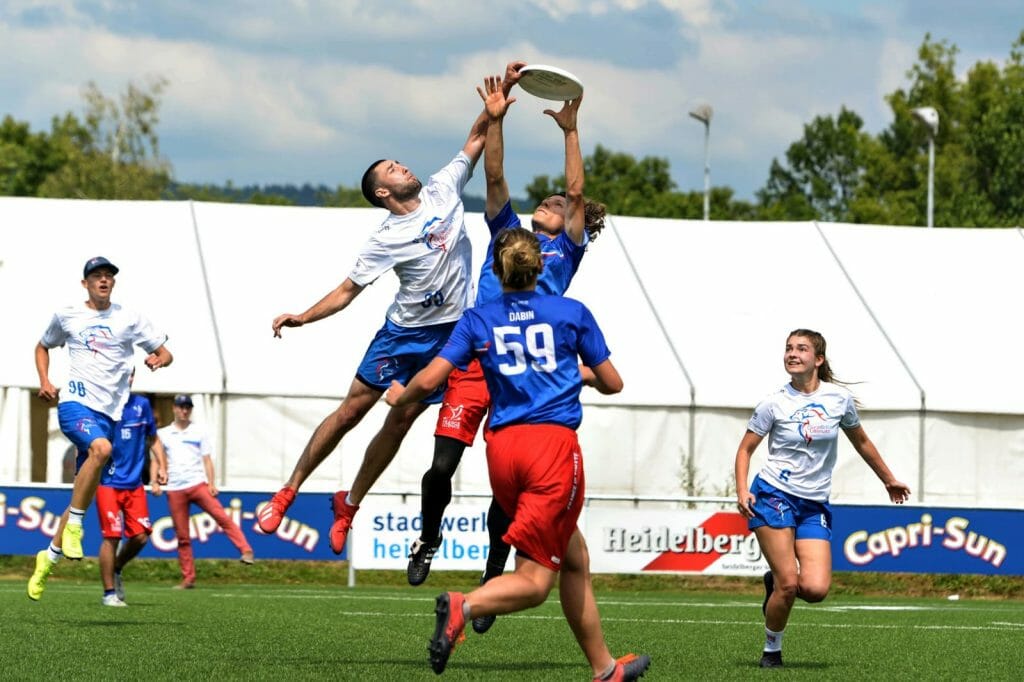 Ultiworld's coverage of the World U24 Championships is presented by VC Lookfly; all opinions are those of the author. Please support the brands that make Ultiworld possible and shop at VC Lookfly!
HEIDELBERG, GER —
Big upsets were the story of Monday's mixed action. Poland got a win against Australia and in the pool of death Latvia made things very interesting by beating the Netherlands. USA, meanwhile, keeps on cruising.
Pool A – Pool of death continues to excite
In the game that seemed to be decisive for who will advance to power pools in Pool A, France dominated Great Britain but Latvia turned everything upside down by beating the Netherlands. Both games finished at 15-8.
Great Britain was very fired up for the game against France on the live streamed turf field. They cheered all their points in the opening phase of the match but could not keep up this kind of intensity over the whole game. France scored two breaks to pull away before half time and never looked back to win 15-8. France's defense was just too dominant and converted their turns thanks to some hammers to the endzone by Corentin Gréau and their female contributors like Alice Jacquin. GB's last shimmer of hope in this game was as callahan goal to make it 11-7 that got called back. With this loss, GB are no longer in contention for the power pools.
At the same time, Latvia managed to score the biggest upset so far in mixed competition. Latvia managed to keep the female players from the Netherlands off the score sheet and had their own super star Arvīds Orlovskis racked up five assists. Their spectacular first half was helped by an Ēriks Podgurskis callahan to make it 7-4. Latvia followed up with another break to make it 8-4. The second half saw fewer big runs from the Latvians, but their offense stayed perfect and a few more breaks extended their final lead to 15-8.
USA's coach, Mike MacKenzie, who witnessed parts of the upset praised Latvia's ability to keep possession. Regarding his own team, MacKenzie said that his team tries to focus on what they need to do bring to every game and the adjustments they need to make to keep winning.
Team USA can go relaxed into their two games tomorrow against the Netherlands and GB while Latvia's games against France and GB could turn the whole group on its head. Right now, The Netherlands has wins against France and GB, but a loss against Latvia. Assuming that the USA win out, if Latvia win against GB and beat or even keep it close with France (a double game point loss would suffice) then Latvia and the Netherlands will advance to power pools. If France can win against Latvia by at least two goals, then France move on to power pools and the Netherlands will have to hope for a Latvian loss against GB, who no longer has anything to play for, if they want to advance.12 Things are still in flux and this continues to be the toughest pool of the division and maybe the tournament.
Pool B – Favorites holding strong
In Pool B, the favorites keep on rolling. Japan and Colombia both beat Hong Kong. Sweden beat Mexico 15-5. Almost everybody on the Swedish team shows up on the score sheet but stats leader Jonatan Angergård built on his lead by adding four more assists. On Tuesday both unbeaten teams Japan and Sweden will square off to decide who will carry another victory into power pools.
Pool C – Top three emerge
China played two games on Monday but only managed to score 3 points. Pool favorite Canada beat China 15-1 and in the afternoon Germany won 15-2. After this game Germany's coach Philipp Hartmann lead a spontaneous training session and told me that his team has to find each other again after a month without any practices to get on the same page. He is looking forward to Tuesday with competitive games against Canada and the Czech team.
In Pool C all three teams that will advance to power pools seem to be set after Czech Republic beat Italy 15-8. Italy kept up early until Czech Republic scored two breaks in a row to make it 6-4. Italy's most dominant player Enea De Cristofaro could not connect on deep shots and seemed frustrated at times. Michal Marek stood out from a Czech team that is very balanced and knows how to find their female team members. In the end the Czech team won in convincing fashion, 14-7. Tomorrow's game between Germany and Czech Republic will show if one of these teams might be able to challenge for a spot in semifinals.
Pool D – Singapore and Poland making waves
The biggest surprise over two days is Singapore who have not been beaten yet. They have beaten Poland and Spain, two teams that are challenging for a spot in power pools. Singapore's win on Sunday against Poland got a lot more weight by Poland beating Australia in a hard fought battle 13-11. After a little too much body contact for the taste of both sides a spirit time out lead to a cleaner contest in which Poland pulled away after half time to make it 11-6. According to Australia's Coach Max Halden his team found no way to stop Poland's strong handlers until the very end of the game where his team rallied to score four points in a row but lost in the end 13-11. Halden said that the game delay of over one hour due to ambulances not being present at the fields was difficult to deal with for his team.
Group D has six games on Tuesday. The most important ones are Spain against Poland at 11:00 and the showdown between Singapore and Australia.
---
Editor's note: This piece originally stated that France would advance to power pools no matter what if they beat Latvia. This was due to a miscalculation by the editor and has now been corrected. France did, in fact, beat Latvia by one point, but this was not enough for them to advance to power pools as they were tied with the Netherlands on point differential and then lost to them on the head-to-head on the next tiebreaker. ↩

Technically, if France beats Latvia by 12 points then the Netherlands could also get into power pools even if Latvia beats GB ↩