The favorites were also the victors.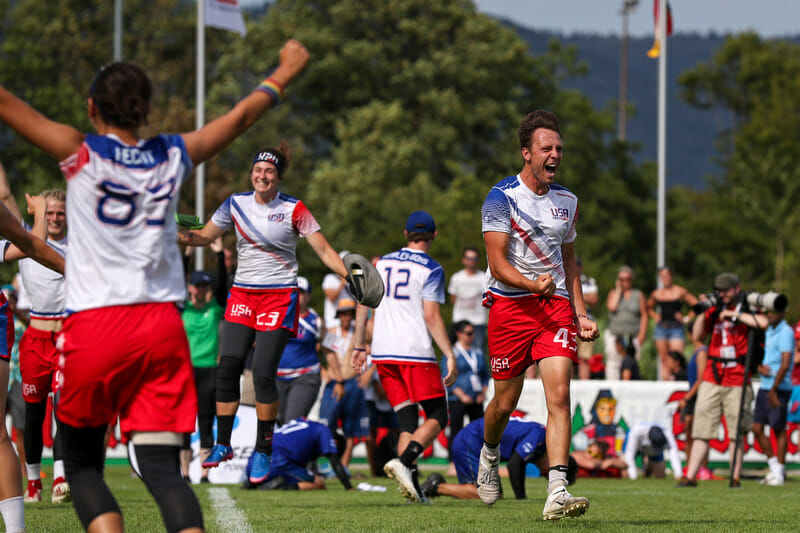 Ultiworld's coverage of the World U24 Championships is presented by VC Lookfly; all opinions are those of the author. Please support the brands that make Ultiworld possible and shop at VC Lookfly!
HEIDELBERG, GER — The US women's, men's, and mixed teams all claimed gold medals at the U24 World Championships this past weekend. Each entered the tournament as the no. 1 seed and favorite in their respective divisions, although challengers emerged for each contingent. Their success keeps the United States' record at U24's1 nearly spotless, with 15 gold medals and one silver total at four events.
The mixed team, which has historically been the most dominant, faced the toughest opposition in the form of Japan. They trailed at halftime by a goal, and Japan extended that lead to 9-7 to begin the second half. Risa Oe, Japan's leading scorer at the tournament, notched a pair of goals in the first half and led her team with three in the final. But the Americans won a few long difficult points and recovered to take control in the second half on their way to a 15-12 victory. The height and experience of Joe Freund and Joe White, who each scored four points, helped Team USA emerge atop the division.
The men's outfit defeated Canada by an identical score line of 15-12, but the game's flow was quite different. While USA did trail 4-3, they turned the game around in a hasty fashion, and stayed in front once they did. John Randolph tallied three goals while both Mac Hecht and Henry Fisher added three assists. The Canadian top end performed admirably as the squad was anchored by Cole Keffer and his veteran teammates, but they were ultimately overwhelmed by the depth of the US side.
The strongest performance came from the US women's team, who topped Japan 15-9. Their powerful defense and quick strike offense helped them establish an impressive first half lead, carrying a five goal advantage into the break. Dena Elimelech reached the end zone twice in the first half, and three times in the match, while making some notable defensive plays. Japan leveled their performance in the early parts of the second half, but their D-line offense could not get moving, rendering them unable to fight their way back into the game. Momoka Hiroshima scored a game high four times for Japan in the losing effort. The Americans put their foot in the gas and pulled away with a 4-1 run to close the game.
U24 Worlds Podiums!

Men's

???
???
???

Mixed

???
???
???

Women's

???
???
???

— Ultiworld (@Ultiworld) July 20, 2019
We'll have further coverage of the U24 World Championships soon!
---
formerly U23's, which the US began attending in 2013 ↩