Qualifiers in France, only two will go to the dance!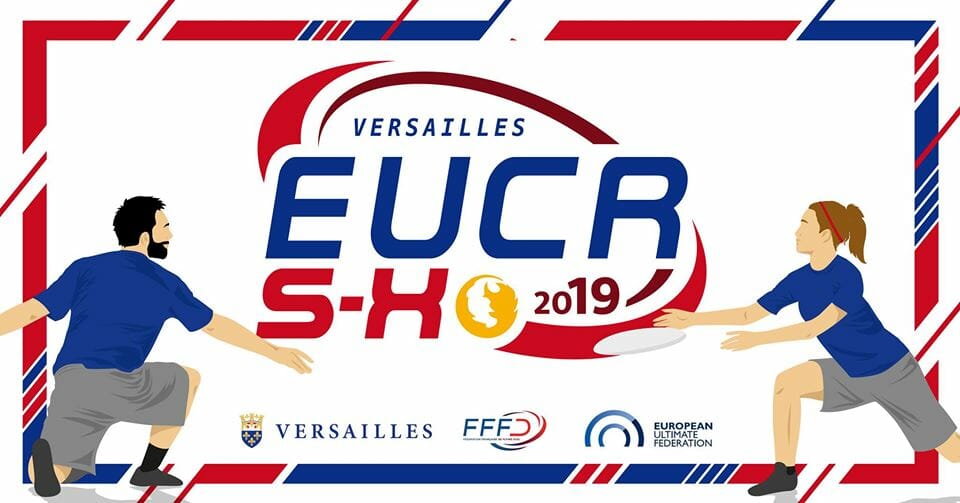 VERSAILLES, FRANCE – This weekend sees the qualifying tournament for the European South Region to go to the European Ultimate Club Finals (EUCF) in Carole, Italy which will conclude the 2019 club season September 27-29. The EUCF will feature all three divisions, though this weekend the EUCR-S-X will feature only the teams hoping to qualify in the mixed division.
The tournament will be hosted in Versailles, just outside of the French capital. Most of Europe, including Paris and surrounds has been hit with an intense heat wave this week, climaxing Thursday with temperatures of 42ºC. Thankfully, the rains came and cooled the French skies only 24 hrs prior to the start of the tournament. The forecast calls for a wet and rainy Saturday, and Sunday will look to shine down through clouds, while temperatures look to remain below 30º.
Format
Nine teams will compete for only two spots to the EUCF. The competing clubs hail from four nations: France, Spain, Italy, and Portugal. The teams start in three pools of three. The weekend will finish with a round robin between the top three teams at the tournament. The top two teams of that final power pool will advance to the EUCF. In order to get into that power pool, teams have to win a "qualifier" game. In each qualifier game a pool winner will play the winner of a cross-over game. Each cross-over game consists of a team finishing second in a pool playing against a team that finished third in another pool. It is, therefore, advantageous to win your pool so you can avoid the cross-over game. The three qualifiers for the final power pool are as follows:
1A will face the winner of 2C vs. 3B
1B will face the winner of 2A vs. 3C
1C will face the winner of 2B vs. 3A
These are the initial pools:
| Pool A | Pool B | Pool C |
| --- | --- | --- |
| Disc'Over Lisboa | Sharks | Discterics |
| Ah Ouh PUC | CUSBologna Mixed | Sesquidistus |
| Ultimate Bergamo | Tsunamixte | Monkey |
France – 4 teams
Sesquidistus – Strausbourg (4)
This team has seen great success in recent history, and are now nationally recognized as France's best Mixed club. They placed second at French nationals this year to a Parisian team made up of Iznogood and Yaka players, but those players will all play their EUCR in the single gendered divisions later this summer. Many of the Sesquidistus stalwarts were featured on the French National team that recently featured in the EUC final, where they fell to Great Britain on double game point. This team is well drilled, and run a smooth, whole team operation. Celine Antoine will be a defensive menace to opposing match ups as she possesses the potential to strike with throws, deep cuts and goal-takes on the turn. Though seeded fourth, Sesquidistus are favored in the minds of many to come out as best team when all is said and done this weekend. The low seed comes from the fact that they skipped out on the European series last year after a strenuous WUCC campaign in Cincinnati.
Ah Ouh PUC Coed – Paris (5)
The Parisiens will have the shortest commute, and will sleep in the comfort of their own homes with hopes of using 'home turf' to their advantage for qualification. This team also competes separately in the men's and women's divisions, and both finish strong perennially at the French Championships and their mixed team placed third this year just below Sesquidistus. They have a bevy of seasoned veterans, and their women, will likely present the stronger half of their roster. Haude Hermand will play general behind the disc as captain for her club, and will show her great distributing and deep throwing ability. Ah Ouh PUC stand a strong chance to make the final power pool and will need to will their way into and hopefully through the top power pool by winning some tough Sunday games.
Monkey Ultimate – Grenoble (8)
Monkey hail from Grenoble, a town at the foot of Mount Rachais in the East, their club hosts one of the best boutique tournaments in Europe in Le Bourg d'Oisains known as BO (or Monkey Foo) and have built a strong club in a small town. Strong as they may be in the French competition they'll have their work cut out for themselves if they're to find their way out of the bottom pool. Pierre Gruau brings ankle breaking speed and agility that he showed off playing for France Mixed in Gyor, but will need to find ways to get his whole team stepping up to his level.
Tsunamixte – Namours (9)
In the deep south suburbs of Paris, the town of Namours brings a cyclone of youth and athleticism to the EUCR. This will not likely be enough to qualify, as it's likely they're in it because of proximity, and to be able to garner more high level experience at any chance they can get. Coming in as the bottom seed, they'll hope their athletic sisters Daphne and Jasmine Messui will be able to steal a win or two, and potentially escape the bottom pool.
Spain – 2 teams
Ultimate Sharks – Barcelona (2)
Sharks are here to prove that they can swim with the big fish. They've developed their club from a high school program, and have advanced significantly with that in mind. After winning Division 2 Nationals in 2018, they stormed into the top Spanish division to take the bronze this year. As with most Spanish teams, they are still finding their stride on grass as they prefer to play on the sand for the most part. Isabel Gutierrez has represented the EuroStars  and has been a part of the Spanish national team since Beach Worlds 2017 in Royan. Guiterrez also earned herself a silver medal at EBUC this year. She'll hope her elite experience can help the whole team transfer their prowess to grass and prove that the Spanish clubs belong in the elite conversation.
Disctèrics Ultimate – Girona (3)
Hailing from the Mediterranean just South of the French border, and North of Barcelona, Discterics Ultimate take in a generous seed to the qualifier. Holding seed, would be tough in the sense that they would miss qualifying by one spot, but in reality, would likely be an overachievement for the squad. With only 17 rostered to play, they have the smallest team, and will likely need a tactically spectacular showing from their captains Irene Taberner and Isaac Cuervas Sague if they are to prove the doubters wrong and hold or beat seed.
Italy – 2 teams
CUSB Mixed – Bologna (5)
Bologna has been one of Europe's hottest ultimate cities for the past five years, and have seen huge success on the big stage in both men's, and women's with the likes of La Fotta getting 9th at WUCC last year and Shout winning the EUCF. Because of this focus on the single gendered divisions, the mixed team has fallen short on the European stage. This incarnation is no different. It is quite impressive to see the ubiquitous nature of this club representing at every possible tournament. Davide Morri has been the cornerstone of the club, and explains that they remain proud to represent the spot they claimed last year, but that this club will showcase the up and coming talent of the tagliatelle eating Bolognese. Angelica Sarti and Davide Greco will steer the ship, but this young team will need to remain spry, limber, and lightning fast all weekend long and hope they can find the mettle to make the big plays when the pressure is on. Holding seed for the 'regazzi' would likely give them some pride to take home to Nonno Morri.
Ultimate Bergamo – Bergamo (7)
The squad that gets overlooked in Italy because of the strength of Bologna have grown substantially since everyone got #leccoed in 2014. Five years later, and just down the road from Como, these Italians will be looking to turn some heads, and will have their hands full. Beatrice Sisana has been representing on the Italian Women's side this season and beyond, and will need to instill the confidence and fire from the national program as she takes on Coach, Captain and player roles for the side. We'll also see David Barzasi cleat up for Bergamo who we last saw flying through the Heidelberg skies as he got a highlight endzone D on the stream when Italy Men beat Australia in pool play at WU24s earlier this month.
Portugal – 1 team
Disc'over Lisboa – Lisbon (1)
Last but not least, the sole Portuguese side come from the capital, and bring the number 1 seed to defend. They'll need to be sharp to win it all, but will be expected in the final power pool, and will fight tooth and nail to ensure their on the right side of the cut. Also a proficient beach club, Disc'over Lisboa have made the leap, and played some big tournaments on grass, none bigger than last year's EUCF. Having qualified and performed well last year, they'll have qualifying expectations, and deservedly so. Ricardo Patrao doesn't seem to be bothered weather he is playing on sand or grass as he gets constant touches, and can stay behind the disc for insurance, or bust down field to present threats. Both of these generous offerings still pale to that of which he can offer with disc in hand and his throwing range is off the charts when he's feeling the groove.