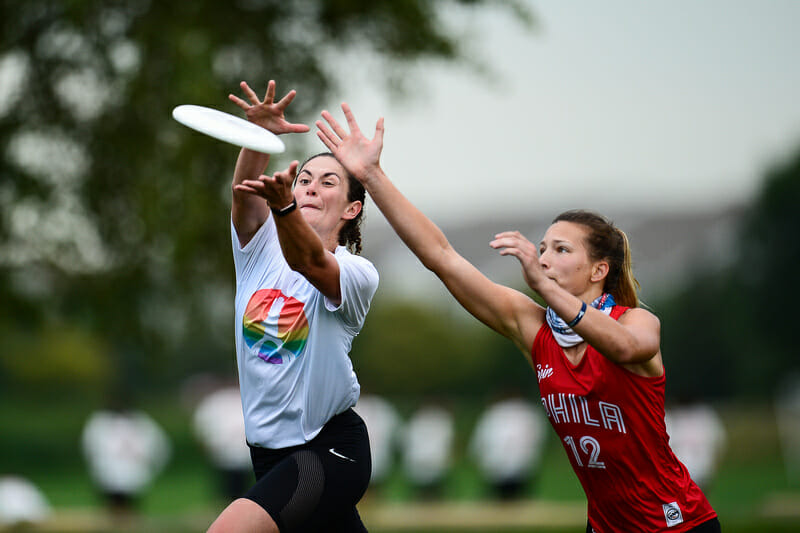 Ultiworld's reporting on the Club Mixed division is presented by Universe Point cleats. All opinions are those of the authors. Please support the brands that make Ultiworld possible and shop at Universe Point!
BLAINE, Minn. — The second day of the US Open started early, with all teams still in the bracket playing a morning quarterfinals game. The Mixed Division semifinals didn't start until 5:30 PM. Despite the long break, and though lightning delayed the first game for over an hour (and pushed the other game back), the matchups maintained high energy and a crisp pace. Here's how the elimination bracket played out.
Quarterfinals Recaps
Another elimination round started off early Saturday morning. With the highest stakes yet, teams either sharpened up and straightened out, or succumbed to the pressure. It was a wild ride, with upsets and surprises across the board.
Snake Country 15-9 Ellipsis
What can you possibly do to stop Boston Snake Country when everything is clicking? The east coast team, who looked a little disorganized at times on Friday, pulled it all together to win against Melbourne Ellipsis 15-9 in quarters. Ellipsis came out lacking the explosiveness and precision that made them stand out Friday, run down by their short roster. "Across the roster, almost everyone had one mistake – and those mistakes added up," said captain Georgia Egan-Griffiths. "We came in a little unfocused, and just didn't adjust in time." But talent was still abundant on the Melbourne team. Rosie Dawson had a huge defensive game, denying her match-ups at every cut, and Oliver Loughnan stood out for creating consistent opportunities on offense.
On the Snake side of things, it was like a new defense came out onto the field today. Led by huge plays by captain Davis Whitehead and expert containment of Ellipsis' Cat Phillips by Chelsea Murphy, they pressured Ellipsis into errors and throwaways. When asked for some perspective on the game, Snakes' official spokesman Jake Herman just went on about the different types of noodle dishes he was going to order at lunch.
Thankfully, mixed veteran Kirsten Lundquist was there to step in and talk sense: "Since we're a team that doesn't practice much, we have been really focused on developing chemistry in this tournament, and our intensity and focus came together in this game."
Mischief 15-10 AMP
In the biggest upset of the day, San Francisco Mischief took the win over Philadelphia AMP 15-10. Last year's national champions went down early in a game of runs. AMP answered Mischief's explosive first few points with a run of their own, but Mischief maintained the lead and took half by one. And after half, Mischief found their offensive flow again and ran away with the game. Sean Mott didn't have the heavy impact expected of him, though Ryan Flamberg stepped up on defense. AMP coach Patrick Sherlock came away from the game with a deep respect for the way Mischief managed equity on the field and noted their effort to trust every player on the field.
And in the end, the story was about what Mischief did right. Lexi Zalk, this year's big new pickup for Mischief, claimed this was a pivotal change of pace for the San Francisco team. "Mischief has struggled to adjust midgame all season but managed to do that this game," she said. "This was indicative of what we can do as a team when we play with intensity and focus on full team defense." Patricia Anderson also said that their focus on mental toughness kept Mischief positive throughout the ups and downs, naming Jacob Smith as a player who contributed heavily to creating intensity on defense and buoying the team with huge offensive saves.
Drag'n Thrust 15-11 Space Heater
The first half of the Drag'N/Space game was hotly contested and leaned heavily on stars from both teams. Minneapolis' Caleb Denecour and Becca Ludford frequently connected for goals. For Space Heater, Georgia Bosscher and Jenny Fey did a lot of work on offense, while Alan Kolick anchored the D line. After Drag'n scored to make the game 7-7, they turned the tide with a strategic time out call and a break for half.
Drag'n came out of half and took command of the game. Captain Brett Sullivan said that, while Drag'n didn't make any specific strategic adjustments during half, they "knew that the team that brought more energy after half could set the tone and win the game." After a Drag'n hold and break, the score was 10-7 and the damage was done. Drag'n held onto their lead for the rest of the game.
Coach John Groess noted that Space Heater had strong players on their team, and that Drag'n wanted to counteract that by utilizing their whole roster. Players that had only played a few points came out ready and won their match-ups with fresh legs. He also gave a shout out to pick ups Becca Ludford and Claire Thallon. "When you pick up 'rookies' with so much experience, they pick up things right away," he said. Another shout out went out to Leo Sovell-Ferrnandez, a 19-year old playing "well beyond his years."
Mixtape 15-10 BFG
These two Seattle teams have had a strong rivalry since the formation of BFG and always bring out intensity and high energy in one another. They traded the first few points, with both teams generating turns with their physical defense but neither managing to convert. It took a defensive adjustment for Mixtape to break away: Mixtape turned the tide at the end of the first half by ratcheting up the pressure on their marks. This whole tournament, BFG has been relying heavily on their around throws to create movement. When Mixtape focused on denying them, BFG's offense started to make errors on the upfield throws.
"Kat Songer and Dominic Cavalero stepped up to control the pace as handlers, and we also were able to us our height to our advantage in this game." said Mike Brisbois, new addition to the Mixtape roster. Nikki Bruce played an important role in opening up space with her relentless cutting, and Emily Smith-Wilson and Jen Cogburn racked up the scores.
Semifinals Recap



Heading into the afternoon, four teams remained from around the US, all with entirely different play styles. Both games were a repeat of pool play match-ups. The early semifinals were disrupted by a lightning delay, perhaps a response by the spirit gods to a questionable foul call. But the weather didn't dampen the excitement or the energy, even if it did keep everyone up past their bedtime.
Mischief Offensive Woes Sink Them Against Mixtape
The first semifinal started off at a rapid pace — maybe too fast for its own good. After a quick Mischief hold, the second point had a rapid, uncontrolled feel. A marathon of turns, complete with a time out, eventually ended with a Mixtape hold. That point set the tone for an athletic and unpredictable game.
At 3-2 Mixtape with sunny skies overhead, the PA announcer announced a lightning delay that ultimately lasted over an hour.
No one likes a weather delay, but the timing of this thunderstorm was especially challenging to the two teams. A long day already (8:30 AM quarterfinal, 5:30 PM semifinal) and a brutal first few points that included a PMF issued to Mixtape's Bryson Fox after a collision with his defender while catching an in-cut made returning from the break challenging.
"We came out a bit flat, but once we got broken, we realized we needed to up the intensity," said Mixtape's Dominic Cavalero. "We know how to hype each other up."
They may have felt sluggish after the delay, but to the outside, they looked energetic and fast paced. Kathryn Songer was key in controlling the pace of the offense, and Mixtape also leaned heavily on their tall players. Both Zach Sabin and Evan Klein were excellent again as deep cutters and made a series of scores that added to the hype as much as they did to the scoreboard.
Mischief had their best moments when their women cutters controlled the downfield space. Lexi Zalk really stepped up, creating opportunities on both the offense and defense lines. But she wasn't the only standout: Gina Schumacher and Connie Chan were huge assets in the midfield. Angela Wei stood out as a deep defender. Ben Feng also had a strong game with some incredible skys and tricky assists.
In pool play, Mixtape took the game 12-11. But in this rematch, they had their superstars back. Adding back Jen Cogburn and Kieran Kelly made a big difference in this game, and the final 14-10 score reflected the amount for impact they have for the team.
Drag'N Defense Carries Them To Win Over Snake Country
Snake Country and Drag'n Thrust played each other for the second time in the tournament during the late semifinal. Due to the lightning delay, the game didn't start until 9:30 PM. Both teams had to dig into their reservoirs of mental toughness.
Snake Country had the early edge: Drag'n Thrust had a few unforced throwing errors that allowed Boston to earn two breaks.
But Drag'n Thrust tightened up their offense and, after the first few points, went on a four point run that would put them ahead for the rest of the game. They relied heavily on Kat Ritzman to control the pace of the offense. Erica Baken added another good game to her standout presence at this tournament, with a notable hand block early in the first half. Caleb Denecour and Brian Schoenrock showed off their offensive dominance, and Blake Trantina put on heavy defensive pressure.
Both defenses were on fire the whole night, creating plenty of pressure and forcing the offenses to push their pace. Snake Country managed to fight their way back into a close game, bringing it within a point as the score climbed into the double digits. They showed off their existing chemistry between Jake Taylor, Brian Garcia, and Piers MacNaughton on the offensive line. But the defense found their own good chemistry, finding success when Davis Whitehead and Tessa Jones stayed behind the disc. The final score didn't feel indicative of how close the game was. "This isn't where we want to be in September," said team founder Peter Prial, "but we've been developing focused energy and working on creating good energy". And the chemistry they formed rapidly at the US Open suggests upward momentum for last year's surprise Nationals semifinalist.
Drag'n Thrust, in addition to be able to rely on chemistry they have been building on for years, seems to have inexhaustible energy for big defensive plays. They will put up a serious challenge to Mixtape in the final today, and, if they win, it will be because their defense is capable of suffocating any team.