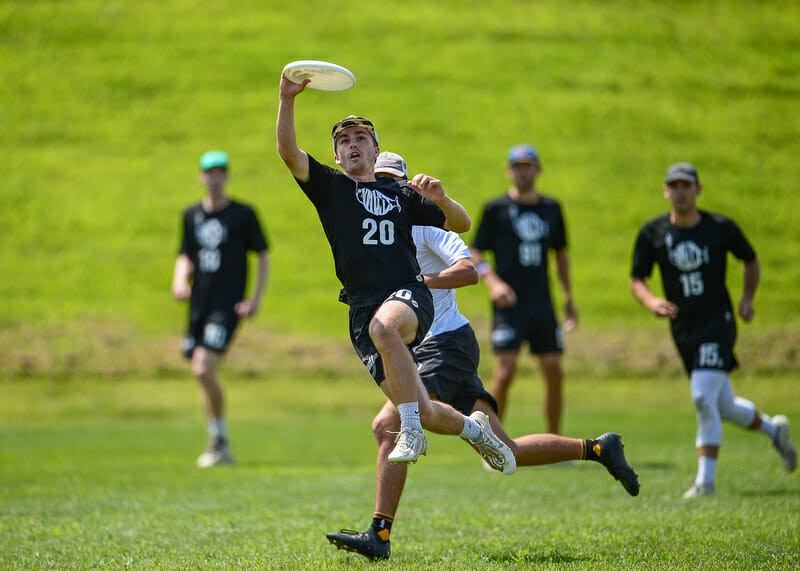 During the 2019 summer and fall season, we will publish a bite-sized weekly recap of the action across the Club Division. This will serve as a supplement to our standard tournament reporting and will offer a high-level look at the latest happenings and the biggest stories of the week. We go through the annals of score reporter so you don't have to!
Want your tournament listed here? Submit a recap of what happened right here. 
—
With no named TCT events on the agenda, the biggest tournament of the weekend, Chesapeake Open, gave a glimpse into how the mid-level teams on the East Coast are faring against one another. A few Classic Flight tournaments in the South rounded out the slate for a relatively quiet early August weekend, giving us an opportunity to highlight some new names in this week's update.
Men's Division
Vault Depth and Conditioning on Display at Chesapeake Open
At Chesapeake Open, #24 Virginia Vault fought to a second tournament title of the season, knocking off Houston H.I.P. in a tight final game.
While it wasn't always easy on Saturday, no.3 seed Vault answered the call every time they were challenged in pool play. After surviving to top their pool at 5-0, they then cruised through their semifinal against Brooklyn Blueprint, looking fresh and deep even late on Sunday. H.I.P., on the other hand, didn't have a full roster for the weekend and played a lot of tight games because they stacked their O-line and struggled to get breaks on D before crossing top players over to squeeze out breaks at the end of games. That strategy worked against everyone except tournament top seed Columbia Lost Boys, who then went on to lose two other pool play games that kept them out of the bracket.
In the final, it appeared that Houston's top-end talent might be enough to drag the team to a win, trading holds early before securing the first two breaks of the game to enter half up 8-6. But Vault's depth and conditioning shone in the second half, earning both breaks back immediately out of half and grounding down their opponents as the game wore on. After trading to 12-12, Virginia's well-conditioned D-line took over and ran away with a 15-12 victory.
Vault showed they have a high ceiling this season, in particular because their D-line has some really good throwers who aggressively attack in transition and a stable of well-conditioned athletes who were prepared to fight through the very end of the weekend. But they also endured some bad stretches where their O-line couldn't string together three or four passes. They won the tournament and remain undefeated on the year, but will need to gel more if they're going to truly threaten for a spot at Nationals.
Durham Brickhouse,1 who entered the weekend as the no.2 seed, played themselves out of contention early by taking crazy shots with the disc on basically every possession. It's fun to watch, but the inconsistency and lack of ability or desire to grind out points are how you get a promising roster going 0-3 to start Saturday, including two losses in which they had leads. They cleaned things up a bit on Sunday, blasting everyone they faced. Durham has the talent to be a better team, but are lacking in the club experience and discipline necessary to capitalize on it.
Quick Hits
Nucci's Cup in Mercerville, NJ showcased some classic flight competition, with New York Magma Bears taking home the title in a 14-12 match over Washington D.C. John Doe.
Bid Watch: Perhaps the most relevant news on the fringe of the bid cutoff is seeing Columbia Lost Boys plummet out of contention. After their disappointing showing at Chesapeake, they drop from inside the Top 20 down to #35, ending any hopes they had of securing a bid and leaving Atlanta Chain Lightning as the lone Southeast squad with a realistic chance of sliding inside the cutoff to earn a second for the region. Thanks to another undefeated weekend, Virginia Vault saw the biggest climb of any team in the Top 30, but still sit more than 100 points outside of bid-earning territory, which will be tough to capture without a shot at top-tier competition.
Mixed Division
Steamboat Back in Bid Contention with Undefeated Chesapeake Win
After a disappointing showing at the Select Flight Invite East in late July, external expectations had been somewhat depressed for Cincinnati Steamboat. Instead, the former Great Lakes champs bounced back in a big way with an undefeated run to a tournament title at Chesapeake Open.
The top end of the mixed division in Boyds, MD saw a good amount of parity, with plenty of tight games and pool play shuffling among the tournaments top six seeds. No.5 seed Steamboat and #22 Atlanta Bucket both won all their games in the power pools, foreshadowing their successful runs through the bracket on Sunday. Boston League of Shadows managed an upset against #24 Charlotte Storm to finish second in their power pool, while Northeast compatriots Connecticut Metro North and Brooklyn Grand Army put in a weak showing, losing all their Saturday games to their out-of-region rivals. Sunday's bracket play restored some order, as the quarterfinals and semis were populated almost exclusively by the top eight seeds. With a one-point victory over #20 Washington DC Rally in the semis, Steamboat was the surprise finalist, while Bucket blew out tournament top-seed #23 Pittsburgh Alloy on the other side of the bracket.
For the second straight round, Cincinnati found themselves behind at the break in the final. Both times, they were able to right the ship. Brittany Winner and Ryan Gorman are still a top-end one-two punch and remain the backbone of Steamboat, but others were also stepping up. They went on a late-game run to bring the game back from a 12-10 deficit to win the tournament 14-13 over a very solid Atlanta squad. While they sputtered to end the tournament, Bucket had the best offense at the fields for most of the weekend. They utilized really great lateral handler movement that beat up zones, weren't afraid to take some crossfield blades and hammers, and put up some really solid deep shots. Also, absolutely no one could guard Shayne Crawford.
Beyond the finalists, Sunday Rally looked a lot better than Saturday Rally. DC still have a lot of young and/or inexperienced players, but things seemed to come together a bit more as the tournament wore on. They lost to Steamboat by five in Saturday pool play, but then took them to double game point in the semis. Stephen Ng had a huge weekend for Rally. Alloy still has Christie Lawry holding down the fort, but the Pitt men pickups seem to be working out well for them. Alloy just seems to have the mental edge over Rally — Washington always looks their messiest against their regional rival.
Quick hits:
The bizarrely named HoDown ShowDown 23 G.O.A.T. attracted a large pool of classic flight competitors, with twenty teams traveling to compete in Asheville, NC. Asheville Superlame, Nashville 'Shine, and Huntsville Outlaws all won their pools undefeated. Raleigh Malice in Wonderland went 3-1 and won their pool on point differential. The same four teams showed up in the semis, with hometown heros Superlame earning a comfortable 15-11 win over 'Shine in the final.
Hudson Valley Funk won the four-team round-robin pool at Mercer, N.J. Nucci's Cup, but lost on double game point in a rematch with West Chester Stoke in the final.
At the one-day CUDA Round Robin in Hillard, OH, Columbus' Petey's Pirates won all three of their games easily, pipping Columbus club compatriots Petey's Scallywags for the top spot.
Bid Watch: Cincinnati Steamboat rocket back into bid contention with their big weekend at Chesapeake, moving up 16 spots to #19 and well within striking distance of the bid cutoff. With their strong showing Atlanta Bucket now find themselves on the inside of the bubble, up to #14, knocking Montana MOONDOG out of their Top 15 position.
Women's Division
Rebellion Notch Second Tournament Win of Season at Chesapeake Open
In a much smaller division than the others in Boyds, the first day of Chesapeake Open saw #25 Virginia Rebellion and Boston Vice top the two women's pools. Vice won a close game against no.2 seed Princeton Pine Baroness to win Pool B while Philadelphia Broad City upended Pittsburgh Hot Metal in the only two upsets of Day 1, though Brooklyn Book Club came within a point of knocking off Rebellion at the top of Pool A.
There were no such close calls for the tournament's top seed on Sunday, as Rebellion blazed through the bracket, each victory more impressive than the last, despite descending goal totals. They bettered Hot Metal 15-11 in the quarters, stomped Pine Baroness 14-9 in semis, then absolutely obliterated Vice 13-4 in the final. Rebellion were getting contributions from up and down the roster this weekend, with Allison Wallace and Kristin Weyenberg in particular making plays throughout the semis and final. It didn't take Virginia long to find their rhythm in the final — after trading a few holds, Rebellion showed off a D-line with a penchant for generating turns and converting. They went up early and practically sealed the outcome before the break, taking half 8-3 and never looking back. Vice only managed one more score after the half, and Rebellion easily scooped up their second tournament victory of 2019.
Virginia's 21 victories already this season top the division by a considerable margin, but not enough of them have come against the types of teams that will help them earn a bid for their region. Still, they're clearly building as a program, which should earn them more opportunities against the elite tier in the future.
Quick hits:
In Asheville, North Carolina, we saw a three-team, double round-robin at HoDown ShowDown 23 G.O.A.T. Triangle Taco Truck and Atlanta Outbreak traded pool wins, with Chattanooga Honey Pot coming in third each time.
Bid Watch: Nothing much changed with the bid picture this week, as teams near the margins shuffled a little due to second-order effects. Rebellion's winning weekend actually saw them fall a spot thanks to the level of their competition, though with how much they've already played this season, they don't have much of a chance to move up enough to matter.
Looking Ahead
The big tournament to watch this weekend will be the TCT Elite-Select Challenge in Rockford, IL. All three divisions will be featured as Elite and Select Flight teams battle in one of the most important bid-deciding events of the season. In the men's division, Pool D seems like the one to watch, as one of two with three ranked teams. #22 Madison Yogosbo will be truly tested by top teams for the first time this season, and an odd seeding snake pits them against #12 Portland Rhino Slam! and #15 Philadelphia Patrol. Topping the other pools are #13 SoCal Condors, #11 Boston DiG, and #21 Pittsburgh Temper. #8 Raleigh Phoenix, #9 Columbus Rival, #18 Boston Siege, and #14 Atlanta Ozone will have to stand their ground in the women's division with teams like #16 Washington DC Grit and #12 Chicago Nemesis hungry for bid opportunities. In the mixed division, the title could go to anyone: #4 Denver Love Tractor, #5 Boston Slow White, and #8 San Francisco Mischief are clear front-runners, but the division is deep with potential, and we could see #16 Boise Lochsa or #13 Columbus Cocktails threaten a deep bracket run.
While we misreported the start date in Club Update last week, the men's and women's divisions of the Canadian Ultimate Championships 2019 actually begin this Thursday in Edmonton. Four women's teams — #6 Toronto 6ixers, #10 Vancouver Traffic, #19 Quebec Iris, and #23 Vancouver Sneaky House Hippos — and three men's squads — #7 Vancouver Furious George, #8 Toronto GOAT, and #20 Winnipeg General Strike — from our Top 25 Power Rankings will do battle north of the border to earn their national title. While the games won't count in the USAU algorithm, the tournament will give us a good look at how the Candian teams stack up with each other at a championship event.
Elsewhere:
Additional reporting this week contributed by Kelly Ross and Patrick Stegemoeller.
---
Playing once again under the moniker NexGen All-Star Tour. ↩