With upsets everywhere, Boston Siege took down ESC with an impressive performance.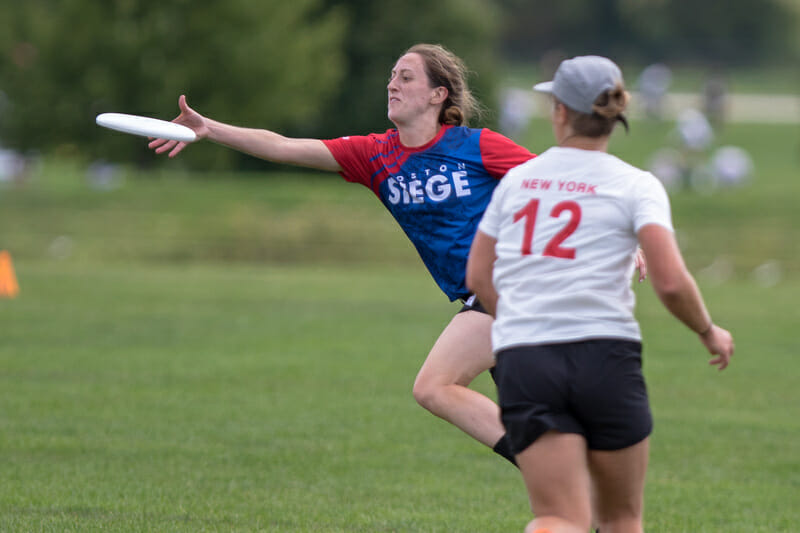 ROCKFORD, IL.– Elite-Select Challenge can be summarized into one word: wild. The upsets began during the first round on Saturday morning and never stopped. By the end of day one, none of the four pools remained in tact. Severe weather Saturday afternoon delayed the fourth round for long enough that the prequarters had to be pushed until Sunday morning. But on Sunday morning, teams awoke to more weather delays, causing a loss of about four hours of playtime in total throughout the weekend, which resulted in a condensed schedule with shortened games.
Siege battled back from an early loss in the first round to win the tournament on Sunday afternoon. Wildfire, who tore through the weekend, going undefeated until the championship match, could not stop their Boston opposition in the final.
For many teams, this was their last tournament of the regular season and it was clear that many of them felt the pressure to perform, for better or for worse. The wins and losses gained this weekend will have a strong influence on rankings and bid distributions going into the postseason and ultimately proved that you cannot count any team out of the Nationals conversation just yet.
Siege Seizes The Title In A Tight Match
#18 Boston Siege and Wildfire met for the first time this season in the final in what was an incredibly even match. After a morning of high winds from the passing storm cell, conditions began to settle down, allowing teams to finally comfortably throw a pass more than ten or fifteen yards down the field. Siege came out on defense looking strong, successfully breaking Wildfire in the third point of the game and giving them a 2-1 lead. But Wildfire quickly responded with a break of their own, putting things back on serve, which is how they stayed all through the first half.
Both teams relied heavily on zone looks to shut down their opponents, and both had a lot of success in slowing down the game. Wildfire's Alexandra Diaz continually placed herself strategically in the middle of the field and moved the disc quickly, allowing her team to break through the first layer of the defense, while Siege's Analise Huysentruyt did the same for her squad. The beginning of the second half continued to be a back-and-forth battle as neither team could manage to get ahead and time was winding down. Siege earned the next and final break of the game, which came with only a few minutes left. Wildfire immediately held, putting the score at 10-10 when the hard cap horn blew.
The last point was one of the quickest of the day. Siege received the disc and hastily moved the disc up the field in five passes to score, barely giving their opponents enough time to say "stall", ending the match and Wildfire's impressive run from the no. 9 seed to the final. Some may have considered this a surprising pair to be at the top, but both teams played with a level of ferocity and confidence that showed they would wholeheartedly disagree with that sentiment. Each team got better and better throughout the weekend, making the final as close as we can hope for in an elite tournament.
Strong Showing From The Northeast Region
The Northeast Region is home to a couple of powerhouses in #1 Brute Squad and #6 Sixers and as such, the next few teams in the pecking order are desperate to earn the region a third bid. This weekend, both Northeast teams in attendance made a compelling argument to do just that. Boston Siege put forth the most convincing case possible– they won the tournament. Siege started a little slow on Saturday, losing to #21 Minneapolis Pop in the first round, but that was their only falter in an otherwise stellar weekend. They stacked up wins against four other top 25 teams and persevered through a tight final match against San Diego Wildfire.
This result may have been surprising to some, but Siege came into this weekend knowing they could perform. They have their eyes on the postseason and coaches Rosie Año and Jeff Smith have been preparing them all season to be ready for big moments. Año said that the team's goal and the process through which they will get there has been set out explicitly: "We're preparing them for that level, even though they've never been there. My expectation for them was that they would earn the bid from day one, that's why I'm here. I've been very clear what my objectives are. It's that we're going to Nationals until we're not. I'm preparing a team that's going to Nationals."
The other Northeast contender this weekend, #20 New York BENT, added some notable wins to their resume as well. They started Saturday by successfully dethroning Rival from their perch at the top of the pool in a double game point match. BENT didn't stop there though, as they went on to win their other two pool games against #15 Seattle Underground and Kansas City Wicked, giving them a favorable position heading into Sunday.
Coach of BENT, Jeff Babbitt, discussed the progressive stages the team has been focused on from the beginning of the season until now. "We worked on some new defenses in the past few weeks, a lot of our focus up through the last tournaments had been offensive, we had a lot of turnover from last year to this, so we were trying to get the offensive systems down," said Babbitt. "Like at Select Flight, we hadn't done a lot of defensive work yet, but before this tournament we added a zone and a force middle look that both showed us a lot of success today."
Sunday started off well for New York as they earned a win over #13 Texas Showdown in their quarterfinal, thanks in large part to the sticky hands of Abby Cheng, who read the windblown disc better than anyone else on the field. But things went south when they met Siege in the semifinal round. With the winds still up after Sunday morning's storm, both teams sent out their zone looks and BENT simply couldn't keep up with Siege's quick disc movement. BENT went on to lose the consolation game against Phoenix, which gave them the fourth place finish, an impressive jump from their initial no. 11 seeding.
San Diego Wildfire Lights It Up
#17 San Diego Wildfire traveled a long way to compete at the tournament and they certainly made the miles worth it. Coming into the weekend as the no. 9 seed with #13 Texas Showdown and #14 Atlanta Ozone as their Pool D mates, Wildfire had their work cut out for them. They quickly proved they were up to the task. The West Coast squad looked like a well-oiled machine running through their offensive and defensive sets all day Saturday, stacking up wins and earning the right to the top spot in the pool and a bye through the prequarters.
Sunday continued with more of the same; Wildfire was looking nothing short of infallible as they maintained their composure to battle through a windy, low-scoring match against Underground in the quarterfinals. Then they truly hit their stride when they dismantled the Raleigh Phoenix D-line, which had been impenetrable up until that point. Dena Elimelech, Alexandra Diaz, Kelli Iwamoto, and Lindsay Lang played lights out, repeatedly flustering their opponents with their versatility. Wildfire's final matchup against Boston Siege was their biggest challenge and the win was just out of their reach. Though undoubtedly a disappointing way to finish off the weekend, San Diego vastly outperformed their seed, solidified their position for a strength bid, and proved they are a squad to watch closely as they work towards returning to Nationals in their hometown.
Phoenix's Lovely Weekend Marred By Cold Run
Elite-Select Challenge was supposed to be #8 Raleigh Phoenix's to lose. And in many ways, it was. They made mincemeat of their pool on Saturday, with a laughable +32 score differential through their three games. While the other pools were in chaos, Phoenix was the only top seed to go undefeated on day one, and certainly the only team to wallop everyone that lined up across from them.
Their semifinal matchup against Wildfire, however, was like a sinkhole that swallowed up their chances of continuing leading the tournament. Even to begin the round, they looked like the same outfit that had shaken off the competition, earning a hold and then nabbing a tidy break. The windy conditions did little to slow their skilled and dynamic offensive unit. While they gave the break right back, they responded with a three goal run that made it 5-2. The North Carolinians were back at it, right?
Instead, Raleigh went ice cold. Wildfire, who had the composure and confidence to push back against the top seed, began to fluster the Phoenix offense. By slowing them down and disengaging their cutters, Wildfire were able to coax out mistakes. And making use of their athleticism, San Diego punished those errors, to the tune of a 4-0 run that powered them towards the half. At the break, it was 7-6 in favor of the underdog, with cap closing in.
Raleigh never recovered, and were outscored 3-1 in an uninspired second half. While they went on to beat BENT 12-9 in the third place game, it was rather shocking to see Phoenix stumble so hard after so fluidly dancing through the field. Even more concerning was their inability to respond to their funk with energy.
This team is extremely talented. They were still integrating some of their new pieces, and that showed. Phoenix's moments of weakness were few and far between, which speaks to their combination of experience and explosiveness, but they couldn't prevent one leak from sinking the ship. If they can't shore up their ability to respond to a rough streak of play, this talented club could find themselves underwater against hungry opposition in the high-pressure postseason.
Rival's Roster Steps Up
Though a fifth place finish was not what #9 Columbus Rival was hoping for, the team made strides in figuring out their identity in the absence of Sophia Knowles, who tore her ACL last month at Select Flight East. Coach DeAnna Ball was looking for other players to step up in a big way, and some did just that. Paige Soper controlled the field all weekend, as expected when she joined the team. Opponents tried everything to contain her, but Soper relentlessly moved the disc down the field, had remarkable composure in the red zone, and racked up the assists. During the windy games on Sunday morning, where most players were struggling to keep the disc from turning over or flying out of bounds, Soper threw as though there was no wind at all.
As the postseason looms in the not-so-distant future, Ball knows they still have some work to do to adjust to the sudden loss of one of their stars. "Yeah, we're still figuring that out. I think it's a little bit of– I wouldn't call it an identity crisis– but yeah, our cutting group is definitely trying to figure out who–we know we can't replace [Knowles], per se– but who is going to pick up that slack, if you will," said Ball. "It doesn't need to come from a single person, but we do need and expect some people to kind of adjust a little bit, and I think we're still figuring that out."
Elsewhere On The Field
#12 Chicago Nemesis experienced its fair share of ups and downs this weekend. They started the day on Saturday getting upset by Elevate, immediately upending the hierarchy of their pool, and then continued to suffer later in the day by going down 7-0 early to Siege in their final pool play game. After an encouraging halftime talk and some desperately-needed adjustments, Nemesis got back on track. Though they couldn't fully dig themselves out of the hole they dug for themselves, they did manage to win the second half and bring the final score to 13-10 for Siege.
Due to their poor performance on Saturday, Nemesis had a less favorable matchup than initially hoped for, and had to face Columbus Rival in the prequarters. Rival ultimately prevailed, but the Nemesis team that showed up on Sunday was the one that finished the game against Siege on Saturday—they kept the game tight for the entire duration and lost on double game point. The Midwest squad continued to improve throughout the rest of the day, putting to rest any doubt that Saturday was anything more than an anomaly. Their final placement game for ninth was a rematch against Elevate, and Nemesis came out with all of the fire of a team who wanted to prove something to themselves. They dominated the game at every moment, barely giving Elevate an inch, and locking down the victory at 13-4.
But for Salt Lake City Elevate, the tournament was still an obvious success. They walked into the tournament as the no. 15 seed and walked out in tenth place. Sitting at the bottom of Pool C at the beginning of the day on Saturday meant it was an uphill battle, but Elevate handled each game on Saturday with the composure of a higher ranked team and were subsequently rewarded—after winning against Nemesis in the first round, they continued to disrupt the pool by beating Pop on Saturday afternoon. Their prequarter match was against another hungry squad, Seattle Underground, and though they fought hard and almost came away with the victory, they could not find an answer for Seattle's Jessica Spaulding, who ripped through their zone time and time again. In their placement games, Elevate banked another win against a top 25 team, #16 Washington DC Grit, officially adding themselves to the teams-to-watch list.
All-Tournament Team
Paige Soper (Columbus Rival)
Dena Elimelech (San Diego Wildfire)
Ashley Powell (Raleigh Phoenix)
Analise Huysentruyt (Boston Siege)
Kelli Iwamoto (San Diego Wildfire)
Abby Cheng (New York BENT)
Sharon Tsao (Texas Showdown)
Additional reporting from Keith Raynor.