The top stories from Saturday of the Pro Championships.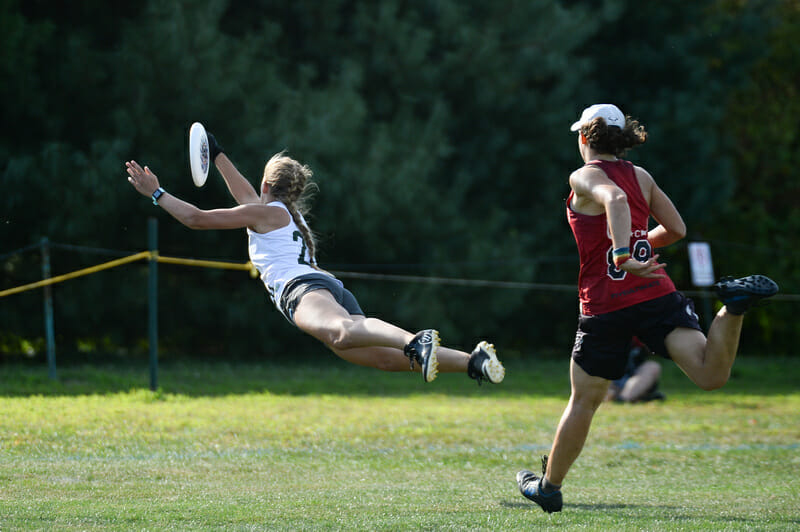 ROYERSFORD, PA– The Pro Championships have brought together most of the teams in title contention across the three divisions. No division went to seed, and some particularly compelling scorelines and upsets gave us plenty to chew on Saturday night. PoNY returned to form in the men's division, while Brute Squad faltered, and Drag'N Thrust maintained their position as the team to beat in the mixed division. And that's just three of the teams we learned something about on day one.
Mixed Division
Ultiworld's reporting on the Club Mixed division is presented by Universe Point cleats. All opinions are those of the authors. Please support the brands that make Ultiworld possible and shop at Universe Point!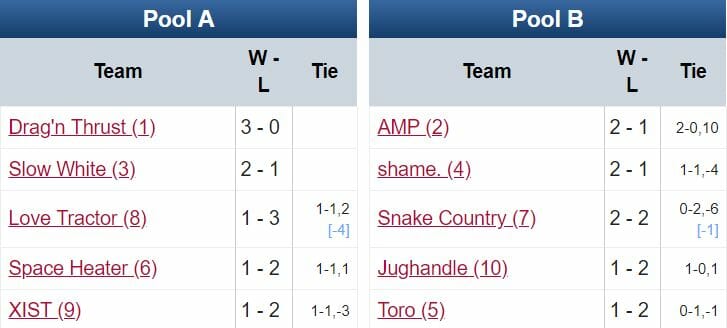 Remaining Games: Slow White vs. Space Heater, Drag'N Thrust vs. XIST, AMP vs. Jughandle, shame. vs. Toro
Coaches Make A Difference: Mixed has an odd habit of not always being coached at the highest level, and the impacts of a coach's ability to rally and organize popped up a few times today. New Jersey Jughandle's Andrew Auyeung emphasized that his coaching staff helped them come back from a three break lag during their game against Snake Country, and both New York XIST (coached by Izzy Bryant) and Jughandle (coached by Judy Jarvis and Zara Cadoux) had wild upsets in their tough last round games. Having someone there to organize and set standards really can help turn the tide of a slow game.
Poach and Switch At Your Own Risk: Clever strategic poaches and switch defense has been gaining notoriety and attention in the game. But sometimes in mixed it seems like teams overdo it, and good strategists in the game are starting to put the pieces together and figure out how to beat this overzealous help. For example, Philadelphia AMP looked to eagerly exploit it when men came off their matchups to help defend against AMP's very strong women, and it worked again and again for them.
Spirit's Alive And Well In The Mixed Division: With so many high stakes games, with critical bids in play, and with games on the line that really matter, it's easy to get carried away. But I watched clear communication around calls, which were resolved without heat in double game point situations (XIST vs. Space Heater, for one). Shout out to the people out there working to keep the game peaceful.
Women Who Had Some Gorgeous Pulls For Their Mixed Teams: Georgia Bosscher for Space Heater, Lauren Doyle for Snake Country, and Suzy Jivotovski for Jughandle.
Revenge of the Jet Lag: The biggest example of this came from the first round, when Fort Collins shame. played AMP at 8:30 AM. It's an unfair matchup to pit a home team against a team that got in late from Colorado and woke up at the equivalent of 4:30 AM. AMP brought that game to 12-2 before shame. had a chance to wake up and close the gap. Fort Collins finished the day out winning against Jughandle and Snake Country. It make you wonder if the schedules could and should be better designed for traveling teams.
-Karoline Hart
Men's Division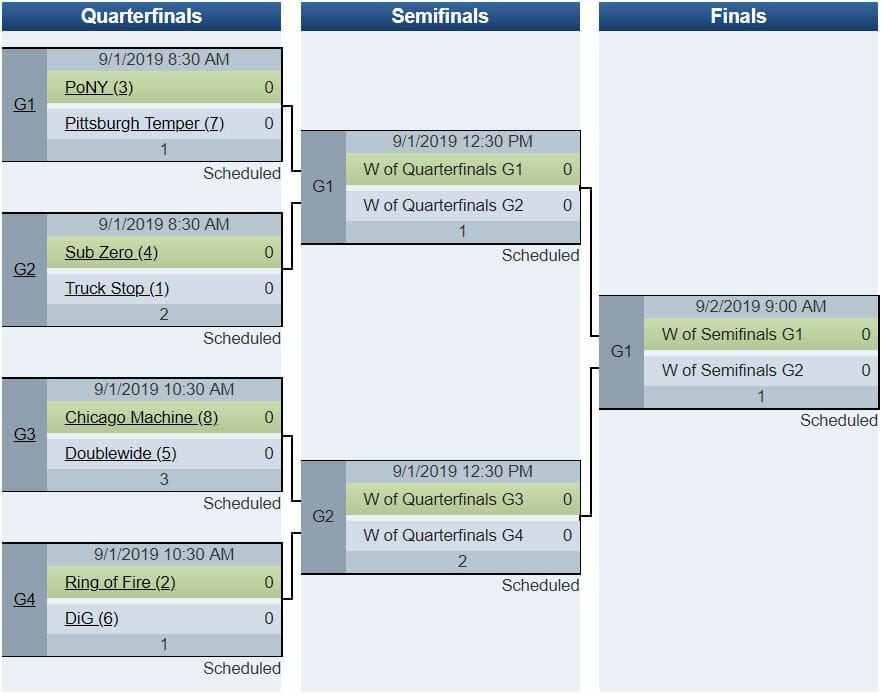 Ring of Fire Is For Real: No team made a more emphatic statement on Saturday than Raleigh Ring of Fire. Despite missing Noah Saul, Mischa Freystaetter, Josh Hartzog, and Bobby Ley, Ring blasted their way through pool play. It took the offense a few points to get going (a worrying trend for them this year) in their first game against Doublewide, but soon Eric Taylor and Henry Fisher were making defenses dizzy. As well as those two played for the offense, they had nothing on the team's D-line. Matt Gouchoe-Hanas, Tim McAllister, Sol Yanuck, Andrew McKelvey, and the rest of the defensive unit put the division on notice with tenacious play and a tremendous conversion percentage — the otherwise successful Minneapolis Sub Zero offense had a terrible time against them en route to a 15-7 drubbing.
Machine Back On Track: After a nightmare ending to the U.S. Open, Chicago Machine came into Pro Champs with something to prove. So far, so good. The offense, with key reset Keegan North back trailing the play to exploit soft angles in opposing defense, seems to be humming along. They are leaning less on Joe White's heroics (although he still made some lovely plays) and less on the deep game in general. The resulting style verges on boring, but as long as Machine keeps executing in the red zone, I doubt they mind. Their slow-moving, middle-heavy zone is in better shape now than it was a month ago, too. All in all, Machine once again look like a team who could threaten to make semis in October.
Truck Stop Has Some Kinks: Saturday at Pro Champs represented a big of a fall from grace for Washington DC Truck Stop. Before today, their season picture had a pair of blips; now there are black marks. They were unable to come back from a couple of breaks against Machine, and they fell apart in the second half in a loss to PoNY. Except in a close win over Dig, the D-line failed to generate blocks at the rates they have earlier in the season. But that feels like a question of adjustment — it's hard to see a defense as good as Truck's come up short again, and they might right the ship as soon as tomorrow.
Doublewide Need Their Missing Pieces: The intensity was dialed up by Austin Doublewide in their final game of pool play against Pittsburgh Temper. The Texans' club looked like a team in need of catharsis, running the opposition off the field in the division's largest margin of the day. But their earlier stumbles will be hard to erase without a good showing in the bracket tomorrow. Without Chase Cunningham, Gabe Hernandez, Jay Froude, and Kyle Henke — more than half a line of the team's best playmakers — the rest of the roster was stretched thin. Abe Coffin drew too much attention from the defenses to dominate, and Dalton Smith clearly missed his usual stable of big receivers who can bring down some of his more ambitious throws. But there comes a point in the season where missing personnel can no longer serve as an excuse, and Doublewide are butting up against it.
Dig Still A Year Away: If it wasn't clear before Pro Championships, it is now: Boston men's ultimate is in a rebuild. What is less clear is just how far they are from retaking their traditional place among the division's elite. Between Machine's soft zone, Truck Stop's frenetic matchup set, and PoNY's flash-poach schemes, Boston Dig faced three of the top defenses in the country, and they came up short each time. The question on offense is who gets the rock. Josh Markette still plays a brilliant game, and he will have at least one vintage Cricket moment in every contest — the kinds of plays born of two decades of wile and disc skill that no one else seems able to make. But he isn't an every-other pass kind of handler at this stage of his career. Noah Backer is skilled and poised without being indomitable. And best answer, it seems, may still need some seasoning. With room to throw, Mac Hecht can hit his spots — absolutely anywhere on the field — as well as anyone in the division. But if he can't get the disc when he wants or get the mark out of his way often enough, as was the case today, the offense bogs down.
-Edward Stephens
Women's Division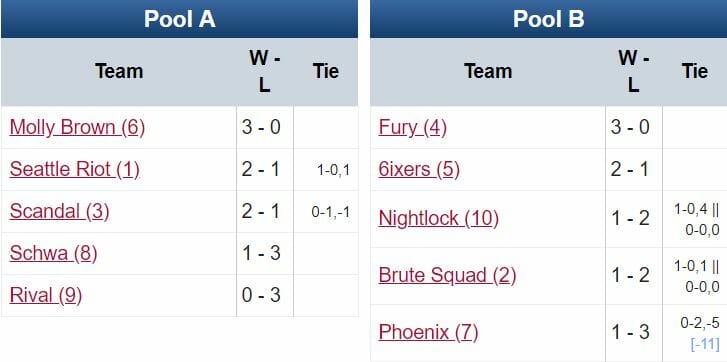 Remaining Games: Riot vs. Rival, Scandal vs. Molly Brown, Brute Squad vs. Nightlock, Fury vs. 6ixers
Molly Brown Steals Headlines: Going 3-0 and grabbing a massive upset over Seattle Riot, Denver Molly Brown had a huge day. The D-line, anchored by an on-fire Lisa Pitcaithley and goal-scoring machine Ronnie Eder, was phenomenal. They consistently earned breaks against everyone they played, while Claire Chastain and the O-line kept clicking all day for the holds they needed. Molly came into the day as the biggest question mark in the top five and emphatically proclaimed themselves as contenders.
Brute's Squad's Wobbly Offensive: Offensive woes avalanched into a pair of upset losses for Boston Brute Squad, and very nearly a third. They fell behind in every game and were only able to dig themselves out against Phoenix, when they needed a break on double game point to a win-less day. Their opening defeat to Fury was relatively excusable, but the near loss to Phoenix and three goal loss to 6ixers were shocking results for the #1 team. They didn't feel fluky, either. Brute simply didn't look like a national championship contender on day one. It's not time to hit the panic button yet, but it's time to start thinking about it.
Bounce Back Day For 6ixers: An offensive nightmare in their first half of play did not bleed over into the rest of Toronto 6ixers' day. They fell behind Phoenix 8-3 in their opening game but battled back in the second half to force an 11-8 final score. They came right back with the 12-9 win over Brute Squad and then coasted to a 15-10 win over Nightlock to end their day. The real difference for 6ixers after the rough start was that their defense was able to keep their offense off the field. The Toronto club played lights out defensively, giving opponents particular problems in the backfield. They turned those chances into breaks and turned their surprisingly poor start into a strong day.
Hungry Defense Leads Fury To Wins: After a lackluster defensive performance from San Francisco Fury at the U.S. Open, they brought the intensity on day one of Pro Champs. A run of four straight breaks to take half against Brute Squad set the tone for Fury's whole day. They overwhelmed Nightlock and Phoenix, outscoring the two by a combined score of 30-10. Fury's defensive porousness held them back at U.S. Open, but through their first three games this weekend, the defense was the team's biggest strength, and it has them looking like the favorites to win the tournament.
Unfilled Promise for Scandal: Red zone turnovers held Scandalback from another upset over a top four team against Riot. The most painful of them came at 13-13 when Kath Ratcliff forced a throw to Katey Forth that Riot punished with a break. They rebounded with a pair of expected wins over Rival and Schwa, but they didn't maintain a level of elite intensity and execution in either of those games. A win over Molly Brown on Sunday would completely change the value of their weekend, but through day one, they weren't quite able to find the plays that would have changed their place in the division's hierarchy.
-Ari Mapua and Daniel Prentice