Machine is a long way from losing to Freaks.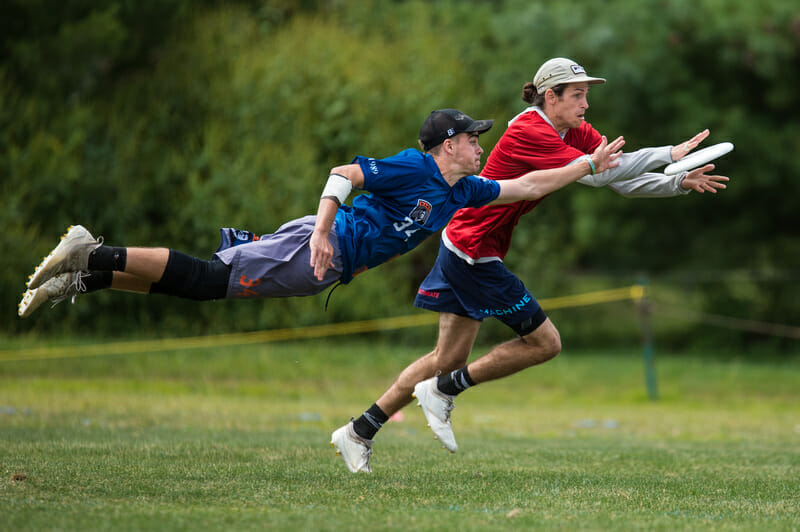 PHILADELPHIA — A resurgent Chicago Machine pushed past Doublewide and Ring of Fire into the Pro Championships final, where they will face off against defending champion New York PoNY.
Five of the six championship bracket games today were decided by two points or fewer, and even the the lone remaining undefeated team, PoNY, was pushed in their matchups.
Here's a look at the highlight games of Sunday.
PoNY Outlast Sub Zero in Tight Semifinal
Heading into the semifinal against Minneapolis Sub Zero, New York PoNY had been anything but perfect on the weekend — but they had also been anything but beaten. Sub Zero, fresh off an impressive victory in quarters to send Washington DC Truck Stop reeling into the consolation bracket, proved another ready challenger.
Sub Zero, taking a page from Temper's playbook (see below), put a break on the board early by challenging PoNY in the deep space. It's a smash-mouth tactic that works if the shots are falling: well, Sub's shots were falling. They added another break when Jimmy Mickle underthrew a huck. Cole Jurek, seeing Charlie McCutcheon take off deep, ignored the fact that his defender, Mickle, held a considerable size advantage and launched a flat flick to the back of the endzone anyway. It carried just over Mickle's leap, and McCutcheon brought in the score to open up a 4-1 lead for the underdogs.
There is some cause for concern in the play of Mickle this weekend. He has yet to prove capable of hitting his shots consistently this season. As his team's key thrower and as reliable a reset as any in the game, the volume of low hucks, short hucks, miscalculated swings, and simple execution errors have put PoNY in trouble too often. His well-executed hucks are still the cream of the division, but they have dwindled in number this summer.
PoNY's offense regained their composure after the rocky start and began to work the one area of the field where Sub was giving them room to work: around the reset. Mickle, Sean Keegan, Chris Kocher, and Grant Lindsley were only too happy to dash upline or send long swings for scores.
With the offense back on track, PoNY were able to chip away at Sub Zero's lead. Jeff Babbitt, making his PoNY debut this weekend, made a pair of major blocks. But PoNY essentially smothered Sub Zero's options more than they earned turnovers on the disc. The speed of the PoNY defense — both in terms of raw footspeed and their remarkable ability to shift matchups on the fly — forced Sub to accelerate the pace of their offense or look for less conventional angles, to the detriment of a handful of throws. Jack Hatchett, particularly effective against Sub Zero ace Ryan Osgar downfield, caught the score to give PoNY an 8-7 halftime lead.
PoNY's offensive struggles returned at the beginning of the second half. Sub took advantage of a miscue to erase the New York advantage. With the game back on serve and both teams locked in, the game fell into a pattern of one-sided body blows. On offense, PoNY scored at the front cone of the end zone to negate the good work Sub was doing to cover the downfield players. They ratcheted up the pressure on defense, too, especially at the goal line, where Sub desperately worked the available resets. It was not endzone offense to write home about, but the upshot of each possession was a goal.
Sub Zero coach Tallis Boyd offered some perspective on the tight holds. "Hats off to [PoNY]," he said. "They are a very good end zone defensive team, no question… End zone is all about patience. If you just trust the system and you kind of work it and find the open guy, you'll get it eventually."
The game ended on serve with a PoNY hold at 12-11, something of an unsatisfying resolution. The short cap1 rounds kept a handful of games from feeling like they had reached a conclusion. In the end, we won't know whether PoNY would have faltered or Sub Zero would have crumbled if they had had the time to play to 15.
As it stands, Sub Zero showed they were more than capable of hanging with the best, and PoNY, once again, eked a victory out of a solid opponent's best shot.
Machine Take Advantage of Ring's Mistakes
Chicago Machine had already redeemed some of the baffling losses from their early season with a solid Saturday at Pro Championships. That they easily dispatched a directionless Austin Doublewide side in quarterfinals was largely a matter of course. They faced a much more uncertain test, however, in a midday semifinal against Raleigh Ring of Fire.
Machine's first turnover — a simple swing pass that sailed beyond the reset's reach — showed them the stakes: Ring of Fire's defense, as is their habit, pounced on the turnover to notch an easy break. Machine would have to tighten up or face the consequences.
Fortunately for Machine, tightening up was already part of the plan for the weekend. Captain Pawel Janas laid out the basics: "What we're trying to accomplish on offense is to create big spaces and to hit big spaces. When we're not in end zone, we're trying to give our cutters opportunities in the biggest space possible… Endzone is just three guys trying to score the disc. Four guys don't do anything. Nothing fancy." By and large, Machine hit on all their action steps. Zane Rankin, Yiding Hou, and Paul Arters gobbled up yards; Janas, Joe White, and Keegan North were merciless and technical in the red zone.
Joe White, in particular, stood out once again. He has proved a matchup problem in every game he's played this season. Some teams have an answer for his size and top-end speed, but no one seems to be able to combine those qualities with the fleetness of foot necessary to contain the surprisingly agile White in the small spaces — to say nothing of the reach he achieves on his throws to fling hucks or flip touch arounds past the most disciplined marks.
With those pieces and that philosophy in place, Machine were well-positioned to take advantage of the hole Ring of Fire dug for themselves in the first half. The Ring of Fire offense has the brilliance of a flare: it utterly lights up in short burst but runs out of sizzle too quickly. Eric Taylor has been one of the most dangerous two-way threats in the division in 2019; Henry Fisher is the goal-scoring big man every other team wishes they had. But the turnovers kept mounting for them in game after game, and it all came to a head in the semifinal. Twice in the first half, Ring had to bring out their much steadier defensive unit to play offense. They held on both occasions and contributed two breaks to account for four of Ring's six first-half scores.
Machine remained one step ahead of Ring's defense, refusing to surrender the break advantage they had carried over from the first half. It was an impressive display of grace under fire for the Chicagoans. Much of the credit belongs to veteran Alex Evangelides, in his third year with Machine after a long tenure with Revolver. Floating between the offense and defense depending on the game situation, Evangelides can still draw on his old stores of athleticism to make a big play. Just as important, perhaps, is the steadying influence his experience brings to the motley assortment of talent on this year's iteration of Machine. Janas was generous with his praise of the veteran. "He's the old dude who's been here before with a bunch of young dudes who haven't been here before," he said. "So he's the calming force."
Ring's efforts to dig themselves out of the hole came to naught. Captain Matt Gouchoe-Hanas diplomatically put the responsibility on the shoulders of his D-line. "We didn't execute some of the nuances of our defensive gameplan late in the game in the way that we did against Dig," he said.
There's probably something to his assessment, but I can't help thinking that a better game from the offense would have rendered it moot.
DiG, Temper Push Quarters Opponents to the Brink
Pittsburgh Temper and Boston Dig, both winless in pool play, stared down division heavyweights PoNY and Ring of Fire in quarterfinals and refused to blink.
Temper, who ran a somewhat hesitant offensive set against Doublewide late on Saturday, came out swinging against PoNY on Sunday. "[After Saturday's games] we talked about having short memories and coming into today as the team we know we are," said captain Thomas Edmonds. If what we saw this morning is the real Temper, the division will have to welcome another squad who can throw their weight around.
Pat Earles established the deep game right off the bat by bending shots behind the defense to Anson Reppermund and Jimmy Towle. It was a clear message from the underdogs to the defending champs that they were not going to cede the game to a reputation: one way or another, it would have to be won.
PoNY, to their credit, stood fast against Temper's surge of energy. While the favorites weren't able to find a break in the early going, they matched Temper hold for hold. PoNY's depth of talent once again shone through in all its luxury. If Pat Earles or Sam VanDusen had been misfiring — and I want to be absolutely clear that they were not misfiring — the team would have run low on weapons. But when Jimmy Mickle starts to miss, he still has an army of stars to pick him up. Chris Kocher, Sean Keegan, and Ben Jagt all played marvelous games — the chemistry they have found together in the red zone is one of the unsung keys to the team's success.
PoNY finally earned the first break on the 13th point of the game, and they rode that cushion through halftime and beyond. But with Brett Matzuka doing his level best to lead the Temper offense through PoNY's minefield of defenders, that's all they would get for the next ten points. With a 13-10 lead, having given up nary a break despite a healthy portion of turnovers, it might have been game over.
Temper, however, were not done. VanDusen and fellow defensive handler Jasper Tom controlled the game in its dark hour to secure a necessary hold and then finally punish PoNY for one of their many turns and nearly even the score. Leading 13-12 now, PoNY once more gave the disc away. Temper, though, was unable to get moving on the counter. A first-throw block from Jagt thwarted the comeback just as it was beginning to feel real, and PoNY punched in a goal for the narrow victory.
The excitement had only just begun, however, as Dig and Ring of Fire took the field for an even tighter match. Dig shed every vestige of the offensive haplessness that defined their Saturday; the Ring of Fire team that had terrorized Pool B on Saturday could hardly get Boston to budge.
Dig went up two breaks early and appeared as though they would close out the half in grand style. Josh Markette, Noah Backer, and Henry Babcock marshaled the backfield; Tanner Halkyard, Tyler Chan, and Mac Hecht worked the lanes. The backfield rotated in and out of resets like clockwork, flashing confident around throws to get out of tight spots.
But concentration errors plagued Dig, and they let Ring of Fire back into the game. Ring's run to tie the game at 7-7 (from 7-4) was catalyzed by the Boston mistakes, but the real drivers on their end were the playmakers on the rough-and-ready defensive line. In what would be a trend as the day progressed, Matt Gouchoe-Hanas and Sol Yanuck came in to settle the game when the O-line's play became overly choppy. All of Boston's breaks evaporated, but they still held an 8-7 lead at the half.
The game remained on serve until late in the second half, as Dig kept grinding and the Ring offense started clicking. The big play came from first-year Ring defender Austin Von Alten. With Hecht bursting long from the back of the stack and Babcock's deep throw as good as anybody could ask for, Von Alten made up ground in twenty yards and leapt to knock the disc from just between Hecht's hands as he reached for it. A determined Gouchoe-Hanas led Ring up the field with some light heroics to secure a break for a 14-13 advantage.
Dig used their last offensive point for a final star turn from one of the all-time greats: Markette dazzled the gathered crowd as he ran circles around the defense. The veteran saved a poor reset look with a sprawling grab, left the nimble Sol Yanuck flat-footed as he streaked for a long upline cut, and muscled a hammer into the wind to breathe some life into a sputtering red zone offense. The coup de grace was vintage Cricket. With the disc on the goal line, he reached the disc behind his mark's head for two cheeky fakes before floating a high-release inside-out backhand just in front of a wary poach for the goal.
Ring took the veteran's lesson in stride, though, and held easily on double-game point to advance to the semis.
---
70 minute soft cap, 90 minute hard cap ↩