The top women's teams have been taking their shots at one another.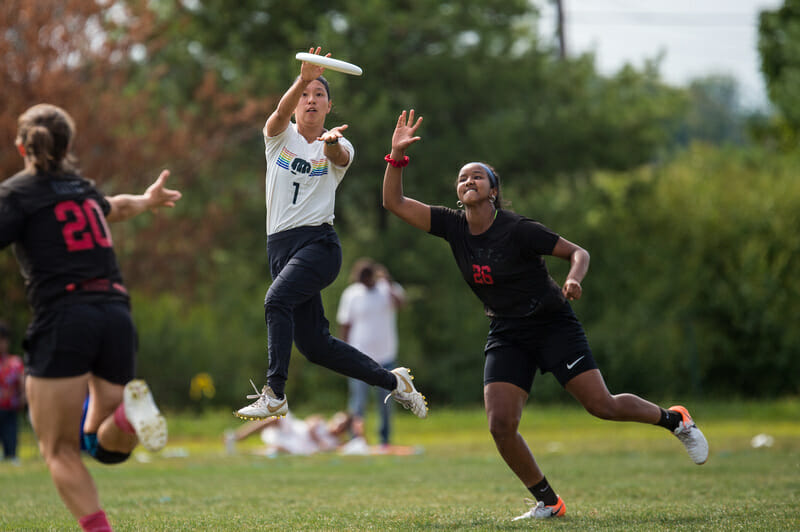 PHILADELPHIA– The women's division's top clubs spent a second day testing one another, pushing to find the boundaries they'd need to break through to get to a national championship this October. The urgency picked up in bracket play, as eager teams found formative trials in the high-pressure late game situations. Emerging from the fire were Fury and Molly Brown, one of whom will win this year's Pro Championships.
Fury Earns Narrow Victory in Eternal Rivalry
San Francisco Fury eked past Seattle Riot in a back and forth thriller to advance to the final. After a three break opening salvo from the Fury D-line, Riot immediately fought their way back into the game, and eventually took half back on serve. Both sides played at an extremely high level through the second half, with Fury taking back the advantage early in the second half, and breaking again on the final point of the game to win it 14-12.
Riot missed a couple throws to the far side on their first two points, and Fury made them pay with two one-throw possessions for breaks. Another unforced error on a reset gave Fury the disc on the third point of the game as well, and though Riot was able to force a few more throws from the Fury line, they still went clean for yet another break.
The opening siege from Fury was more a result of the efficiency of their D-line offense, rather than any special defensive pressure. Riot made just a few mistakes, and Fury took advantage of each one.
The stumble out of the gate was enough to wake up Riot, though. Following a timeout, they did turn it again on O-point number four, but Fury finally showed fallibility on an errant Opi Payne huck. On their first second chance of the game, Riot finally got on the board for the first hold of the game.
The Fury offense suffered through similar mistakes, and they were broken on each of their first two points as Riot brought the game back to 3-3.
But in those couple of points off the field, Riot solved whatever issues had plagued their start. They didn't turn it again for the rest of the half. Both teams' O-line fought through impressive matchup defenses, and a zone look here and there, to 7-7. Riot was wasteful with a few break opportunities at 4-4, and with another at 5-5, but for the most part, both offensive units displayed expert ability to fight through tight, matchup defense.
Riot finally got the game back on serve on the final point of the half, when Fury's Maggie Ruden rushed a throw on the Riot goal line and marched it down the full field for the goal. It took them all of the possible 12 ensuing points, but Riot was able to undo the early 3-0 hole, thanks in large part to the rapid switch to flawless play of their O-line.
"I was actually really proud of how Riot responded after getting punched in the face at the beginning and punching back to take half," said coach Gwen Ambler. "They weren't taking the disc away from us in those first few points, it was all us and reminding us of the type of ultimate we want to play and getting back into that type of rhythm. Once we got settled, we had strings of no turn points where we were just trading."
The offensive superiority continued through the first few points of the half, as both sides held to 9-9, before the first true, big defensive play of the game. Playing in zone, Fury drew out a throw into the middle of the defense from Jack Verzuh, where Anna Nazarov stole it away with a massive layout block.
It was the kind of play that has defined the Fury-Riot series, and Fury didn't let it go to waste. They worked it down the field, with Nazarov making the final pass of the point to Lakshmi Narayan for the score to break and retake the lead.
With the way both offenses were playing, it had to be a play like that from Fury for them to retake the lead, and that proved true as the two sides immediately returned to trading holds. It continued that way all the way to 13-12, with Fury leading and game to 14. The sloppiest point of the game ensued, with both teams all of a sudden forcing throws and committing errors they hadn't all game. Rushed hucks went back and forth, with a couple of drops and a Payne handblock on Verzuh mixed in.
After a run through block from Finney, she got the bookends on a looped a forehand from Griffith to end it and avoid double game point. The final point was in contradiction with the rest of the game, which was largely defined by resolute offensive execution in the face of tight defensive pressure. But the decisive moments end up being stark bouts of offensive miscues from Riot at the start of the game and at the very end.
Molly Brown Halts 6ixers Comeback
On the other side of the bracket, Denver Molly Brown narrowly edged out Toronto 6ixers on double game point. It was a bit of back-and-forth between the teams, each one leading or having to make up ground at some point. Both teams stepped up their defenses in the second half though in this tumultuous road to the final, and who would emerge to face Fury or Riot (that game ended just after this) remained unclear until Nhi Nguyen held up the final catch in Molly Brown's end zone. That catch sent Molly Brown to the final thanks to a 12-11 count.
After trading the first few points, 6ixers caught the first break of the game after a Molly Brown huck to no one. Brittney Dos Santos was right at the end zone line though for the 6ixers huck, and after patiently waiting for her offense to catch up, dished it to Molly Lewis for the 6ixers break. Molly Brown eventually made up that break in the point to take half – with their friends from Love Tractor spectating from the sidelines – as their defense stepped up to take away 6ixers' upline looks. Each team had several chances to take half: 6ixers made it close to their end zone before Chelsea Twohig slapped down a throw that was too far inside and Manuela Cardenas passed it on to Claire Chastain right at the end zone line, but a hasty pass to score was dropped. 6ixers called a timeout, but Chastain caught a throw meant for Lauren Kimura and called a timeout as well. Alika Johnston found Ronnie Eder in the end zone for Molly Brown to get the game back on serve.
That last point seemed like a turning point for Molly Brown, as they proceeded to score two breaks out of half. But 6ixers wouldn't let them have all the glory. Realizing they had difficulty transitioning from junk to person defense, 6ixers' coaches decided to make some defensive tweaks in the second half and give the players specific matchups on the line. This change made for more errors from Molly Brown and fast breaks for 6ixers, speaking to their efficient D-line offense. They had pushed this game to double game point.
Despite this pressure, Molly Brown kept calm and trusted their offense to take the game. It paid off as they quickly made their way downfield and Paige Applegate threw a perfect hammer to Nguyen in the end zone.
Speaking to 6ixers coach Carla DiFilippo afterward, she commented on how her players stayed in the game because they were just having fun: "In four years of 6ixers' existence, we've never played Molly Brown and we've always talked as a team how desperately we want to play them because they looked like so much fun," she said. "It was really fun because I thought it was really spirited but also really challenging."
The air after the game really spoke to the positivity in light of this tight game. Molly Brown and 6ixers spent a while together in their spirit circle, and several players walked away after commenting on how great a circle it was. The 6ixers can drive back to Toronto tonight with their heads up, and Molly Brown preps for their final against Fury tomorrow.
Pre-Semifinals
6ixers Rally Against Scandal
Toronto 6ixers pulled off a 14-12 upset over Washington DC Scandal, rattling off an 8-3 run down the stretch that seemed to come out of nowhere. Scandal withered in the game's final points, as their cutters could no longer gain separation downfield, and 6ixers were able to get the breaks on pure volume of opportunities.
The game started with Scandal wasting break opportunities and the two clubs trading holds to 4-4. It was 6ixers who got the game's first break, leaving Scandal to fully regret their own missed early chances to grab momentum. Sarah Lord's continue to the end zone was too far for Nada Tramonte and Toronto was able to work the disc all the way down the force sideline for the break to go up 5-4.
Scandal stormed back and took half 8-6, and then broke to start the second half to go up 9-6. But right when Scandal finally had gotten a hold on the game, everything became difficult for their offense. 6ixers broke for 10-9 before both teams traded to 12-11. And then 6ixers landed three straight breaks to end it, as Scandal simply could not generate any separation downfield.
The DC side looked a little tired, perhaps the lingering effects of their tough battle with Molly Brown earlier in the day catching up with them. And they weren't able to grind out the holds they needed against a deep and athletic 6ixers defense, and 6ixers stole their spot in semfinals as a result.
Riot Holds Off Brute Squad
This was Riot's game to take. The Seattle team's defense controlled the first half, quickly earning four breaks that took them up 6-1 over Boston. Riot popped up wherever Brute Squad wanted to go and kept the pace up with their fast breaks. Kaede Yoshida pumped up the sidelines especially, getting a layout block off Brute Squad's first pass and making a run to the end zone to make the assist to Kelly Johnson afterward.
Plays like that told Brute Squad that they would have to work for every single point. Their second half looked much better as they approached Riot's defense more calmly to reduce the small errors that Riot was punishing. They came back to bring it as close as 11-10, but no further than that. Their missed break opportunities, as well as a break in their final point handed Riot the win 13-10.
Brute Squad has to brush up on their offense. Their coach, Ari Jackson, noted the slow opening was due to mishandling Seattle's defensive tactics. "We were overreacting to whatever [Riot] was doing defensively and letting them dictate the terms, as opposed to taking a breath and running our progressions in a way that would exploit whatever defense they were throwing," he said.
Notes From Final Round of Pool Play
Molly Brown's early breaks against Scandal gave them control in the first half. Scandal's offense felt rushed as Molly Brown forced some execution errors and went into halftime leading 8-4. Molly Brown contained Scandal's offense for a while, still making Scandal work for their every hold. They faced some difficulty in the second half as Scandal stepped up their defense.DC's coach, Alex Ghesquiere, talked about putting more pressure on Denver's O-line and taking away the spaces they wanted to attack as Scandal slowly chipped away at the lead, forcing double game point. Molly Brown quickly took away Scandal's chance to shake up the pre-semis bracket however, with Chastain making a crazy grab in endzone traffic to win 13-12.
The first half between Riot and Columbus Rival was much closer than the final scoreline would have indicated, with Riot leading only 8-7 and the game on serve. In fact, Rival, managed a couple of breaks in the first half, including to take a 5-4 lead. They could hold onto the advantage only to 6-5 before Riot was able to get the game back on serve. With the cap horn blowing during half time, the second half was always going to be a short one, but Riot finally cranking up the execution with the disc made for an especially short period. They got breaks on each of the half's three points to end pool play with a 3-1 record after the 11-7 win.
6ixers entirely lacked anything resembling offensive execution in the game's opening points, falling behind Fury big. Fury completely overwhelmed the Toronto club from the opening pull and barely had to break a sweat as they added another blowout victory to their Pro Championships pool play campaign, winning 15-4.
Brute Squad were able to avoid the offensive struggles in their final pool play game that hampered then on day one, largely because they didn't have to spend much time on the field. The San Francisco Nightlock offense struggled mightily against the Brute Squad defense, and the game became a blow out in a hurry. It ended 15-7 in Boston's favor.