Breaking down every region and all your contenders.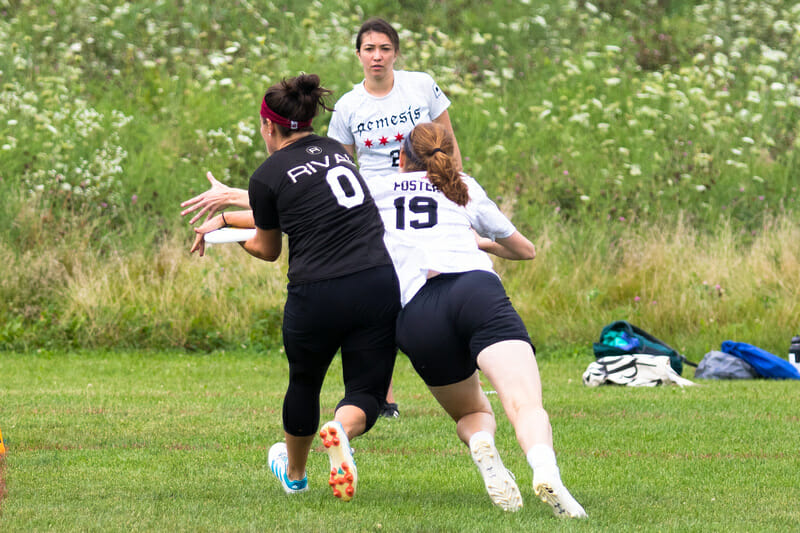 The regular season and Sectionals are now behind us. We can finally get down to business. After a regular season where incentives and motivations are constantly in flux, teams are at the point where their goals are on the line. After this weekend, labels will be slapped on their accomplishments, evaluating their season for better or for worse. We take a look at who is on track to get a good grade, and which teams could surpass expectations and upset the order.
Great Lakes
Competition Schedule
Location: Stevensville, MI
Number of Bids: 1
Excitement Level: ???
The Great Lakes region was dominated by Chicago Nemesis for years until the formation of Columbus Rival, who eventually knocked Chicago off the top spot in 2016. Over the past two seasons, both teams were strong enough to earn bids for the Great Lakes and qualify for nationals. This year, Rival finished 11th in the USA Ultimate rankings and Nemesis was 16th, just six (!) ranking points behind Quebec Iris and a second bid for the region. Now, for the first time since the pair were both nationals contenders, they'll be fighting over a solitary bid to San Diego.
#12 Columbus Rival's roster had significant turnover from 2018 to 2019 but they have performed at a similar level as previous years, sitting in the rankings below the very best teams, but on track to make nationals and fight for a spot in the quarterfinals. Their season has been headlined by the addition of Paige Soper and the unfortunate injury for Sophie Knowles at Select Flight Invite. They are battle-tested, having played four Triple Crown Tour events. It's possible that extra opportunity at Pro Championships against the division's best will help them improve where needed to break into quarters at nationals. But before they get there, they'll have to fend off Nemesis.
#18 Chicago Nemesis had much higher roster retention than Rival this season but hasn't been able to build on last year's results. Sizable losses to Portland Schwa and San Francisco Nightlock at the U.S. Open, and losing the first game of pool play at Elite-Select to Salt Lake City Elevate (which they handily avenged later in the weekend) held them back from a higher ranking and doomed the Great Lakes to their one-bid fate. Beating Elevate or scoring more points against Schwa or Nightlock would probably have been enough to secure a second bid. Nemesis certainly has the talent to compete with Rival and also likely saw themselves on a path to break into quarters at nationals this season.
The two teams have met only once this season, with Rival prevailing by a single point in the prequarter round of Elite-Select Challenge. The two teams did attend many of the same tournaments, though, and after so many years they surely know each other well. The regional final should be an entertaining game as Rival looks to hold onto the bid they earned and Nemesis looks to move past earlier mistakes in the season and topple their regional foes.
Mid-Atlantic
Competition Schedule
Location: Milford, DE
Number of Bids: 1
Excitement Level: ?
The Mid-Atlantic is, once again, a one-bid region with #6 Washington D.C. Scandal riding atop the pecking order. It's hard to see this going any other way than the favorites claiming their bid to San Diego. The talent on the team this year, plus their closest contender #21 Washington D.C. Grit sitting 15 spots below in the rankings, make for a nice cushion for Scandal to hold onto their regional crown.
Despite a bit of a stumble at their final regular season event, Scandal had time to improve since their showing at Pro Championships, where some trouble on offense yielded only sixth place. They left learning that they need to value possession more and must be able to take easy breaks. They focus on season progression, so despite a relatively unchallenging weekend ahead, they'll take advantage of these reps to give it their best shot at Nationals. All other Nationals teams will need to watch out — Scandal will be back with a vengeance.
Grit had a pretty spotty season. They ran well at Pro-Elite Challenge, but couldn't keep up with teams at Elite-Select — not enough to earn the region a second bid. They are efficient when they need to be, wrapping things up pretty easily to come out with the top spot at Capital Sectionals. Among all the teams in the Mid-Atlantic, Grit could put up the best game against Scandal.
Right behind them is #24 Virginia Rebellion, who made significant strides this year. Having played the same teams every year around the region, they were relatively unknown to most on the outside. They finally broke out of the Mid-Atlantic bubble when they attended Select Flight Invite East this year and played their way to the semifinals. While they may not challenge for the top spot, they should focus on a clash with Grit, as the opportunities afforded with a Top Select designation would continue their development as a program.
At the moment, the gaps between these teams appears pretty large — Grit holds a decisive win over Rebellion at Sectionals, and Scandal holds one over Grit. The rest of the competition are far below. Excitement this weekend, if there is any, would stem from the battles between Washington D.C. Agency, Pittsburgh Eliza Furnace and Hot Metal, and Philadelphia Broad City. That cohort had very close games against each other this season and will be vying for the remaining Select Flight spots. Besides that, most of the teams in the Mid-Atlantic have already faced each other multiple times this season with consistent results, so as with last year's Regionals (where all but two teams held seed), expect most things to go to chalk.
North Central
Competition Schedule
Location: Blaine, MN
Number of Bids: 1
Excitement Level: ???
You know you're headed towards an exciting Regionals when the team that has ruled over the territory for years — in this case, Heist — enters the weekend as the no. 3 seed. The North Central's lone invitation to Nationals is floating towards the end zone, and a pack of potential recipients are gathering, eagerly hoping to emerge from the pile with possession.
#22 Minneapolis Pop is in the best position to win grand prize. As the no. 1 seed and lone ranked team in the field, the fairly young squad will have to deal with the pressure of being the frontrunner. They are 3-0 in their matchups against challengers Heist and Wicked. They also hold the top results in the region in the form of a victory over Siege and a close loss to Schwa. Veteran leadership from stalwarts such as Biz Cook and Kalli Perrano will serve Pop well.
The benefits of experience are a potential boon for Madison Heist, as well. The roster changes from last year are well publicized, but Amelia "Forty" Cuarenta, Rose Glinka, and Lauren Perucco, among others, are still with a capable Heist club. Burgeoning college star Margaret Walker plays with valuable confidence in the backfield. It's been a hard-knock season for the club, but they have a rich history of coming to Regionals ready, and nobody at the field has a sizable talent edge over them.
Looking to break up the typical Minneapolis-Madison date in the final are Kansas City Wicked and Winnipeg Fusion. Wicked's been the bridesmaid many times, and their results this season don't paint a rosy picture. But they do hold a 9-4 win over Heist in their pocket. In past years, Wicked has been stuck stacking wins against weaker competition, only to come up short at Regionals. Perhaps this season's tougher curriculum could better prepare them to ace their final exam. Meanwhile, Fusion has been but a ghost south of the Canadian border, but they did place fifth at CUCs. They're missing some of the contributors that helped earn that honor, but Laura Hatch, Joely Valencerina, and company aren't breaking out their passports for a vacation. Heading to Blaine with an unblemished 14-0 record in USAU sanctioned competition this season, they could prey on a relatively down year for the region.
Northeast
Competition Schedule
Location: Devens, MA
Number of Bids: 4
Excitement Level: ????
The notoriously strong Northeast region is home to one quarter of the Nationals bids this year, thanks to the strong regular season performances of both the established national powers and those on the fringes. With so many bids available, the story in the Northeast has changed from a two-team narrative with few surprises expected, to a battle amongst the top four, as well as those just outside, to maintain seed or disrupt the hierarchy we've become so familiar with in Devens every September.
#5 Boston Brute Squad entered the season as the obvious favorite not just in the region but even as a national title threat, but their recent performance at the Pro Championships calls into question much of what we thought we knew about the squad. Absolutely dripping with world-class talent and experience, no doubt they will get to Nationals, of course, but the road there may not be as smooth as it has been in years past.
After several seasons of knocking on the door but never crossing the threshold, #4 Toronto 6ixers finally secured a (definitive) win over Brute Squad just a few weeks ago in Philadelphia. Boston finished fifth while 6ixers tied for third at the Pro Championships — suddenly the likely regional final between the two looks a lot more exciting. Toronto will be looking to extend and capitalize on Brute Squad's offensive struggles, but will need big games from the likes of Anouchka Beaudry and Brittney Dos Santos if they're to repeat their success from Pro Champs to secure the regional title.
#10 Boston Siege entered the postseason ranked in the top 10 for the first time after playing 19 games in the regular season and acquiring only two losses, as well as two tournament titles — one from Boston Invite in June and one from Elite-Select Challenge in August. The team's strength comes from its depth and consistency, and though they may not have huge names on their roster, their ability to rely on many players means that defenders have to play honestly in every position. Siege has never qualified for Nationals, but from day one of this season, their new coaches had only one goal in mind — and thusfar they've delivered. They stomped their regional rivals #16 New York BENT on three occasions — a far cry from their 15-10 loss to them at Regionals last year. But Siege is not unassailable, as was proven at the East New England Sectionals when Halifax Salty gave them a scare in the final. Siege defeated Salty by only a single break thanks to outstanding performances from Salty's Molly Wedge and Adria Quigley, and the game likely served as a stark reminder to Siege that those on the outside looking in are champing at the bit should they stumble.
In recent years, #14 Quebec Iris has not played enough games to earn a bid for the region. But with ten sanctioned games and strong performances under their belt this season, they successfully brought a fourth bid to the Northeast. Iris recently placed second at Canadian Nationals and had a hard-fought final game with 6ixers, largely thanks to a huge showing from Nyna Prevost, proving that although they are the bottom of the top four, the French Canadians are not to be slept on.
BENT finished just outside of bid-earning territory this year, but if Elite-Select Challenge — where they racked up wins against ranked squads Rival, Seattle Underground, and Texas Showdown — was any indication, the game(s)-to-go in Devens are not to be missed.
Northwest
Competition Schedule
Location: Salt Lake City, UT
Number of Bids: 3
Excitement Level: ??
The Northwest region's weekend is, on paper, a straightforward one. The season's results suggest a clean Riot > Schwa > Traffic finish, but the schedule, after just seven teams accepted bids to Regionals in Salt Lake, has created a stage ripe for chaos. A round-robin pool play format gives every team six games to play before the bracket even starts. After that, the top two teams will be on their way to Nationals and play a seeding game for the regional crown. Only one team will be eliminated from contention after pool play, and teams three through six will play a single elimination bracket for the last bid. The team taking that final bid will need to win in their eighth game of the weekend.
The major flexion points in the tournament likely won't involve #3 Seattle Riot, who has won every in-region game they've played this season. The team has only lost three games all season, to the division's elite. Despite losing Valeria Cardenas for the season with a torn ACL, all looks good for Riot to earn their 19th consecutive bid to the Big Show.
#9 Portland Schwa, who comes in seeded no.2, is the team on the luke-warm seat. Portland comes into the tournament with every player on the roster cleated, a first for them this season, which will help bolster their chances to survive the pool play slog. While they've largely impressed this season with their pace and offensive prowess, the gap to the next tier is small enough that we could see fireworks if any upsets occur in pool play.
#15 Vancouver Traffic have had a strange season, flying to Colorado the weekend of Pro-Elite Challenge — a tournament befitting their long-time place in the division — but forced to slum it in the Select Flight Invite to fulfill their TCT requirements when their assigned tournament overlapping with CUC. They predictably cleaned up — and then were a no-show south of the border from July through the start of the Club Series. The Canadians may not be at the peak of their power, but Catherine Hui is still a game-breaking talent and they won't be too anxious to see their decade-plus Nationals streak end. If they have a good weekend and knock off Schwa in the round robin, they can snag the instant ticket to Nationals.
#17 Seattle Underground, after being on the outside looking in this season, is in their usual Cinderella position; Salt Lake City's own #25 Elevate have a rare home-field advantage, which could be enough to bring this team into their second consecutive game-to-go, and maybe even their first Nationals. Seattle Soul has had a long, quality season with a good variety of competition. Vancouver's second squad Sneaky House Hippos is again full of potent young talent, and will be a threat to upset almost every team here.
The schedule, while long and complex, has some keynote games to keep your eyes on: Traffic versus Underground in the first round of Saturday should give one team involved an opportunity to knock Schwa out of second place. The final game of Saturday and the final game of pool play, which pit Schwa against Traffic and Underground, respectively, could be the bid-winning games of pool play. It's not until 1:20 PM on Sunday that the third bid semifinals start, so the region will likely hold on to the last bid in the country. Make sure to tune in.
South Central
Competition Schedule
Location: Tulsa, OK
Number of Bids: 1
Excitement Level: ??
Based on how the teams in the region have played this season, this region would get just one flame. #2 Denver Molly Brown just solidified their status as national championship contenders with a fantastic Pro Championships performance, and no one else in the region, even #19 Texas Showdown, ever looked like a true Nationals contender. But last year's chaotic game between the long-time regional rivals does leave a little doubt to the idea that Molly's Nationals spot is a mere formality.
In all likelihood, the Denver club walks through the region without too much trouble. Last year's scare came with Claire Chastain missing all but the very end of the game, and Molly Brown looks like a better team this season than they did a year ago. They beat the likes of Riot, Scandal, and 6ixers at Pro Championships, and were lights out on defense, which has been an area of weakness for them in the past. They do still have those moments of capitulation in them, though, as we saw in the first half of the final against San Francisco Fury. So they do feel a little more susceptible than the other clubs in that truly elite tier.
As always, if anyone is going to knock off Molly Brown, it's Showdown. They haven't had the rebound season they were hoping for after missing Nationals a year ago. But they've had since the end of Elite-Select Challenge to prepare for just their game against Molly. Given how well they know them, that amount of preparation time can make up for some of the discrepancies in talent between the two rosters. Again, it would likely take a small miracle for Showdown to even have a chance of winning late in the game, but it's not impossible.
Colorado Small Batch is the biggest speed bump before a Molly Brown-Showdown final. They've grabbed a few solid wins in the season, like a pair of victories over Elevate and a 13-9 upset of Pop. Realistically, though, the second team out of Denver won't have enough firepower to disrupt Showdown on their way to the final, and they certainly won't be able to match up with Molly Brown.
Southeast
Competition Schedule
Location: Advance, NC
Number of Bids: 2
Excitement Level: ??
There has been a power shift at the top of the Southeast. #13 Atlanta Ozone has won the region five straight times, and entered as the top seed in four of those five years. But #7 Raleigh Phoenix, the team Ozone faced in the regional final in each of those seasons, enters as a major favorite to take home the regional crown this time around.
The two have only played once this season and it was a quirky game, split up over two days due to aweather delay at the Pro-Elite Challenge. Phoenix were down 7-5 at half when the game came to its pause, before storming back to a 13-10 victory. The North Carolinians have simply been the better of the two teams all season. Strong offseason additions like Lindsay Soo, Lyra Olson, and Anna Ceschi, along with the continued development of their young roster have bolstered Phoenix into a top eight team. They had some ups and downs over the last couple of tournaments but still finished the season as the no. 7 team in the USAU rankings, as well as Ultiworld's own power rankings. They're legit national quarterfinals contenders, and will be the deepest and most talented team at Regionals. The one area where they are lacking is in having the experience of winning this tournament. Ozone's roster certainly has them beat there. But otherwise, there's little reason to doubt Phoenix's ability to win their first regional championship since 2013.
While Ozone has taken a slight step back this year, forfeiting their role as the resident quarters contender in the region, they are still heavy favorites to take the region's second Nationals bid. They have just one win against a team that earned a bid this season, but they still have a considerable talent advantage over the next tier of teams in the region. Their experience at qualifying for Nationals could be an even greater advantage this weekend, as they look to keep the longest active Nationals streak in all of club ultimate alive.
If there is a team capable of ending that streak, it's #23 Florida Tabby Rosa. They're the only other club in the region that finished in the top 25 in the rankings, and even against Phoenix and Ozone, they might have the best player on the field in former Ozone star Kate Travaglini. They are solidly third best in depth, but if Travaglini goes super Saiyan, they might have enough to knock off one of the top two and steal a bid.
Southwest
Competition Schedule
Location: Norco, CA
Number of Bids: 3
Excitement Level: ???
Everyone knows that #1 San Francisco Fury will lock in the top bid to San Diego, as they have done consistently in this region for as long as anyone can remember. The team has only three regular season losses in 2019: two to Riot and one to Scandal by a single point. They avenged the Riot losses with a two-point win at the Pro Championships. It would take nothing short of a miracle to prevent them from returning to Nationals.
The teams hoping to lock in the second and third bids are on less sure footing. #8 San Francisco Nightlock and #11 San Diego Wildfire seem to be the two strongest contenders for second and third place. Nightlock slogged to a 12-12 record during the regular season, but against perhaps the toughest strength of schedule in the division. The struggled against stronger teams at the US Open and Pro Championships, but will hope the experience from those events proves valuable when the pressure is on. San Diego's season ledger is a cleaner 10-5, as the ladies from SoCal continue to impress following the D-I College title from UCSD. But their schedule was far easier than their Bay Area rivals and have traditionally been a step behind. The teams have yet to compete this season to see if that trend still holds.
#20 Oakland LOL has the talent necessary to shake things up if they click as a team and one of their opponents falters under the pressure. Over the regular season, LOL has tallied up several impressive wins — they beat Madison Heist by a larger margin than Wildfire did and they beat Grit at Elite-Select after Grit beat Wildfire at Pro-Elite. But it is worth noting that Phoenix, Showdown, and Nemesis have all beaten LOL, seemingly with ease. Can the veteran-laden team pull things together and steal a bid from one of the younger teams? Whether or not they succeed, their first-round matchup against Nightlock is sure to be a barn-burner and will set the tone for the rest of the weekend.
No matter how pool play shakes out, expect these three to battle it out to keep their Nationals dreams alive.