TOKAY's new model has a flashy look, but how do they feel?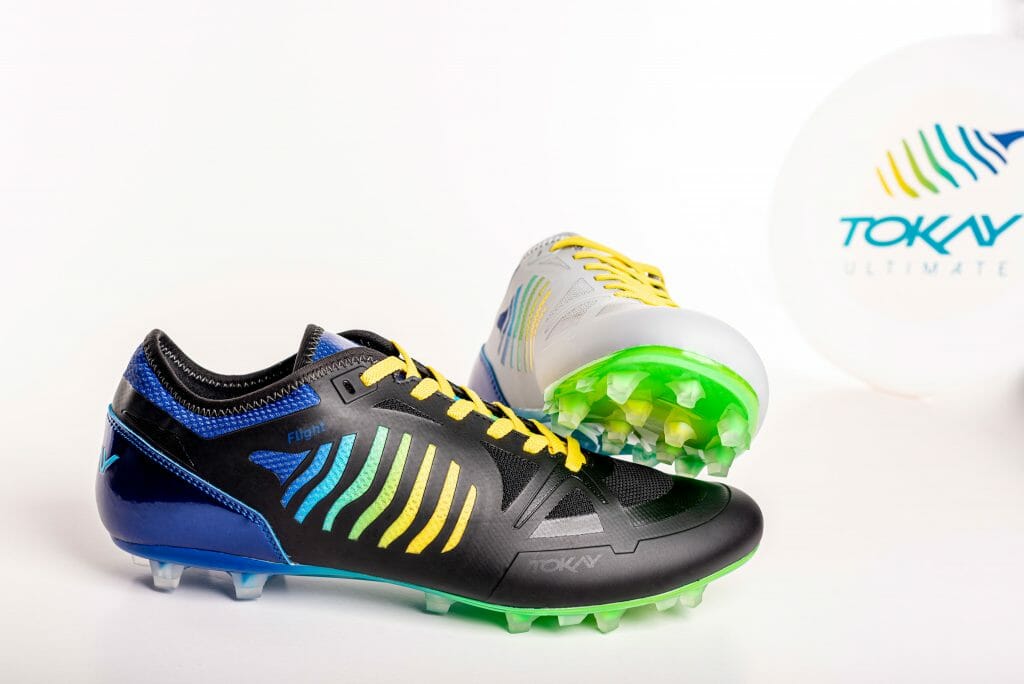 Disclosure: Ultiworld was compensated for writing this product review. All opinions are the reviewers' own and are not subject to approval from the sponsor. Please support the brands that make Ultiworld possible and shop at TOKAY!
The Flight is the second generation model of ultimate specific cleats from the French company TOKAY. While TOKAY has become relatively popular with European players, they were pretty unfamiliar to me as a North American club player. The only time I had seen these before were on the feet of international competitors, so when I had the opportunity to review them, I was eager to try them out.
TOKAY uses a unisex sizing system with sizes from EU size 36 – 47 (US Men's size 4 – 12.5). They are made of thermoplastic polyurethane (TPU), synthetic leather, and a mesh fabric.
Aesthetic: 10/10
These are good looking cleats. I love black cleats, and my pair's pop of yellow-to-royal blue gradient on the sides and underneath makes for a fresh look with personality that didn't feel overwhelming. They are sleek and I received many compliments on their appearance when I first broke them out.
Comfort and Fit: 9/10
The Flights are well constructed cleats, with a sturdy base; I've had no issues with deterioration so far. They have built-in mesh areas for breathability, and the stitching around the heel and along the base is solid and feels like it will hold up over time.
They also fit extremely well. The foot measuring tool was very helpful, allowing me to avoid the agony of figuring out what size to order online. You use an app to take pictures of your feet that measure various angles to tell you what will be the best fit, giving you confidence when you submit an order.
I wore these for the first time at club regionals (with my Superfeet insoles) and had no issues all weekend. The inside is quite cushy, which helped prevent blisters and made them easy to wear for a long time without any foot pain. The forefoot is roomy enough to accommodate my clown feet; I can't wear Nike cleats or most women's cleats because of how narrow they are, so this was a welcome feature. They are also extremely light. I put on another pair of cleats after wearing these for a few weeks and noticed a big difference in heft and comfort.
The only issue is that, because they are low cut and padded, they feel a little loose around the heels. During our warm up, once we started doing lateral movements, I felt that looseness. I had to use the farther out lace hole and tie them pretty tight to feel secure in them; TOKAY themselves recommends this particular lacing technique, which I didn't get to try prior to the review.
Performance: 7/10
Although they are extremely comfortable, I didn't feel quite as springy in them as I would have liked. Despite their light weight, the high cushion inside the cleat didn't quite give me the stability I was looking for when pushing off. They have a little more give than I am used to, as if you are pushing off of carpet rather than hardwood floor. If you're like me and typically wear leather cleats or a more form-fitting cleat, you may have the same issue. However, they have a stable sole with a good cleat pattern, including a toe spike, which is an advantage over your typical soccer cleat, offering some increased maneuverability.
Price: 6/10
$125 (or 119 euros) is about as much as I have ever spent on cleats. I can't attest to their durability yet, but if they were to hold up over multiple seasons, the level of comfort and powerful style may be worth the considerable price tag. For those with an appreciation of the cushier feel, the extra money may be worth it. But they are one of the higher priced cleats you'll find at a tournament.
Overall: 8/10
I like these TOKAY Flight cleats a lot. I love the distinct look and the comfort. I like knowing that I could throw them on at any point and not have any issues with pain or blisters, and that the app will get me the right fit. However, given the price point, they weren't quite right for my personal performance needs.