The top Northeast clubs vie for the valuable bracket bye.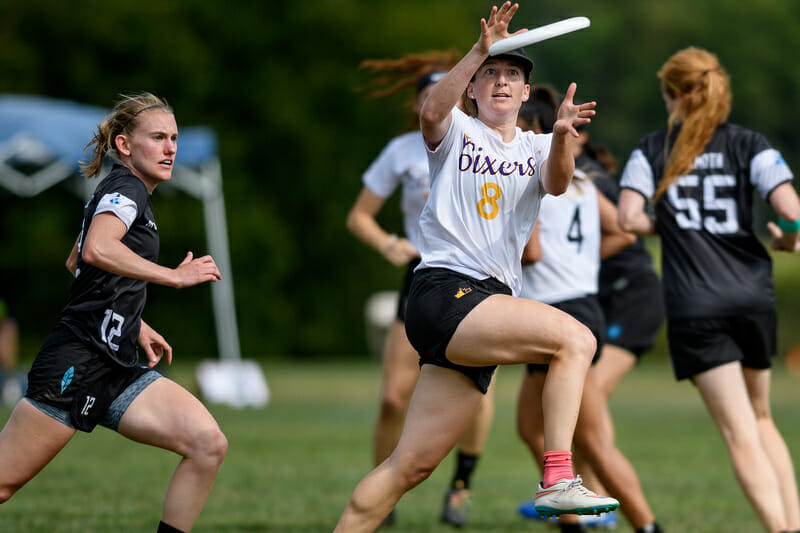 Our coverage of the women's division at the Club Championships is presented by Breakside Strength and Conditioning. Check out Breakside to find out how you can unlock your athletic potential for just $10 a month.
Pool A Preview — Pool B Preview — Pool D Preview — Competition Schedule
Toronto 6ixers, Boston Brute Squad, Portland Schwa, and Minneapolis Pop are lined up to compete on Thursday in the Women's division. For the first time in recent memory, Brute Squad is not at the top of their pool, meaning Pool D is deep and dangerous. The top two teams will likely suffocate the bottom two, but the battles of D1 v. D2 and D3 v. D4 will be matches you won't want to miss. This is a pool with a lot of Nationals experience and a lot of reasons to prove themselves.
Toronto 6ixers
Seeding: Overall no. 4, D1
Power Ranking: #4
Overall Record: 13-4
Against the Nationals Field: 7-4
Against the Pool: 2-0 vs. Brute Squad, 1-0 vs. Schwa
Toronto 6ixers enter Nationals as the top seed in their pool for the first time in team history, and with the season they've had, this is anything but an accident. The Canadian squad has racked up only four losses this season — against Scandal, Phoenix, Fury, and Molly Brown. They've conquered their regional foes, Boston Brute Squad, not once but twice this year, the second time rewarding them the Northeast Regional title for the first time. On top of their USAU success, they went undefeated at Canadian Nationals in August.
The underdog identity that the team may have had in the past is long gone as they have proven they are a real contender. Though their 15-4 loss to Fury at the Pro Championships was a bad one, they lost by just one point to Molly Brown on the same day, and beat Scandal in between. 6ixers' O-line is an efficient, well-oiled machine led by primary handler Lauren Kimura, and their D-line is a group of scrappy, determined players like Brittany Dos Santos, who's known to make huge plays in high pressure situations.
Speaking of high pressure situations, the importance of the balance of being excited and nervous for Nationals is not lost on 6ixers; they are the only team to have already won a National Championship this year. "We know exactly what we can do to set ourselves up to be as successful as possible, and we have a huge amount of faith in our coaches – both of which helps with nerves," said captain Jordan Meron.  "Our team also does an awesome job of celebrating every success, and making it our mission to have fun when we're together. If we can remember to enjoy the moment, the rest will take care of itself."
Likely ceiling: Finalists
Likely floor: Quarterfinals
Boston Brute Squad
Seeding: Overall no. 5, D2
Power Ranking: #5
Overall Record: 12-4
Against the Nationals Field: 7-4
Against the Pool: 0-2 vs. 6ixers
Boston Brute Squad is headed into Nationals in a very different position than last year. In 2018, they were undefeated before San Diego, giving them the top spot to start. This year things have been a little shakier for the Northeast crew, and they enter the field the no. 5 seed, second in the pool. The only word that can really be used to describe Boston's 2019 would be 'rollercoaster.' They dominated the US Open, defeating Columbia Revolution in the final, and then followed that up with an abysmal performance at Pro Championships, losing to Fury, 6ixers, and Riot to finish fifth. Then recently they lost the Northeast Regional title for the first time in years, losing again to Toronto 6ixers in the final.
But it goes without saying that you cannot count out this brilliant squad. Brute Squad is a resilient crew led by strong leadership who know how to make the losses work to their advantage. Head coach Ariel Jackson thinks that losing is a mixed blessing. "You don't want it to hurt your confidence too much, but it can also give you humility which is equally important. Plus, it gives us more tolerance to hold ourselves to a higher standard at practice than we've been able to over the past few years, which I love as a coach," said Jackson.
Though their O-line has shown some cracks, their D-line is as dominant as ever, and they've had a month between Devens and San Diego to sort out some problems. According to Jackson, they've been working to refine many aspects of their game, with a particular focus on their handler sets. Not being at the top of their pool is an unfamiliar place for Brute Squad to begin, but it means that Pool D has a terrifying second team, and that Brute Squad is coming into Nationals with something they haven't had in a long time: something to prove.
Likely ceiling: National Champions
Likely floor: Quarterfinals
Portland Schwa
Seeding: Overall no. 9, D3
Power Ranking: #10
Overall Record: 19-11
Against the Nationals Field: 6-9
Against the Pool: 0-1 vs. 6ixers, 1-0 vs. Pop
Portland Schwa is the no. 9 seed in the tournament and the third seed in Pool D. Coming from the notoriously strong Northwest Region, they were tested by several top squads at Regionals, giving them more valuable postseason experience than some other teams headed to San Diego. Schwa has been consistent and predictable this season: they've lost to almost all the teams seeded above them – Molly Brown, Riot, 6ixers, Scandal, Phoenix, and Traffic – but they've also beaten Traffic, Nightlock, Nemesis, and the team seeded at the bottom of Pool D, Pop.
Though they are in the precarious position of being the third seed in the pool behind two powerhouses, Schwa has played a lot of ultimate this summer – 30 sanctioned games – and have proven at various times that they can come together to play clean, crisp games. At Northwest Regionals, when they lost to Traffic and had to use the backdoor route to earn the third bid, they showed that they can rally themselves back from a loss and still perform under pressure. Julia Sherwood and Kimber Coles propelled their offense and Kristen Rosenblum took on a new role, leaving the backfield to score some points, allowing them to clinch the third bid in a relatively uncontested game-to-go. A potential prequarter against a familar foe in Traffic would be a defining game of their postseason.
Likely ceiling: Quarterfinal
Likely floor: Prequarters
Minneapolis Pop
Seeding: Overall no. 16, D4
Power Ranking: #23
Overall Record: 17-7
Against the Nationals Field: 1-3
Against the Pool: 0-1 vs. Schwa
Minneapolis Pop is truly starting from the bottom, as they enter as the no. 16 seed of the tournament, meaning any win they attain will be an upset. But don't let their low seed lower your expectations of this North Central crew too much. Pop may be the bottom seed, but they are not unfamiliar with the Nationals scene; they have more appearances on the big stage than some of the teams ranked above them, and they have veteran leaders who can draw upon their previous experiences to help the relatively young team secure a few wins.
In the North Central Region, where there was only one bid on the line, Pop cruised through the competition, completely unscathed. Veteran Biz Cook and Makella Daley were unaffected by the wind, leading to no game being closer than a four point margin. Earlier in the season, Pop faced Pool D mate Portland Schwa, and lost by only two points, and at Elite-Select Challenge, they locked in a definitive 14-9 win over eventual winners, Boston Siege. Though it's unlikely this team will get very deep into the bracket thanks to the formidable talent in the top 8, it's certainly possible for them to mix things up and cause an upset.
Likely ceiling: Prequarters
Likely floor: Done on Day One