Revisiting how Thursday's pool losers came up short and then looking ahead at their potential futures.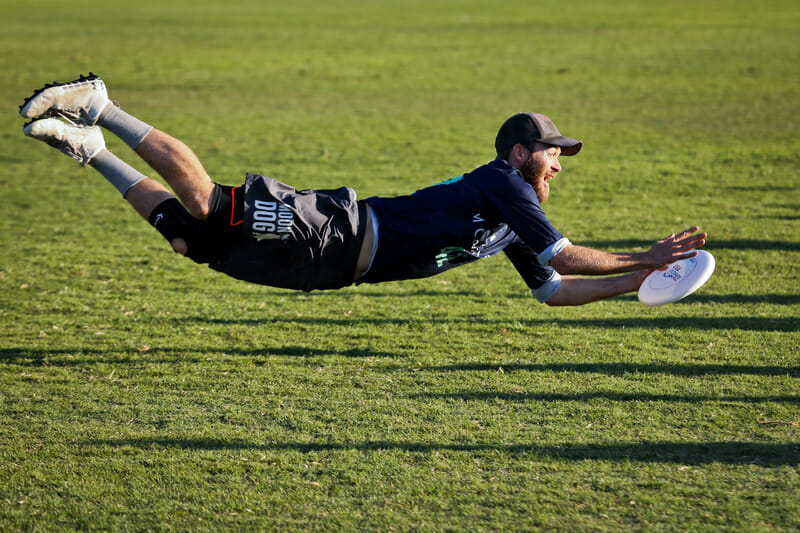 Ultiworld's reporting on the Club Mixed division is presented by Universe Point cleats. All opinions are those of the authors. Please support the brands that make Ultiworld possible and shop at Universe Point!
As much as we like to focus on the next stage of a tournament and fire off predictions on who will make deep runs through the bracket, let's not forget those teams that earned their way to San Diego only to flame out on Day 1. Four squads saw their championship dreams come to an end today — but there's always next year. Let's take a look at what went wrong today and what could go right in 2020.
Dallas Public Enemy
Remember when Dallas Public Enemy felled both shame. and Love Tractor to come into Nationals as the top qualifier out of their region? Instead of riding that momentum into the bracket in San Diego, they heartbreakingly came up short on multiple double game points to end their season almost as soon as they really got going.
An early exit from meaningful bracket play doesn't represent their talent, but it may say something about their depth and where they spent their energy. When looking at Public Enemy's record and their performance today, it seems they spent it all too early. In their first game against Drag'n Thrust, the Texans looked ready to upset a national powerhouse. They played mostly on serve with the Midwest giant and for a minute it looked like they could take the game. But Drag'n Thrust broke to win on DGP. Reeling a little from the disappointment, Public Enemy fell behind BFG early and let the Seattle squad pull away for a big victory. Against Columbus Cocktails, with their backs against the wall, Dallas fell flat.
The sideline presence was dull and underwhelming from both sides for what amounted to an elimination game to end the day. After winning the first half 8-5, a key injury halted any semblance of momentum. Cocktails immediately went on a five-point run to take a lead they would not relinquish. That body blow snapped Public Enemy out of their funk, but it was too little, too late. Tension with the observers was palpable in the high-stakes game and at least one Enemy left feeling aggrieved over several close calls that went against Dallas. It came to a head during double game point, when Columbus marched the disc into the red zone, and then a questionably up catch was challenged and put the game in the observer's court. While there was disagreement on the sideline about whether the disc had touched down or not but, the receiver's up call was upheld. A moment like that contributing to the end of a season is tough to take.
In the end, leaving it up to the last point makes that one call seem overly consequential. It would have been a non-issue had Public Enemy created a larger buffer in the first half, won more in the smaller moments, or boosted their energy earlier in the game's waning moments. In the end, the ambition early in the day in riding top players to an agonizing near miss against Drag'n perhaps left them short of the requisite gas to end the day. Just a little more or a piece of luck and they could have easily launched themselves into the bracket.
Out of the four teams who dropped out on Day 1, Public Enemy has one of the brightest and highest potential futures.  The roster is talented and deep, with a solid spread of disc handlers and athletes. If they can somehow hold the late-forming core together into 2020, they could do serious damage next year with this experience under their belt.
Durham Toro
While their day wasn't quite as dramatic as Public Enemy, like their Pool A counterparts, in the end Durham Toro was also just a double game point loss away from making the bracket. After two significant losses to Pool B's top seeds, Toro's final round game against Polar Bears was close throughout. A late three-point run tied it at 11-11, but Durham couldn't get over the hump and traded holds to a 13-12 loss.
So what went wrong their day? Well, the team is very focused on their deep game. Their handler corps loves to strike to something resembling power position and put it out for their athletes to run after. This is a high-risk strategy that can be disrupted by windy conditions (like we for stretches today) and the speedy defenders that crowded Pool B. Teams need to be able to adjust their strategy to fit the conditions they encounter, and Toro seemed set on sticking to their guns and riding out their style for better or for worse. Mixtape is definitely not the type of team you want to get into a hucking battle with, as no mixed team plays that style better than the Seattle squad. They can also completely reverse course and play a fast game of small-ball. Space Heater has a difficult mix of players to gameplan for, and some true gamebreakers in Jenny Fey and Georgia Bosscher that Toro couldn't slow down. With such accomplished throwers ready to attack when hucks aren't connecting, Toro's margin for error disappeared. And against Polar Bears, Toro encountered a stylistic equal: high-risk, high-reward, error-prone but athletic. A double game point loss in a mirror matchup feels like a fitting end given their insistence on plowing forward that way.
Despite the sub-par performance at Nationals this year, Toro have plenty to look forward to. Tristan Green, Tanner Barcus, and Grayson Sanner are all core members of their offense and under 30 — as are over ⅔ of their roster. Toro has speed to burn up and down the ranks, and if they can learn to dial back and attack the underneath space with the same aggression as they streak to the end zone, they could prove a dynamic offensive threat. That athleticism also earns a ton of blocks, and it keeps them from getting blown out. They've got competitive games throughout their resume on the year against some of the best teams in the country, and it shows a level of grit that is hard to conjure from scratch.
With the Southeast division getting more and more competitive, Toro will have their work cut out form themselves to stay on top of the field. Expanding their repertoire and using their innate athleticism in different ways could keep them coming back to Nationals for years to come.
Montana MOONDOG
The what-ifs are simultaneously impossible to ignore and extraordinarily painful to consider, yet that is exactly the situation Montana MOONDOG are in. They had two golden opportunities to end Thursday in a much happier place, being up 8-5 at half against both Philadelphia AMP and San Francisco Mischief. Having let both chances slip away, they simply ran out of gas against Boston Snake Country.
Making Nationals as a first-year team is always an accomplishment, but the highs of the season suggest there's more in store, and certainly more to build toward in the upcoming seasons.
MOONDOG was built on the backs of two consistent Northwest regional contenders, Bozeman Bozos and Missoula Mental Toss Flycoons. They combined this year to make a Montana All-star team. An undefeated debut at the Select Flight Invite (West) saw the pups quickly capture the ultimate community's imagination. MOONDOG became a darling of social media, and set themselves up for a run at Regionals. That path went off the rails after a loss in the Big Sky Sectionals game-to-go against Saskatoon Bunnies. But a waitlist bid bailed out MOONDOG, and they took down regional rivals Boise Lochsa to ensure the Big Sky would be represented in San Diego.
With their bumpy route into Nationals, it seems like MOONDOG would just be happy to be here, but given their fortunes turning in the AMP and Mischief games, it's hard not to think of what went wrong. Big-game experience is obviously a gap in their resume, and both AMP and Mischief draw from deeper talent pools which shows in their superior depth. Maybe it's just how the luck of the disc goes, with a few inches here or there making the difference between pulling out a win and losing a heartbreaker. Or it's a bit of all those factors.
MOONDOG are well-positioned to get back to this stage in 2020. Not only will they have access to top-tier competition in next season's TCT regular season, they will likely do so with a similar core of players given where their geography. That's both the blessing and the curse of a relatively isolated ultimate community: having a consistent, dedicated, but smaller community to draw talent from. MOONDOG's improvement going into next season will have to be internal, and working on their mental game will be at the top of their list. Finding and developing young talent will also help Montana in the seasons ahead, especially since only five of their players are under 25. MOONDOG knows they can play at the National level, and can take the what-ifs of this season and use them for motivation to close those games out come next season.
Boston Wild Card
What a descent. After missing out on Nationals last year, Boston Wild Card came into the year with a drive to get back to the big stage — and they delivered. Winning the Elite-Select Challenge, East Northeast Sectionals, and Northeast Regionals, Wild Card looked as good as any team in the division in 2019. All that came crashing down around them in San Diego. Losses to Fort Collins shame., Asheville Superlame, and cross-town rivals Boston Slow White on Thursday marked a disappointing end to a potential bracket run.
This may have been the worst combination of teams for Wild Card to encounter. As a team that has a lot of high-floor players on the roster, they can be remarkably consistent from game to game. That floor plays against them when faced with high-variance teams. Shame. have some of the most athletic players in the division, and when they're clicking like they were today, few teams can run with them. Superlame have an experienced roster able to ride out rough patches and get back on track by relying on pockets of chemistry; the Southeast squad proved they could fight back from a deficit when a younger opponent may have surrendered. Slow White knows Wild Card too well to not return the favor of a Regional final loss, and Slow White's recent infusion of speedy youngsters is a tough combination to face.
At the same time, it looked as though Wild Card had a tendency to play the games their opponents wanted Boston to play. Getting into a hucking battle with Fort Collins is bound to end in shame.'s favor. Wild Card tried to finesse a few too many throws against a Superlame team baiting them with intelligent defense. Against Slow, Wild Card trotted out a very similar strategy to the one that worked at Devens last month — this time the dwarves were ready.
Still, for all their strategic missteps today, Wild Card's overall talent meant they were never too far out of the running. A high floor creates a solid foundation to build upon. Much of the roster's talent is still young, with Luke Webb, Hannah Crowley, and Kyle Johnson leading the way. They've kept a stable roster the past few years and extended continuity should create a chemistry edge over teams chasing talent. Every team talks about process, but using early-season tournaments to workshop and push their ceiling seems like the key to making a run next year. The players are certainly capable of those heights. It requires the effort to draw those capabilities to the forefront. This Thursday was a tough blow, but Wild Card have shown in the past that they can bounce back. This is one more chance to do so.