Three teams we're buying, holding, and selling heading into bracket play.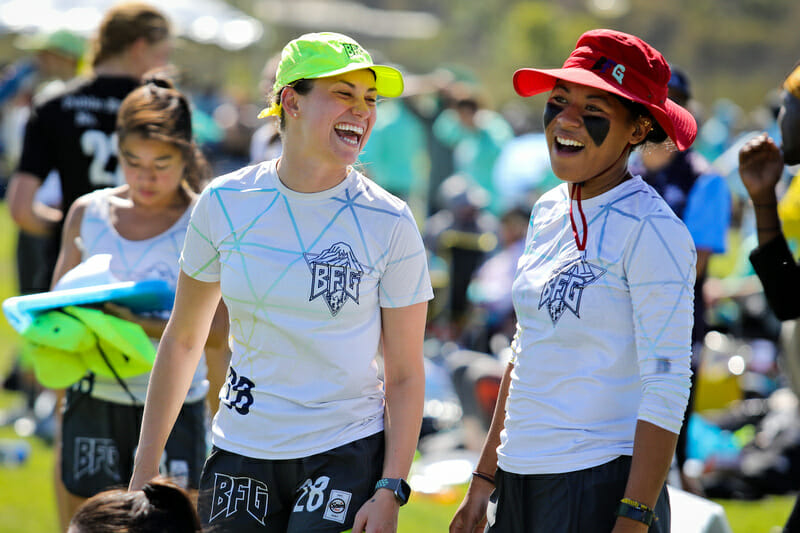 Ultiworld's reporting on the Club Mixed division is presented by Universe Point cleats. All opinions are those of the authors. Please support the brands that make Ultiworld possible and shop at Universe Point!
Catch up on our full Thursday coverage on the Day 1 Liveblog.
SAN DIEGO — We've wrapped up Day 1 in San Diego and with an array of shocking results, it's time to check in on some of the remaining teams and see what their trajectory looks like. Who were Thursday's overachievers? Who is who we thought they were? Who didn't quite meet our expectations? Let's dive in:
Stock Rising
Fort Collins shame.
(3-0 in Pool D, +11 point differential)
Arguably the biggest movers and shakers of the day hail from Fort Collins — shame. put the mixed division on notice with a clear run through Pool D. The Coloradans' opening win over Boston Wild Card gave them a chance to move up in the pool, then their comprehensive victory over Boston Slow White in the second round with windy conditions cemented it. Their game against Asheville Superlame turned out to be the game for the quarters bye between the no. 9 and no. 16 seeds, and for the first and only time of the day the higher seed won in Pool D.
The players that shame. rode to success on Thursday were very much the same ones that got them there, with the slight exception of Nick Lance who was out injured much of the season. Lance, along with Kevin Herrera and Kevin Coulter provided the power arms for shame. and they found reliable targets downfield in Aubree Dietrich, Alexandra Daniels, and Nick Snuszka. Particularly in the game against Slow White, the ability of Lance and the rest of the shame. throwers to place hucks in the wind allowed them to shorten points and make offense easy when they needed it.
Shame. will relish their bye to quarters as they wait to see which of Boston Snake Country and San Francisco Polar Bears they will face. The Fort Collins squad carry a win over Snake Country in from Pro Champs and have to feel good about their chances with two wins here over higher-seeded Boston squads in their back pocket. Shame. might not have come near the top of anyone's prediction charts, but they have a real shot of making a run to the semis, if not the final.
San Francisco Mischief
(3-0 in Pool C, +8 Point Differential)
Mischief showed streaks of promise early in the season, making a strong though capricious run at the U.S. Open. Then they won the competitive Southwest region and we started to wonder what their ceiling really was. By going 3-0 and winning their pool at Nationals, they established themselves as a talented team with high potential and all the pieces to be a title contender this weekend.
What are those pieces? Cody Kirkland is an expert thrower, putting up six assists today. Jake Smith had four blocks in the Moondog match-up alone. And Lexi Zalk doesn't just lead her team, but the entire division, with nine goals today. The top three scorers for their team are women, which matches the eye test — their team depended on their women to be playmakers and game definers. Watching them play against a tough MOONDOG squad, Mischief finally broke out when they started just throwing it deep to Zalk and challenging her defenders to stop her. They couldn't.
Though they do sit on the side of the bracket full of heavyweights, their first game is a quarterfinal against Superlame or Columbus Cocktails. They stand a very good chance of coming out the other side of that matchup and can worry about a hard semifinal when it comes to that. After all, a team that took down AMP and Snake Country earlier this seson shouldn't be too afraid of anyone at this point.
Seattle BFG
(3-0 in Pool A, +13 Point Differential)
The mercurial season of BFG continues. Big wins at the Northwest Fruit Bowl were balanced out by some disappointing results at the U.S Open and Northwest Regionals, where they had to fight through the backdoor bracket just to qualify for San Diego. Today, though, the good version of BFG came to play. After a close opening game against Columbus Cocktails, they went on a tear against Dallas Public Enemy and Minneapolis Drag'n Thrust, winning big in games that weren't nearly as close as the scores indicated.
Paced by the handling corps of Mario O'Brien (8A), Tommy Li (6G, 3A), Ben McGinn (5G, 5A), and Jay Boychuk (6G, 4A), BFG had the best plan for handling the sudden wind that popped up in Round 2. They were patient when they needed to be, aggressive up the line when the opportunities presented themselves, and refused to get sucked into the higher risk style of play that plagued their poolmates. Top to bottom, BFG have some of the most consistent throwers in the division, and that team strength helped them avoid the pitfalls that befell other high seeds. Their playstyle was not dependent on conditions in the slightest, raising their floor and making them a threat the rest of the tournament.
Seattle don't have the easiest road through the bracket, with a quarterfinal matchup against either Philadelphia AMP or Washington DC Space Heater, but with the consistency they showed today, they have an excellent chance at riding out the runs and staying ahead of the high-variance matchups in the bracket.
Holding Steady
Boston Snake Country
(2-1 in Pool C, +8 Point Differential)
Took some time to get here, didn't it? After a semifinal run in 2018, expectations were sky high for what the second year held for this superfriends superteam. Up until this point, most would say that they failed to reach the same heights. However, this was a team that stayed confident in their abilities and their leadership was confident in the knowledge that they could put it all together when they needed to.
When you look at the roster they've assembled, it's hard not to see why. Peter Prial is still a gamebreaker and Jacob Taylor has taken over the primary distributor role for the offense. Kim Culpan will score buckets of goals and we're finally seeing the version of Snake Country we expected to see all year. It's fair to ask if the mandated travel schedule imposed by the Triple Crown Tour sapped some of the fun from the team, but the end result is a battle-tested group that is peaking at the right time. It took four tries in 2019, but Snake Country finally came up with a win against Philadelphia AMP, and that drove them to a second-place finish in Pool C.
The path forward is a tricky one. San Francisco Polar Bears boasts a young roster with speed to burn, and should Snake Country survive that, they face a matchup with perhaps the most athletic team in the mixed division in Fort Collins shame. While their track record certainly speaks for itself, a scorching hot shame. is a tough matchup for a team that tends to rely on their own athleticism.
Columbus Cocktails
(1-2 in Pool A, -8 Point Differential)
A team with good chemistry who has the potential to rally in the right circumstances, we feel comfortable estimating that Columbus have a solid shot against Superlame. The day started slow as they also came up a little short against BFG and eight goals shy of Drag'n Thrust. Then their athleticism carried them through a tough second half against Public Enemy, and launched them into the bracket. The lower seed teams are much better than they used to be in mixed: today proved that everyone has a shot at the top of their pool, and Columbus slipping into the bracket is impressive but not surprising.
Though they play solid system defense, they may lack serious playmakers to survive further into the bracket. Cocktails are establishing themselves as the next stalwart mixed program in the Great Lakes and their second year at Nationals suggests their program is solid, their players have good chemistry, and they have the ability to give the top teams a good game. Watch for Emily Barrett to do work for the team: she scored eight goals for the Cocktails on Thursday. Sion Agami has continued his success from last nationals, racking up five assists along with Ben Sever and Cara Sieber.
Cocktails have a big matchup in the prequarters with a surprising Asheville Superlame team, though even if they win that, the odds of making it past San Francisco Mischief squad aren't as promising. Then again, this is a team that thrives on beating expectations. They have another crack at making a run on Friday.
Seattle Mixtape
(3-0 in Pool B, +14 point differential)
Mixtape came into the weekend among the title favorites and they remain there after a perfect start to 2019 Nationals, with Day 1 wins over Space Heater, Polar Bears, and Toro. They were never seriously tested, with only Space Heater giving the 2017 champs a scare, tying the game at 10-all before Mixtape pulled away at the end.
Propelled by returning vets Henry Phan and Jen Cogburn and new additions Hazel Ostrowski and Kieran Kelly, the Seattle squad looked comfortable throughout the day as they efficiently worked through the pool. Mixtape took some lumps off the field, though, as captain and star Khalif El-Salaam suffered the effects of heat stroke in the last round of pool play and multiple other Mixtape players struggled through cramps.
Where does Mixtape go from here? Their pool win gives them a bye into the quarterfinals, where they'll see either top seed Drag'n Thrust or perennial contenders Slow White. Mixtape lost to longtime bugaboo Drag'n earlier this year, but they have not faced Slow White. While their undefeated day meant they may have expected a more straghtforward road through the quarterfinals, either way Mixtape will have their work cut out for them to make it back to yeat another semis.
Stock Falling
Boston Slow White
(1-2 in Pool D, -4 Point Differential)
We here at Ultiworld were very high on Boston Slow White coming into this season. Sure, there were questions about the youth infusion throughout the roster, but the assumption was that talent would win out. And for much of the season, that was true. Good results at the Pro-Elite Challenge and the Pro Championships buoyed this perception, but we were always wondering when Slow White would shift into the next gear and start running away with the season. Well, we're still wondering.
Slow White had some completely inexplicable miscues in their games against Asheville Superlame and Fort Collins shame., missing easy reset throws, not reading their handler movement properly, and just straight dropping throws that good teams are supposed to catch. Those sorts of mental errors are excusable during the regular season, where teams can chalk them up to part of the learning process. Not so at Nationals, where the margins disappear. It's not like the experience isn't there, either. Tannor Johnson has more Nationals-level experience than many players here in San Diego, U24 national team members like Ari Nelson and Renata Pepi have squared off against some of the best around the world, and yet they haven't put it together. It's fair to wonder if they ever will this season.
With a prequarters matchup against Minneapolis Drag'n Thrust first thing on Friday, followed by a potential quarterfinal match against Seattle Mixtape, Slow White is staring down an early exit after a promising off-season. We'd be shocked to see a run through the bracket at this stage.
Minneapolis Drag'n Thrust
(2-1 in Pool A, +3 Point Differential)
We all know Drag'n Thrust can be streaky. We saw them go down at U.S. Open, and then come back magnificently. It's not a stretch to believe they still have a legitimate chance at the title. Though they had a mostly successful 2-1 record today, a different side of Drag'n Thrust came out in their big pool play loss today. They went down hard against BFG, the wheels came off, and their frustration at themselves compounded. Sometimes frustration fuels a team, but in that game, it broke them down. BFG came into that game with the intention of focusing on an offensive solution, instead of just shutting down the Drag'n Thrust dominance. Using that creativity, they were able to effectively run a handler dominator that brought down the Midwest powerhouse. BFG wasn't the only team that tripped Drag'n Thrust up: Public Enemy also caused some havoc by bringing Drag'n Thrust to double game point.
Their stars still did a lot of work today: James Hron, Sarah Meckstroth, and Claire Thallon all tied with four goals for the day. Erica Baken led assists, putting six on the board for Drag'n. Their talent are depth are still kind of staggering, but the stakes are too high at nationals for Drag'n Thrust to expect that their opponents will give up or be shaken by their strong roster.
Even if they bring their best game tomorrow — which could still approach unbeatable — they have one of the hardest paths through the bracket. First they need to beat Slow White, who at least flashed glimpses of brilliance in their last game today. If they do, they would be paired up against the two-seed Seattle Mixtape, who has been playing exceptionally all season. If they make it through the quarterfinal that was pegged as many prognosticators' final, they still have to win a tough semifinal to have a chance at the title. Possible? Sure. But not if they play like they did on Day 1.
Philadelphia AMP
(1-2 in Pool C, -1 point differential)
The defending national champions did not look like themselves on Day 1, going 1-2 in a tough Pool C with close losses to Boston Snake Country and San Francisco Mischief, narrowly avoiding irrecoverable disaster by surviving a tight match with Montana MOONDOG. AMP fell behind early in their first two games against Snake Country and MOONDOG, going down as many as five breaks, while they gave up a big lead against Mischief to let that game slip away.
AMP has historically been a team that has started strong and closed well but they were not able to do that today as mistakes piled up. "There were very small margins today. We had opportunities to keep going on defensive runs and just couldn't keep them going," said AMP coach Patrick Sherlock. "Our opponents were well prepared for us, and it's on us to show our strength in our game plans and execution."
Another aspect that may have hampered AMP today was their continued propensity to play relatively open lines and have a clear rotation no matter what circumstances they found themselves in. While great for team chemistry and process in building a program, it can be problematic when you just need players to step up and take over. Arguably, AMP missed that element today.
AMP's disappointing pool play results means that they'll have to go through prequarters tomorrow, although their title win last year after landing in pre-quarters means that we by no means should rule them out. They'll get another rematch there against regional rivals DC Space Heater, who AMP have a 3-0 record against this season, before potentially seeing Pool A upset winner Seattle BFG in the quarterfinals.