Commanding attention both on and off the field, Robyn Fennig is carving out her place in ultimate's pantheon.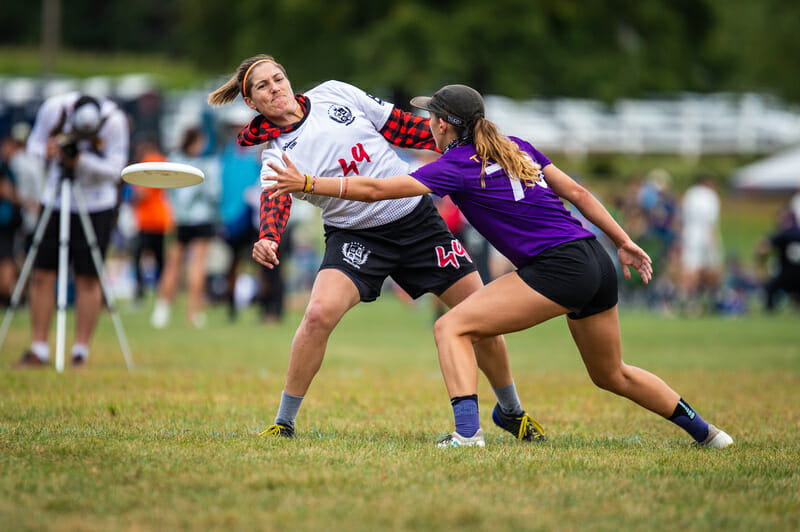 It may come as a shock to some, but the women's division currently has a problem with the President of USAU's Board of Directors, Robyn Fennig.
Or, wait, let me rephrase that: the women's division currently has a Robyn Fennig problem — she's maybe a little too good. No, this isn't exactly a recent phenomenon; we've long known Fennig is a one-person demolition team. Last year she led the division in assists — by a lot. In only three tournaments, she racked up 80(!!!) recorded assists while playing for Heist. She was Madison's best handler, defender, and puller all throughout 2018.
So why does 2019 feel different? Between her international appearances, PUL performance, and prominence in USAU, Fennig's never been more visible — and that's all before considering what she's done in the club season. By joining #6 Washington DC Scandal, a team primed for a deep Nationals run, Fennig is on a team with higher stakes and a larger stage. In the three regular season tournaments that they've played this season, Scandal has never finished lower than sixth, and has had half a dozen games filmed or streamed by Ultiworld alone. That's the most of any elite women's team, and a strong case for Fennig's continued prevalence.
But, for Fennig, the increased media coverage and national awareness is a symptom, not the cause. Strip away all the extra attention that comes from playing for a team that has a shot at a national title and one fact still remains: Robyn Fennig is a transcendent ultimate player.
Robyn Fennig, Ultimate's Commander In Chief is only available to Ultiworld Subscribers
Already have a subscription? Log in
Whether you visit Ultiworld for our reporting, our podcasts, or our video coverage, you can help us continue to provide high quality content with a subscription. By becoming a subscriber, not only do you receive benefits like exclusive articles and full article RSS feeds, you also help fund all of Ultiworld's coverage in general. We appreciate your support!