Sockeye's fearlessness in the moment and trust in their gameplan paid off late against a Ring of Fire brimming with talent and promise.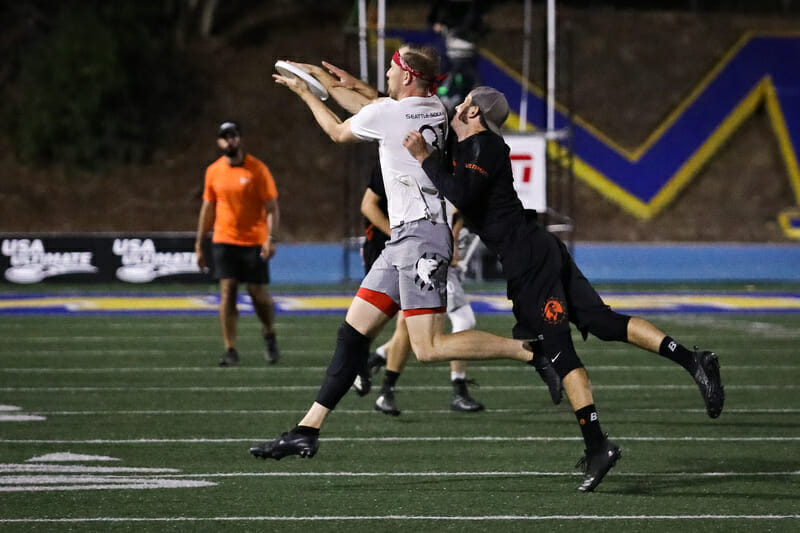 Ultiworld's club men's postseason coverage is presented by Spin Ultimate; all opinions are those of the author. Gear up for your big games, your tournament parties, and everything in between at Spin Ultimate!
Can they do it?
That was the question on everybody's mind as Seattle Sockeye found themselves on the wrong end of a few razor-thin moments Saturday night against a Raleigh Ring of Fire squad who tore through the first half in a blaze of glory.
The answer? A resounding yes. Sockeye rode a trio of star performances — and the same unshakable faith in their steady-as-she-goes mentality that have kept them firmly in place at the top of the division all season long — to turn the tide in their favor in the second half. They back from an 8 – 5 halftime deficit to defeat Ring of Fire 14 – 13 on double-game point.
For much of the contest, it looked as though Ring were finally going to break through the semifinal ceiling. After three consecutive semifinal losses dating back to 2016, no one can argue it wasn't their turn. Destiny seemed to be cooperating: Sol Yanuck hand-blocked Chris Kosednar on Sockeye's first possession to put Seattle into a 2-0 hole, and the versatile Ring of Fire offense found more than enough room to move past the fluid Sockeye defensive schemes.
The Sockeye offense regrouped from that low point, thanks particularly to the aggressive, turnover-free play of Dylan Freechild (4G, 3A) and Brice Dixon (3G, 3A). Freechild has been one of the most dangerous players in the country for years now, but Dixon, a D-line transfer brought in to fill the final spot on the offense when Danny Karlinsky retired, has snuck up on the men's division this season. Although his main job on the field is to offer a reliable outlet for hub handler Simon Montague, his creative looks in the red zone and the smart timing of his upline cuts were vital in the semifinal.
"Brice has been steady all year. I think teams underestimate his athleticism. I think you don't usually see that kind of confidence with a player who gets pulled over [from the D-line]," said Freechild. "But that guy reeks of confidence, and that guy has never seen a moment that he's not ready to tackle head-on. Tonight, a lot of people got to see that."
Ring's offensive points did not leave much room for Sockeye to earn back the break, however. Between Henry Fisher scoring and throwing deep goals, Eric Taylor owning his matchups in the air, and Jack Williams dodging defenders left and right in the red zone, Raleigh were firing on all cylinders.
Even so, the one-break deficit Seattle faced is no insurmountable barrier to victory for a team of their caliber. The first half's inauspicious beginning became a real problem, however, when one of the Ring of Fire rookies had the nerve to bait a short look to long-time Sockeye cutter Matt Rehder just before the intermission. Austin von Alten stormed the lane underneath Rehder and left his feet just in time to get a finger on the pass. Alex Davis –another Ring rookie — took off for the opposite end zone, where his top-of-the-division top speed1 allowed him to cruise under Yanuck's rocket-powered missile of a huck.
Sockeye came out of the intermission with a clear agenda to earn enough breaks to reclaim control of the game and the team mood was anything but desperate. "Our mantra all year has been 'Keep pushing, keep diving, it's gonna happen,'" said Freechild. "[Raleigh] came out really showing that they had a lot of energy to put into the game. I don't think we spoke about anything at halftime to try to change that. We just understood that we were confident to keep knocking on that door and keep pushing and pushing. It's gonna come. And when it comes it might not be a huge break, but when we see a little crack we just gotta keep pushing."
Sockeye did, in fact, have some big breaks waiting behind the little cracks in the second half as they continued to play the same hard defensive schemes that failed to force enough turnovers in the first. A handblock by Ben Snell to neutralize a Noah Saul scoober reset got the ball rolling. It was the first of a pair of Ring turnovers against Sockeye's zone, which, until that point, Ring had handled with ease.
The fact that Sockeye did not adjust it from one half to the next testified to a scheme's almost timeless effectiveness. "I think the defenses that they ran give you the illusion of easy passes. Create the illusion of openness, and then it's gone." said Ring of Fire coach Mike Denardis after the game."
Saul agreed. "We saw their zone on film and we were wanting to play against it. We thought we were going to be able to chip it up and work through it, and for the most part we did…I don't think it was anything they did necessarily [to force the second half turnovers] except just be persistent. And eventually, we fell into the trap."
A much more resounding and pivotal moment transpired after Sockeye had brought the game even at 11-11. A Ring huck went up for Williams on the force side. Trent Dillon was trailing significantly at the start of the play, but the huck had enough loft that he had time to catch up with Williams, set his feet, and spring improbably over Williams' reach to break up the play. It was a stupendous, technical effort.
Dillon credited the block partly to team-wide concentration on the task at hand. "We talk a lot about fearless energy, defensively. There were a number of moments in that second half where I would make eye contact with a random person on my team, and there was just a level of intensity that I haven't felt yet this year." The block resulted in a Sockeye lead at 12-11, their first of the game.
Ring held on their next point, but the soft cap horn blew. They needed to break one more time to take the long-coveted slot in the final on Sunday.
It wasn't to be. A good defensive point from Ring of Fire ended with a simple miscommunication. Yanuck was guarding Dixon in the inside dump space in Sockeye's red zone set. Worried about the strong-side throwing lane and confident help was waiting a few yards behind him, Yanuck ignored the Dixon strike toward the end zone. But there was no help that time, and Dixon caught a free goal to win the game.
It was a tough pill to swallow for Ring, who have been so close so often in recent years. Many more tearful faces were to be seen than wistful smiles in the post-game mingle. But, given the young age of such a large chunk of their roster, Ring have a few more chances to get it right.
Sockeye face a Machine team in the final that present more than a few challenges, especially on offense. Given the way they had trouble defending Williams in Ring's red zone weave, they are going to have their hands full with Kurt Gibson, Joe White, and Keegan North in similar situations as they take aim one last time at the championship.
Machine's stars don't worry Sockeye any more than the halftime deficit against Ring did — not that they don't respect the game. Quite the contrary. It's just that, as Freechild emphasizes, the difference in the final isn't likely to be strategic. "A little bit of a flatter mark or a roll off an upline isn't going to do a whole lot against world-class players.There really isn't a whole lot you can do when there's a well-oiled machine2 you're going up against," he said.
"You just wait for a crack to show and you take advantage."
That's the game plan that has gotten them this far in a sterling 2019 campaign, and Sockeye see no reason to change it now.
---
He clocked a 4.46 second 40-yard dash earlier in the weekend. ↩

No pun intended… I think. ↩