Every division and at least 10 different countries will be streamed!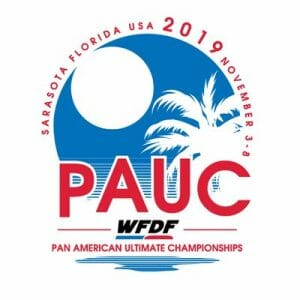 The 2019 Pan-American Ultimate Championships are set to begin in less than 72 hours!
If you can't make it to Sarasota, Florida, to watch in person, you'll be able to follow the action on Ultiworld with 12 livestreamed games over the five days of the tournament (Monday, November 4th – Friday, November 8th).
Below is the full livestreaming schedule. Here are the pool play and round robin schedules for the Men's, Mixed, Women's, Masters Men's, Masters Mixed, and Grandmasters Men's Divisions.
All times Eastern.
Monday, Nov. 4th
9:00 AM: Chile Mixed v Osos Perezosos (Costa Rica) [X]
11:30 AM: USA Virgin Islands v Distilled Fink (USA) [MSTR X]
Tuesday, Nov. 5th
9:00 AM: Panama v La Séptima (Colombia) [W]
11:30: All Bashed Out (USA) v Yanomami (Venezuela) [MSTR M]
Wednesday, Nov. 6th
9:00 AM: Charrúa (Uruguay) v NGF LocoUltimate (Brazil) [X]
11:30 AM: Alberta Flatball Club (Canada) v Domino (Dominican Republic) [M]
2:00 PM: Johnny Walker (USA) v. Tombstone (Canada) [GM M]
Thursday, Nov. 7th
9:00 AM: Women's Quarterfinal
11:30 AM: Men's Semifinal
Friday, Nov. 8th
9:00 AM: Men's Final
11:15 AM: Women's Final
~1:45 PM: Mixed Final1
---
The final will begin after the Women's final and all awards ceremonies except for Mixed Gold and Silver ↩