The most impactful players in the mixed division on the defensive end.
Ultiworld's 2019 Mixed Club Awards are presented by Tokay Ultimate cleats. With their new Flight cleats, your feet can shine like these stars! Check out Tokay, the cleats you were looking for.
Ultiworld is pleased to announce our fourth annual Mixed Club Awards. While we consider both regular season and postseason performance, because of the nature of the Club Division, we weight success in the Series and at Nationals above all else. The club awards are selected based on input from Ultiworld reporters, contributors, and editors.
Player of the Year Award
Offensive Player of the Year Award
Breakout Player of the Year Award
Coach(es) of the Year Award
All-Club First Team
All-Club Second Team
2019 Mixed Club Defensive Player Of The Year
Jacob Smith (San Francisco Mischief)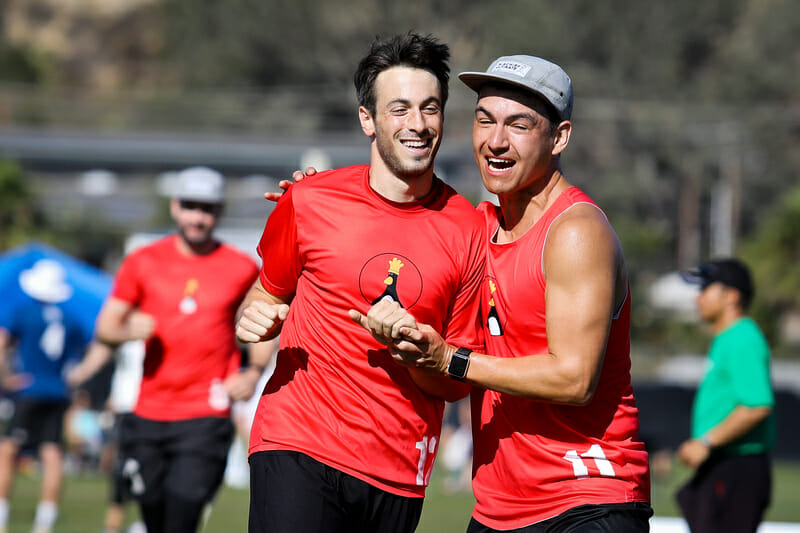 What makes a Defensive Player of the Year? Is it taking the most difficult matchups? Getting the most blocks? Effectively erasing an opposing offensive player from the field? In the case of Jacob Smith, the answer was all three, as he led San Francisco Mischief's defensive line with big blocks, shutdown marks, and consistent, attentive defense. On their way to the national final, Mischief's defense neutralized potent offenses and went on game-breaking runs — Smith was in the middle of all of it with comprehensive defensive excellence.
2019 was Smith's first season on Mischief, but that wasn't readily apparent since he was routinely tasked with guarding the opposing team's best offensive player. This was particularly true in Mischief's semifinal win over Drag'n Thrust as Smith predominantly matched up against Offensive Player of the Year Caleb Denecour. Smith kept Denecour to a relatively quiet game with little fanfare, doing the basic but critical work of staying with the Minneapolis star and actively taking away what Denecour and Drag'n most wanted. It was, on the whole, a clinical defensive performance and emblematic of Smith's defensive capabilities.
The semifinal wasn't Smith's only outstanding defensive showing, as he accumulated nine recorded blocks on the weekend in San Diego, although there were arguably more that went unrecognized. Smith's block party at Nationals was just a continuation of his regular-season performance, as he led Mischief in takeaways on the season. While not directly attributed to him, quite a few of Smith's blocks came from poach or help defense as he opportunistically roamed away from his matchup. The best defender on a team often has the most freedom to help off and poach, and this was certainly the case for Smith and Mischief. As with any defender, it occasionally didn't work out, but for the most part Smith made the most of his opportunities. Again, this is all as a first-year player on Mischief, making his seamless integration into the San Francisco defensive system even more impressive.
Smith is not the most physically imposing defender out there but he didn't need to be to be an extraordinarily effective defender. Fearlessly taking some of the toughest defensive assignments, Smith made crucial blocks while also being heads up for ways to help off his matchup. Over the course of the season, Smith put together a full portfolio of defensive highlights and it made him the mixed division's defensive player of the year.
– Jenna Weiner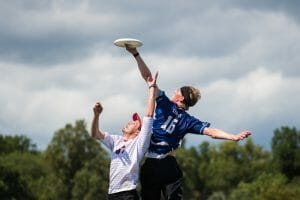 1st Runner-Up: Brian Schoenrock (Minneapolis Drag'n Thrust)
When you've been an elite defender for as long as Brian "Strings" Schoenrock has, it takes a whale of a season to stand out from the rest. 2019 was that season.
Typically tasked with stifling the opposition's best male cutter, Strings takes opposing big men out of games with two superior attributes: his monster hops and his Mr. Fantastic-esque gangliness. They work in tandem to help Strings make the numerous highlight-reel plays he's produced over the last decade, allowing him to mark up on taller cutters and more than hold his own in the air.
On the turn, Schoenrock is Drag'n's trump card. If movement is stagnant, if the stall count is getting high, or if they just REALLY want to score NOW, Strings is the guy going deep. He's equally capable of coming down with sky balls or running down overly-enthusiastic throws. Of course, he can also eat up unders when teams inevitably back him, but big exciting skies are more fun, no?
String's stat line at Nationals was superb: Six goals, four assists, five blocks, and only three turnovers. His plus/minus of 12 trailed only OPOTY Caleb Denecour among his accomplished teammates. And while the gaudy stats are fine and dandy, it's String's spirit that says the most about him. He's a shining example of how the game can be played both intensely and with great spirit.
– Charlie Enders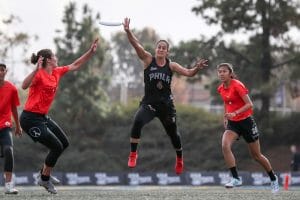 2nd Runner-Up: Raha Mozaffari (Philadelphia AMP)
Four. That's the number of recorded blocks Raha Mozaffari had this season with Philadelphia AMP. And yet here she is, one of the defensive players of the year without the gaudy stat lines that others piled up. Instead, Mozaffari's defensive prowess comes from experience and a practiced ability to rarely, if ever, give up big plays. In sports, there is often a discussion of on-field IQ and Mozaffari has it in abundance, reading the game far better than most and almost never getting out of position. That's a tough ask against some of the best offensive players in the division, including POTY runner-up Lexi Zalk, and yet Mozaffari never wavered.
Mozaffari's impressive play is of course not new, with multiple All-Club nominations and a 2016 USA WUGC team appearance under her belt, but it's been her offensive contributions that have primarily brought her acclaim. However, her move to AMP's D-line this year has reminded everyone of her defensive abilities, even if her play isn't necessarily as flashy as others. Mozaffari's defensive play is textbook, and top players, including teammate and POTY Anna Thompson, continue to learn from her. "Raha is pretty much the best person to look up to, honestly," said Thompson. "She fills every role, [and] is doing everything right on the field." Doing everything right usually comes with outstanding play, and this year it earned Mozaffari a place on the Defensive Player of the Year podium.
– Jenna Weiner