Three young performers who broke out at the club level this season.
Ultiworld's 2019 Women's Club Awards are presented by Tokay Ultimate cleats. With their new Flight cleats, your feet can shine like these stars! Check out Tokay, the cleats you were looking for.
Ultiworld is pleased to announce our fourth annual Women's Club Awards. While we consider both regular season and postseason performance, because of the nature of the Club Division, we weight success in the Series and at Nationals above all else. The club awards are selected based on input from Ultiworld reporters, contributors, and editors.
Player of the Year Award
Offensive Player of the Year Award
Defensive Player of the Year Award
Coach(es) of the Year Award
All-Club First Team
All-Club Second Team
2019 Women's Club Breakout Player Of The Year
Kennedy McCarthy (Boston Siege)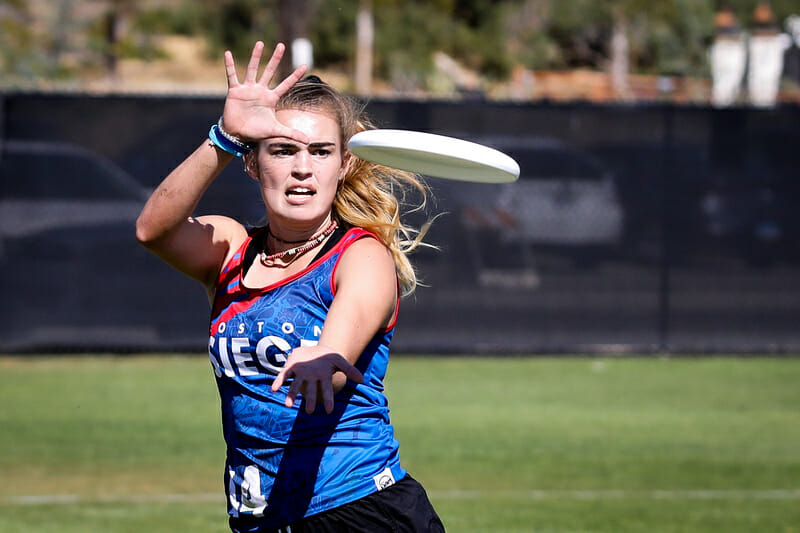 Kennedy McCarthy first burst onto the scene at the U.S. Open this summer. In Minneapolis, she was putting up demoralizing dunks and massive numbers against U20 competition as the star of the co-gold-medal-winning Maine Rip Tide. McCarthy had a strong argument for being the best player at the Youth Club Championships, and seemingly came out of nowhere to rise to the top of the 2019 college recruit rankings. She immediately announced herself as having one of the brightest futures in all of youth ultimate.
This club season, McCarthy announced that the future is now. The young cutter was an absolute force at Nationals for Boston Siege. She finished second in the division in goals scored on the weekend, just one behind seasoned veteran Catherine Hui for the lead. Her 14 goal, 2 assist, 4 block, 3 turn stat line meant she had Siege's best plus/minus by a massive margin.
McCarthy possesses a preternatural ability for big plays, like this one that set the Twittersphere ablaze. Her speed, height, and lateral and vertical explosiveness make her a legitimate matchup issue for even some of the most experienced defenders in the division. At Nationals, she was Siege's top goal-scoring threat and go-to big playmaker.
That she so quickly grew from YCC to breakout to elite, club-level playmaker hints that she may just be scratching the surface of her potential. By October, McCarthy was arguably the second most important player on Siege's roster, a team that ended up finishing 11th in the country.
Siege was really the breakout team of the season. They made Nationals for the first time on the back of a very impressive regular season, and they went out and backed it up with their performance in San Diego. Kennedy McCarthy was the breakout team's breakout player, and a big reason for their postseason success. At just 18 years old, and in her first semester of college, her future is as bright as she wants it to be. She fits every single criterion for the award of Breakout Player of the Year, and it was felt virtually impossible to give it to anyone else.
– Daniel Prentice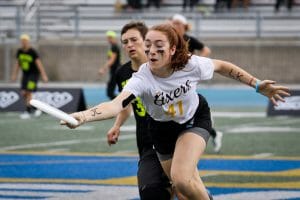 1st Runner-Up: Sarah Jacobsohn (Toronto 6ixers)
Breakout Player of the Year doesn't come down to one game, but if it did, Sarah Jacobsohn would be the outright winner of the award. In Toronto 6ixers' defining game of the season — their upset win over Seattle Riot in the national quartefinals — Jacobsohn completely took over in the second half. She scored four goals, all for second-half breaks, and demonstrated her elite athletic ability in reeling in a couple of them. Many 6ixers stepped up their performances down the stretch to pull off the come-from-behind victory over the Seattle powerhouse, but none did more so than the 18-year-old Jacobsohn.
The downfield defender's standout performance against Riot effectively locked up her place on this list, but she'd been stepping up for 6ixers all year long in big games. Toronto trusted her to defend players like Riot's Jack Verzuh and Boston Brute Squad's Becky Malinowski, and she rarely looked out of depth. She possesses truly elite athleticism and the type of aggressiveness and confidence that builds an elite athlete into an elite defender. Jacobsohn still took her lumps at times, as any young defender will do. But those moments were far outpaced by her flashes of precocious brilliance.
Like Toronto head Carla DiFilippo said after the win over Riot, 6ixers always has a Breakout Player of the Year on the team.1 This year that player was Jacobsohn, yet another explosive youngster to make 6ixers' future increasingly bright.
– Daniel Prentice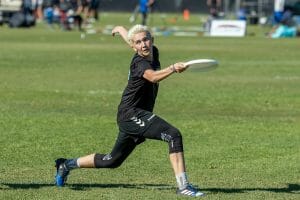 2nd Runner-Up: Alex Diaz (San Diego Wildfire)
This has been a really good year for anyone that bought Diaz stock before the market opened at the start of the college season. In only her second year of competitive ultimate, Diaz has made the podium for both the College and now Club BPOTY awards, to go along with winning a national title with UCSD. We've already spoken at length about how effortlessly she has taken to the sport, but her performance this club season has made it clear that Diaz is not just incredible for a new ultimate player, she's incredible period.
With San Diego Wildfire, Diaz worked her way into the starting offensive line in her first season on the team, and concretely justified that decision by posting an 11G/2A/2D stat line at Nationals. As the team's second-leading goal scorer,2 Diaz was often tasked with stretching the field by taking off deep and opening space for an easy under cut from her teammates. For most new players, that role would be enough, but for Diaz, that allowed her to roam across the field with enough space to corral the continuation pass — often for an easy goal. Diaz was Wildfire's Roadrunner, happily motoring beyond her opponent's top speed and almost unconsciously avoiding any traps or pitfalls that they would try to throw her way.
Despite her energy and explosiveness, Diaz excelled because of how willing she was to play her role within Wildfire. She was the type of role player that coaches can only hope for, a dependable cutter who can take over a game if given a chance but doesn't need to be the hero on every point she plays. But stayed tuned for hero status.
– Graham Gerhart
---
This is the third straight season 6ixers has had a player on the podium for the award, after Anouchka Beaudry and Brit Dos Santos took first place in 2017 and 2018, respectively. ↩

Behind Dena Elimelech, who needs no introduction. ↩