You don't have to be the best player on the field to pump your team up and make an impact.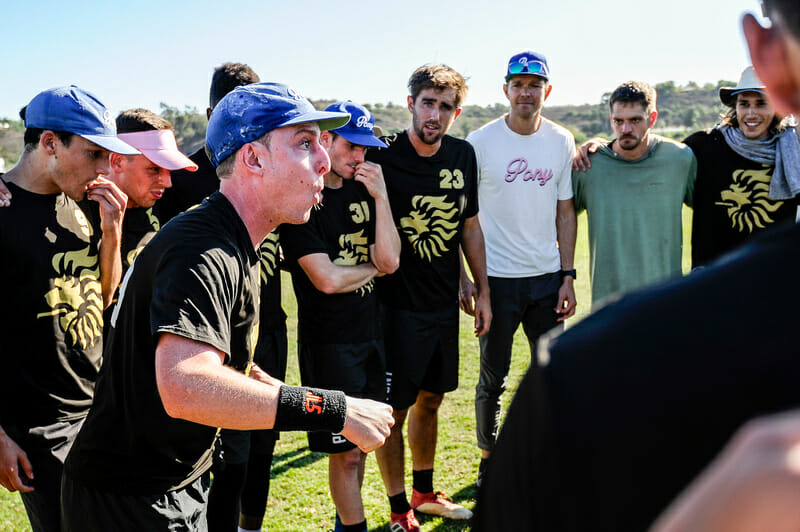 Tuesday Tips are presented by Spin Ultimate; all opinions are those of the author. Please support the brands that make Ultiworld possible and shop at Spin Ultimate! 
A good ultimate player is always looking for a way to stand out and make an impact. Positive notice can be a benefit not only to the individual — especially one looking for more playing time or a larger role on a squad — but to the team itself. Obviously, having skill, talent, and/or freakish athletic ability are all ways to get some incredible looks, the double-takes that make people walk out of practice remembering. But there are smaller things that require zero talent that your can do to stand out on your team, and do it in a way that pushes the entire team without showing anyone up.
There are controllable ways you can be the ultimate player who does the little things right, who impresses and leads by example. Leadership doesn't just come from the top; great habits can be set by the lowest person on the totem pole, from the quiet grinder to the all-heart Rudy.
Here are ten ways to stand out that require no talent.
1. Take feedback… and adapt to it.
Any coach or captain will tell you that no team is perfect. Most will also tell you they'd take seven coachable players over seven raw stars.
The only way to improve a squad in concrete ways is to look for flaws and weaknesses and aggressively work to correct them. But that is easier said than done, especially when most teams have great diversity in ability and attitude. Hammering 27 different pieces into one cohesive shape is not easy to do.
Be the easily coachable player. Don't push back or ignore feedback. Instead, actively seek it out and embrace it. Be the person who swallows the irpride and slides into the role the team needs from you. If you were the queen of hammers but your squad needs you to be the reset safety valve, actively do your best to fill that spot. People will notice, and though they may not actively thank you for it, you'll have earned their respect.
2. Be on time. Or better yet, be early.
This. This is so important. And yet, in ultimate this seems to be out the window. Being on time is the easiest way you can show your teammates that you respect the time and effort they are dedicating to this sport.
Ultimate players notice those who arrive on time and those who don't, even if the casual disregard for tardiness is often in a laugh. Yet, the player that is there early (consistently) is like a bedrock for the team, a foundation that can be counted on, especially by leadership, but by other players as well.
Show up fifteen minutes early to practice in this sport and you'll seem like a god who has it all together. Spend that time actively warming up and throwing and you'll confirm the fact. Even better if you can use that time to improve yourself, or to help others. Rookies, younger players, or even aging vets will greatly appreciate if you spend time helping them work on their individual skills. They'll return the favor when you need to work on yours, and you'll be building personal capital that will grow for the entire season.
3. Be available outside of practice.
Just as players need others inside of practice, so too will they want help (or friendship) outside of practice.
We've all been there. We are headed to a track workout and don't want to pod alone, or we want to throw in the wind but no one is available, or maybe we are hosting a party and want our teammates to come hang socially. Worst of all, we are moving and need helping bodies ASAP.
If you're the person who responds on the team Slack or GroupMe, it'll be noticed. If you can counted on to do the pod even when the temps are below zero or give someone a ride to the airport, you'll be a go-to not just in the ultimate world, but in the real world as well. That's as good as gold.
4. Know the plays and sets.
Another area that (unfortunately) is often lacking in ultimate is knowledge of team strategy and sets. To a coach or captain, the player who knows all the plays by heart or runs the perfect reset just like they preached in practice or finds the right zone transition without asking for help is a huge asset. It means they don't have to halt practice to explain an endzone set for the fifth time or tear out their hair when they make a play call and no one moves.
In general, knowing these things takes that little extra effort or study session outside of practice. Like watching film or reading scouting reports, it is the extra mile that gets you the nod of respect.
5. Actually run the plays and sets.
Knowing is only the first step. Doing, day in and day out, is the hard part.
There are always those players that know better, but still aren't going to do the practiced piece perfectly 100% of the time. Occasionally, their rogue call might work, whether it's a gutsy huck or big poach D. More often than not, however, they'll do something that gets them (and the team) burned, and that's when people tend to get frustrated. Running the play perfectly might not get the glory, but if you can be counted on, it will get you on the field.
Likewise, clearing hard to set up a teammate isn't fancy, but you'll stand out from those that don't do the little things and be better for it.
6. Project positivity through attitude and body language.
Attitude is one of those ephemeral qualities that people love, but usually can't define. In this case, attitude means positivity: giving a hundred high-fives, hyping your teammates up, being the first to rush the field when someone else makes a big play. Everyone loves that teammate.
Body language and attitude are harder to keep positive in those times of trouble. When the fouls pile up or the lead slips away, try to keep that strong body language. Keep your head up (literally), keep the effort high, and the legs churning. People notice the player that is still sprinting down the field to cover the pull even when the team is down five points. Likewise, they notice the player that is competitive, but still having fun, exhibiting good spirit, and being nice to their teammates.
7. Share your passion for the team and sport.
Passion is one quality that ultimate players usually don't lack. Don't be afraid to share that passion. It is OK to be genuinely hyped up at practice, to be grinning from ear to ear when you hear your scrimmage team. It's also a great thing to be the person watching the games on TV, playing highlight reels on loop, or going to every volunteer coaching event or clinic.
If you can do all that and at the same time stay humble, willing to learn, and most of all not willing to throw your success in the faces of others, then you'll have high marks in the books of your teammates. They may shake their heads at your craziness and your love of the game, but they'll remember it.
8. Be prepared.
Be organized, bring everything with you, and be willing to help others.
Usually people are only noticed in this area if something negative occurs. For example, a person forgets their cleats or left a jersey back at the hotel or never got a ride to the fields. Don't be that person.
Having your stuff together — whether it's literal stuff like gear or just having your head on straight — is key.
9. Do the little extra.
The little things are the big things in this case. There are many little things on the ultimate field and doing the basics, the fundamentals with energy is going to make you an overall better player. Do them every time and you'll be praised for it.
Little extra things in ultimate include:
Clap-catching all discs that you can (use two hands whenever possible!)
Talking on defense and on the sidelines
Swinging the disc quickly
Getting into the stack and spacing it properly
Playing tight reset defense (even on off-handlers)
Bringing water to the timeout circle
Getting water bottles filled or food from the TD
Reporting scores
Offering to drive or DD
Doing all the cheers (even the ones you don't like)
Attending every practice and pod workout that you can
These aren't just for rookies, but for everyone.
10. Give it your all, all the time.
Finally, the thing that gets you noticed most of all is, of course, effort. And having the best effort is the best advice you can really give anyone else.
Care the most. Want it the most. Work the hardest. Grind in the offseason, run every workout, throw as often as you can, bleed for the team and try to help it with every breath.
If you do all that (not too much to ask), you'll definitely stand out. And it takes zero talent.