The best signal-callers and program builders in the club game this season.
Ultiworld's 2019 Men's Club Awards presented by DiscStore.com; all opinions are those of the author. Get $10 OFF Hooded Jerseys for your team using code Ultiworld20 at DiscStore.com!
Ultiworld is pleased to announce our fourth annual Men's Club Awards. While we consider both regular season and postseason performance, because of the nature of the Club Division, we weight success in the Series and at Nationals above all else. The club awards are selected based on input from Ultiworld reporters, contributors, and editors.
Player of the Year Award
Offensive Player of the Year Award
Defensive Player of the Year Award
Breakout Player of the Year Award
All-Club First Team
All-Club Second Team
2019 Men's Club Coach Of The Year
Andy Neilsen (Chicago Machine)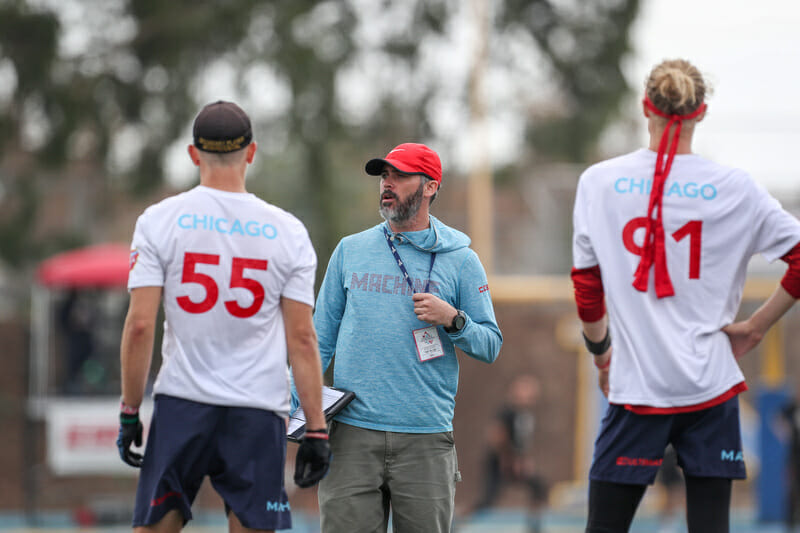 Perhaps no team entered 2019 with more question marks than Chicago Machine. A roster upheaval and drop in competition level in the Great Lakes region created uncertainty around what was obviously an incredibly talented roster. The glue holding it all together: Coach Andy Neilsen. A Chicago lifer, Neilsen has been coaching Machine since 2014 and captained the team for four years prior to that. Nobody was better suited to take control for the program's bumpiest and most successful season yet.
Neilsen masterfully integrated new pieces into the team and relied on a combination of youth and experience to succeed. Machine imported several key pieces from High Five and Neilsen gave them his immediate trust, placing the likes of Joe White, Paul Arters, and Keegan North right into his O-line, and handing Johnny Bansfield the keys to the defense. Integrating twelve new players to a team is not an easy task, especially after losing Machine stalwarts like Kevin Kelly, AJ Nelson, Cullen Geppart, and Andrew Sheehan. More than ever, this was Neilsen's team.
In addition to the newcomers, Neilsen also got the most out of Kurt Gibson, who looked like the best player in the world at Nationals despite not playing the bulk of the season with an injury. Of course, Gibson has made every team he's played on better, but never has he integrated this successfully this late into the season. Neilsen timed his team's peak with the integration of a generational talent, creating a team that all but maximized its potential.
It was an unusually long season for Machine. After weathering a 3-4 record in their opening tournament and a shock loss to Huntsville Freaks at the US Open, Neilsen and Machine kept playing and growing as a team. A loss to Chain Lightning in their first game at Nationals didn't deter them; they had already proven they could bounce back from tough hits. Neilsen did well to refocus Machine to win their pool — with an absolute route of Toronto GOAT and a double game point upset over Washington DC Truck Stop — and beat the past two champions, San Francisco Revolver and New York PoNY, in quarters and semis respectively.
For a few seasons, Neilsen has been tinkering with his defensive structure. This season he crafted a complex defensive scheme based in a 1-3-2-1 zone that brought out the best in individual defenders like Nate Goff and Von Alanguilan. His defense flummoxed both last year's champion and this year's as well and made sure that Machine never felt out of a game. While Machine couldn't pull off the championship game upset to cap their run, their defense is largely what got the team to double game point despite facing a five-point deficit earlier in the game.
This season is the masterpiece Neilsen had been building towards over the past few years. While he inherited a clearly talented team, they could not have navigated such an up-and-down season or integrated as many new players into key roles without his leadership and talent.
– Alex Rubin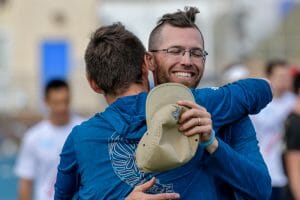 1st Runner-Up: Mike Caldwell and David Hogan (Seattle Sockeye)
At its essence, coaching is about setting up your team to succeed. That means setting up systems and situations that prioritize the strengths and mitigate the weaknesses of your personnel. While we often honor coaches of teams that overperform expectations, how can you overperform being #1? For Sockeye, winning the title was the destination, but the pathway there was one of enablement.
Given the unique pieces that make up Seattle Sockeye, Caldwell and Hogan did an excellent job of maximizing the team's efficiency. Connecting and synergizing the likes of Dylan Freechild, Matt Rehder, Jacob Janin, and Simon Montague — players with differing strengths, comfort zones, and preferences — was perhaps the decisive factor in Sockeye being able to take down a title. Intelligently deploying a versatile player like Trent Dillon, or turning lesser known names like Billy Katz, Brice Dixon, or Thomas Kulczak into key difference-makers, are the things that let the elite talents blossom. There were other talented outfits competing for a title, but the Sockeye coaches organized their pieces into offensive and defensive units that were among the best in the country on both sides of the disc.
Getting over the hump has been so hard for this Sockeye team, and the coaches were part of building the culture that ended the drought. Along with the team's player-leaders, this year's Seattle team felt different, had a different focus, and ultimately got different results because of those changes. When tested — which they certainly were, at Nationals — by teams gunning for them, rather than fall into the same traps they had in years past, they turned to one another, and pulled each other up and over those traps. Their prize was a title.
– Keith Raynor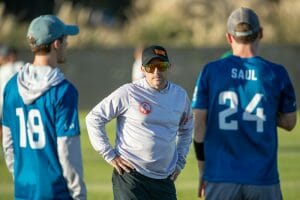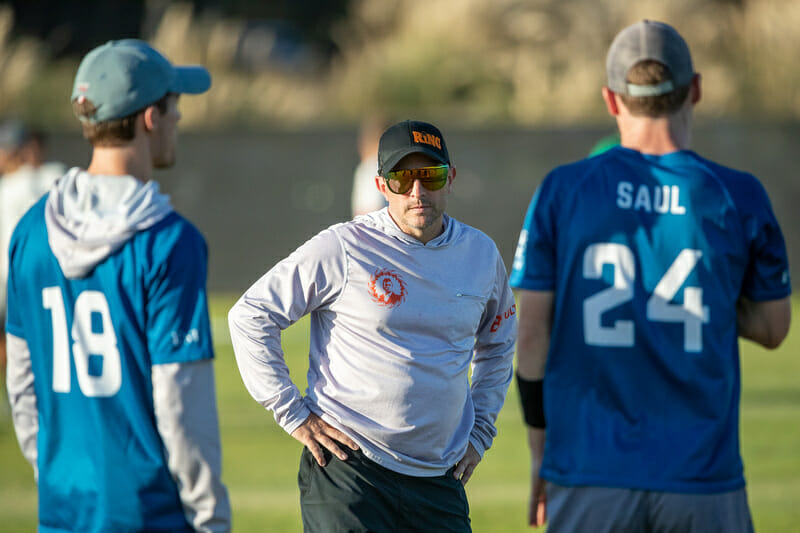 2nd Runner-Up: David Allison and Mike Denardis (Raleigh Ring of Fire)
Dealing with roster turnover is a challenge for any coaching staff, but the Ring of Fire brain trust led by Mike DeNardis and David Allison had a particularly tricky puzzle to piece together in Raleigh this year. Much of the offensive line that had gotten the team to a string of semifinals was gone, including Jon Nethercutt, a player and personality around whom the team had sculpted its offensive philosophies. The coaching staff faced the daunting prospect of rebuilding an offense from the ground up while transitioning to a new generation of players.
Considering that burden, it's amazing that the team was able to keep going strong in 2019 without missing a beat. Another pool one seed, another trip to semis, another outstanding season. Turning the keys of the defense over to Matt Gouchoe-Hanas and Sol Yanuck proved to be an excellent decision, and the re-tooled offense got the most out of young talents Eric Taylor, Liam Searles-Bohs, and Henry Fisher.
While losing in the semifinals again after building an 8-5 lead must have been an incredibly frustrating experience, keeping Ring at the same level of performance during a rebuilding season is a feather in the cap for DeNardis and Allison. With an empowered young core, the team is set up for success and has a real shot at finally winning that title the program has been chasing for so long.
– Patrick Stegemoeller