Rounding out the season's top 14 players.
Ultiworld's 2019 Mixed Club Awards are presented by Tokay Ultimate cleats. With their new Flight cleats, your feet can shine like these stars! Check out Tokay, the cleats you were looking for.
Ultiworld is pleased to announce our fifth annual Mixed All-Club teams. While we consider both regular season and postseason performance, because of the nature of the Club Division, we weight success in the Series and at Nationals above all else. The All-Club teams are selected based on input from Ultiworld reporters, contributors, and editors.
Player of the Year Award
Offensive Player of the Year Award
Defensive Player of the Year Award
Breakout Player of the Year Award
Coach of the Year Award
All-Club 1st Team
2019 Mixed All-Club 2nd Team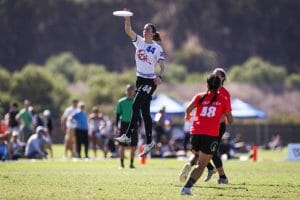 Sarah Meckstroth (Minneapolis Drag'n Thrust)
While the 2018 Player of the Year may not have reached the same lofty heights as last season, she continues to be one of the most dangerous women in the mixed division. She continues the exploit her matchups on offense, using her size and speed to bully defenders into submission.
Her biggest impact, however, might be on the defensive side. Drag'n Thrust has run Meckstroth on their D-line for the last two years, and there's a good reason behind that. She's a field-shrinker — her mere presence on the field is enough to give opposing handlers pause. She has the speed and athleticism to close space in an instant, and the game IQ to apply it in all the right places. While "Throws Prevented due to Existence" isn't a recorded stat (yet), I'm confident that Meckstroth led the division in 2019.
– Charlie Enders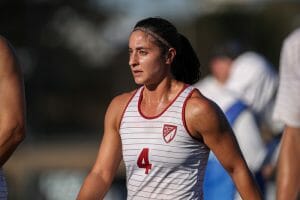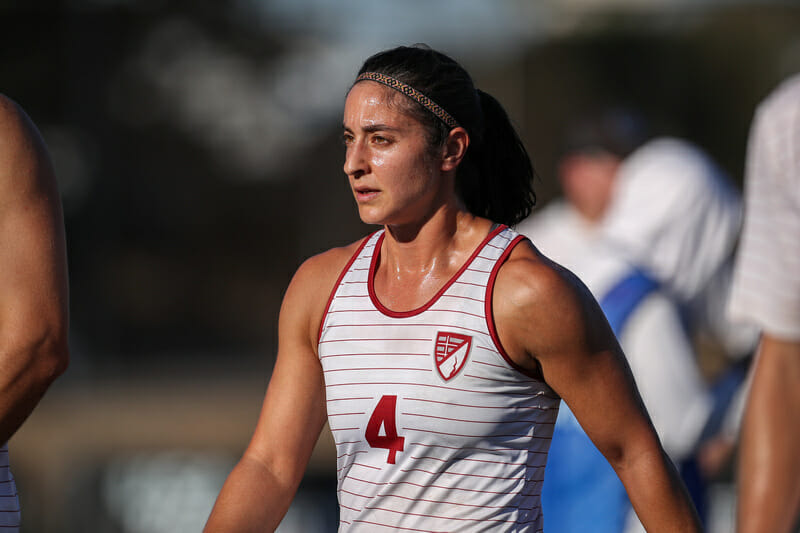 Raha Mozaffari (Philadelphia AMP)
One of Philadelphia AMP's founding members and now a veteran team leader, Raha Mozaffari has done everything AMP's asked her to do, including moving to the D-line this season. Already renowned for her offensive capabilities, Mozaffari showed off her defensive chops this year that complemented her dynamism with the disc. All together, Mozaffari once again demonstrated her stellar play that was textbook in its execution and remarkably effective in its impact.
On both sides of the disc, Mozaffari's field vision allowed her to find barely open windows, or ensure that they were quickly closed. When AMP's D got a turn, she was often central to the ensuing offensive possession and made very few mistakes given how many touches she had. Mozaffari has been at the top of the game for years now and this year her veteran savvy and smart defensive prowess made her one of the most complete players in the division.
– Jenna Weiner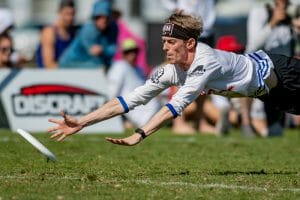 Brian Schoenrock (Minneapolis Drag'n Thrust)
Where would Drag'n Thrust be without Brian "Strings" Schoenrock? The man has been on the squad from their start, going from an extremely athletic youngster to, now, the team's defensive bedrock. Strings and his stupendously long limbs are critical to Drag'n's defensive game plan. Rightfully few throwers are eager to test Strings deep — put him on the line next to Meckstroth and the deep space becomes a no-fly zone. Should a foolhardy opponent test him, Strings' springiness and reach are his one-two punch.
Schoenrock's penchant for highlight plays is well-documented, but this season it felt even more pronounced. From the U.S Open to the Pro Championships to Nationals, it felt like Schoenrock made at least one game-defining play in every critical match of Drag'n's season — he was a huge reason they landed in San Diego amidst a three-month undefeated streak and with a chance at a Triple Crown. While his goal and assist totals may have been eclipsed by some of his younger teammates this season, he led the team in blocks both on the year and over Nationals weekend. As the now veteran leader, there's no one Minneapolis rely on more.
– Charlie Enders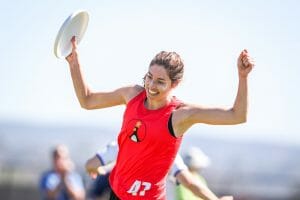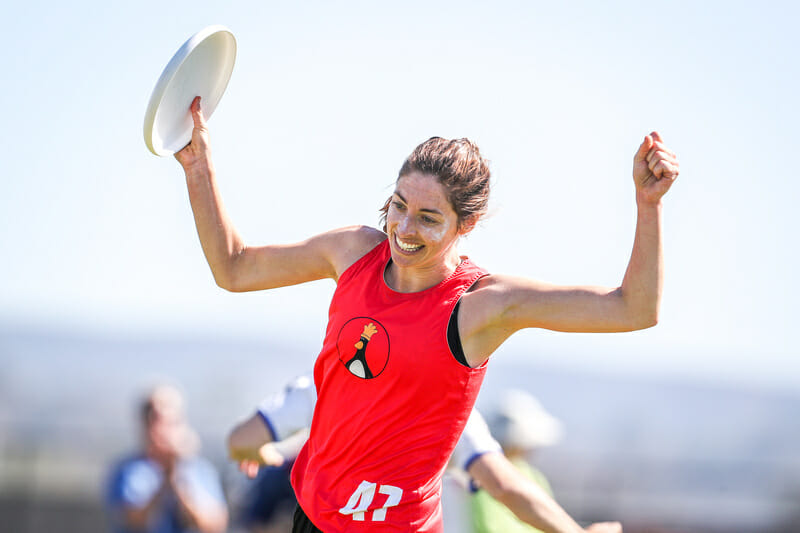 Gina Schumacher (San Francisco Mischief)
Mischief's offense was one of the best units in the division this season and Gina Schumacher was a big reason why. The second-leading scorer for Mischief after POTY runner-up Lexi Zalk, Schumacher was Mischief's best woman in the air and got open deep time and again. A speedy, lanky receiver, Schumacher also used her length to trouble some of the best defensive players when Mischief's O needed to get the disc back.
The cheat code that allowed Mischief's offense to be so good was having both Zalk and Schumacher on the line together. Even when teams keyed in to try and stop Zalk — such as in the semifinal against Drag'n Thrust — Mischief simply turned to Schumacher and she stepped up every time. From her BPOTY winning season in 2016 on, Schumacher has been a key player for the Bay Area outfit and this season she took it another step further to be one of the key players in the 2019 season.
– Jenna Weiner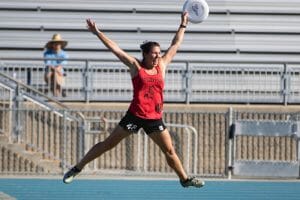 Aubree Dietrich (Fort Collins shame.)
Fort Collins shame. lives by the deep game and Aubree Dietrich was once again the standout deep threat. No matter how long a point drags on for, Dietrich will always be making huge deep cuts out of the stack and beating whoever is tasked with marking her. She has an innate sense of when to change directions as well, and if a team somehow manages to contain her deep, she can turn on a dime and catch a big gainer to keep the pressure on defenses.
She can box out with the best, rescuing floating throws and helping the offense reset and get in position for scores when shame. finds themselves just shy of the end zone. The entire team was in sync throughout the year, and Dietrich is a big reason why their offense scored at will. It's no coincidence that as Dietrich joined the top tier of cutters in the division, shame. turned into one of the best teams out there.
– Colin Clauset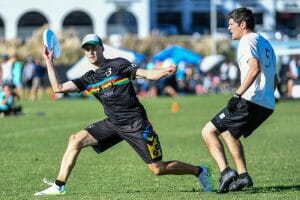 Ian Engler (Boston Wild Card)
Leading the field in assists at Nationals, Ian Engler was the brightest spot in an otherwise difficult tournament for Boston Wild Card. He took on a huge offensive burden for the team, functioning as the heart of the offense throughout the tournament. As has been the case for many years, whenever Wild Card needed a bailout or reset, Engler was the player who stepped up.
With every throw in the book and awareness of a player with years of experience at the Nationals level, he's an integral part of the success of the Boston squad. Every team Wild Card plays against knows that Engler will be around the disc at all times, and even with all the attention that attracts, Engler is still able to produce impressive numbers and keep Wild Card in contention.
– Colin Clauset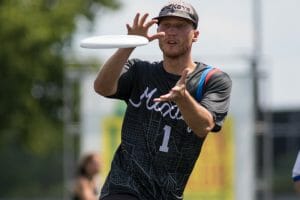 Kieran Kelly (Seattle Mixtape)
Making the jump to Seattle Mixtape after a brief stint with their crosstown rivals, Kieran Kelly reminded us that he is one of the top cutters around the division. A primary initiator for a dangerous Mixtape offense, he can drive for yards and accelerate past defenders with ease, and his throwing skill makes him just as likely to unleash a big huck for a goal as he is to catch one. Kelly's versatility is a huge asset on a team that moves as quickly as Mixtape does, and his precision is what made Mixtape one of the top contenders this year.
Other Mixtape players may have put up bigger stat lines, but none could touch the all-around excellence of Kelly. He was the player they relied on when they needed a score, and always seemed to deliver in big moments.
– Colin Clauset