Which player pairings look like they will be big difference-makers this spring?
It's time to unwrap some presents as we introduce the 12 Days of College Ultimate. Over the next few weeks of December, we will be releasing one gift per day, though don't count on getting any partridges in pear trees: it's all college ultimate. From top players to strength bid predictions to highlights, we've got a little something for everyone.
Today's topic: For day two, we're talking about some of the best player pairings to watch for in the 2020 season.
Men's
Joe White and Dillon Lanier (Carleton)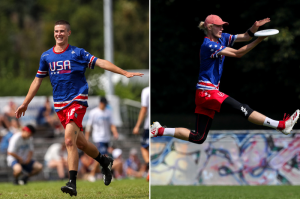 In terms of sheer ability, no other duo in the country can touch Carleton's top two. Lanier was one of the best handlers in the country this past club season, and White was one of the best players in the world, full stop. Putting the two together in a way that maximizes their strengths could create one of the best offensive combinations since the heyday of Pittsburgh's Alex Thorne and Tyler DeGirolamo.
Lanier has been the more consistent of the two over their college careers, and even in Carleton's infamous stumbles the past two seasons, Lanier was seemingly the only player on the team keeping his cool, putting points on the board while the season collapsed around him. White was injured during CUT's exit at Regionals last season, and may as well have been in his disappearing act against Pittsburgh in the 2018 semifinals. The pair failed to bring a title home the past two seasons, but when both have been 'on' at the same time, CUT has been untouchable.
We've seen enough from these two since they won a college championship in their freshman season together to know how good they are. If both are healthy, the only question is how they can get the most out of their talents together when on the field at the same time. Lanier throwing edgy flick hucks to White is an obvious starting point, but it undersells White's talents to position him as merely a target for Lanier. Bringing White behind the play and giving him the green light to explore the outer reaches of his range is a thrilling idea, but it displaces Lanier's strengths around the disc.
Expect lots of experimentation from Carleton this season as they figure out how to best deploy this pair. And if they figure out how to do that, expect CUT to end the season with a medal around their necks.
Quinn Finer and Alex Atkins (Colorado)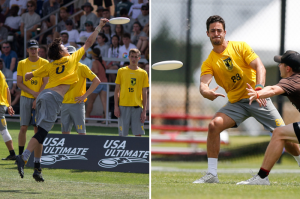 A classic 'big thrower, big cutter' combo, with the twist that they can switch roles when the defense reacts. Finer will tear the roof off your house with his ups in the deep space, and the flamethrower attached to Atkins's right shoulder burns down the foundation, but both are capable of switching things up to keep the defense uncomfortable.
Mamabird teams earned a reputation for beating teams with a million swings off the front of a vert stack, but these two give Colorado the ability to play at a faster pace. Atkins's gangly lank shreds marks, quickly cracking open defenses with tricky upside throws and high releases that are sprayed liberally into the break space. That length is also useful downfield, and Atkins will often leak up the breakside of the vert stack to punish handler poaches. The first runner-up for D-I Breakout Player of the Year in 2019, Atkins's bravado and ability made a name for himself last season and he is well positioned for some more accolades in his career on a Colorado team that looks like one of the best in the country.
Finer earned a call up to the U24 team last summer on the back of helping lead Mamabird to the semifinals of college Nationals. He can move the disc quickly around a vert stack, but he truly shines downfield, where he showcases his athleticism. Powerful cuts, powerful skies, and powerful positioning make him an enticing target for Atkins and the rest of Mamabird's throwers. But Finer is no slouch with the disc, and comes into the handler space to launch hucks against marks that are often playing a step or two off.
The flexibility of both Atkins and Finer to wear multiple hats is key for Mamabird's vertical approach that cycles players through different positions, putting defenders in a cycle of their own as they try to match up against two players who are dangerous anywhere on the field.
Liam Searles-Bohs and Elijah Long (North Carolina)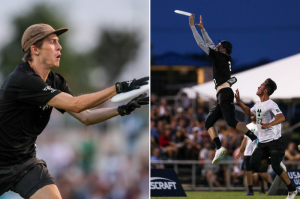 Two returning D-I First Team All-Americans is a nice core to build an O-line around, especially when they are as versatile as Long and LSB. Searles-Bohs, the reigning OPOTY, is the obvious center of gravity for Darkside given what he can do both downfield and with the disc. Arguably the most important player on Ring of Fire's O-line this summer, Searles-Bohs finds success in stretching defenses past the breaking point with rangy hucks and deep cuts. You better be ready to cover all 70 yards of the field against Darkside, as Searles-Bohs can find holes virtually anywhere on the field with is throws, or create them with his cutting.
Once the defense is stretched til taught, Long comes in and plays it like a fiddle. Operating primarily out of the handler space, Long is constantly moving the disc with small space give and goes until a collapsed coverage gives him twenty yards of open space on the breakside. While Long and LSB may not be actually working the disc between each other as much as other top duos, what they excel at on the field is wonderfully complimentary: stretching and collapsing the defense until it putters out like a broken down accordion.
Of course, this is operating under the assumption that UNC plays both of their top two on offense. While you can pencil in Searles-Bohs to the O-line, Long as played across lines during his time at UNC, and perhaps coach David Allison will want him running the defense as he did during his sophomore and junior seasons.
Will Lohre and Xander Cuizon-Tice (Oregon)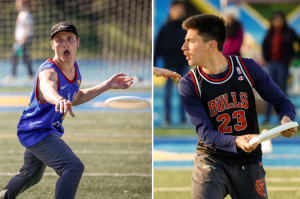 Ego has built it's offensive reputation on speed, so it's appropriate that the team's offense features two absolute gassers. No one else in the country has two cutters with as much flat out burn as Lohre and Cuizon-Tice, both of whom are back for their fifth year seasons. Last year was set up to be their big season as a premier duo, but Lohre blew out his knee last February and missed the rest of the season. If Lohre is back up to pace, then 2020 should see the two pistons of Oregon's offense putting in goals at an impressive clip.
The Ego duo is so effective in part because, despite playing nominally the same position, the two cutters can fill different roles. Expect Cuizon-Tice to rack up a lot of yards this season, as he will likely be the initiator downfield for Ego, creating motion and space for Lohre to come in and put a punctuation mark on the point. Lohre is a classic finisher, using quick bursts of speed and great body control in the air to own the end zone.
While neither are elite throwers, the opportunities the two create with their legs lead to easy throws for them and the rest of the offense. That's how you'll know that Lohre and Cuizon-Tice are getting the looks they want: when offense for Oregon just looks easy, with unfettered throws into open space, all thanks to the speed demons downfield pulling the defense apart. When they are cutting off of each other in rhythm, opponents will be hard pressed to provide enough help over the top without completely compromising their coverage.
Noah Chambers and Matt Armour (Texas)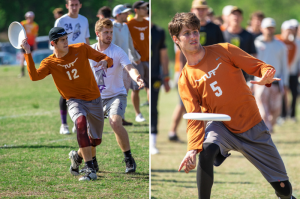 Arguably the two best athletes from last year's nationally competitive TUFF squad are back as senior captains in 2020. When together and healthy, these two can be slapped onto any other team's top handler/cutter duo and have a fighting chance to neutralize them defensively. Chambers was absent from the 2019 College Championships – and this past summer's club season – due to a broken leg1 he suffered at South Central Regionals, but Armour was routinely relied upon to limit the impact of centerpieces like Brown's Mac Hecht or Wisconsin's Rami Paust.
While it remains to be seen whether these two will man the same line together in the spring, with each playing a more central role on the team, it is undeniable that top-level opponents will have to account for them, pending Chambers' full recovery. Both now have significant playing experience at the highest levels with the Dallas Roughnecks and Austin Doublewide. Chambers' more polished throwing abilities and size make him more likely to see time in a central offensive cutter role, while Armour's elite agility, length, and defensive intelligence could allow him to either expand on his role as a defender in the backfield or plug in as an athlete in an O-line system.
Either way, longtime TUFF coach Calvin Lin can rest satisfied, knowing he has this duo as an answer to the offensive firepower of the other tandems on this list. Few other top programs around the country can say the same.
Women's
Thalia Ward and Vanessa Beeler (Cal Poly SLO)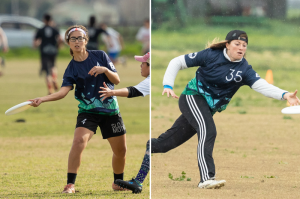 If you're the type of person that enjoys seeing a premier throwing talent firing off bombs to one of the division's best receivers, grab a seat. SLO, has the good fortune of a match made in heaven — two competitors in their prime with complementary skill sets. Better yet, both Thalia Ward and Vanessa Beeler are now seasoned enough to know how to play off each other. We only caught a glimpse last season of the damage that the two could do together, and it was still good enough to put Cal Poly on the doorstep of a Nationals visit. In 2020, the pressure is on for them to take the program to that final frontier.
If there's any handler in the women's division who can huck her team to victory, it's Thalia Ward. While distinctly unique in her style of play, she's cut from the same cloth as Ella Hansen, Mira Donaldson, and all the other power throwers made famous through their college tenure. Ward is a maverick with her shot selection, and the whole field is a danger zone. Luckily, she's got Beeler downfield, a rare talent who can get bust the field open with a few strides. Beeler's flat running pace is a sprint, and she has another gear on top of it. If you don't surrender the open space to her off the bat, she'll wear you down until the white flag starts waving. Alone, each of SLO's stars could lead a team; together, they're the scourge of the Southwest.
Claire Trop and Caroline Tornquist (Dartmouth)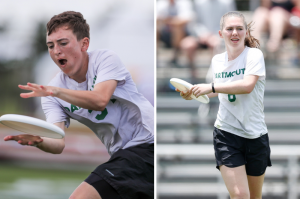 The other pairings in this list might prove to be as dynamic in 2020 as Dartmouth's Claire Trop and Caroline Tornquist, but none are so intriguing. As the heirs to a sterling Dartmouth legacy, they enter the season under the formidable aegis of the program's recent success. And while both were fixtures in the top-heavy 2019 Dartmouth attack, the vacuum left by the departure of stars Jack Verzuh and Caitlyn Lee creates more uncertainty for the upcoming season than the team has known in several years.
Talent will not be a problem. Trop was a First team All-America selection in her stellar sophomore campaign — a college season bracketed by World (Seattle Riot) and National (Boston Brute Squad) championships in club. She's absurdly fast, plays discs in the air better than anyone in the division, and boasts an array of throws — particularly the long inside forehand — that can flabbergast the best defenses. Tornquist hasn't quite hit her teammate's heights yet, but she has displayed both in her freshman year on Dartmouth and in her excellent 2019 club campaign with Washington DC Scandal that she has an almost unparalleled knack for continuation cutting and racking up goals.
The question, then, is how the two of them will adjust to their new roles. Without Verzuh's best-in-the-game throws and Lee's fleet feet in the handler set, Trop and Tornquist are going to have to drive the offense rather than just supercharge it. If their track record is any indication, though, the pair of them will be more than up to the challenge.
Marie Perivier and Josie Veal (Georgia)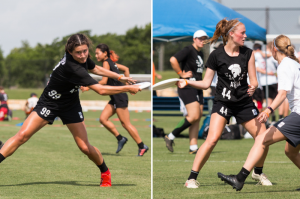 By 2017, it had been a long, long time since UGA Athena had seen a truly polished player join the team as a freshman. Enter Josie Veal. Between powerful deep cutting, savvy throws, and the kind of playmaking ability on defense that sends coaches into reveries, Veal was the complete package. She immediately slotted in as the team's rock solid center handler — an absolute must in the zone-heavy defenses of the late-2010s — and won Southeast Freshman of the Year.
What a gift for Athena, then, to pick up another blue chip recruit the very next season in Marie Perivier. Our second runner-up for Freshman of the Year in 20192, Perivier plays a loose, run-and-gun style seemingly designed for highlight reels. Her backhand might be the most powerful throw in the division, her field vision frequently produces jaw-droppingly creative looks, and as a receiver she oozes dynamism.
Need a stat to get excited for their potential in 2020? Veal and Perivier combined for 36 assists and 25 blocks at the 2019 College Championships as a sophomore and freshman. With a year of chemistry-building behind them and a deeper core of talent at Georgia, the pair are a threat not only to replicate that production, but outright smash it this season.
Ari Nelson and Clara Stewart (Northeastern)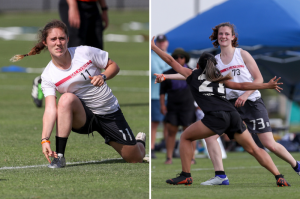 Northeastern's star handlers didn't actually get to spend all that much time on the field together last season. Injuries kept them apart for much of the regular season, and then they mostly played on separate lines at Nationals, with Nelson leading the upwind line and Stewart quarterbacking the other way. We expect that to change for 2020.
Both players admittedly had their struggles in the wind at Nationals last season, but don't let that mask their natural talents. In fact, they'll arguably be the most talented handler duo in the country next season, and if Northeastern is to improve upon their first Nationals appearance since 2014, then it will be on the back of Nelson and Stewart's performances. Both combine elite hucking ability and give and go ability, and both are also capable of vacating the backfield for the other, so there should be no reason the two can't play at an extremely high level together. Nelson's array of break throws are matched by Stewart's aerial talent.
Elite throwers are such a premium in the college game and Northeastern has two of the best to build their team around in 2020. They already proved themselves capable of leading a team to Nationals last season. Now with another year under their belt, they'll look to truly become two of the superstars of the division.
Cara Sieber and Emily Barrett (Ohio State)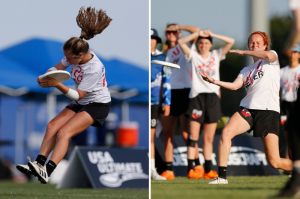 Perhaps you expected Ohio State's outlook to be a bit bleak after the departure of Sadie Jezierski. But Ohio State still has a pair of All-American caliber players leading the way for next season. The two flourished as Jezierski's primary deputies last season and finished as second team All-Americans as a result. Now the team is theirs and we should get to see new heights from both.
Sieber finally realized her elite potential as a junior in 2019. She came to Ohio State as a freshman in 2017 having just played with the U20 national team, and while she was certainly a solid player in her first two campaigns, it wasn't until last season where she truly break out as one of the stars of the division. Now a senior, Sieber's all-around game should lend itself very well to being the focal point of the team's game plan. She's a plus player at every level of the offense, but she'll likely spend more time in the backfield next year with Fever losing so many of their backfield touches.
Fortunately for Sieber, she'll still have Barrett to boost the rock to. Barrett has been one of the game's premier deep cutters and endzone threats for a couple of seasons now. She led the division in goals at Nationals with 23 this year, and has 42 career Nationals goals scored, the most among all returning players. Barrett uses her size and athleticism exceptionally well to win hucks deep, but she's also very adept at finishing off redzone possessions with her timing and offensive IQ. She's truly one of the division's most dangerous offensive players, and will likely be in the shortlist for OPOTY in 2020.
It will be interesting to see how each player's role evolves that they're truly the team's biggest stars for the first time. But with the talent Sieber and Barrett have displayed over the last couple of seasons, there's no doubt that Fever is in good hands, and they'll be one of the best duos in the land.
---
Correction: This was erroneously reported as a torn ACL previously. ↩

Perivier, like Veal, also won Southeast Freshman of the Year ↩