A deep and talented field taught us a lot about this season!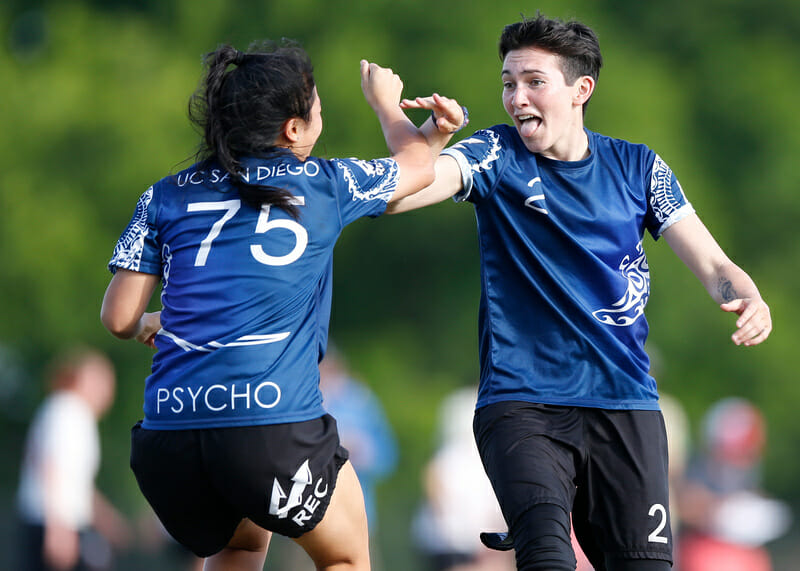 Ultiworld's 2020 college coverage is presented by Spin Ultimate; all opinions are those of the author(s). Find out how Spin can get you, and your team, looking your best this season.
Before the Santa Barbara Invite began, the potential for chaos seemed endless. It felt as though the status quo had changed dramatically since 2019 and too many strong teams were present for there to be a predictable ending. Now that it's over, UCSD's victory over UCLA cemented one fact: the status quo hasn't changed that much. The reigning champs took care of business all weekend and reminded everyone why they deserved the no. 1 seed in the first place.
Beyond UCSD's continued domination of the Southwest, there were plenty of other takeaways from a weekend that marked the season debut for many of the nation's best. UCSB hasn't lost a step, Washington is on the rise, and the New England region is going to be dangerous this season.
UCSD Remains the Toast of the Southwest — and the Rest of the Nation
If you want one lesson from this weekend it's this: you can still be good if you lose a historically talented senior class and the best player in college ultimate, as long as your system remains untouchable. #8 UC San Diego won Nationals in 2019, lost eight of their best players, and picked up right where they left off to win their second straight Santa Barbara Invite and their ninth straight Southwest tournament,1 dating back to 2018. Granted, this tournament was much closer for the squad than it was for them in 2019, but it still was proof that they can't be written off by anyone. Even with their tight games against Washington in pool play and UCLA in the final, UCSD looked like the best team at the tournament — and played like they knew it, too.
To the credit of UCLA, BLU came out swinging in the final and landed a few blows on UCSD before they could recover. UCLA exhibited a strong deep game and broke twice early on to go up 5-3, which they attribute to strong communication and a positive sideline. But they had problems of their own on defense. D-Co's Alex Diaz was getting open on whatever defender was placed on her, and Ava Hanna was scorching in the end zone, earning three of UCSD's first four goals. Within the span of two minutes, those two players tore through UCLA to tie the game at 5-5, and the teams traded until half, with UCLA leading 7-6.
"We realized in the first half against [UCLA] that they had good hucks and would come down with those," said Diaz. "That team is filled with athletic and fast people. They have extraordinarily good players, basically."
UCLA continued to find success out of half. Their handler core punished UCSD every time they surrendered the deep space, with Athena Lynch and Erin Doyle hucking around UCSD's defensive handler sagging scheme. The tide only truly turned when UCLA was up 9-7 and couldn't convert on a break chance that would have sunk UCSD into a three-point hole. Instead, the defending national champs earned the disc back and worked it to the front of the end zone, running a clinical handler weave that most coaches would kill to see. After converting, UCSD broke on the very next point after a hooked pass from UCLA's handlers gave D-Co a short field to work with. Just like that, the teams were tied at 9-9.
"We never panicked, even when we were down," said Diaz. "We knew it wasn't as easy of a game, but we also knew there was nothing we could do but play as we know how. We knew the mistakes we were making were fixable. …It's an opening tournament, we're going to be working out the kinks."
With the game tied, UCSD appeared to have worked out the last of their kinks. On the endzone line, Diaz made a chest-high layout block to stop BLU in their tracks, and then kept the momentum going by collecting the disc every other pass, straight through to the opposite end zone, adding another break to UCSD's tally and giving them the lead for the first time all game. UCLA didn't know it then, but that sealed the game for them.
The teams traded holds, only for UCSD to come up huge again on the final point of the game, earning a final break by working it through Samantha Wool and Lauren Hanna for the goal.
Resilience was the operative word to describe UCSD in that game, but also all weekend. The team dealt with adversity from the get-go, as they were missing coaches Carlo Mosca and Alisha Stoun, who stayed in San Diego after Alisha gave birth to their daughter, Sylvie Leona, on Friday night. In their stead, Avery Jones, Rebecca Ellis, and Kelli Iwamoto took charge of coaching duties, guiding the team to their perfect record. Losing their head coaches wasn't the only struggle: Pin-Hsuan Chen, one of the team's star cutters, played through a fever the entire weekend, and they lost Emily Kunselman, a standout defender, to an ankle injury early on day two.
Still, it was easy to see why this team was the best at the tournament. Alex Diaz is a legitimate star, and has been ably filling the hole left by Dena Elimelech. UCSD has also had many other role players step up, like Catherine Trevino and Sara Zhang, who played major minutes for the squad this past weekend. Trevino particularly caught the attention of her captains this weekend. "She continuously was making all the right decisions as a handler and always getting open downfield," said Wool, another UCSD captain.
Apart from the loss of Elimelech, the biggest question for UCSD heading into this season was their handler core. Losing the likes of Iwamoto, Ellis, Leanne Go, and others would be a huge problem for almost any college squad, but D-Co seemed to recover without blinking. Wool, Lauren Hanna, and standout rookie Maggie Pierce all took on more touches and performed admirably, albeit with plenty of room to grow.
UCSD's roster stepped up in a major way this weekend, but the real MVP was their system. They were miles ahead of their competition this weekend in regards to concise cutting and stack discipline. Everyone knows their role and they're never under duress thanks to an unbreakable handler reset pattern. Much like last year, UCSD looked far better than any team should in January. While they executed their way to an undefeated weekend, every other team stumbled to at least two losses in Santa Barbara. Considering the parity on display this weekend, UCSD rising above it was all the more impressive. Make no mistake: they could very well still be the final boss battle for any teams with dreams of Nationals glory.
UCLA's Depth Has Them Set Up for Future Glory
This may not have been the weekend that put #10 UCLA atop the Southwest, but it definitely put them on the map as legit.
BLU is an intimidatingly deep team, to the point where they had too many good players and not enough playing time to go around. There were games where all-star talents like Erin Doyle or Malia Smith didn't need to play more than a handful of points because the rest of UCLA's offensive unit was outperforming expectations.
Their game plan was simple: clear out the throwing lanes and let their athletic cutters go to work downfield. In the final, that mostly took the form of deep hucks to players like Stephanie "Chip" Yen and Charlotte Terrasson, which almost worked too well early on against a UCSD team that had not had their athleticism tested in that way for most of the bracket. Yen, in particular, is developing into a fearsome cutter, and UCSD didn't have a defender that could keep up with her unless they drew their better marks away from UCLA's talented core.
"Chip Yen has really stepped up this year," said UCLA captain Katherine Jordak. "She's a huge part of our offense. She's crazy fast and has grown in confidence so much in the offseason. She's added some throws to her arsenal since last year and that's been big."
But she's not the only one. Doyle was quick to point out how the development of their younger players was critical to their success. "Last year we realized a key to our success would be incorporating our talented rookies into our system as quickly as we could and give everybody a role," noted Doyle. "We wanted to do the same this year and the rookies have so much talent that it's been really easy."
It's not just their rookies, though. Yen is just one player from a sophomore class that is brimming with talent. "We're really lucky to have such talented players like Athena [Lynch] and Cameron [Jewett] who have come into their roles," said Jordak. "We also have added Tanya Bearson to that handler group as she played with Athena on Cali Roll in high school and they have chemistry from there. It's awesome to be able to trust the underclassmen so much."
The team is playing at an octane that they never hit last year, and they're primed to get even better. Integral starting O- and D-line players like Lynch, Jewett, and Anna Reed have room to grow, and freshmen Bearson and Diana Zhang both contributed heavily. Perhaps most encouragingly for UCLA, it's impossible to identify who their best player may be. Doyle, Lynch, Jordak, and Smith all make a great case as the team's best, but it can change from game to game. Exciting times are ahead for this UCLA team as long as they can stay hungry for improvement.
UCSB's Not Going Anywhere, and That Should Terrify Everyone
UCSD may have had the smartest system and discipline when it came to defense, but if you're looking for a roster with the best person-defense across the board, it's unquestionably #17 UC Santa Barbara. Until they were outgunned by UCLA in the semis, UCSB looked like the second-best team at this tournament, especially during pool play. The Burning Skirts are fast and fierce, with a field awareness that is way further along than you'd expect from a team in January. Much like UCSD, UCSB lost some key seniors on the defensive end, but you wouldn't know it from watching them this year. They innately understand the old sports trope: defense wins games.
"We play lockdown defense," said captain Kaitlyn Weaver. "We tell all our players that if they're going on the field, they're going to get it done. We believe in each other and have the confidence of our coaches. That gets us fired up really easily."
As a team, UCSB plays great defense, but that doesn't mean there aren't particular players that stand out. On a roster of outstanding defensive talents, it helps that Jasmine Childress is shaping into one of the best players in the college division this season. Childress was already a marvel as a defender last season and her game has sharpened distinctly since then. Where once she was a closer as an offensive cutter, now she's a threat for the whole 70. Alongside her are a team of uncompromising athletes that include the likes of Weaver, Nicki Yang, and Elsa Winslow — who may rival Childress in the fastest straight-line speed at this tournament, despite being half her size.
"Elsa always has something in the tank," said Weaver, "but she's not alone. Yu Ishii! I mean, shooters gotta shoot… Nicki Yang! Kiera Plioplys! There really are a bunch of players that are up-and-coming."
UCSB still has plenty to work on offensively, as right now their receivers are doing the brunt of the work to make their throwers look good, rather than it being an equal partnership. Still, their fast and loose style works for them in a way that is both maddening and discouraging for opponents. UCLA was a tough matchup for them, but the team should be proud of their 5-2 record, especially after splitting the series with Vermont 1-1.
Are We Sure Vermont's Not the Best Team in New England?
The only team to make semis this weekend outside of the West Coast came into the weekend ranked fourth in their own region by the Ultiworld staff, but left with a few statement wins that are proof of concept for their ability as a team. #16 Vermont lost only to UCSD and UCSB on their way to a 6-2 record, playing the most games out of any team at the tournament — and still beat UCSB in their third-place game to split the series. The team is fast, tall, and dangerous when they can isolate their stars downfield.
You can't talk about Vermont's success without mentioning Kennedy McCarthy or Bethany Eldridge, and yet the team would likely still be highly competitive without them. "I'm never stressed on the field because our teams is so deep," noted captain Eldridge. "We have so many players on our team that can fill in any role that it doesn't matter if they have a matchup for me or a matchup for Kennedy. Everybody can throw the final assist or catch a disc to score a goal."
Ruckus makes good use of their entire roster, most notably on offense. Teams readily threw out a number of zone looks against Vermont in hopes of slowing the twin towers of Eldridge and McCarthy, only for Emily Massey and Sarah VonDoepp to pick apart the zone with relative ease. Their ability to get quality play throughout the roster was especially apparent in their game against Northeastern, where Vermont's depth swarmed a thinned Valkyries roster in quarters.
The captains were upfront about the reasons they come to early-season tournaments like SBI: to give their team something to work towards every practice. "If we started our season later, it would be really hard to get to this level," said Eldridge. "The fact that we have this incentive of Santa Barbara happening in 18 days, in 15 days, really gets everyone going. They're there whether it's out to the extra practice, the extra throwing sessions, the extra workouts."
This dedication to preparation paid off. Vermont was one of the best teams at a tournament featuring four teams that made the bracket at Nationals in 2019.
That's not to say the team was perfect. Vermont's defenders have a tendency to poach in the open side, which left them highly exposed against a savvy team like UCSD. When facing a disciplined opposition, Vermont's aggressive style of defense suddenly came up short. "We spent a lot of time before the weekend learning to recognize poaches," noted UCSD's Diaz. "When we saw what they [Vermont] were doing, we knew how to adjust."
Considering the size advantage and talent on the squad, Vermont doesn't really need to poach to earn blocks. Still, that's an easy problem to solve, and with how complete the team looked this early in the season, they'll be a tough out against any opponent.
Washington's Talent Can't Be Ignored
There aren't many comparable sports teams that have hit the jackpot in consecutive drafts quite like #9 Washington. The Northwest version of 'The Process' has led to an abundance of talent on Element's 2020 roster that rivals UNC and Carleton in the prospective greatness of their rookie and sophomore classes. That potential was on full display this past weekend, with Element willingly taking on all the best teams the tournament had to offer, and holding their own in every game. Their 5-2 record does little to note just how strong Washington looked in a field of Nationals contenders. Outside their loss to UCSD on day one, there wasn't a team that truly outclassed the Seattle squad.
"We've been pretty happy with the team overall," said captain Alexa Yadama. "We have very talented handlers with a huge repertoire of throws and our cutters find spaces really well. We're just working on chemistry at this point."
While the team may have fallen out of the bracket against a feisty UCSB team, it was quite clear that the game could have gone either way, and with UW losing Steph Phillips early on day one, there's every chance they could have taken that game with the full strength of their roster. Of course, talent is not Washington's problem. Even with Phillips out of commission, there were plenty of players that stepped up in her stead. Ikran Elmi, Penny Nguyen, and Amy Nguyen easily soaked up the touches that would have flowed through Washington's star sophomore, and the team was undeterred in their competitive energy.
In truth, Washington's depth may have been to their detriment. As crazy as it sounds, Washington's lack of hierarchy at times led to inefficiency. With too many players capable of taking over the game, no single one of them stepped up in crucial spots to take control of the game. Their heralded rookie sensation, Abby Hecko, clearly has all the tools to be the central figure on Washington's offensive or defensive units, but they really didn't need that from her, so she would often hang out in the deep space or wide on the sidelines without making much of an impact on the game.
It feels important to clarify that this is the best possible problem that a team could have, especially at this point in the season. "This weekend we were trying to play our depth. That was our main focus," said the Washington captains, in agreement. "It was about building chemistry, playing together, and using our depth."
As long as the Seattle club cleans up their offense and establishes a clear structure for their team to operate within by the end of the season, they should have no trouble escaping the always volatile Northwest. It just so happened that at the Santa Barbara Invite, they didn't tighten the lines in close games and it cost them a win or two. Winning isn't everything at these tournaments, and Washington seemed mostly unperturbed by the losses. Somehow, that makes them more daunting. There's nothing scarier than hitting an opponent in the face and seeing them come up smiling afterward. Assuming they stay healthy, Washington will quickly become appointment viewing.
High Ceiling For Inconsistent Wisconsin
This past weekend was not #12 Wisconsin's finest hour. They went 3-3 and only earned a single win over a quarters-level team in Northwestern. With all that in mind, there were points this weekend where Wisconsin looked very, very good. They might not have been able to sustain those points for a full game, or even string them together consecutively in the games that mattered most, but it was also apparent that Wisconsin has what it takes to hang with any team in the top 20.
So much of Wisconsin's success depends on Margaret Walker. Bella Donna lost a lot of their offensive core from 2019 and are still rebuilding from that dearth of talent, but Walker remains spectacular and has shaped herself into a powerful two-way player, flashing attributes of an elite downfield defender. Kaitlynne Roling, Rachel Wilson, and rookie Sarah Rubin all contribute to a capable roster. What impressed the most with Wisconsin this weekend was their fitness, though. There wasn't a game this weekend where they seemed to wear down — they remained explosive and powerful with their cutting set.
Chemistry was definitely an issue for Wisconsin this tournament, as they overthrew, overran, and overlooked a few keys plays that could have changed their prospects. They had a good reason for their problems as there hasn't been much time for practice before coming to Santa Barbara.
"We had to focus on ourselves," said captain Roling. "We've been away from each other for a while with our winter break ending just this week. So we had to put in the work outside of the season on our own before this."
There's no reason to pull the panic cord after this past weekend. Wisconsin is clearly motivated to put in the work and individually have had a lot of their players active during the club season. Once they put it all together, they should see better results at later tournaments.
A No-Nonsense Weekend From the 'Norths'
On Sunday morning in the fifth-place bracket, Northeastern and Northwestern faced off in 'the battle for the North.' It ultimately went to the Valkyries, who ended the tournament with a solid 4-2 record. That's not to say that Northwestern underperformed, though. Gung Ho entered the tournament as the no. 15 seed and left in eighth place, the highest rise of any team this weekend. Despite making Nationals in 2019, expectations were low for the squad from the Great Lakes. That clearly won't be the case any longer.
Northwestern's greatest strength was in the handlers that anchored their offense and defense alike. Sarah Gnolek kept the wheels spinning on the offense, as her bullet flicks allowed her cutters to strike deep with abandon and open the under space for easy gains in the middle of the field. Rey Tang did much the same for the defensive line, as her lefty throws dazzled anyone foolish enough to mark her and often led to strong handler flow going upfield. Northwestern kept their lines fairly loose throughout the tournament, and it allowed for all their players to get reps on the field in high-pressure situations. Their defensive pressure needs a little work, but they're in a good spot for a team still working out the kinks.
#13 Northeastern's problem was definitely not their defense. In fact, their zone and matchup defenses were among the best at the tournament. And to take it even further, their offense was pretty fantastic for a team that doesn't see many blue skies at this time of year. Looking back, Northeastern had one of the best records, had a win over the eventual second-place team, and had one of the most disciplined offensive stacks of any team in contention.
Really, there are only two criticisms to level against the Valkyries this weekend. The first is to protect your central handler and coach from food poisoning at all costs. Northeastern was sitting pretty on day one of SBI with a 3-0 record, only for Clara Stewart and Danny Clark to go down with food poisoning on day two, which spoiled2 the team's chances. They really needed another backfield presence in their loss to Vermont and were a little unfocused to start the game. Ari Nelson picked up a lot of the slack, but it also meant teams knew exactly who to target, and even she wore down late into games. Northeastern also got major contributions from Lamia Farah, Katharine Gilbert, and Ellen Harsha.
The second takeaway is that Northeastern needs to work on their zone offense. They went to double game point against Stanford, mainly thanks to the legendary Superfly zone, and it was also Vermont's zone that put the Valkyries behind the eight ball early in their quarters matchup. The team clearly had a game plan going in, but it never quite worked as effectively as their offense against person defense. Nelson often was sequestered to the deep space, which only served to draw the opposing team's last back towards her without actually freeing up any more movement downfield. Without a doubt, Nelson was their most effective player with the disc in her hand, which is why it was puzzling that they so often were content to leave her out of their zone offense strategy.
Apart from those few criticisms, there are very few weaknesses to Northeastern's game, and they should be every bit as good as we'd expect from a team rounding into their prime.
Quick Hits
#20 Utah came into the tournament to much fanfare and couldn't quite match the excitement they generated in the preseason. The team's coach, Tania Reitz, noted that Spiral Jetty had not been able to practice outdoors at all, and even their indoor practices were limited. The team ran a very deep stack, which was often to their detriment. Their throws were not calibrated to the space or distance a full field offered, and they often let the stall count rise while waiting for cuts to develop. Despite this, Jess Olsen, Kyra Khoroujnikova, and Anna Cassell gave Spiral Jetty a chance in every game they played. Olsen's fakes were obscenely effective at moving the mark, giving her plenty of room to get off the throws she wanted.
#19 Stanford may not inspire the same fear in their opponents that they could even two years ago, but they are definitely in the running for a bid this year. Superfly's zone continues to be one of the best in the nation and players like Maika Isogawa and Sesha McMinn have developed into real downfield threats. Hallie Dunham needs more throwing help around her, which could come in the form of Christine Chen, a grad student from UCLA. She's clearly new to Stanford's system, but there's plenty of potential there.
UC Davis forced their way into the national conversation this weekend and should be feeling pretty good about that. After beating Cal Poly SLO and Wisconsin to start their tournament, they had a tight loss to Utah and a prequarters exit against Northwestern to end day one. In all four of those games, Davis showed they should be taken seriously. The team is perhaps a piece or two short of earning a bid for the Southwest, but Julianna Madigan played without fear, and Allyn Suzuki also impressed. Those two new additions — a grad student who played at South Carolina and an experienced former Bay Area youth player, respectively — add a lot to Davis' potential.
#23 California had a rough time of it at this tournament, which wasn't too surprising. The restocked Pie Queens were testing out different lines and giving plenty of reps to their inexperienced squad. Even so, they never got blown out by the competition, and held their own well against UCSD, the eventual champions. Claire Toth is entirely as good as advertised, and Cidney Weng was almost a step too far ahead of her team. January's not the time to evaluate this roster, we'll only know for certain what this team is near the end of the regular season.
#15 Cal Poly SLO never could overcome their shortcomings this weekend, ending it with a 2-4 record. They clearly missed Kelly Dickinson, their captain and O-line handler, but also lacked depth in general. Recruiting has traditionally been an issue for SLO, and this weekend it was hugely apparent how much they're going to miss their talented 2019 senior class, which included the Swanson sisters, either of whom would have had a critical impact this past weekend. The ceiling for this team is relatively high, there's just a similarly high barrier keeping them from reaching it.
UC Santa Cruz only had 12 players on their official team roster at this tournament and still won a game and went to double game point three times this past weekend. By all accounts, Michelle Slaughter is very good at ultimate. They immediately turn around to play at Presidents' Day Qualifier, a tough task if they can't get some more bodies.
All-Tournament Team
Jasmine Childress (UC Santa Barbara)
Alex Diaz (UC San Diego)
Margaret Walker (Wisconsin)
Ari Nelson (Northeastern)
Bethany Eldridge (Vermont)
Hallie Dunham (Stanford)
Jess Olsen (Utah)
Honorable Mentions: Julianna Madigan, Sarah Gnolek, Kaitlyn Weaver, Kennedy McCarthy, Emily Massey, Kyra Khoroujnikova, Claire Toth, Michelle Slaughter
---
including their Conference and Regional championships ↩

I'm so sorry for this bad pun. ↩