Lots of D-III news as we get ready for a big weekend in all divisions.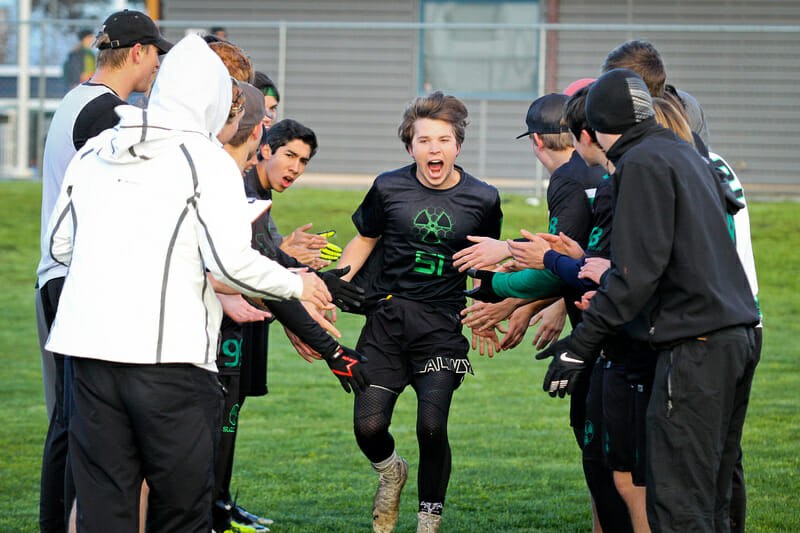 College Update is presented by Spin Ultimate. Please support the brands that make Ultiworld possible and shop at Spin Ultimate!
Throughout the spring season, we will publish a bite-sized weekly recap of all the action across the college division. This will serve as a supplement to our standard tournament reporting and will offer a high-level look at the latest happenings and the biggest stories of the week.
Want your tournament listed here? Submit a recap of what happened right here.
D-I Women's
Around the Division
No. 2 seed Southern California was the biggest brand name in the field at Presidents' Day Qualifier and will join the Invite after their undefeated performance in Los Angeles. After a narrow opening victory over UCLA B, the Hellions ran the table for a 6-0 weekend. It ended with an 11-8 score in the final versus Chico State.
Castle Classic wound up as a three-round set of matchups between UNC Asheville, Wake Forest, and Miami. Hometown Wake took wins over both visitors. Curiously, every game was decided by a three-goal margin, as Asheville defeated Miami 9-6 in the other matchup.
D-III Women's
Around the Division
#20 Occidental roared out of the gate at Presidents' Day Qualifier, winning their pool and their quarterfinal, including upsetting no. 1 seed Cal State-Long Beach, to begin the 2020 campaign 5-0. After losing to Chico State in semifinals, they proceeded to drop their two consolation games for a sixth-place finish, disappointing considering their start.
UNC Asheville only got in two games at Castle Classic, splitting the pair: a 9-6 loss to Wake Forest and a 9-6 win over Miami.
D-I Men's
Around the Division
UC Santa Cruz started their season off with a mostly-dominant undefeated win at Presidents' Day Qualifier. They topped no. 1 seed Santa Clara in the final 9-7 after blowing by their other competition. Shout out to Sonoma State, who made the semifinals from no. 17 seed.
No. 8 seed Arkansas was on a tear at Big D in lil D, winning their pool, beating no. 1 Texas Tech on both days, and edging Oklahoma 11-10 in semifinals. But then they ran into no. 9 seed D-III Sul Ross State, who avenged a pool play loss with a win in the final.
D-III Men's
Surprise South Central Results At Big D in Lil D
In a field with solid D-I competition and South Central representatives from D-III Nationals past, John Brown and Colorado College, it was overlooked Sul Ross State that won Big D in lil d. The club lost two of their first three games before coming to life in the bracket. They capped the weekend off with head-to-heads over John Brown and Rice, and a 15-13 victory against Arkansas, who they lost to by eight goals in pool play.
The region feels chaotic after the first round of battling. Some of the other D-III SC competitors finished, in order: John Brown, Rice, Colorado College, Abilene Christian, Dallas-Baptist. Meanwhile, Air Force got off to a rocky start two weekends ago, while Missouri S&T still projects to be very strong. There's plenty left to be decided here.
Around the Division
Occidental lost just a single game — their semifinal against Santa Clara, 11-7 — in their debut at Presidents' Day Qualifier. Detox finished third, a confident start to the season. Meanwhile, Caltech went 3-4 for a middling performance against the diverse field.
Looking Ahead
The upcoming weekend is headlined by Queen City Tune-Up, with a very strong women's division and pretty competitive men's division. Meanwhile, Stanford Open features quality teams, particularly from D-III.
QCTU's women's division features the top three ranked teams in the division: #1 Carleton, #2 North Carolina, and #3 Ohio State. And there are plenty of quality teams in the field for one of the key events in the D-I women's calendar. The men's division has all of the top Atlantic Coast teams except #22 South Carolina, but also brings in #9 Ohio State and #12 Georgia, as well as some interesting visitors.
Stanford Open's men division is led by D-III #3 Carleton GoP as the top seed, with Lewis & Clark, Puget Sound, and #15 Claremont also in the field. They'll have to contend with teams like UC Davis, Arizona, Western Washington, Wash U, and UCSC. The women's division also includes Carleton's D-III reps, #9 Carleton Eclipse, and the impressive D-III teams from the Northwest, including #2 Puget Sound. But the favorite is either #22 UC Davis or the Seattle youth squad from Seven Hills.