The west's best converge in San Diego for three days of top competition.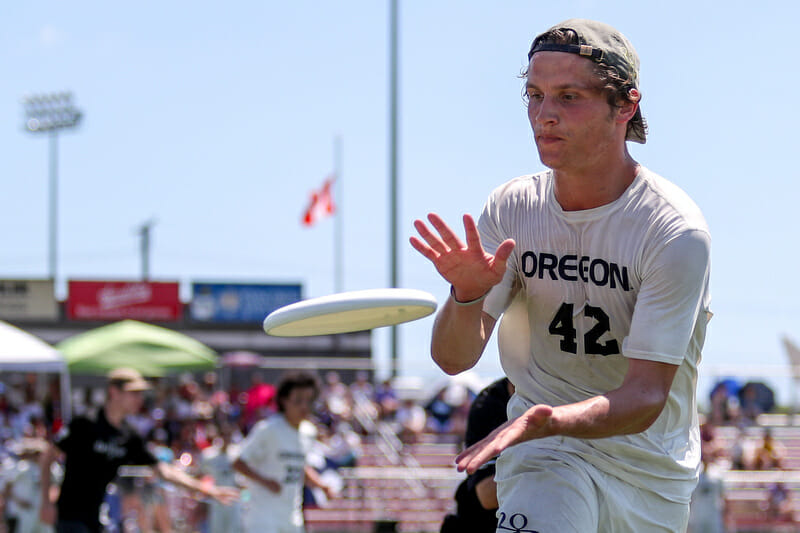 Our 2020 college coverage is presented by Spin Ultimate. Please support the brands that make Ultiworld possible and shop at Spin Ultimate!
The most competitive tournament so far this season is coming up. With three top ten teams looking to make an early season statement and a bevy of challengers in the wings, here is what to look out for in SoCal this weekend.
Tournament Profile
Date: February 14-16
Location: La Jolla, CA
Weather Forecast: Sunny and pleasant, highs in the low 60s, little wind
Top 25 Teams: 6
Filming Schedule
These games will be available online next week for Ultiworld Full and Plus subscribers.
Because of split field sites, we will not be filming any men's games during pool play. We will film three power pool matchups on Sunday, along with a prequarter, quarterfinal, and the final in the bracket. All games TBD, of course.
Stories To Watch
Colorado Reenters The National Stage
We all underrated #6 Colorado last season, and they silenced any doubters as they made a run to the national semifinal after missing Nationals in 2018. With few key losses and a stellar recruiting class, Mamabird will set their season standard at this tournament. They might even win it.
Early season reports have expressed excitement about Mamabird's rookies. Headlined by Danny Landesman and Aylen Learned, Colorado has three rookies who made the U20 national team and eight with YCC experience. But the returning squad are plenty capable of leading the way. Quinn Finer, Conor Tabor, and Matthieu Agee are coming off of a club season with Johnny Bravo, Alex Atkins played with Patrol and should step up into a bigger role, and Cole Besser returns after last season's All-Freshman campaign. Tabor specifically was tabbed as "one of the best throwers in the college division" by the Mamabird captains.
"We're excited to get out there and play our team game and see what we're made of," said Finer, a team captain. "I'm very confident with the roster we have that we'll be able to go out there and take care of business." Finer added that the team is looking forward to playing the best competition possible, highlighting Oregon and Washington as teams Mamabird is hoping to match up against.
Colorado is coming to California to earn their wins. They expect to play to their depth and use the entire roster as contributors. After making the semifinal last season, Colorado is not letting the success get to their heads. "We know we haven't earned anything yet," said Finer, "just because people think we're good doesn't mean we're good. The onus is on ourselves to work as hard as we can and perform our best."
Oregon Opens Their Competitive Season
While others were testing themselves at Santa Barbara Invite, #8 Oregon won the Pacific Confrontational Invite against lower-ranked competition. Consider Pres Day the country's introduction to this iteration of Ego. Returning basically their entire team from last season (save Leandro Marx), Oregon is not short on talent or energy. Will Lohre expects to return from his torn ACL, and Xander Cuizon Tice returns as a fifth year alongside him, fresh off of a club championship with Sockeye.
Ego has talented depth players who can compete, too. Expect breakout years from Duncan Fitzgerald and Lukas Ambrose, two emerging leaders with room to grow into more prominent roles. Ted Sither will take control of the offense after doing the same for Truck Stop this past club season.
With one of the top coaching staffs in the country (Jay Janin and Dylan Freechild), Oregon should be competitive in every game they play and should be playing deep into Sunday's bracket.
Washington Looks To Defend SBI Title
#7 Washington looked far and away like the best team at SBI a few weeks ago, and with a few extra practices under their belts, they should be ready for the bigger stage at Presidents' Day.
Sam Cook slotted into an impressive offense that has dynamic downfield pieces. Lucas Chen, a shifty isolation cutter, and Jacob Steen, a towering deep threat, pair neatly downfield. Manny Eckert isn't afraid to hit any throw and looks confident every time he steps on the field.
However, it was Washington's defensive line that stood out the most. High-profile rookies Tony Venneri and Jack Brown looked like seasoned veterans. Venneri and Derek Mourad ran the offense after a turn, and it was Brown who was often pulling opposing hucks out of the sky to earn those opportunities. Lesser known names like Dante Lopez-Escarez and Porter Jones play important roles as handler covers, forming the base for the best defense we've seen on the west coast this year.
Offenses should be more developed this weekend compared to the last time we saw the Sundodgers, but Washington has the firepower to keep up and should find its way into late bracket games on the strength of its defense. They're nominally the favorite to win the tournament after their strong performance in late January.
SLO Builds On Early Season Performance
#11 Cal Poly SLO might take some more time to develop than its peers, but CORE has the top end talent to hang in every matchup this weekend. Enough has been said about the talents of KJ Koo, Calvin Brown, Jake Thorne, and Emmett Holton; this team is more than just its star-studded sophomore class. Conor Schofield should soon be a household name, Chris Kaspar is a top handler defender, and Justin Ting is the stereotypical 'glue guy' who can right the ship if it veers off course.
SLO is in the process of integrating new players into its offense and it will take some time before that process is complete. Last time SLO took the field, they looked uncharacteristically off balance and threw themselves out of the few games they lost. Washington's defensive pressure, especially, caused them trouble. Defensively, they forced turnovers but weren't consistent at scoring their break chances. Will they have made the necessary adjustments?
What Does UCLA Have In Store?
The surprise of the early season was #24 UCLA, who made the SBI semifinals. David Dumas looks to be the real deal on defense, and the young Riley Kirkman-Davis steadied an offense that kept finding ways to score. The big question is: can they do it again?
At last year's PDI, Smaug fared pretty well, reaching the quarterfinals and eventually finishing fifth. To do so, they had to overcome Colorado in the fifth place final, by fair the most notable win on their 2019 resume. And look who they will meet in pool play? Mamabird probably hasn't forgotten.
Nobody will be surprised by this team anymore and the competition only got harder, with out of region powerhouses like Oregon and Colorado in the mix. If anyone could shake up the hierarchy and cut in front of one of the favorites for a spot in a semifinal, it is probably Smaug. Their pool play matchup against SLO will be a game to watch as a possible preview of the Southwest regional final.
Is there a Surprise Team in the Mix?
Utah scored a bracket win at SBI and is working a lot of young players into the mix; a few weeks more of practice probably isn't enough to upset a top team, but look for this team to continue positive growth.
Stanford seems to perennially disappoint in their final placement, but the top end talent on Bloodthirsty is hard to ignore. Maybe they could steal a bracket upset if they play up to their potential and take advantage of break chances.
#24 Illinois won T-Town Throwdown last month against other similarly ranked teams and has cracked into the Top 25. Joey Kennedy is primed for a big year. They could be a surprise team. Team's on the east coast will be rooting for Rise, as they become a second-order bridge between teams at Queen City Tune Up and Florida Warm Up.
UC San Diego's double game point loss to UCLA at Santa Barbara Invite looks better in retrospect than it did when it occurred. While I wouldn't expect the Air Squids to make a deep run, they've proven that they can hang with quality teams.