Ultiworld's reporting on Florida Warm Up 2020 is presented by Spin Ultimate; all opinions are those of the author. Please support the brands that make Ultiworld possible and shop at Spin Ultimate!
TAMPA — Just four teams remain in the hunt for a Warm Up title — Carleton, Michigan, Texas, and Georgia Tech. With Brown taking a surprise loss at the hands of Michigan, UMass missing the bracket by the smallest of margins, and tough match play schedules leaving some good teams out of the championship race, Saturday evening's quarterfinals were a strange affair.
Here's a look at the action from the day.
Saturday/Sunday Brackets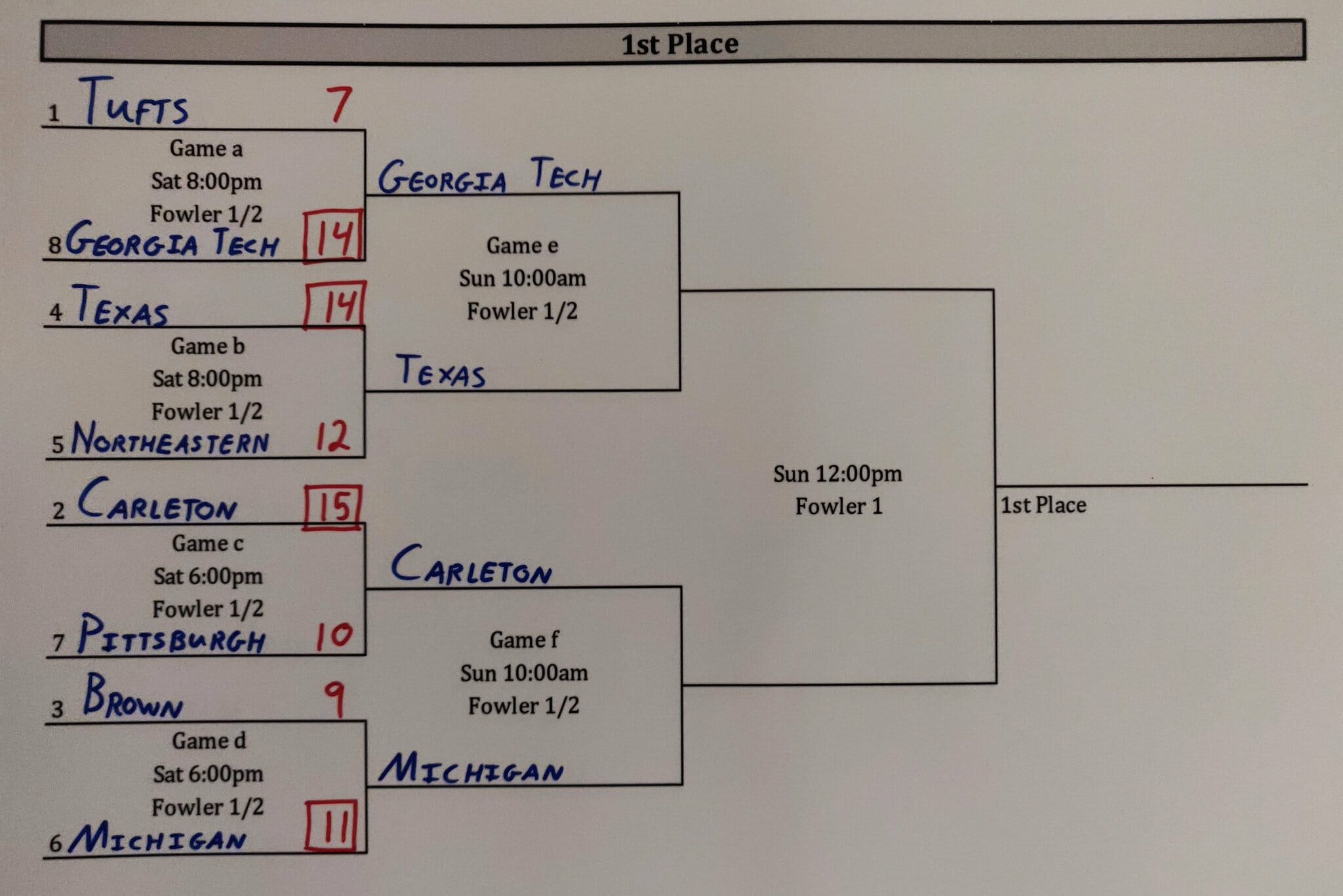 Match Play Wrap Up
BYU came as close to running the gauntlet as they possibly could. After holds to win on double game point against Carleton and Pittsburgh, they had a comparative breeze against UMass, breaking on the final two points to win 12-9. They entered their final match against #1 Brown a perfect 7-0 on the weekend. It proved to be just too many tough games in a row. Clearly fatigued from their exhausting slate of games as well as missing their star player Jordan Kerr, who went out injured after the first point and never returned, BYU fell behind early. The 7-4 halftime deficit was easily BYU's largest of the weekend, but rather than folding, they rattled off three straight breaks out of the half to make it 7-7. They weren't quite able to find that last break needed to get the final win, though. They got closest at 9-9, but ultimately they didn't have enough left in the tank. Brown smoothly held to win 11-10 on double game point. When the dust settled, BYU got far closer to a perfect 8-0 record than most would have predicted, and they may walk away as the tournament's best team.
UMass found themselves on the outside of the bracket despite a 4-2 record and their only losses coming to Carleton and BYU. Rather than having a chance to redeem those losses and play against some of the other upper echelon teams of the tournament, they ended up behind Georgia Tech by the slimmest of margins in the tournament's tiebreaker ranking system. UMass was effectively punished for having games against weaker opponents, even though they blew those teams out1. UMass missed the bracket as a result. Their absence was arguably the biggest drama of the day. They certainly belonged in the top bracket — but that's Warm Up!
After the entire state of Florida went 0-12 on Friday, the University of Florida found some redemption for the host state on Saturday. Florida notched wins over Cornell, Texas A&M, and Virginia Tech in their final three games of match play to finish a respectable 3-3 before consolation. Central Florida added another win for the state in consolation play with a 13-12 victory over Texas A&M. It's still difficult to frame the weekend as anything but a rough one for the Florida teams and the entire Southeast, but thanks to Florida and Central Florida's victories on Saturday, they at least showed some immediate signs of improvement.
Minnesota bounced back from a deceptive 0-3 Friday against UMass, BYU, and Pittsburgh with emphatic wins against Texas A&M, Harvard, and Central Florida in match play before smacking Wisconsin 15-10 in the bracket. While their losses on Friday prevented Grey Duck from advancing to the championship bracket, their stellar Saturday has them set up for success over the remainder of the season.
Carleton Overwhelms Pittsburgh
Any hope Pittsburgh had of repeating their 2018 semifinal upset over Carleton was dashed early, as CUT ran out to an early lead and never let Pitt back in. Seemingly every major play went Carleton's way, with Stanley Birdsong, Luke Webb, and Joe White all taking turns to posterize their defenders in the deep space. The one notable exception was an outrageous trailing edge layout grab from Michael Ing, putting Pittsburgh on the board for the first time trailing 3-1.
Carleton's O-line dictated the terms of engagement all game and swiftly moved the disc against person or zone. There were points this weekend when the focus seemed to slip for Carleton, but CUT was dialed in and putting on a show Saturday night. Surrendering only a single break all game, Carleton played with a tempo and precision that overpowered what had looked like the best defense at the tournament. They took half 8-6, quickly extended the lead with two breaks out of halftime, and kept pumping in holds to win 15-10.
Pittsburgh disappointed on both sides of the disc, with their offense struggling to find rhythm and the defense failing to dictate the shape of play. There were stretches where the handler core was able to string some nice sequences of movement together, and burly cutter Will Helinski gobbled up goals with his physicality in the endzone, but by and large, the disc was not moving fluidly between the various levels of the offense.
Michigan Stuns Brown
Michigan pulled off the upset of the weekend by knocking off Brown 11-9. Michigan didn't announce themselves as an upset candidate right away, but they did hang around with Brown through the game's first act. Brown claimed a pair of breaks in the first eight points, but Michigan proved — with their willingness to grind and solid play in the backfield — that they weren't just going to roll over for the favorites. Led by strong performances from players like Jordan Schwallie, Adam Stautberg, and Raymond Lu, Michigan played with no fear of Brown.
The game's second phase started after Brown wasted a couple of chances to break while up 6-4. A third break likely would have ended Michigan's hopes of hanging around, but the bout of sloppiness from Brown triggered a full on slide. Michigan broke on the ensuing point to make it 6-6 and then Brown freshman Leo Gordon dropped a wide open huck in the endzone to set up another Michigan break for a 7-6 lead. The teams traded holds into half, meaning the game was only on serve, but the three point stretch sapped an already tired Brown of emotional energy and instilled Michigan with more belief than they would need.
When Michigan broke on the first point of the second half, the upset bid became real. They had several chances to break again on the following point but couldn't convert. Brown did then get the break back for 9-9, but it was clear after the exhaustive hold for 9-8 that back to back double game point wins to end match play left the team physically, emotionally, and mentally spent.
Michigan held and then broke to close it out for the 11-9 final score and emphatically prove themselves worthy of their place in the bracket.
Georgia Tech Gets Revenge on Tufts
Tufts was up 7-1 at half on Georgia Tech when they met in match play on Friday morning. Since that point, Tech has outscored Tufts 22-10 as they fought their way to a definitive 14-7 win on Saturday night. After a few swapped holds, it was a one way street of breaks, with Georgia Tech scoring on a bungled fast break attempt from Tufts to make it 4-3 and again at 6-4 after a spectacular layout block from Mark Farid. The offense was humming for Tech thanks to Will Lindquist's extensive vision and range, going break free in the first half.
Tufts entered the game with limited numbers and their rotation got smaller as injuries continued to take their toll. Jac Carriero limped off with an aggravated hamstring as Tufts was broken to make the score 10-6, and the game never got closer than three points from that point on. With only 13 healthy bodies by the end, Tufts didn't have the legs or the energy to climb out of the hole Georgia Tech had put them in.
In soft cap, Chris Zuo peeled off the stack for a poach block and then tossed the winning assist to close out the game 14-7 and send Georgia Tech to the semifinals.
Texas Surges Early, Holds Off Late Northeastern Rally
Early miscues from Northeastern were ruthlessly punished by Texas' D-line and ultimately ended up being the difference in Texas' 14-12 win. A dropped pull at 2-1 led to a quick Texas break, and then a short field turn on the next point made it 4-1 almost as quickly. Another break right into half gave Texas a comfortable 8-4 lead.
Both teams traded holds through the opening stages of the second half, with Northeastern offering little resistance to the Texas O-line. Vinay Valsaraj and Sebby Lauzy were effective downfield while freshman John Clyde helped anchor the backfield. Northeastern's offense was solid, too, apart from the first half miscues. Their steady holds kept them from getting completely blown out of the game while the defense tried to find its footing.
The Texas offense finally wavered at 10-7 when they committed a trio of turns, but they weren't broken until the score was 13-10. Northeastern did make a late push as Texas' offense slipped from cruise control into carelessness and got back-to-back breaks to pull within one at 13-12. But Texas ended the slight scare with a clean hold on the final point of the game to advance to semifinals.
---
Warm Up did not employ the "blowout rule," which discards wide margin wins against weak opponents, that the standard USAU ranking system uses. ↩