Washington reigns supreme through three day slugfest.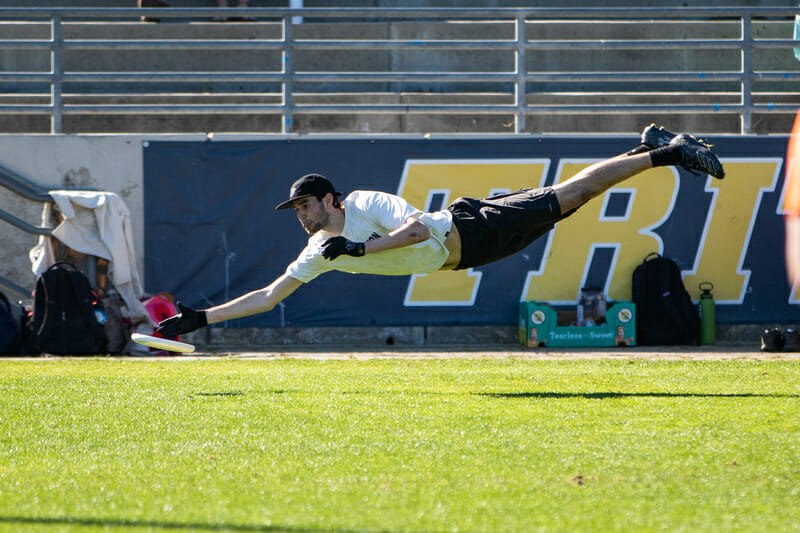 Ultiworld's reporting on the 2020 Presidents' Day Invite is presented by Spin Ultimate; all opinions are those of the author. Please support the brands that make Ultiworld possible and shop at Spin Ultimate!
SAN DIEGO, CA – The Washington Sundodgers took down regional foe Oregon Ego to cap off a masterful weekend at the Presidents' Day Invite. Top teams Colorado Mamabird and Cal Poly SLO Core played as expected, while a host of middle-tier teams fought for relevance. There were a few surprises, notably Oregon State and Utah, while a couple of individual stars on lower teams made some noise. Ultimately, this was Washington's tournament as they look poised for a big year and deep run at Nationals.
Washington Blasts Oregon
With a three day format and power pools on Sunday, we knew endurance and depth of roster was going to be a factor in La Jolla. With Ego star Will Lohre still working his way back from his ACL injury, Ego simply lacked the numbers and stamina to keep up with the speedy Sundodgers. This is not to say that #3 Washington didn't earn the championship, they most certainly did. It was just that #8 Oregon did not appear to be clicking at full strength by the time the final rolled around.
The Sundodgers success stemmed from their offensive versatility and stifling matchup defense that was on full display against Ego. Lucas Chen was the star of the final with three goals and one assist, but it was a team win as their army of hybrids worked interchangeably between cutting and handling positions.
Offensively, the Sundodgers were content to work it between their handlers while their cutters grinded for big gainers downfield. This discipline and consistency would usually lead to an end zone set where players like Chen, Sam Cook, and Manny Eckert were able to score in isolation. Chen later said that one of their goals in the final was to push the stack back and only allow three players to move at a time near the end zone. They played a very team-driven style where scoring plays generally came from high-percentage looks versus hero throws that were the hallmark of some of the lower-seeded teams at the tournament. Washington's versatility and savviness around when and where to cut resembled the offense of a high-level club team.
When asked after the game about the balance of their offense, Chen said, "We don't have handlers who can't cut, or cutters who can't handle — everyone can do everything," and that it "just depends on what the defense is throwing at us." That kind of fluidity was also apparent during their semis win against #9 Cal Poly SLO. Captain Derek Mourad noted how though the team hasn't yet practiced much zone offense, they were still able to score on tough points against the creative junk looks from SLO.
Defensively, the Sundodgers paired a physical and demanding style of matchup defense with an impressive conversion rate after a turn. During the SLO semi, aggressive marks and tight downfield D forced a normally patient Calvin Brown into a few tough and contested looks. All weekend, players like Tony Venneri, Porter Jones, and Mourad came up with poaches, layouts, and baited blocks. When they created turns, their offense worked quickly and, in the blink of an eye, they'd be rushing the field after a break goal. Against Oregon, they rattled off three consecutive breaks twice in the game. Simply put, they are not the kind of break train you want to see get rolling.
Whether talking to players on other teams, fans in the stands, or even observers, everyone was talking about the physicality and intensity of Washington's defense. Mourad described it as "frankly, suffocating." It's worth noting that they did receive a blue card for a bid during the SLO semi. But, overall, coach Mark Burton has trained these guys to play physically within the rules. Throughout the weekend, there seemed to be fewer calls or hotly contested disagreement with Washington than other teams.
When asked about their chances come Nationals, Sam Cook and Lucas Chen both smiled and talked about the present, shifting the focus to the Stanford Invite. But Chen did say that "everyone is definitely thinking about that in the back of their heads." This team has certainly proved a lot through two tournaments and will now be a big target as the rest of the season unfolds.
Oregon's High-Ceiling Roster
Oregon Ego was one of the more fun teams to watch this weekend. With their traditional early season basketball jerseys, one of the loudest sidelines at the tournament, and a bevy of quick cutters and skilled throwers, Ego played with a lot of swagger. Though they came up short in the final, they boast a roster with a nice mix of seniors and newbies. Captain Will Lohre said later that it has been cool seeing the "synergy between ages and play styles" and that it's "fun to pass that culture down to the young guys." It is safe to say that this team has a distinct style and that they have room to grow as one of the nation's strongest teams.
Ted Sither stood out as one of, if not the, top handler of the weekend as he was able to glide breaks and downfield throws with ease. His smooth pivots and confidence in the backfield made for enjoyable viewing as the Ego offense hummed along all weekend.
Xander Cuizon Tice and Colby Chuck were also standouts as they consistently created space as cutters while making sound decisions with the disc. It often seemed like they were defenderless as their lateral agility was just faster than most players. Surely Cuizon Tice benefited from a season with Sockeye and Chuck seems to be developing something of a similar style.
Like Washington, Oregon played a possession style offense where they'd spent a majority of the point making easy throws laterally while cleaner looks opened up downfield. All weekend, their offense had an ease to it as even when big plays were made, nothing seemed forced.
That changed during the final, as out the gate, they started out getting broken twice on a pair of forced throws. As the game wore on, it was clear that they were out of sync, as more turns and deflated egos (ahem) spread throughout the team. When Washington continued to string together breaks, Oregon didn't show the calm or perseverance that they showed the previous two days.
On the bright side, the team got good production from some lesser known players this weekend. Duncan Fitzgerald had a strong showing and proved that he can make big plays and play a variety of roles. He looked good in the air and, like the rest of this team, is a plus thrower.
David Barram complemented Sither well this weekend as the other central O-line handler. He scored a clutch goal while the final was still close and also landed one of the biggest huck bombs during the semis game. After a strong Sunday outing, Barram later talked about the patience of their offense, noting that when facing junk looks they were content to "go to our second, third, or maybe even fourth look." On the ease of throwing it around a lot to wait for a high-percentage look, Barram said they have no problem doing that. "I don't need to be scoring and stopping," he said. "I wanna keep playing."
If Ego can lock into that simple rhythm that they showed most of the weekend, they should continue to improve and may yet reach their ceiling come Nationals. If they press and become huck dependent against the other top teams, the bottom could come off like it did in the final.
SLO & Colorado Remain Strong
While both Cal Poly SLO and Colorado came up short in the semis, they played bully to the weaker teams at the tournament — something good teams should do.
SLO's defense stood out as both creative and tough. In their semi, they matched Washington's intensity with aggressive matchup defense as well as an impressive zone. KJ Koo had one of the cleaner interceptions of the game and every zone point caused Washington to throw it more than they would have liked.
Players on Oregon and Washington praised SLO's defensive looks. Their zone seemed simple enough with captain Justin Ting manning the point and bigger wings baiting hammer throws. What made it standout was the cohesion of something so team-dependent this early in the season. In that semis game, if often felt like it would expand and then contract depending on where the second or third look might come from, causing handlers to holster the disc longer than anticipated. It will be interesting to see what adjustments and additions coach Cody Mills can concoct before Regionals.
With star players like Conor Schofield, Calvin Brown, Morgan Sommer, and Emmet Holton, their offense is strong and capable of scoring on any defense. Holton serves as a good foil to Brown, as his shifty cuts and dependable resets pair well with Brown's breaks and rangy deep throws. Brown had another strong tournament and seems to be improving on a storied freshman year. His hucks, hammers, breaks, and downfield throws are already as good you'll see in the college division.
Schofield and Sommer stood out during the Washington game. Both players don't seem especially intimidating or as tall as some of the Sundodger cutters, but both are tenacious players who got open amidst the tight D that game. Schofield, in particular, played with an edge as he came down with the biggest sky of the game, barreling into the end zone while trying to keep his team alive.
With star power, a proven system, and smart captains and coaches, don't sleep on this SLO team. They'll have tough competition in their conference this season as upstart teams are gunning for them, but like the other top teams, they have all the necessary pieces for another deep finish.
Colorado was consistent this weekend and, though there is room to improve, they didn't reveal too many of their weaknesses. They lost to Oregon and SLO by one, and Washington by two, but handled all of the others fairly easily.
Seth Wells and Cole Besser were the grease of the O-line in most of their games, which allowed Alex Atkins and Quinn Finer to roam free and occasionally step over to the D-line. Besser continues to grow into a stable playmaker and possesses a range of devastating throws. Mamabird did seem to rely more on hucks than the other top teams, though I wouldn't associate that with carelessness; they seem to be working out what kind of identity they will have moving forward.
Finer was a beast this tournament and provided some of the most electrifying plays of the weekend. With his powerful athleticism and knack for the big play, you've got to think that there is a Callahan video lurking in our future. He, as well as a few other Mamabird players, will need to continue to play as a team if they are going to match the success of their program's past. During the UCLA quarterfinal, they had a number of ugly turns that were not to the caliber of an elite team.
In an interview with Atkins, he discussed developing the newer players and improving on the margins. Though he said that you always want to win the tournament, he talked in platitudes about goals like "getting better" and seeing improvement throughout the weekend. This being their first major competition against good teams, he also brought up "getting a lot of new guys out there" and "being more efficient on the D-line" as focuses for the team. It is safe to say that they executed on these goals.
Best of the Rest
Utah took home fifth place in a forfeit win as Oregon State had flights to catch. It is a bummer we couldn't see this consolation final as both teams played strong all weekend and were pleasant surprises. Utah played a team game that included physical marks and good downfield D along with loud sideline energy. Nathan Huff and Austin Hasbrook made big plays during their pre-quarters game against Oklahoma State and seem to be capable leaders for a team on the rise.
Utah relied heavily on their deep game to stretch the field and provide open cutting lanes, which made it easy for them to close out games over teams who didn't have the depth of talent to keep up with them. It wasn't a perfect system for them, though. Too often, they matched with a team that could keep up with their athleticism and stay in step with their cutters, forcing their handlers into panicky throws. Once they figure out timing and strengthen their handler movement, they'll have far fewer errors for opponents to capitalize on.
Oregon State played every opponent extremely close this tournament and were a joy to watch. In the quarters, Drew Peterschmidt came up with one of the weekend's biggest plays in their near upset of Oregon Ego. After a monster come from behind block that echoed Freechild's iconic D, he punctuated the point with a ridiculously high sky for the bookends. Peterschmidt was a force all weekend: with his height, athleticism, and hunger for the disc, he is a visible threat every time he steps on the field. Look for this team to play spoiler in the Northwest as they will be a tough out come Regionals.
Building off their semis performance at SBI, UCLA had another strong showing and seems to be a real contender in the Southwest. Derek Vance and star freshman Riley Kirkman-Davis were a force in the quarters against Colorado. They played aggressively and with confidence and are capable of hanging with the big dogs. Kirkman-Davis added later that their mentality this year has been to prove it, as they are "a team that is on the rise." Like the other middling teams, they will need to improve on their consistency and ability to overcome adversity when games get tight.
Quick Hits
Stanford Bloodthirsty stuck around most of the weekend and looks to be in the conversation for Southwest relevance. Sam Masling landed big hucks all tournament and provides stability for a solid O-line. They'll have another opportunity to surprise someone at their host tournament in a few weeks.
UCSB Black Tide was another feisty SW team that broke seed. In a hotly contested pool play game against Utah, Duncan Brim made clutch plays and big throws when it got windy. Isaac Hsu created turnovers that game with his defensive pressure – he boasts a wide-ranging mark similar to that of Nathan White's on Revolver.
Oklahoma State has a bright future, as six of their players played at the same high school in Dallas. Handlers Blake Duncan and Connor Olson have high IQs and smooth throws to move an offense. Olson, in particular, had a big weekend, looking like an elite club player laying waste to college marks. Given his strong performance for the Dallas Roughnecks in the AUDL the past two seasons, it shouldn't come as a huge surprise.
All-Tournament Line
Ted Sither (Oregon)
Lucas Chen (Washington)
Calvin Brown (Cal Poly SLO)
Quinn Finer (Colorado)
Riley Kirkman-Davis (UCLA)
Drew Peterschmidt (Oregon State)
Connor Olson (Oklahoma State)