Who will win Block of the Year?
Ultiworld's 2019 Block of the Year bracket is presented by BE Ultimate; all opinions are those of the author. Please support the brands that make Ultiworld possible and shop at BE!
One of our most popular series each year, it's time to look back at last year and let our readers decide some of the top plays of the year.
First up this year is our Block of the Year bracket. We watched many hours of game footage and highlight reels to hunt down the best defensive plays we could find; believe us, there were more than enough options to fill up this bracket, so even some worthy nominees were left on the cutting room floor. Now we're inviting you, the Ultiworld readers, to vote for your favorite of the finalists selected.
Check out the two finalists  and vote below, then check back to see which play will be crowned the Block of the Year for 2019. The final round of voting starts now and closes on Wednesday, February 26 at 12 PM Eastern.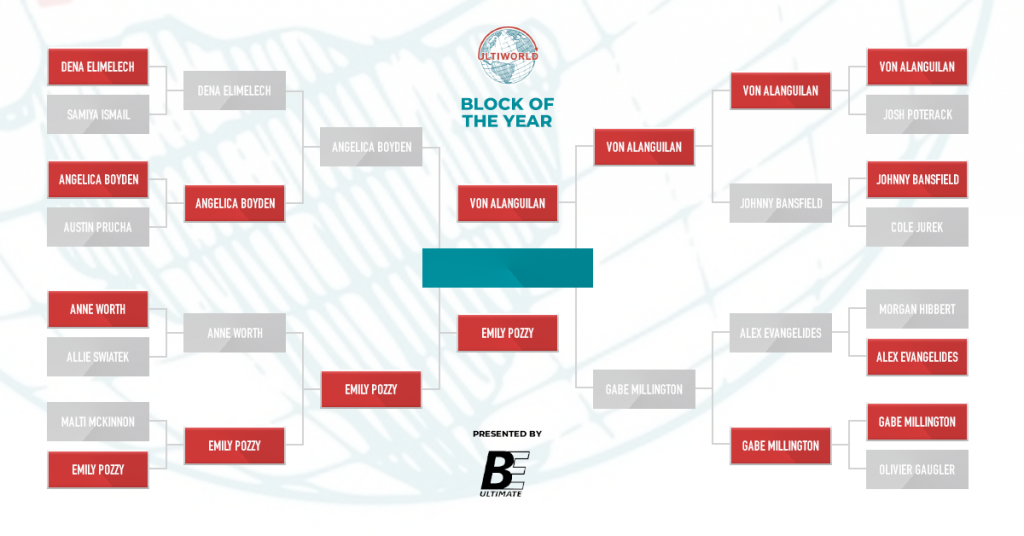 Final
Alanguilan vs. Pozzy
With all the votes tabulated, we have our finalists: Von Alanguilan and Emily Pozzy.
So far, Alanguilan's block has presented its case as an iconic one, winning bracket matchups with 78%, 70%, and 60% of the vote. The block itself was certainly incredible in its own right, a tremendous feat of hustle and willpower that embodies Alanguilan's playstyle. But the context adds so much gravity to the play and makes it an indelible memory. This is Alanguilan's second straight year putting a block into the final of this fan-voted competition.
On the other side, Pozzy's block has been quite the underdog story. After scoring 60% of the votes in the first round, the play walloped Anne Worth's block with about 70% of the votes and then narrowly defeated Angelica Boyden with 51%. But despite being just 16 years old, Pozzy's playmaking ability has powered her block through stiff competition, flying past the opposition just like she did to make this stupendous interception. A Youth Club U20 Girls competitor left Alanguilan in the dust in the final of Block of the Year 2018…can it happen again?
Von Alanguilan – Chicago Machine (Men's Club)
Emily Pozzy – Maine Riptide (YCC U20 Girls)