Honoring some of the top performers from the college season that was.
Ultiworld's 2020 College Awards are presented by Spin Ultimate; all opinions are those of the author(s). Find out how Spin can get you, and your team, looking your best this season.
Each spring, Ultiworld presents our annual D-I College Awards. While the 2020 college season certainly didn't play out as we all hoped and was not allowed to reach its natural conclusion, we still want to celebrate and honor the tremendous performances we saw already this spring.
Our selections are based on sanctioned play as if the season ended today. Given the uncertainty that the coronavirus crisis hangs over the rest of 2020, we may or may not see any postseason events that traditionally have heavily influenced our award selections. With what season has taken place, we have reviewed the tape, talked to players, coaches, and onlookers, and discussed with our reporting team. While the amount of data is limited — and we recognize that not every player and team got equal opportunity to perform — we felt we had enough to offer our opinions on the players who had the greatest effect on this season as it was.
Ultiworld is pleased to announce our seventh annual D-I All-American Teams. These players were selected for their overall performance in the 2020 college season. Please join us in honoring the best college players of this season.
Player of the Year Award
Defensive Player of the Year Award
Offensive Player of the Year Award
Rookie of the Year Award
Breakout Player of the Year Award
Coach of the Year Award
All-American First Team
---
D-I Women's 2020 Second Team All Americans
Carly Campana (Carleton)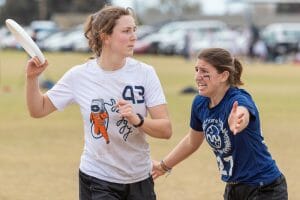 Carly Campana was rock solid in 2020 in only her second year with Carleton. On a team full of stars, she managed to stand out and consistently contribute to the top-ranked squad in the country. Campana was one of the many imposing figures on the team, her stature contributing to her on-field dominance. She excelled in the deep space, reading the disc exceptionally well and using her height to go up at the right moment above any nearby defenders.
The Carleton sophomore is a powerful player, both in her off-disc movement to get open, bring the disc down when it gets to her, and when the disc is in her hands. But she was a threat in all spaces on the field, often backed by defenders because of the fear her deep game inspired. Not only did Campana prove she could boost it deep, but she had the finesse to use the proper angles to put the disc in the right spaces for her teammates to easily run down. Her skills are already immense, and will continue to grow and impress with half of her college career left to go.
Annelise Peters (Pittsburgh)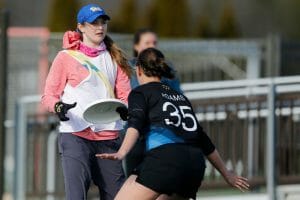 The Ohio State transfer fit in exceptionally well with her former rivals at Pittsburgh this season. Peters led the Danger O-line as the center handler, a position they desperately needed to fill after multiple seasons of graduating their key throwers and an injury to junior Miranda Kosowsky, expanding the team's reach on the field with her versatile throws. She showed the hucks to stretch the defense as well as break throws to keep the offensive motion from stagnating — including more than a few spicy hammers.
Peters is the kind of player that isn't shy about moving the disc and taking over the field when she needs to. She fought for and won uplines against hapless handler defenders that had trouble containing her aggressive cuts. This made Peters particularly effective in endzone sets and in winning power position. While Pittsburgh didn't start the year with resounding success, they climbed rapidly as the season went on, advancing all the way to the final at Commonwealth Cup and ending in the top half of the Top 25 when the season was cut short. That success is due in large part to Peter's contributions to the team as the hub of their offense.
Tyler Smith (North Carolina)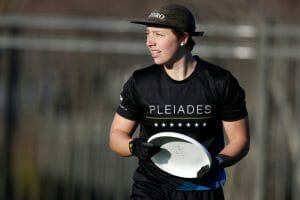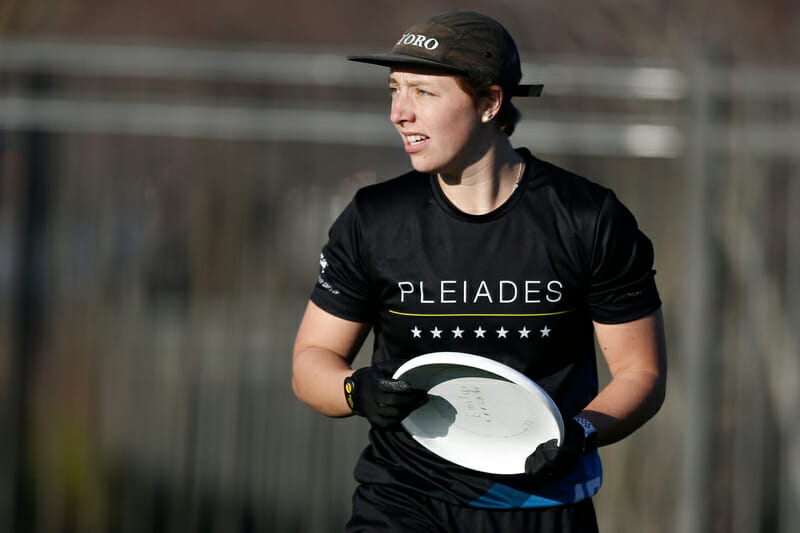 Smith excelled in her role as a prototypical O-line handler on North Carolina's high-powered offense. She is the perfect anchor and facilitator for the offenses' downfield players. Her determined calmness naturally lends itself to the position responsible for maintaining order and driving the offense forward. Smith's just as capable of launching a massive forehand huck from a standstill as she is at precisely spreading the field from side to side, hitting unders in perfect stride. She's equal parts howitzer and painter — everything you hope for in a primary handler.
Smith also reads the field well and knows when to get out of the way when necessary, too. She was a perfect fit for her role on North Carolina this year and stood out as one of the brightest spots on a team full of stars. She rose from being one of 2019's breakout players to one of the country's best handlers and most consistent playmakers.
Ari Nelson (Northeastern)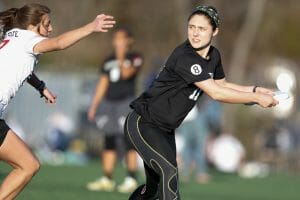 Of all the players on our list, it's a team of seven Ari Nelsons that sounds the most intimidating. The Northeastern star almost appeared too versatile for her team, frequently changing out between handler and cutter roles midpoint and going every other when the team ran out of options. Nelson played like an athlete that put the work in, and it paid off every point. She had that little bit extra in her to make the full extension layout, the skying grab, the line-toeing save. Even if all that were to be stripped away, she'd still light up a field with her phenomenal throws and downfield defense.
This season, Nelson willed her team through some gritty games and ensured the Valkyries remained dangerous even when shorthanded. We toss out the term 'playmaker' a lot, but Nelson was also a 'play-ender' with how many times she stopped opponents dead in their tracks or sealed a point with one throw. Nelson's excellence this season came as a surprise to no one, but that didn't make it any less enjoyable to watch from start to finish.
Cara Sieber (Ohio State)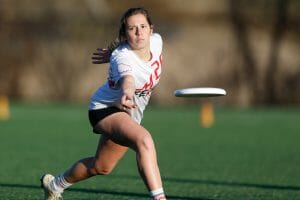 Ohio State didn't quite live up to their preseason expectations during the abridged regular season, but that was no fault of Sieber's. Four players selected as an All-American in 2019 repeated that honor in 2020; Sieber made herself part of that group by adapting her game this season. The senior took on a far more disc-dominant role for Ohio State, graduating from a hyper-talented role player to being the go-to hub on the team. Her well-rounded skill set was up to the task.
Sieber thrived against tougher matchups and a more robust playmaking demand, all while maintaining her penchant for soaring, momentum-seizing layouts. It can be tough for players who thrived in a specific role to progress into a more volume-driven one, but Sieber made it look easy. She remained one of the best players in the country despite having to expand her individual game.
Samiya Ismail (Western Washington)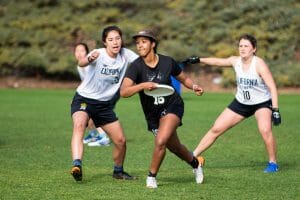 Even in an abbreviated season, it's hard to miss the effect that Ismail had every time she took the field for Western Washington. The Chaos sharpshooter sliced, diced, and otherwise picked apart any defense thrown at her team, all with daring throws that few would attempt. With the majority of Western Washington's talent centered on downfield playmakers, the brilliance of Ismail in the backfield was critical for her team's success. She was very willing to advertise exactly the throw she wanted, knowing the defense could do nothing to stop her if her receiver got open.
None of Ismail's throws were wasted motions. If she wasn't aggressively gaining yards with her flicks, she was setting herself up for the next cut to a power position, ready to open the field with a subsequent throw. Her defense followed a similar cue. Ismail's careful positioning and field IQ enabled her to avoid the trap of just chasing opponents. When she had a play on the disc, she made that play, when the team needed her to help off, she knew exactly what to do. The veteran cut an imposing figure patrolling deep space in Chaos' zone sets.
It's easy to label Ismail as a pure thrower, and while that certainly was her greatest strength, it takes away from just how composed she was in every aspect of the game.
Emily Barrett (Ohio State)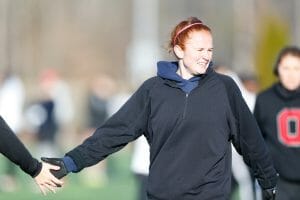 Like Sieber, her Ohio State teammate, Barrett is another one of the four players to earn a second straight All-American nod. Also like Sieber, Barrett was asked to take on an altered role on this year's Fever team. Barrett's reinvention of herself was even more drastic. She was one of the most dominant downfield cutters in the country over the last two seasons, but this year's team called for her to spend much more time near the disc. If you'd only seen Barrett play this season, though, you'd never have guessed spending so much time around the disc was new to her.
Barrett dinked and dunked around defenses and beat teams with give-and-goes; her superior athleticism and size were still overwhelming, just not utilized in the way she had in seasons past. Of course, she was still her unstoppable self downfield and a defensive force in the deep space when she had to be. But she became the co-face of this year's Ohio State team by manufacturing a new, more complete way of being elite.