Former Alleycats player sent profane Facebook messages to a critic of playing ultimate amidst the COVID-19 pandemic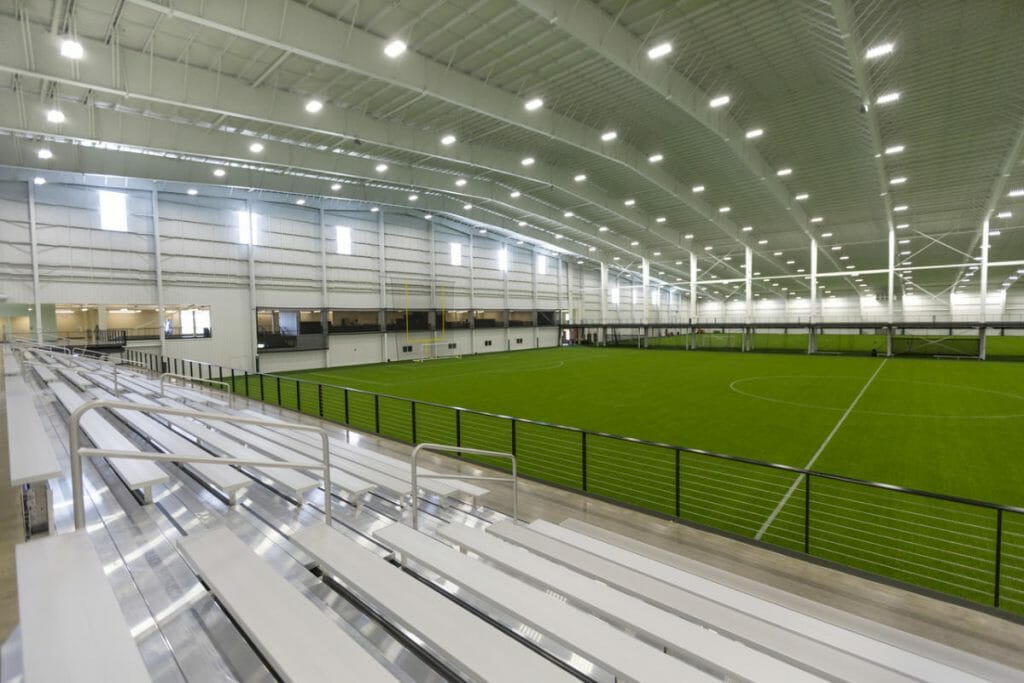 Editor's Note: The article has been updated with an additional paragraph about the known risks of indoor COVID-19 spread. It has also been updated to remove any implication that criticism of playing indoor ultimate has been driven by an anti-Alleycats sentiment.
A simmering debate around indoor ultimate in Indianapolis boiled over into the wider ultimate social media sphere on Friday when Jackie Lai, a co-founder of the Premier Ultimate League's Indianapolis Red, tweeted screenshots of comments she received from Spencer Loscar, a former AUDL player for the Indianapolis Alleycats, on Facebook Messenger.
"Why don't you mind your own goddamn business when it comes to ultimate?" wrote Loscar. "You don't know shit about the virus and if you wanna hide in your little house or wherever then [do] that and shut the fuck up."
Loscar's comments were swiftly condemned across social media, including by the AUDL, who tweeted a response early this morning that read, "Jackie, we sincerely apologize for this totally unacceptable behavior, and will have a statement this morning about actions being taken. Harassment of this kind has no place or justification. This is not ok"
The league subsequently issued a statement on their website that clarified that the comments violated the league's Code of Conduct policy.
"Spencer Loscar was a player for the AlleyCats from 2014-2019," said AUDL Commissioner Steve Hall in a statement. "Because he is not currently a rostered player, we cannot take direct action against him on this matter — however punishment would most certainly apply in this situation. We will be formalizing, effectively immediately, a one-year suspension for any AUDL player who engages in similar activities that violate the league's code of conduct policies."
"Harassment of any kind by anyone in the AUDL community is not ok," tweeted AUDL majority owner Rob Lloyd. "Anyone who does will be suspended."
Loscar retired from the Alleycats following the 2019 season and was not rostered in 2020, although this year's season was canceled due to the COVID-19 pandemic. He does not plan to tryout for the 2021 team, he told Ultiworld.
"We of course do not support hate of any kind," said Alleycats owner Tim Held.
Loscar's comments to Lai followed a controversy on the Ultimate Frisbee Indianapolis Facebook page surrounding an indoor ultimate winter league administered by Travis Carpenter, a star Alleycats player. Lai was one of a number of people critical of the winter league in the comments. [UPDATE 12/21: The league has been canceled and Carpenter wrote about the decision.]
"Your reasoning is highly flawed and shows that you put your individual interests above the health and safety of thousands of people in our state and country," Lai wrote in a comment responding to Carpenter, who noted that indoor recreational sports leagues are allowed under Indiana state and county guidelines. "Yes, technically the Governor allows rec leagues to keep happening. But if you ever actually listened to [Indiana governor Eric] Holcomb's press conferences, you would hear him say that 'Indiana is on fire' right now. You would consistently hear him tell people to wear their masks and socially distance as much as possible. If the Governor is recommending that people not go home for the holidays, then why is it okay to play with a plastic disc with a bunch of random people you don't normally come into contact with? You respect the written law. Don't spout that bullshit that you respect authority because our authorities have been stating over and over to follow social distancing protocols. Stop picking and choosing which things you want to listen to."
Carpenter declined to comment for this story.
Elsewhere in the thread, Loscar wrote, "I have a funny idea, if you don't want to play ultimate this year, leave the group. Stop commenting to Travis like he is the COVID devil. If you are scared and want to be careful for a loved one, then no one will judge you. But let others live their life. Stop commenting like you are going to change people's minds. No one really gives a shit what some jabronie says in a Facebook group. I'm sick of people shitting on Travis when he is just trying to do what he loves."
Research on the COVID-19 virus has shown that congregating indoors is far higher risk than gathering outdoors, and a recent Center for Disease Control study of a COVID outbreak at an indoor hockey game concluded that "the high proportion of infections that occurred in this outbreak provides evidence for SARS-CoV-2 transmission during an indoor sporting activity where intense physical activity is occurring."
Lai has been critical of indoor ultimate in Indianapolis in recent weeks. "During this time, I've heard from friends in our community about deaths of close relatives, siblings who are healthcare workers and stressed beyond belief, and young, healthy people who continue to feel the effects of COVID-19 on their bodies," she told Ultiworld. "It was important to me to speak out about the indoor leagues that were occurring in Indianapolis that didn't require masks – both because others didn't feel comfortable speaking out and to let other people in our community know that they weren't alone with their frustrations. The Indianapolis Alleycats, their current players, and their former players – many of whom participated in the indoor leagues – hold a lot of power in our community, and they should be held accountable for being good leaders all the time, global pandemic or not.
"I'm disappointed to see that it's gotten to the point that a person has to single me out, target me, and harass me, but I hope that some good comes of it. More people have spoken out in the last two days in our community than I've previously seen. Rising young leaders in our community want to try to mend the divide in Indy. I trust in them to do that, but not stop challenging the status quo that's been set forth by a specific group of current and former Alleycats players. I know Indy isn't the only place tackling these challenging situations right now, but I hope that those who are keeping others safe during this pandemic know they are supported and valued. And I hope that more leaders continue to step up, stand up, and challenge situations that are genuinely hurting other people."
"When I messaged her, I was speaking emotionally," said Loscar, who proceeded to further attack Lai in his comments to Ultiworld.
"In no way did I want this to fall in the lap of the Alleycats organization," he added.
The Alleycats have also been at the center of criticism over a plan to hold indoor tryouts for their 2021 team next weekend. [12/12 UPDATE: The Alleycats postponed their tryouts.]
"There's been a lot of internal strife about that tryout, and many attempts to try to get the owner to cancel it," said an AUDL source speaking on condition of anonymity. "But he is being very stubborn."
The AUDL is permitting the tryout to take place, provided that the Alleycats follow all state and local COVID-19 rules and adhere to the league's COVID safety protocols, which include mandatory medical screening and COVID history questionnaires, temperature checks, signed waivers, and signed COVID responsibility agreements. Players and personnel are strongly encouraged to wear masks and maintain social distancing when possible.
"If we found any evidence that they couldn't do it safely or that they would be violating any local or state guidelines, then we obviously wouldn't allow it," said AUDL Chief Medical Officer and Philadelphia Phoenix President Christina Chung. Team violations of any of the government or league guidelines could result in sanctions. The Alleycats have said they will follow all necessary health and safety protocols.
Indiana is currently facing one of the worst COVID-19 outbreaks in the country. The state's seven-day case average is 96.7 per 100,000 people, second highest in the United States behind Rhode Island.