Logjams in the middle of the Atlantic and West divisions are setting up for some exciting playoff races.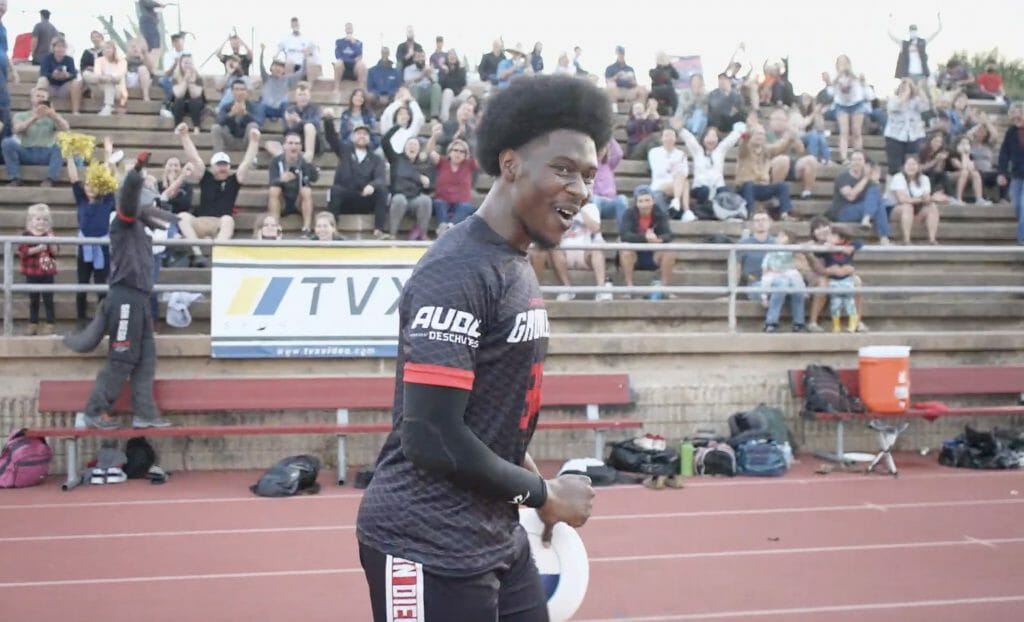 Our coverage of the 2021 AUDL season is presented by VII Apparel Co., who provides premium performance apparel for the active world, featuring their proprietary GreenLine fabric made from 100% recycled plastic bottles.
Week 4 solidified a few burning questions in the AUDL. Previously undefeated Austin looks vulnerable after dropping a pair of road games in the Northwest. Ditto Philadelphia, who couldn't hang with either Raleigh or Atlanta for a whole game. In the battle for home-field advantage in the West, San Diego just barely edged out Dallas, whose private jet mishaps led to an interesting first quarter in LA.
As the contenders separate themselves from the pack, the standings begin to round into shape after the first third of the season.
Let's run through all the action from Week 4.
Current League Standings

Roughnecks Air Handles the Aviators
While most AUDL teams are stuck flying commercial air, the Dallas Roughnecks made arrangements this season to use a private jet for their away games that required air travel. However, when the air conditioning wasn't functioning on Roughnecks Air, the plane couldn't leave Dallas and a replacement had to be found. By the time the Roughnecks took off a few hours behind schedule, it was clear that the bulk of the team would not be on the field for the 6:00 PM Pacific start time.
As the Los Angeles Aviators were going through warmups with their 20+ person roster, Dallas — at least the players who had flown in from elsewhere or drove down from his LA home in the case of Chris Mazur — was figuring out how it was going to play the first chunk of this game with only 10 rostered players present.
Chase Cunningham played the first eight points of the game, as Dallas was forced to go with a tight rotation. In his season debut, Mazur was thrust into a central role, which he met with aplomb, finishing with a game-high +/- of five — four assists, two goals, and one turnover. At the end of the day, Dallas's talent advantage was strong enough to overcome their travel-related adversity and the Roughnecks prevailed 21-16.
After one-possession holds each to start the game, Dallas actually broke first on an eight-possession, three-minute point that saw the Roughnecks take a surprising early lead. Los Angeles, usually a team that relies on zone and trickery, stuck with match-up defense, hoping to tire out the Roughnecks' legs before the reinforcements arrived from Dallas. With about 30 seconds left in the first quarter, a stream of Roughnecks came jogging into the stadium straight from the airport, already in uniform and cleated up, and began warming up on the Dallas sideline.
After the early Dallas break, each team scored in twos — a hold then a break — for the rest of the first half and they went into the break tied 7-7.
That's when the impact of the fresh troops became apparent. After scoring just seven first-half points, the Roughnecks put up nine in the third quarter alone.
The Aviators hung around, but couldn't get another break until there were just three minutes left in the game and the Dallas lead was up to three. Los Angeles had multiple chances to break earlier, but unsightly execution errors — a slip here, a throw to nobody there — prevented them from making this a more competitive game.
Nineteen of the twenty active Roughnecks caught or threw a goal as the team spread the disc around and got contributions up and down the roster. The Aviators were a bit more top-heavy, and they relied on their most talented players to keep pace with Dallas. Sam Fontaine commanded the LA backfield going 36/37 with four assists. Sean McDougall and Sam Cook each collected three goals. Los Angeles now drops to last place in the division at 1-4 and has two weeks off before hosting the Austin Sol in their next game.
San Diego Avenges 2019 Championship Weekend Loss
In a highly anticipated rematch of the 2019 AUDL semifinal, the San Diego Growlers got revenge over the Dallas Roughnecks 21-20. Dallas was playing the second game of a back-to-back, but a casual fan might not have noticed — these two teams played one of the highest level games this season, combining for just seven blocks on 96% throwing.
Each team's offense was clicking to start the game. Abe Coffin returned after missing Dallas's game against LA forming a formidable backfield with mercenary Chris Mazur and hybrid Jay Froude. Paul Lally returned to the San Diego offense, freeing up Goose Helton to attack from downfield where he looked more comfortable.
Dallas earned the first break of the game when Travis Dunn turned away from his in-cut and Ben Lewis snuck in for a layout block, and ended the first quarter up 6-5. The Roughnecks had a chance to extend the lead as time ran out in the quarter, but Froude dropped a pass in the end zone. The Roughnecks received to start the second quarter and held to take a two-goal lead. Dallas had a chance to extend their lead again on the next point, but Alex Brouwer misread a Brandon Malecek huck and San Diego held their offensive point. Another Dallas miscue — Thomas Slack dropped a Froude hammer — gave San Diego a chance to tie the game and Scott Radlauer launched a 75-yard backhand to Khalif El-Salaam to excite the home crowd. Not wasting their momentum, the Growlers took advantage of another Dallas error and Steven Milardovich found Reggie Sung to bring the game back on serve. A few holds later and a Kaplan Maurer scoober to Kyle Henke with eight seconds left in the half tied the game at ten apiece.
Pressure defense from the Roughnecks led to a turn on the first point of the second half. Kyle Rubin couldn't find an easy reset and his elevated backhand was gobbled up by a leaping Matt Armour. He threw the assist as Dallas reasserted its advantage. The teams traded tense holds, as both defenses found their strongest person-to-person matchups and clamped down. A Connor Olsen huck was just out of Froude's reach and San Diego worked nearly the length of the field before calling a timeout to avoid a stall. On the set play, Tim Okita found Helton in isolation to retake the lead. The Growlers weren't finished; after a Dallas hold, they received with just a few seconds left. Helton heaved the disc to the end zone, but Dunn was bulldozed out of the area and a foul was called. With time running out, Dunn scoobered to Lally and the Growlers kept their one-goal lead 16-15 after three quarters.
In the fourth, each team secured a series of cagey holds as the pressure built. With a 19-18 advantage, the San Diego defense shut off Dallas's open looks and Henke was forced into a tough cross-field reset, which fell to the turf just ten yards outside San Diego's end zone. El-Salaam picked up and found a wide open Hunter Corbett on the fast break to increase the lead to two with 4:45 left in the game. Dallas held on its ensuing possession and though it had a turn when a disc Rubin looked to catch hit the turf. The referee called a strip and San Diego kept possession, but a Jesse Cohen drop gave Dallas the disc and the Roughnecks called timeout with 2:53 left. Henke reeled in a long huck from Hunter Taylor and tossed to Thomas Slack to tie the game with 2:15 remaining in regulation.
A Travis Dunn laser huck sailed out of bounds on the Growlers offensive possession and Chase Cunningham picked up on his own goal line with the chance to take a late lead. Dallas made their way to the 50-yard line, but was still trapped on the force sideline. Lewis was met with a double team and tried to throw through it, but he couldn't get it off. Turning upfield, Cunningham and Armour cut to the same space, and Lally, covering Cunningham, laid out to block the throw to Armour with 47 seconds showing on the game clock. Immediately, the Growlers offense went to work and Helton found a sliding Cohen five yards deep on the edge of the end zone with :14 seconds left for the go-ahead goal. Dallas still had one last chance; the Roughnecks moved the disc to Taylor hoping for some heroics as time wound down. He unleashed a 55-yard hammer to the center of the end zone, but a pack of Growlers rose up and Corbett knocked down the tip to ensure the Growlers victory.
San Diego now sits two games up in the West division at 4-1, and looks to have finally figured out the offensive chemistry problems that plagued them early this season. Dunn was in MVP-contention form with six assists and three goals. Lally had the best game of his young Growlers career, going 41/42 throwing, racking up 595 yards of total offense and, of course, getting the key block with seconds left in the game. San Diego has two weeks off to enjoy its division lead before hosting Austin during Week 7.
Dallas is mired in the middle of the West division at 2-2 and must be wishing it could have some of its miscues back. Henke was their star, regularly gaining separation downfield when nobody else could. He tacked on seven goals to his 395 yards receiving. Not to be outdone, Mazur tallied seven assists, one goal, and one block in what could be his last game of the season. He also led the game with 441 throwing yards. Coffin was a rock in the Dallas backfield, going 54/54 throwing with 462 total yards, three assists, and two goals. Despite the offensive showcase, in a game this tight, Dallas needs to go better than 3/8 on break chances. Dallas has a chance to get back on track with a rematch against Austin on July 10th.
Sol Crushing: Austin Drops Out of First Place
The Austin Sol traveled to Seattle for their first road game of the season, and the longest road trip any team will take for a regular-season game this year. The Sol were without O-line mainstays Elliott Moore and Evan Swiatek, but had the emotional lift of Joe 'BJ' Sefton's return to Seattle, where he played previously.
The Cascades got off to an impressive start, notching as many breaks as the Sol had holds in the opening frame to take a 7-3 lead. Austin wasn't going away though, taking advantage of a string of execution errors in the Seattle reset space to score four of the next five points and bring the game to within one at 8-7. Seattle held control and went into halftime up 13-10.
The Sol defense was relentless out of halftime, ringing up a string of three straight breaks to tie the game, but they could never take the lead. By the end of the quarter, the Cascades broke back to take a one-goal lead. After two consecutive weeks of blown fourth-quarter leads, Seattle finally remembered how to close out a game. After holds to start the quarter, the Cascades broke again to take a two-point lead punctuated by a Nick Mahan layout block. They broke once more on an ill-advised scoober turnover to score an insurance goal and cement a lead they would ultimately not give up. Seattle ran away with the game, scoring four of the final five goals to win 28-24.
In a close game, tight defense shines through. Shane Worthington, Tony Venneri, and Garrett Martin each had two blocks for Seattle, and Martin led the team with five assists while tacking on a goal. Manny Eckert, Ben Snell, and Adam Simon controlled the Cascades offense, combining for 13 assists of the 18 offensive points Seattle scored. With the win, Seattle moves into a tie for second place in the West division with three other teams sitting at 2-2.
In just the second game of his young career, Shane Heath paced Austin with six assists, and Eric Brodbeck racked up 533 total yards, but the Sol had to move on quickly, because they played another game against San Jose the next day.
—
The Spiders handled Austin easily, jumping out to an early 4-1 lead and not looking back on their way to a 28-23 victory that sounds closer than it was. On the first point of the game, the Spiders clamped down on Austin's downfield movement. Jordan Kerr laid out for the first of his four blocks in the game and went every other before throwing the assist for the first break of the game.
One of the strangest plays I've ever seen happened in the first quarter of this game. With a 2-1 lead and 9:30 remaining in the quarter, San Jose's Brandon Fein threw a rolling pull aimed for the sideline. The disc turned over quickly and skirted the field's boundary before curving sharply infield. Eric Brodbeck picked it up, thinking it had indeed rolled out of bounds before coming back in, and lightly tossed it to the sideline for the easiest turnover the Spiders' defense mustered all game. Just one throw later, the Spiders doubled their lead, and had a clear mental advantage in a game in which Austin simply looked tired.
For what it's worth, Brodbeck bounced back as well as anyone could expect, finishing the game with six assists, six goals, and only one additional turnover. He recorded an identical 325 yards receiving and throwing. Zach Slayton found a role for himself, catching the disc in the end zone five times, as the Sol continued to find previously unheralded players who can make an impact on the field.
Sawyer Thompson was the star of the Spiders' O-line, tallying over 600 yards of total offense with four goals and four assists. Justin Norden was 40/44 for 385 yards and seven assists in the backfield. Eight different Spiders recorded a block as the San Jose defense took advantage of Austin's weary legs.
After this game, both San Jose and Austin joined Seattle and Dallas in the pack of teams with 2-2 records in the West division, setting up an exciting playoff race.
Phoenix Grounded on Trip South
One week after watching Pittsburgh play some of the worst offense we have ever seen against Philadelphia, the Phoenix took it a step further with a horrible performance on a rainy day in Raleigh. The Flyers weathered the storm, quite literally, and coasted to a convincing 23-11 victory.
Signs of how sloppy this game would be came early. The first point took over half the quarter to complete. Both sides had multiple chances to punch in the score, with drops in each end zone. Ethan Bloodworth finally secured one for the Flyers and the Phoenix never truly got on track.
It was another strong game for Philadephia's Greg Martin. He had four goals, two assists, and two blocks coming on the heels of his dominant performance against the Thunderbirds. However, it says a lot about a team's performance — and perhaps the weather — when its top player also had three drops in the contest. Sean Mott struggled mightily in the early stages, with several errant downfield throws. He settled down and put on a clinic for how to run an offense. He tallied over 500 yards of offense. Dustin Damiano deserves plenty of credit as well; he completed 55 of 56 passes in a game where the Phoenix combined for 32 turnovers.
While the Philly offense was struggling to find its footing, Raleigh's D-line went to work. The Flyers played just three O-points the whole first half and took a commanding 12-3 into the break. Elijah Long was unstoppable in the red zone after the turn. He had four goals and three assists in the game with no turnovers despite only playing on defense. He usually didn't have very far to go to punch it in with all of the Phoenix's turnovers, but it was an impressive display nonetheless.
Philly steadied the ship slightly after a dismal first half. The Phoenix scored a respectable eight goals after halftime. Still, it is really hard to find a positive way to spin a 23 percent clean hold rate. It was a game to forget, especially with the Phoenix traveling to Atlanta the next day.
For Raleigh, this was the type of veteran performance you would expect. While their opponent was imploding offensively, the Flyers kept it simple on offense and continued to vary its defensive looks. Josh Hartzog and David Richardson each recorded three blocks as the defense consistently forced Philadelphia into tough throws. The win brings the Flyers back to .500 on the season and points towards a correction in the standings after a rocky start.
—
Philadelphia's weekend did not get much better. Facing Raleigh in the rain was a daunting task. While the weather was much better in Atlanta, taking down the Hustle on the second day of a back-to-back might have been an even harder challenge.
You wouldn't have known Philly was playing its second game in as many days at the outset. The Phoenix outscored the Hustle 8-6 in the first quarter, a much better showing than their one-goal opening quarter the day before, and held that two-goal advantage into halftime.
Sean Mott ran the offense once again, tallying three goals and three assists. Mike Arcata stepped up in a big way as well, recording 689 yards of total offense. Unfortunately, both struggled to avoid turnovers, which ultimately led to Philly's second-half collapse.
After weeks of red-zone struggles, Atlanta finally seems to have solved its problems. The Hustle went 18 for 18 on red-zone possessions. The gap in execution proved the difference in the second half.
Credit where credit is due: the Hustle defense stepped up in the second half. Michael Fairley led with three goals, three assists, and a block despite playing only three offensive points in the game. The Phoenix also clearly ran out of gas. After 12 first-half goals, Philly managed just five scores after the break and Atlanta cruised the rest of the way.
John Stubbs put on an incredible performance in his second game of the year. He led the way with seven assists, a goal, and a block, accumulating 485 yards of offense. Antoine Davis chipped in plenty downfield with four goals and three assists. As the Phoenix clearly showed signs of fatigue, the Hustle turned it up with a clinical finish to the game.
Greg Martin's continued heroics downfield were not enough as the Phoenix fell 24-17 to drop to 2-2 on the season. Meanwhile, Atlanta moves to 4-0, one of just three remaining unbeaten teams in the league.
Another Rough Road Trip for Tampa
If you like steady, patient offense with an emphasis on maintaining possession, this was not the game for you. The Boston Glory and Tampa Bay Cannons treated us to some marathon points and a lot of turnovers as the Glory notched their first home win in franchise history, 24-17.
Even though Boston was comfortably in control throughout, it was another questionable display from the offense. The first point of the game took over four minutes to complete and included multiple turnovers for each side. Tampa actually took an early 2-1 lead after punching in a break.
The Glory took control in the second quarter, outscoring the Cannons 7-3 for a commanding 11-6 halftime lead. Boston got huge contributions from mainstays Tanner Halkyard and Ben Sadok. Halkyard continued his breakout season with five goals, three assists, and a block, culminating in a game-high +8 rating. When Boston has needed a downfield target this year, Halkyard has answered the bell, especially with Orion Cable and Tannor Johnson both missing for the second straight weekend. Fun fact, Halkyard leads the league in +/- so far this season.
Sadok meanwhile put the latest entry into his MVP candidacy. He racked up over 600 yards of total offense, adding five assists and a goal on 39/40 throwing. He has been the engine that makes the Boston offense run so far, ever-present on the field and on the sideline for the Glory when they need a big play. His value to this franchise in their inaugural season has been immense.
For Tampa Bay, it was another week where they simply did not have the talent to see this game through, there were flashes of brilliance, including a few highlight-reel grabs from Unmil Patel, who finished the game with four goals. Unfortunately, it is clear the Cannons do not have enough of a supporting cast yet to make the heroics of Andrew Roney worthwhile.
The former Florida State standout is doing his best to carry the offense, posting a four assist, three goal stat line. However, he balanced it out with six throwaways, finishing with a completion percentage of just 85% in the game. Some of that is a product of the Cannons' huck-happy offense, but it only underlines the talent deficit between them and the top teams in the division.
In all honesty, this team needs more from Bobby Ley and Billy O'Bryan. O'Bryan was solid if unspectacular in Boston, but Ley put on one of the worst displays we have seen from him, possibly ever. He had ten throwaways and finished the game with a -4 rating. He did lead the team in throwing yards and the team wants him to stay aggressive, but he needs to be more efficient going forward.
The Glory gave up a break to open the second half, but immediately answered with a hold and a break of their own. Nick Thompson deserves recognition for his five goal performance, finding lots of space in the red zone to operate. As a team, Boston finished 20 of 24 on red-zone chances. The second half was far from perfect, but it was more than enough to get the job done.
—
Tampa's weekend only got harder as they headed to New York to take on the defending champs. Big performances from Ben Jagt and Ryan Osgar carried the Empire to a comfortable 24-18 victory.
Right off the bat, New York looked the stronger side. A quick hold followed by an equally quick break set the tone early. The Empire struggled to consistently punch in break chances, but their offense looked smooth and fluid. New York converted 16 of their 20 offensive hold chances without a turnover and never surrendered a break.
Tampa Bay hung around in the first half. A last-second hold to end the first quarter followed by another offensive score to open the second quarter cut the Empire's lead to just one. However, that second hold came at a huge cost. Andrew Roney made a huge bid to save possession and seemed to land a bit awkwardly. He ended up not playing the rest of the game, making the Cannons' job even tougher.
Billy O'Bryan and Bobby Ley attempted to fill the void. O'Bryan posted a respectable four goal, four assist stat line, completing 55/59 throws for 403 yards in the process. Unfortunately, it was another game to forget for Ley. He did record five assists, but his seven turnovers were an issue. Four hockey assists indicate that this was still a solid performance, but Tampa cannot afford to turn the disc over this many times. Especially when many of these turnovers are happening in the deep space. If there are two teams well-equipped to handle a huck-happy offense in this division, they are New York and Boston.
New York picks up another win to move them to 3-0 on the season. After beating up on the Atlantic Division's basement dwellers, the Empire face a rematch of their Week 1 thriller with the Breeze next weekend.
Minnesota Wins Chill Game Against Detroit
Frankly, this game was never competitive. Minnesota's 4-0 start made way for a double-digit lead at half which expanded to 12 at the final buzzer. The Wind Chill took this one 29-17 over the hapless Mechanix.
Defensively, Minnesota looked to double team Detroit whenever possible, particularly on the sideline, often allowing the Mechanix easy resets for loss of yards, and frequently forcing the other handlers to make high-difficulty grabs just to maintain possession. The Mechanix also opted for a number of zone looks, but they didn't really yield results against a Minnesota O-line with Andrew Roy, Rocco Linnehan, Josh Klaine, William Brandt, and others largely on the same page. Of the seven break chances Detroit managed to generate against the Wind Chill, they only made good on two of them. In the event that Minnesota did turn the disc over, it usually was back in their hands after a throw or two, anyway.
Save Jack Harvey's layout goal, the only offensive bright spot for the men from Motown was their deep game, making good on four of their six long balls. With their offense holding on roughly half of their O-points, hucking was the only positive stat category they had Minnesota beat in.
For Minnesota, the outing was a statement evening from Hodag alum Nick Vogt. He finished at +9 with an assist and six goals to go along with 374 total yards, the lion's share of which were receiving. Not too shabby when factoring in zero turnovers on 12 throws.
The Wind Chill currently sit at 3-1, with their only blemish against the division-leading Chicago Union, a team they have to face one more time this season. Their other two games are against the Alleycats and Detroit again, meaning that Minnesota's playoff chances currently look highly likely.
Madison Doesn't Mess Around
Madison made quick work of the Mechanix in their Sunday tilt, cruising to a 29-18 win. The Radicals' offense was simply too much for the underpowered Detroit team to match, as the Mechanix' mistakes frequently were converted for breaks. After Madison jumped out to a 6-2 lead on the back of a four-goal first quarter run, the game was never in doubt.
The stingy Radicals O-line conceded few opportunities to break. Detroit managed just two defensive scores with only six chances. Victor Luo, Sterling Knoche, and David Nester were the top offensive performers, with three of the team's top yardage lines but nary a turnover between them. The results are particularly surprising given Knoche's reputation as a defensive asset and Nester's lack of experience; he had played just a single game for Madison in 2019 and was touted mostly for his defensive play. But he found himself in a sizable role on the Madison O-line and delivered in his season debut, with three goals and three assists. Luo added six assists and a goal, while Knoche piled up an eye-popping six goals and three assists.
There were bright spots for Detroit. Andrew Sjogren's torrid goal-scoring pace only increased, as he notched eight receiving scores to go with 350 such yards. That brings his season goal total to 29, equaling his entire 2019 campaign. There were flashes of offensive acuity, usually generated by the movement of Bryan Walsh and talismanic Joe Cubitt. But even they struggled with errors coaxed by the waxing and waning of pressure and containment from Madison's defense, who sometimes harassed with double teams and other times forced numerous wide throws with poaches.
The comfortable win could be a momentum-builder for Madison as they gear up to take on Chicago next week. But they let their foot off the gas in the second half, where Detroit was able to get both of their breaks and nearly all of their break chances. For Detroit, a stronger second half has to suffice as a moral victory, and they'll have to wait (at least) another week to break the streak — and reward any stalwart fans with their well-deserved t-shirts.
Chicago Soars Over Indy
The Chicago Union maintained their undefeated status with an unchallenged 28-20 visiting victory over the Indianapolis Alleycats. Along the way, they've built a league-leading +38 point differential, though three of their games have been against Indy and Detroit. However, given that we've yet to see their talented full roster together, they've done what they can to establish themselves as contenders.
It didn't take long for the Union to establish control of the game. The Alleycats offense was sluggish at the outset, giving up the opening score and then yielding three consecutive breaks. With a 4-0 lead, the Union added a punctuation mark: Jason Vallee knocked away a potential Alleycat deep connection, and Chicago's Nate Goff went all the way to the top shelf over his defender for a posterizing score.
The Alleycats took a timeout to lick their wounds and reboot. The break worked well, as their offense emerged much smoother to win the rest of the quarter, though they still trailed at the end of the first, 8-3.
Perhaps the Alleycats' rhythm was thrown off by a 20-ish minute delay in the game's start due to a peculiar missing component: referees. It isn't quite clear what led to a complete lack of officiating at opening pull time. But the solution was to bring in Kyle Cox, a former Alleycat who was at the game to throw the ceremonial opening pull to honor his retirement. Rather than relax for the game, Cox was pressed into service, and the captains agreed they could manage with a single official.
The offense of the Union outpaced the Alleycats, led by Pawel Janas and his gaudy 767-yard performance, accounting for ten scores. He, Paul Arters, and former Alleycat Keegan North steered the Chicago offensive unit effectively, with a bit of a breakout first half from goal-hound Jeremy Burril, who tallied three of his five goals in that span. Goff was outstanding, leading the D-line in yardage and offering consistent and confident play on both sides of the disc. The Union lead grew to 16-8 at half.
Chicago loosened up in the third quarter, conceding a pair of breaks to an Alleycats squad that would not quit. Travis Carpenter was kept quiet by the defense, held to just 278 yards, well below his 611-yard average. Instead, veteran Rick Gross anchored the Cats, tossing eight assists and compiling 589 yards while keeping his turnover column spot-free. Kyle Romard's hard running helped him lead Indy with 380 receiving yards to go with four goals. But Indy could never get back within striking distance, and had to settle for the moral victory of winning the third quarter and tying the second-half scorelines.
Chicago has three upcoming contests against Madison and Minnesota. If their success continues to look this easy as the competition ramps up, they could take the top spot in the Power Rankings from the defending champion Empire.
Power Rankings
AUDL Survivor Pool Update
It was a good week for our remaining subscribers in the survivor pool. All 21 still-alive contestants advance to Week 5. With just seven games to pick from in Week 5, this week's games could see some eliminations, especially with New York, Chicago, and Dallas already being picked by much of the pool.
Deep Look/Stall Seven Picks Contest
Stall Seven:2/3 on the week, 5/12 for the season
Deep Look: 0/3 on the week, 6/12 for the season
With Chris taking the lead on picks this week, Stall Seven crushed Deep Look, nailing Raleigh and San Diego's wins, while Deep Look failed to predict either. Detroit covered its 12.5 handicap against Madison, giving each podcast the loss in that game.
This week's lines:
New York (-0.5) @ DC
Madison (-2.5) @ Indianapolis
Seattle @ Austin (-1.5)