The Triple Crown Tour returns to Columbus.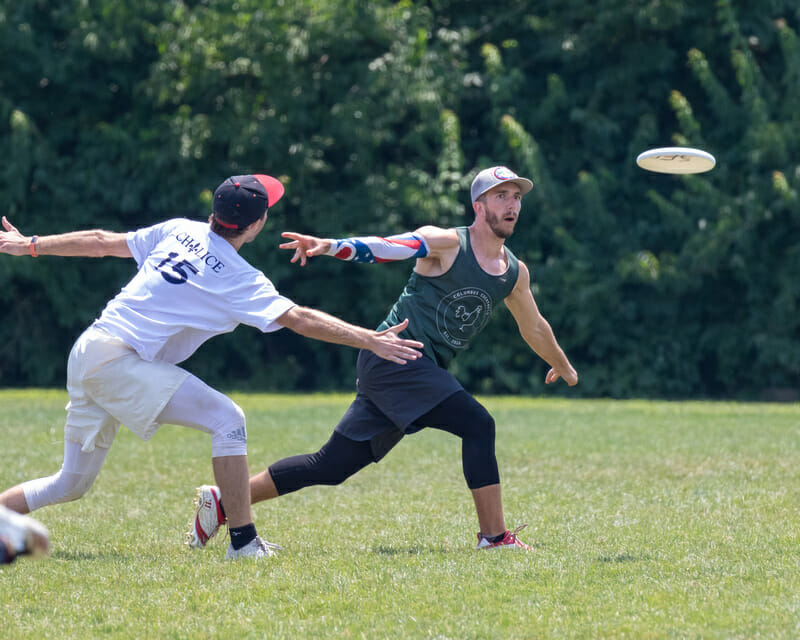 With Pro-Elite Challenge in the books, the club season gears up for the next stop on the 2021 Triple Crown Tour. Next on the schedule is the Select Flight Invite East, where a field of mid-tier teams in the Eastern United States — a companion event for similar teams out West will be held in mid-August in California — will jockey for regional positioning and get meaningful reps against similar competition that could help them in their quest to break through on the national stage. Just as it was in 2019, the eastern iteration of this event is taking place in Columbus, OH this weekend, run by local ultimate legend Rodger Oakes, who has proven to be one of the best organizers in the business through the many tournaments he puts on each year.
As was the case with PEC, this event will unfortunately not be hosting a women's division this year due to a lack of interest from teams, meaning we'll continue to wait for the first TCT 2021 action in that division. There will also not be any Canadian teams in attendance thanks to the border restrictions in place because of the pandemic, making for a less geographically diverse field than in years past. However, there will still be 32 teams across the mixed and men's divisions coming from all over the eastern half of the lower 48. Club teams from up in Minnesota, all the way down to North Carolina are making the trip to Columbus this weekend for a chance to compete against other teams in their division. Each division features a wide spectrum of teams of differing skill levels from ascending regional aspirants to Top Select challengers to a single 2019 Nationals attendee. It's shaping up to be an exciting tournament and a good preview of the sectional and regional tournaments that will begin in September.
Tournament Profile
Date: July 24-25, 2021
Location: Hilliard, OH
Weather: Highs in the upper 80s, sunny with potential thunderstorms Sunday, light to moderate wind
Ranked Teams: #16 Columbus Cocktails, #18 Ann Arbor Hybrid, #24 Nashville 'Shine in mixed; none in men's
How to Watch & Filming Schedule
If you're looking to watch games from the 2021 Select Flight Invite – East, stay tuned to USA Ultimate's Youtube channel and Ultiworld's video-on-demand package next week. Full and Plus subscribers (and Team Pack holders) will get access to all game footage from the tournament, while the Finals will be published on Youtube for everyone to watch.
Here is the filming schedule:

Mixed Division: Can Cocktails Hold Off Slew of Rising Regional Challengers?
The no.1 seed in the mixed division is the hometown favorite and returning champions from 2019, #16 Columbus Cocktails — and rightfully so. The two-time defending Great Lakes regional champion is the lone team in the field who has earned a spot at Nationals in the past four years. The club kicked off their 2021 season with a disappointing seventh-place finish at Pro-Elite Challenge in Colorado, though they'll still enter as the favorite in this tournament. But the path to victory will be perilous, as there are a host of talented squads on the team list gunning to take them down.
Who exactly are the Cleveland Crocs? The new team out of northern Ohio formed earlier this year and will enter as the no.2 seed. The Crocs picked up a lot of talent from the top Cleveland men's team, Smokestack, who decided they weren't going to be fielding a team for the 2021 season. Being a brand new team, we haven't seen much from them and cannot be certain of what to expect. However, after winning their first tournament this season at the Cin City Classic, an unsanctioned event in Cincinnati, where they defeated Steamboat in the final, they've proved themselves to be a serious contender in the region and will certainly be giving Cocktails a run for their money this weekend.
Most of the other likely Great Lakes contenders are also lurking. The third seed, Cincinnati Steamboat, will be coming for revenge this weekend. Even before they get a chance to avenge their Cin City Classic defeat at the hands of their in-state rivals, they'll face a Saturday pool play rematch with #18 Ann Arbor Hybrid, who knocked them out in the regional semifinal in 2019. Hybrid looks to have added considerable depth to an already talented top end of their roster this year and is eager to make the leap to the elite tier in the division. Is St. Louis Chalice under seeded again? Coming into Select Flight Invite in 2019, Chalice was seeded 12th out of 16 teams, yet showed out to break seed and finish second after a narrow finals loss to Cocktails. They are the no.9 seed coming into this weekend but have played well as underdogs in the past and could once again greatly surpass expectations, make a charge at the podium, and prove themselves against some of the best teams in the region.
To be clear, the talent at the tournament extends beyond the borders of the host region. #24 Nashville 'Shine may not have all the same big-name pickups that helped dominate Filling the Void earlier this month, but still boast a roster with enough strength to prove they deserve to be considered a legitimate threat in the Southeast this season. Charlotte Storm has also been nibbling at the edges at Southeast regionals the past few seasons, finishing fifth in 2019 and perhaps looking at an improvement with some traditional regional powers receding from contention this season. No.4 seed Pittsburgh Alloy was a nationals qualifer in 2016 but face long odds to get back there given the semis-quality teams now stacked at the top of the Mid-Atlantic. The Steel City squad have lost some contributors to new women's program Parcha; this weekend will provide some insight into the status of their rebuild.
Men's Division: The Battle for National Recognition
The men's division in Columbus is devoid of any big-name programs this weekend, opening the door for a less-heralded champion to emerge and leave their stamp early on the 2021 season.
In the no.1 and no.2 seeds are Mad Men from Madison, WI, and Tennessee Tanasi. Both teams finished fourth in their respective regions in 2019, and have deep rosters with talent on both offense and defense. With the Madison Radicals on a bye week in the AUDL, Mad Men may be able to call on top contributor Kevin Pettit-Scantling to lead the way in Columbus. Tanasi has high hopes for this weekend after starting the season off with a second-place finish last weekend at Huckfest, an unsanctioned tournament in Huntsville, AL. The Tennesseeans boast an improved roster coming into this season with Tennessee-Chattanooga's 2020 Callahan nominee Jeremiah Branson along with some notable pickups including Alex Stevenson, former captain of the Columbus Flying Dutchmen in 2019.
SFI East will host three teams that also competed at the Pro-Elite Challenge earlier this month. No.3 seed Nain Rouge out of Ferndale, MI is back with a very different roster from 2019, bringing in a lot of promising young players from the University of Michigan. They boast Detroit Mechanix star — and EDGE statistic darling — Andrew Sjogren on their roster, though with the Mechanix playing a Saturday night game several hours from Columbus, it's unclear if the club will be able to call on his services this weekend. Raleigh-Durham United — successor to Southeast regional fifth-place finisher Brickhouse — look a little under seeded at no.9 after entering the year ranked #25 in our Power Rankings and putting up the strongest PEC results of the three teams headed to Columbus. Iowa City Cryptic won just a single game in Colorado at PEC and will be looking to turn their season around with an improved performance in Columbus.
The middle of the field at this tournament is crowded with clubs that are looking to establish or solidify their status as Select Flight programs, even if their Nationals hopes are near zero this year. Can any of Milwaukee MKE, Garden State Ultimate, Chicago Haymaker, Philadelphia Citywide Special, or Cincinnati Omen put together a performance to change that assessment?