A perfect day for ultimate's return to Columbus.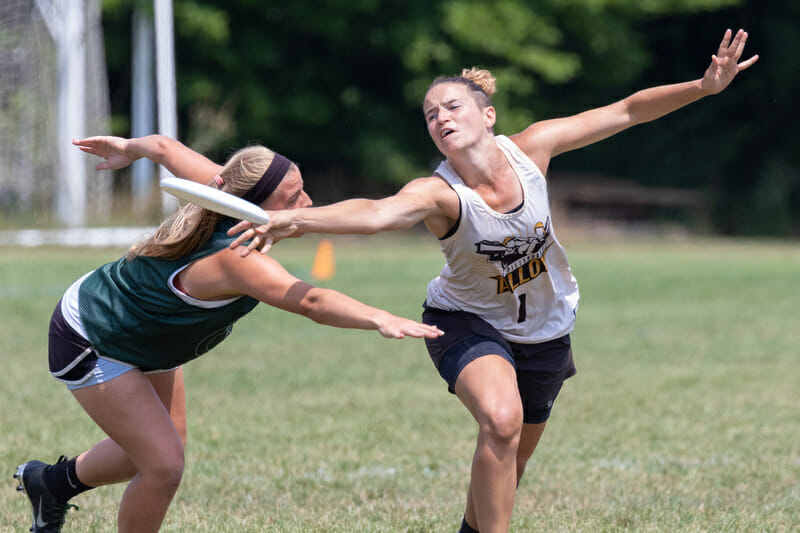 Day one of Select Flight Invite East in Columbus, OH was full of excitement, packed with some surprising upsets and close finishes. It's great to see teams finally return to competition, and you couldn't have asked for a better day. Sunny weather and calm winds made for just about the perfect conditions for Ultimate's return to Columbus Ohio. The first day of the 2021 Select Flight Invite comes to a close after some awesome competition and there's a lot to look forward to going into tomorrow. With so many great teams in contention, we can wait for day two.
Mixed Division
In the mixed division, the no. 1 seed Columbus Cocktails illustrated why they were the favorites going into this event. Cocktails confidently won all three of their pool play games today, the closest a 15-9 win over the no. 9 seed, St. Louis Chalice. Cocktails displayed a smooth-looking offense, and their defense was on point on Saturday. They ran a mixture of zone and matchup defense, depending on who they were playing and what the wind was doing. Some big blocks from players like Axel Agami and Lloyd Furuta let Sadie Jezierski and Penny Wu send it the other way, hucking for breaks all day. Former Ohio State Fever star Emily Barrett played great on both offense and defense; she got open at with great frequency and scored a multitude of goals on day one.
It was an impressive performance from the no. 7 seed Nashville 'Shine. They cruised through their first two games then came back against the no. 2 seed Cleveland Crocs to win on universe point after being down 14-12. 'Shine finished 3-0 on the day, their success due in part to Jesse Shofner, who created mismatches on offense and played an important role in the comeback against Cleveland.
The Cleveland Crocs were a new team with a lot of expectations going into this weekend as the no. 2 seed. The Crocs defense performed well early on, making big plays and converting defensive possessions for breaks, only letting up two goals in the second game against CHImera. In round three, however, Cleveland lost to 'Shine after their offense failed to convert and was broken three times in a row to close it out.
We saw a great performance from the no. 6 Ann Arbor Hybrid to break seed on day one. The Michigan team went undefeated today, beating the no. 3 seed Cincinnati Steamboat. Hybrid took a lot of deep shots and Steamboat could not find an answer, and some big plays from Brittany Wright and Bridget Connor helped them pull off the upset, winning, 15-8.
In pool D, the Pittsburgh Alloy and Baltimore Fleet tied, with both teams going 2-1. The no. 13 seed, Fleet earned one of the biggest upsets of the day taking down the no. 5 seed Charlotte Storm in round one. Delrico Johnson lived up to his reputation as a big play machine for Fleet. Storm went on to beat the top seed, Alloy, for an upset of their own, although it's worth noting Pittsburgh had the pool locked up (and Storm was stuck at the bottom of the pool regardless of that result) going into that final round.
With the top two seeds in each pool advancing to a standard eight-team single-elimination bracket, here's what those results set up for Sunday: Cocktails vs. Crocs, Steamboat vs. Alloy, Hybrid vs. Fleet, and Chalice vs. Shine.
Men's Division
In the men's division the top three teams — Mad Men, Tanasi, and Nain Rouge — went undefeated to win their pools, but no. 5 Garden State Ultimate pulled off the upset over no. 4 seed MKE 13-8 to win pool D.
The top seed, Madison Mad Men, started their day off against no. 9 seed, Raleigh-Durham United. United's offense fought hard in what was a surprisingly back-and-forth battle, until Madison's defense, led by Kevin Pettit-Scantling, came through for some important breaks down the stretch granting them the 15-13 win.
The story for the no. 2 seed Tennessee Tanasi was depth, with a solid roster top to bottom. This is a team that might have an edge late in the tournament when teams are tired. They played great on defense, but their offense looked very sound as well, doing a good job of using the full width of the field and swinging the disc to keep the defense moving.
No. 3 seed Nain Rouge breezed through their first two games, throwing a lot of big shots when they had the wind at their backs. They played smart defense and used a lot of poaching to cause turnovers, and even got a callahan in round two. They went on to beat no. 6 Haymaker by one to go undefeated through the first day and win their pool.
The results of pool play generated the following eight-team single-elimination matchups for the championships bracket: Mad Men vs. Knights of Ni, Haymaker vs. Garden State, Nain Rouge vs. MKE, Raleigh-Durham United vs. Tanasi.