Ultimate gambling gets legit.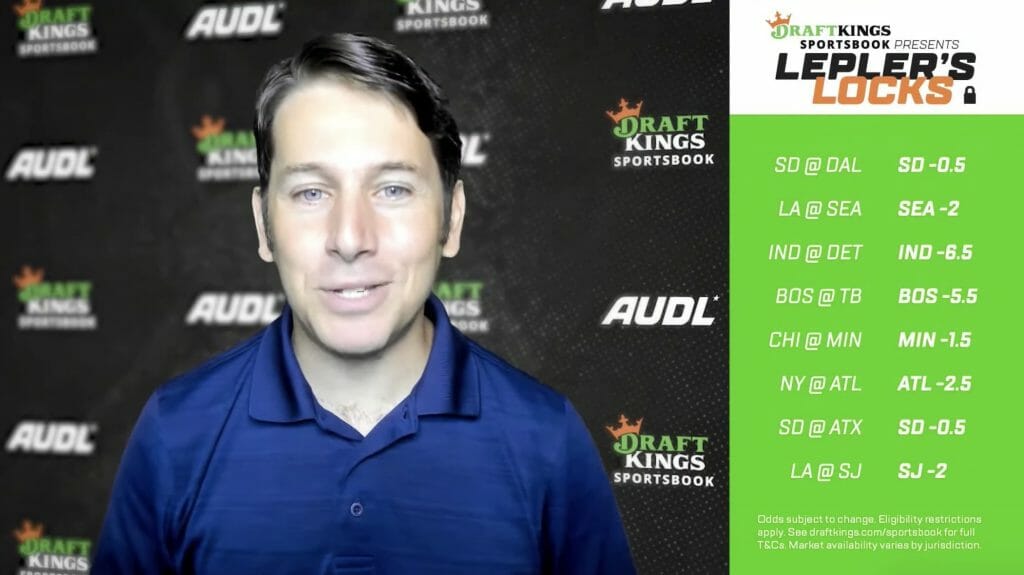 Welcome to Opening Pull! Ultiworld's Monday wrap-up of the previous week in ultimate has returned, now available both in this space and as an email newsletter. As always, we've gathered the news you need to know and highlights you need to see. Check back weekly or subscribe now to receive Opening Pull in your inbox along with a rundown of the previous week's content on Ultiworld.
You Can Bet On The AUDL Now (Legally) (Domestically) (In Some States)
Semi-pro ultimate reached new heights of legitimacy this week with the announcement that DraftKings is officially taking bets on AUDL outcomes, at least in some states. While DraftKings has offered free weekly AUDL pools all season in conjunction with its free streamed games on YouTube and Twitch, betting men, women, and nonbinary people can now win or even lose considerably more money on spread bets, moneyline bets, over/under bets, and team futures on the 2021 AUDL Championship.
Sports leagues have to be approved for legal betting in the US on a state-by-state basis, but if you're a discerning ultimate media consumer in West Virginia, Tennessee, Colorado, Michigan, or Illinois — but not a player, referee, coach, or other affiliate of the AUDL, all of whom are strictly prohibited from gambling on the league — maybe that Ultiworld subscription is about to pay some dividends. [Full Story: DraftKings Now Taking AUDL Bets in Some States]
Who Are Cleveland Crocs?
2021 Select Flight Invite East mixed champions, that's who. The new-for-this-season Ohio team rose to the top of their division at the TCT mainstay this weekend, knocking out the full I-71 corridor in Columbus Cocktails (12-11 in quarters) and Cincinnati Steamboat (15-10 in semis) in order to face off with Ann Arbor Hybrid, finally coming out on top to the tune of 12-10 in a tightly contested final. They didn't go undefeated on the weekend, however, losing 15-14 to a highly respectable Nashville 'Shine team in pool play — which hints we may be in for some exciting mixed regionals in the Great Lakes and the Southeast, each of which has only a single bid to nationals this year.
In the men's final, Madison Mad Men defeated Tennessee Tanasi 15-9 in a matchup seemingly designed to be as annoying as possible to write out in Ultiworld's standard "place name, team name" program format. (As at some other early-summer TCT events, the women's division was canceled due to lack of participating teams, but should be back in future years.)
See our tournament preview and day one recap for more, and watch our subscribers-only video section for filmed games!
As Expected And Surprising No One, Ottawa Outlaws Crush Opening Weekend Of Canada Cup
As the entirety of Ultiworld's semi-pro and/or Canadian ultimate coverage team confidently predicted, Ottawa Outlaws swept the opening weekend of the AUDL's Canada Cup, the separate series contested between the league's three Canadian teams this year in lieu of international play. In a total nonshocker, Ottawa shook up their zero-win, 15-loss franchise lifetime record against Toronto with a 27-24 home win on Saturday, then utterly unsurprisingly topped Montreal 26-19 on the road on Sunday. No need to revisit our 2021 AUDL Canada Cup Preview or the Canada Cup prediction content on Huckin' Eh, Stall Seven, or Deep Look to check if any of us ever doubted — let alone catch up on team profiles, roster changes of note, or other potentially interesting storylines going into the rest of a series in which anything could happen, as long as by "anything" you mean "internationally renowned powerhouse Ottawa Outlaws continue their reign of terror over the north". As editor-in-chief Charlie Eisenhood said on video last week, "Ottawa […] good." Never a question about it.
Roster Release Tease Highlight: Pittsburgh Parcha
With several established and emerging club stars having moved to the area over the last year or two — as well as a strong base of local talent formerly scattered across teams and divisions — the inaugural roster for new women's team Pittsburgh Parcha has been the subject of much speculation going into the 2021 club season. If you thought the team's own Twitter coverage of their weekend scrimmage against Columbus Rival would offer a revelation or two, keep sleuthing — their anonymous livetweeter kept all names strictly redacted — but they did allow at least one photo:
First scrim of the year complete against @RivalUltimate 🔥 can you guess who's on the squad before our sweet roster drop ?? #pghultimate pic.twitter.com/HNLaoV5O1l

— Parcha (@PghParcha) July 26, 2021
---
Coming Up
Ultiworld's filmed coverage of the 2021 club season continued at SFI East this weekend, and games from the tournament will be posted in our subscribers-only video section as they're produced. Keep an eye on our social channels for our video schedule for the US Open, where we'll be filming and — for the first time this year — streaming live from Blaine with commentary!
The season is on and rosters are dropping! Check Ultiworld's 2021 Club Rosters tag for this year's crop in men's, mixed, and women's, with additions, departures, and returning players highlighted for your convenience.