Some teams pushed for the tournament to be relocated.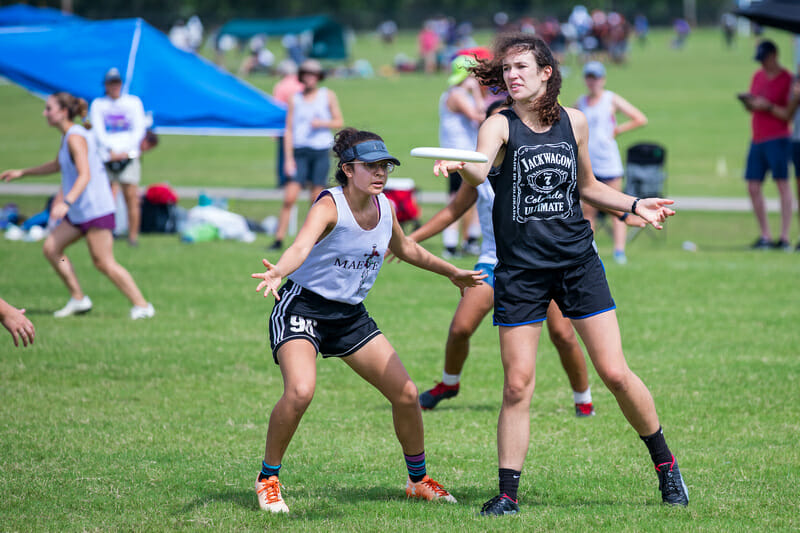 Six teams in the women's and mixed divisions have declined bids to South Central Regionals, set to be held in Austin, TX this weekend. The drops come as multiple teams have publicly criticized the decision to hold a tournament in an area where hospitals overwhelmed by COVID-19 patients may not have capacity for injured players, as well as questioning whether USA Ultimate should host events in Texas at all following the passage of an extremely restrictive abortion law.
While some attrition from Sectionals to Regionals is normal as teams decline bids due to cost or player availability, the drop is steep for the South Central women's tournament. Rocky Mountain women's teams Denver Small Batch (#17 in Ultiworld's Power Rankings), Denver Jackwagon, Fort Collins Trainwreck, and Colorado Springs COSMOS have all declined their bids, bringing a seven-team event down to just three teams: Houston Crush City, the Texas college women's team Melee operating as a club team, and #2 Denver Molly Brown, now the tournament's only out-of-state competitor in the division. (In the mixed division, Colorado teams The Celebrities and Vendetta have dropped, reducing the total from fifteen teams to thirteen.)
Before formally declining their bid, Jackwagon expressed concerns about hospital capacity in the Austin area in a Twitter thread addressed to USA Ultimate, citing risks to players in the event of an injury as well as additional load on an already-overburdened health care system.
You have told us that you are monitoring the COVID situation, but we do not feel comfortable traveling to an area where COVID cases continue to surge and there are less than 10 ICU beds available to participate in an inessential activity. (2/?)

— Jack Wagon (@JackwagonUlti) September 14, 2021
"You have told us that you are monitoring the COVID situation, but we do not feel comfortable traveling to an area where COVID cases continue to surge and there are less than 10 ICU beds available to participate in an inessential activity," the thread continued. "Hosting a ultimate frisbee tournament in a state that is currently overwhelmed by COVID cases feels both selfish and irresponsible … If you do not move the location of the tournament to an area where the healthcare system could reasonably look after our players should an incident happen, we will regrettably decline our bid to the tournament." (Jackwagon did not respond to a request for comment.)
ICU beds remain at or near capacity in Austin, with overall system strain causing ripple effects on emergency and other urgent care; the Texas Tribune reported in September that "large metropolitan systems […] report having to turn away ambulances due to overflowing emergency and intensive care departments." While sports injuries rarely require treatment in an intensive care setting, space and staffing issues across hospital systems have led to delay in non-COVID-related urgent medical treatment in many areas.
USA Ultimate Managing Director of Communications Andy Lee issued the following statement to Ultiworld:
After reviewing and evaluating the latest medical facts and trends pertaining to COVID-19 with our medical working group, it was determined that the risk associated with competing in Round Rock is not significantly higher compared to possible alternatives in the South Central Region.

Following the advice of our medical working group, we have taken reasonable precautions to drastically lower the risk of competing at all of our regional tournaments to an acceptable level for the vast majority of players. Fortunately, the policies and procedures we've outlined and implemented have contributed to a highly vaccinated participant population, and our follow-up protocols have resulted in effective contact tracing and minimal event-related spread and serious illness. It is impossible to completely eliminate all risk, but we're continuing to work hard to be at the safest level we can, including requiring all participants to adhere to our health and safety policies – many of which exceed the standards of virtually all other amateur sports organizations and many public health guidelines.

After we do our best to mitigate risk as much as possible, it ultimately becomes the choice of individuals – each with unique personal circumstances – to decide what their threshold is when it comes to risk tolerance and participating in activities. While it's disappointing to see bids go unclaimed, we respect that some players may choose not to travel or compete for a variety of reasons.
The decision to host South Central Regionals in Round Rock was made before the season started, following a normal bid process with a deadline in late April. A number of Colorado teams pushed for a location change in recent weeks, with at least some teams offering to pay higher bid fees to offset costs for Texas teams that would now have to travel a longer distance. Denver hospitals are currently at 83% ICU capacity, slightly below Austin's 91%.
Flight Club, a mixed team out of Denver that is planning to attend Regionals, told Ultiworld that they still would have strongly preferred the tournament be moved. "We are all nervous about traveling to Texas and have agreed as a team on multiple safeguards (no indoor dining/takeout or delivery only, 100% indoor masking and outdoor masking in crowded areas strongly encouraged, tests before and after, etc.)," said the Flight Club captains in an email. "Keeping Austin as the location seems to us to be exposing the players to unnecessary additional risk, much more than many folks signed on for, relative to playing in our community in Denver."
The men's team Boulder Fungi, which is also going to compete in Austin, expressed similar concerns about playing in Texas, though they acknowledged the challenge of moving a Regional tournament just a few weeks before the event.
Jackwagon's thread also cited concerns about holding events in Texas given the recent passage of SB 8, an extremely restrictive abortion law. Taking a stance against SB 8 as well as SB 1, a bill limiting voting access, was front-and-center in Molly Brown's public statement on the tournament. While still planning to attend, the Denver team affirmed "we believe it is a mistake for USAU to continue to hold this event in Texas" and committed to tracking their money spent and donating an equivalent amount to abortion access and voting rights groups in Texas:
As such, we are committed to tracking all of the money we spend while in Texas and donating an equivalent amount of money to organizations that are fighting for the rights of Texans and opposing these recent laws.

— Molly Brown Ultimate (@MollyBrownTown) September 21, 2021
Additional reporting from Charlie Eisenhood.