Who's buying tickets to San Diego?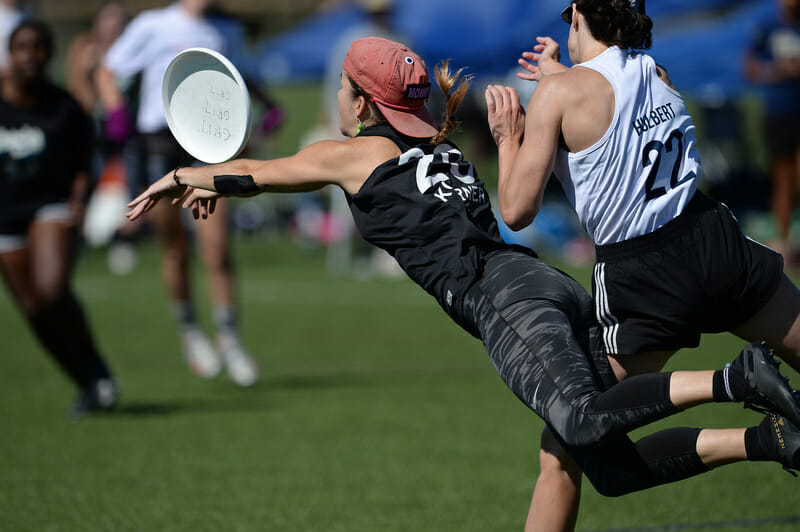 Opening Pull is Ultiworld's weekly wrap-up of the previous week in ultimate, available both on the site and here as an email newsletter. We've gathered the news you need to know and highlights you need to see. Check back weekly or subscribe now to receive Opening Pull in your inbox along with a rundown of the previous week's content on Ultiworld.
32 Teams Headed To Club Championships After First Regionals Weekend
Games-to-go have been played and tickets to San Diego punched. The first of two weekends saw a Northeast with no Canadians, a Colorado sweep in the South Central despite a diminished field of out-of-state teams, a resurgence for women's programs in two major cities, a bunch of weird formats, and first-time Nationals qualifiers at four out of five tournaments.
In the hottest one-bid region in the country, first-year program Pittsburgh Parcha secured the final over longtime Mid-Atlantic second women's team Washington DC Grit, while New York BENT defeated sectionals champ Albany Rebel Rebel on the way to their first Nationals appearance since 2015. (They'll join New York PoNY in men's and New York XIST in mixed, marking the first year since 2013 that New York City has sent a team in all three divisions.)
BENT beats rebel rebel 13-4 and we're headed to NATIONALS!!! ❤️‍🔥❤️‍🔥❤️‍🔥 pic.twitter.com/TQ3fR3ob9m

— BENT Ultimate (@BentUltimateNYC) September 26, 2021
To the west, Boulder Lotus — a team of University of Colorado currents and alums doing business as a club team and openly tweeting updates from the Mamabird account — upset Austin Doublewide in the Texans' second game-to-go on the weekend, setting Lotus up for a tricky double peak if the Colorado team aims to be competitive at both this fall's Club Championships and the 2021 College Championships in December. Meanwhile, the Utah Killjoys secured a bid of their own over Seattle Emerald City, the first time we'll see a BYU-heavy squad at a national event (despite playing competitively with major programs at in-season tournaments, the college team famously doesn't play Sundays and therefore doesn't advance through the postseason).
See the live list of 2021 Nationals qualifiers in our Club National Championships 2021 Qualifying Thread, and watch the site for recap content from this weekend's events.
WMUCC 2022 Set for Limerick, Ireland
The 2022 World Masters Ultimate Club Championships have been formally announced for June 25-July 2, 2022, in Limerick, Ireland. The tournament will be held at the University of Limerick and directed by the team that hosts Siege of Limerick annually. Depending on interest and registration, divisions offered may range from masters to great grandmasters in open, women's, and mixed.
Learn more, including deadlines, eligibility, and location and venue information, in the event bulletin published by WFDF. Club teams interested in participating should contact their national governing body.
Say, This North Carolina Team Might Be Going Places
Without Limits' fall college women's tournament Fusion returned to the Smith River Sports Complex in Axton, VA this weekend, and if you or a loved one were in North Carolina Pleiades' pool on Saturday, you may be entitled to compensation. The heavy 2021 — and, why not, 2022 — College Championships favorite went 52-0 across four games on the first day before winning the final 13-4 over Georgia Athena on Sunday.
2020 Callahan winner Anne Worth may be sidelined for Raleigh Phoenix's likely run to Club Championships, but the Anne Worth Fan Club was out in force:
Anne worth fan club now meeting on fusion weekends @WorthAnne #AWFC pic.twitter.com/9xzIFrdVzw

— UNC Women's Ultimate (@UNC_Pleiades) September 25, 2021
Congrats to @UNC_Pleiades on winning Fusion 2021!!! pic.twitter.com/i4qDhsRi9c

— Without Limits (@wlultimate) September 26, 2021
Revisit North Carolina captains Alex Barnett and Sydney Rehder's interview on Deep Look from this spring to hear about North Carolina's work in the off-season and the program's plans going into this fall.
Highlight: Jeff Babbitt Skies the Pile for Phantom
Jeff Babbitt to Philadelphia Phantom was one of several surprise club commits for this year's Series. His game-winning grab against Pittsburgh Temper, shot here by Akshat Rajan, knocked Temper into the backdoor bracket (and maybe gave the rival city's team the bulletin board material to avenge themselves nicely in the game-to-go to the game-to-go later in the tournament).
---
Coming Up
The 2021 Extended European Ultimate Championship Finals start this week in Bruges, Belgium. Check out the teams list and pools for Europe's premier club event, and watch Ultiworld for coverage of men's, women's, and mixed club from countries across the continent.
With the masters event in the books, the second half of the Ultimate Canada Invitational is coming this weekend, with additional bids to the 2022 World Ultimate Club Championships to be awarded to teams not already qualified. We're covering this too, so stay tuned.