Minnesota teams sweep the region, securing all but one bid to Nationals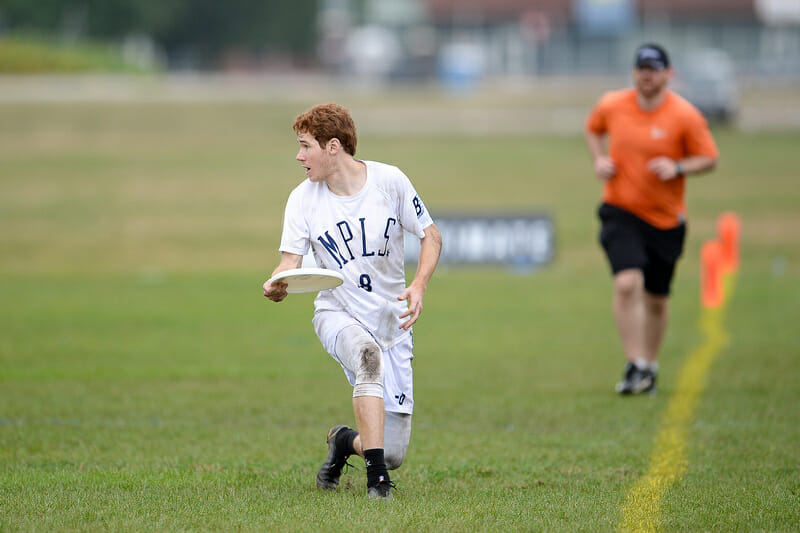 BLAINE, MN. — Since the last club regionals, the world has undergone extensive and dramatic changes, including within ultimate. Even this regular season has been unlike any other modern season. However, at this year's North Central Regionals, many things felt the same: teams picked up right where they left off in 2019. In general, teams played to their own levels and abilities. Top-tier teams crushed their competition, mid-level teams met victories and losses, and lower-seeded teams saw mostly defeat.
Ultiworld's 2021 coverage of the club men's division is presented by Spin Ultimate; all opinions are those of the author(s). Find out how Spin can get you, and your team, looking your best this season.
During pool play, teams mainly stuck to seed, as only two teams switched places: Omaha Scythe and Milwaukee MKE. The highest-seeded teams in each bracket came out strong and dominated their competition.
The bracket in this division started with a series of play-in games on Saturday. Iowa City Cryptic and MKE both won their games by sizable margins against their respective opponents. Meanwhile, Scythe and Kansas City Smokestack both won their games on double game point. Top teams #18 Madison Mad Men and #8 Minneapolis Sub Zero both comfortably handled their business throughout the rest of bracket play to make their way to the final.
All eyes were on Mad Men, who sought out to stage an upset against Sub, just like they did at the Northwest Plains Sectionals. Although missing Kevin Pettit-Scantling, (who joined Chicago Machine, though they joked they cut him from the team) they felt confident that their roster additions could do the job. The team, who would now like to be known as "Kai DeLorenzo and Friends" pulled players such as NC State alum Matt Tucker, who served as a threat in the air and deep space, D-line asset Branavan Yogarajah, and Callahan nominee Jake Carrico.
"Everybody's super amped and I think the energy is just fantastic. Everybody's really clicking," said Mad Men captain Sean Treacy. "We don't stop building; build has been our mantra all season and we've been going off that to win games."
A lot of the final consisted of a game of throws; straight blades and hammers for Sub, I-Os and arounds for Mad Men, and full-field hucks by both. Coming in with a chip on their shoulder, the Minneapolis team opened the game energized, which gave them consequential momentum. Sub's Charles Weinberg established himself as a deep threat, while Cole Jurek and Nick Vogt both reminded everyone just how difficult to contain they both could be. A 6-3 Sub Zero lead became 8-5 at halftime and continued to grow in the second. Despite the intensity given to them by their opponents, Sub Zero pulled out the win, 15-9, and snagged a spot to compete at Nationals.
"We came in with a vendetta and we knew we wanted to set a tone," said Sub Zero coach Raj Maitra. As far as going into Nationals, Matira says the team will stick to their game. "Try to win with our own strategy, playing super smooth offense and then defensively coming through with starting plans and then adjusting from there."
Ultiworld's reporting on the Club Mixed division is presented by Universe Point cleats. All opinions are those of the authors. Please support the brands that make Ultiworld possible and shop at Universe Point!
The mixed division consisted of a double-elimination bracket for the two Nationals bids. All 16 teams started off in the championship bracket and had to work their way into the final. Throughout the start of the bracket, teams played according to seed. As pointed out by former Drag'n Thrust player Austin Lien on Twitter, the first shake-up in seeding did not happen until the 22nd game. Several teams had small windows, such as no. 16 Stevens Point Point of No Return taking half against #5 Minneapolis Drag'n Thrust in the first round. However, no one could get the job done, at least not in the championship bracket.
During the first place semifinals, Drag'n faced off against Kansas City United. Both teams came out fighting, relying on defensive playmaking to spark things. Drag'n's Caleb Denecour made especially impressive plays during the game, including multiple blocks and a line-toeing layout score. Despite Minneapolis's uncharacteristic unforced turns and great KCU defense, Drag'n Thrust once again proved their strength, taking the game 13-7. In the other semifinal, Chad Larson Experience took on Madison NOISE. The game was hard fought, but NOISE landed a few more breaks to take the win.
The final game came down to a rematch from Northwest Plains Sectionals, Drag'n Thrust against NOISE. The team from Minneapolis brought early game intensity, putting on the defensive pressure, getting a chance to score two breaks right off the bat. Each team then took turns exchanging holds and got one break each during the first half. NOISE's strong performance can be partially attributed to overall threat Clea Poklemba.
In the second half, both teams kicked the energy up a notch. Drag'n Thrust played a patient offense, working through their handlers, and their defense secured two more breaks. Powerhouses Kat Ritzmann and Denecour both had stellar games and Sarah Meckstroth once again proved she is one of the best players in the mixed division. Marty Adams also shredded the deep space while Tavis Leighton and Matt Zumbrum provided strength in the handler positions. Their opponents were not able to hold up on defense and Drag'n won 13-8 – the same score as they had at Sectionals – in their own backyard, advancing to Nationals.
"We came out better than we did in the other games this weekend and were able to keep the momentum all the way through," said Meckstroth. "It's always an advantage and a disadvantage playing at home because it's a mindset that can be a little bit different. So coming together and making sure that we're still thinking at the level of intensity that we should if it was an away tournament."
To prepare for Nationals, Meckstroth said the team will take what they learned from the weekend, pulling out their weaknesses, and trying to sharpen them up. They will also shift their focus from sectional and regional teams to national competition.
Despite losing the final game, the day wasn't quite over for NOISE. They then went on to square up against Kansas City United for the other bid for Nationals. As both teams came out of big games – a major loss for Madison and an exciting win for KC – emotions ran high throughout the game. The team from Wisconsin aimed to come out with intensity and focus on their systems throughout the game as they faced up against the Turtles. Their roster additions helped bring the fire, with Robyn Fennig commanding the field and Dylan DeClerck ruling the cutting space. Madison's Marge Walker also helped the team as a steady handler and captain Katy Stanton proved powerful, grinding up yards downfield. In the end, NOISE pulled out the win, securing them a trip to San Diego; their first time since 2017.
"This team has a lot of talent top to bottom," said captain Tom Annen. "We want to experience Nationals and go as deep as possible, and play the best teams in the country; we don't get to do that too often."
Ultiworld's 2021 coverage of the club women's division is presented by Spin Ultimate; all opinions are those of the author(s). Find out how Spin can get you, and your team, looking your best this season.
The women's division was a bit smaller than normal this year with only six teams. Pool play resulted in most teams ending where they started in their seeding. At the end of the final round before bracket play, #17 Minneapolis Pop emerged triumphantly. This season, their roster saw some turnover, losing players such as Jane Koch and Sadie Redding to Drag'n Thrust, but has added some new talent, such as youngsters Simone Pierotti and Amelia Zdechlik (both of whom played on Minnesota's U17 Girl's team this summer), as well as seasoned vets such as Becca Morales, Huldah Gronvall, and Alicia Carr.
"I'm trying to create stronger relationships with my teammates while also learning on and off the field," said Pierotti. "I'm trying to take more risks on the field and I am trying to set the tone for my teammates by bringing up the intensity but also letting them calm down a bit."
Seeding for pool play led straight into the semifinals. Pop played a clean game against Medusa in the semifinal, only allowing two points against them. Madison Heist and St. Louis Stellar also faced off and played a tight game, with an end score of 11-9, giving Stellar the opportunity to advance to the final.
Both teams showed up to the final playing to win. During the first half, Stellar gave Pop a run for their money. The two teams had many clean holds throughout the game. St. Louis took full advantage of their handler talents, while Pop was able to fully utilize their entire line for clean points. The only turns that were generated by the Minnesota team throughout the first 22 points occurred due to overthrows and miscommunications. The first block against them did not come until the very end of the game. Pop took half, leading 8-7.
However, in the second half, they took things up a few notches and only allowed Stellar to score three more goals. The work of Sarah Helm, Rachel Gage, and Adrienne "Hawkins" Baker helped the team maintain a steady offense and a powerful defense. Minneapolis didn't let up their focus and momentum until the last few points of the game. At 13-7, Pop's offense seemed to grow impatient and threw looks that could not connect with their teammates, giving Stellar a chance to pick up their defense and fight their way back in. But it came a little too late for the team from Missouri, and Pop ended the game 15-10, ensuring their spot at Nationals.
"We're just excited. We're happy and our intention was to play our game throughout the weekend and I think we were able to," said Pop's Makella Daly. "Just cleaning up some things and looking forward to growing and continuing towards our next tournament."