Arizona's first-year team Lawless takes the regional crown to cap an up-and-down year, while last year's national finalists San Francisco Mischief suffered a quiet retreat. San Francisco Polar Bears earned their third consecutive trip to Nationals, ousting Los Angeles Lotus in the game to go.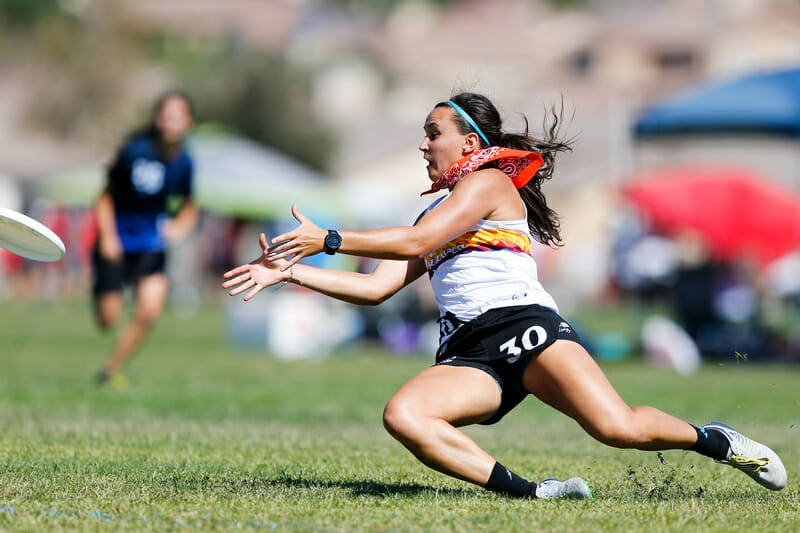 Ultiworld's 2021 coverage of the club mixed postseason is presented by Universe Point cleats; all opinions are those of the author(s). Check out Universe Point if you are looking for a comfortable, ultimate-specific cleat with a patented stud pattern that can give you an edge every time you're on the field.
SAN BERNARDINO, CA – After a tumultuous week that saw California Ultimate forced to move Regionals out of its planned Norco location just days before the tournament began,1 16 Southwest mixed teams gathered in San Bernardino for a no-nonsense, double-elimination bracket for two bids to nationals. Despite the late location change, the event ran without a hitch at the new field site – though there were still plenty of surprises to come on the field.
Arizona's Lawless, the first-year team that stormed through the regular season only to falter at sectionals, took the regional crown to cap an up-and-down year. Last year's national finalists San Francisco Mischief suffered a quiet retreat as their Bay Area counterparts #15 San Francisco Polar Bears earned their third consecutive trip to Nationals, ousting #24 Los Angeles Lotus in the game-to-go.
Lawless Rules the Region
First-year teams are not new to the mixed division, but #10 Arizona Lawless formed this year in an attempt to create a nationally relevant team out of a state that typically finishes its seasons as spectators at nationals. Early results looked promising — a second-place finish at CoCup and a de facto win at Select Flight Invite West — but Lawless flamed out at SoCal sectionals, losing back-to-back games to Los Angeles Lotus and San Diego California Burrito.
Lawless went into Regionals with a looser mindset, sharing gratitude to be able to play together and understanding that their wins may not come easy. Lawless did easily take down their B team, Calamity, in the first round, but faced 2019 silver medalist Mischief in the quarterfinal. Although the score was tight, the outcome was never in doubt as Lawless pulled away with a 3-0 run to close out a 13-9 win.
Avenging a sectionals loss, Lawless rolled over California Burrito 15-4 in the semifinal and faced Polar Bears in the final on Sunday morning. A back-and-forth first half found Lawless on top 8-7 with two breaks to PBR's one. Arizona held to start the half and broke right after to build a 10-7 lead that would provide the insurance needed to close out the game. For good measure, Lawless broke twice to end the game up 15-9 as the other Arizona teams flooded the showcase field to celebrate the state's first appearance at club nationals in more than a decade.
"I think the one thing that really stuck out with me in those games, was that at halftime our Coach, Harrison Schwarzer, said that things are going to go wrong, and that's ok," Melissa Dunn wrote to Ultiworld after the tournament. "We should expect that even though we're playing well, not everything is going to go our way. That really helped put us in the right mindset."
"Everyone played within themselves," Dunn continued, "but still played with a tenacity and grit that fired me up. I can go down our roster and think of a play from every single player this weekend that was point-saving or game-changing. Although we've played a lot of tournaments this season, up until the Series we were still tweaking with roles and lines. I think some of that comes from forming a new team and figuring out who works best where. However, this past weekend it finally felt like everyone hit their groove. It honestly was unbelievable how everything just seemed like it clicked and fell into place."
There is much to say about the efficacy of spirit scores as a mechanism for evaluating opponents, but coming into regionals, some opponents pointed out Lawless's poor spirit scored from the Pro-Elite Challenge earlier this season. The first-year team got multiple zeros, when receiving a one is somewhat rare and induces a qualitative comment in the spirit score report. "At Pro Champs, we saw intense competition from some of the top mixed teams in the country," Lawless leadership wrote in an email to Ultiworld. "It was an unparalleled experience for a lot of Arizona ultimate players who had never been invited to go to a Pro status tournament before, and the absolute last thing we want is for other teams to think that we actually break laws… USAU laws, that is"
"In addition," the email continued, "we feel that our early-season tournaments (e.g. PEC) gave us good opportunities to see and practice the new USAU rule changes. Reiterating those at practice recently has also been helpful so that we could go into the Series knowing that we can make correct calls. However, something else we've discussed as a team is how we go about making (or responding to) calls. Listen first, respond calmly, sideline uninvolved unless solicited — this is easy stuff that makes a huge difference, and we respect other teams that do this too."
Since that early portion of the season, Lawless has taken huge strides and improved both their results on the field and their reputation among other teams.
"We are proud of our Sectionals spirit scores," captain Kody Lippincott wrote, "which averaged 14.29 and placed us in the top five teams. It was really important for us to stay positive and respectful to the teams we faced there, despite being relatively disappointed with our Sunday results. SW Regionals spirit scores are not out yet, but we are always on the lookout for feedback that makes us better players and better humans. Leadership continues to reiterate that — at the end of the day — we are just a bunch of people chasing plastic around a field. If we can't have fun doing that, and if we can't make sure that others around us are having fun, then we've truly failed."
Polar Bears Return to Nationals
After cruising through the first three rounds of bracket play, not giving up more than nine goals to any team, Polar Bears needed to rebound after the tough final loss to Lawless as they faced hometown team Lotus in a rematch for the second-place game-to-go. Despite already playing two games on the day, Los Angeles brought the energy from the beginning of the game and broke on the very first point.
That was Los Angeles's last highlight of the half. Polar Bears ripped off a five-goal run to take half 8-2. "I think everyone on the team was really confident in each other and ourselves," said Polar Bears captain Margot Stert. "Having played against Lotus yesterday, we knew we had that edge. We had to come out firing — they were going to bring it for sure — and so 'foot on the gas' is what we said and we just kept pouring it on."
Through Lotus strung together some breaks in the second half to make the score respectable, San Francisco's Aaron Shi, who earned multiple shoutouts from opponents for his strong play all weekend, ripped a huck out of the sky over two defenders to clinch a 15-9 victory.
"We knew we were peaking at the right time," Stert added. "We had SFI to see how things looked and we knew that things were only going to get better from there. We added a lot of pieces in terms of personnel, in terms of chemistry and practice, and our team put in the work this season…it really paid off today."
In his first season on the team, James Pollard impressed as a handler who took care of the disc and rarely made a mistake. Paige Applegate and Stert also stood out as consistent contributors who propelled Polar Bears through a tough bracket. "We showed that our win at sectionals is not a fluke and we are peaking at the right time," Stert made sure to add. "Teams at nationals should look out."
Lotus Falls Short Again
Fielding a nationally competitive team out of Los Angeles has proven a challenge from teams of all divisions in the past, but this year's Lotus team had the potential for a nationals appearance. Undefeated at SFI-West and sectionals, Lotus came into regionals as the top seed with momentum, but fell just short of a first trip to nationals.
The tournament started inauspiciously when Lotus found itself facing a looming soft cap and trailing 16 seed LIT 9-8. A 3-0 run closed that game out with a win to avoid what could have been the most embarrassing regionals loss ever, and Lotus had an easier time taking out Donuts in the quarterfinal 12-6 before facing Polar Bears in their semifinal. Like they would in Sunday's game-to-go, Polar Bears rode a first-half surge to a 15-9 victory sending Lotus to the second-place bracket.
First thing Sunday morning, Lotus had none other than reigning national runners-up Mischief awaiting them. Though Mischief hasn't looked like a top team all season, the talent they could trot out was too strong to ignore. Mischief used a stingy zone to stake out an early 3-0 lead and took half 8-5. Lotus came back on Saturday after a slow start in their opening game, but this was Mischief, not the 16 seed.
Finding a burst of energy, Los Angles broke four times out of half to take a 9-8 lead. Despite mounting pressure, Lotus held on for a 13-11 win to knock out Mischief and advance to play another game.
"We spent halftime breathing together and not talking about xs and os," Los Angeles captain Chris Mazur said after the game. "Just breathing…it genuinely is not an xs and os thing, it's a lot of the stuff that we've been talking about as a team. We set a structure that we felt strongly about early enough that we didn't have to overly analyze our xs and os. We just talked about trusting and loving each other, and that's what we got to, and as a result, we got lucky and we capitalized on a couple of their mistakes."
A 15-11 win over California Burrito propelled Lotus to a rematch with Polar Bears — the team that knocked them out of the 2019 series — in the game-to-go. Highlight games from Shi and Shane Earley propelled Polar Bears to their early lead, but Lotus clawed its way back in the second half.
"We played 26 deep in the entire tournament," Mazur said. "We went an O-line, a D(x)-line, and a D(y)-line. We literally played x and y the whole time and when we get to that game-to-go we said 'we believe in each other, we believe in the trust of it, and we're going to continue to do it.' When our O-line struggled and our secondary D-line became our D-line, they scored four times in the second half. And we're just like, 'great! This is why we have a system,' and it was really fun to see."
While Lotus is still searching for their so-far elusive nationals berth, this year's team welcomed a ton of new talent and another year of working and practicing together could spell positive growth for 2022.
Mischief Eliminated Early
Mischief is no stranger to nationals berths — they have more than all but two other mixed programs — but after making the national final just two years ago the Bay Area stalwart couldn't even make the backdoor semifinal. After dispatching Flagstaff in the opening round, Mischief fell to a red hot Lawless team in the quarterfinals. Fresh off of that disappointment, execution errors plagued the penguins in the backdoor quarterfinal and Mischief found themselves down 7-5 at half to Los Angeles Family Style. After gritting out a 13-9 win and taking down Reno Cutthroat, Mischief collapsed in the second half against Lotus and were officially eliminated from advancing.
Key players Gina Schumaker (who did not play) and Mac Taylor (who played, but was limited) were dealing with injuries, so Mischief had to adjust its lines and strategy on the fly. While it was clear that this was a four-worthy-teams-for-two-bids region, nearly everyone at the field site was shocked that Mischief was not one of the two teams celebrating a potential return trip to SoCal. After picking up a few key pieces from San Francisco Blackbird, a perennial nationals team that took 2021 off, expectations were high for the former national champs. In retrospect, integrating so much talent and weathering the loss of 2019 mixed club defensive player of the year Jacob Smith was too much to overcome.
"Obviously anytime you come back from nationals finals with an incredibly talented and deep roster, you're going to feel disappointed with this sort of ending," Mischief leadership wrote to Ultiworld. "The Southwest region is strong, and we played against some tough opponents who deserve all the credit. It's a challenging week for the team, who put a lot into this season, but the past two years has also reminded us to be grateful that we were able to get back out there, rebuild our team, and play ultimate together."
In a division that is known for its parity, seeing the three and four seeds advance to nationals should not be so shocking. After watching the games and seeing each team compete with its full roster, Lawless and Polar Bears should both be threats on the nationals stage, while the rest of the region gets a head start to begin scheming towards stealing one of their bids in 2022.
---
California Ultimate expects to release a statement soon explaining why they needed to make the switch. ↩