Condors hit it big, handing Revolver their first Regionals loss in over a decade.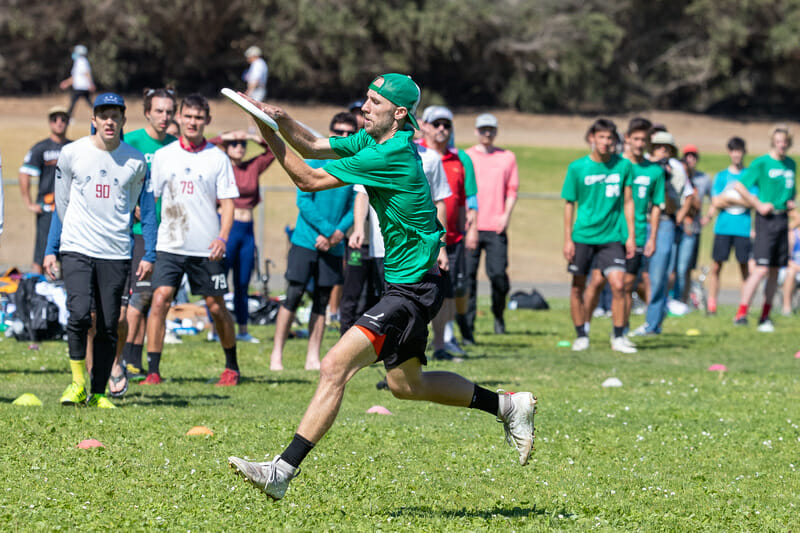 Ultiworld's 2021 coverage of the club men's division is presented by Spin Ultimate; all opinions are those of the author(s). Find out how Spin can get you, and your team, looking your best this season.
SAN FRANCISCO, CA—At a relocated field site in Golden Gate Park in San Francisco, Southwest Men's Regionals was mostly free of upsets until the first place final, where #11 SoCal Condors knocked off #7 San Francisco Revolver, 13-9 — the first time since the regional redraw that anyone other than the Bay Area juggernauts have won the Southwest.
After that wake-up call, though, Revolver cruised to the second bid with a 13-3 beatdown of San Diego Streetgang, which could leave San Francisco as a dangerously underseeded team at Nationals later this month.
Condors Cruise to Final, then Fly Past Revolver
With Regionals no longer local for SoCal Condors they made the migration north to San Francisco comfortably seeded second, with two Nationals bids on offer once again. In pool play Condors were dominant, winning 13-2 and 13-5 over Oakland Firemen and San Francisco Battery respectively. That left them with their Saturday evening free and a Sunday morning matchup with no.3 seed and Pool C winners Livermore OAT for a chance to play in the Regional final.
Against OAT, Condors started fast with a pair of holds and breaks as they took advantage of mistakes by the East Bay handlers in the reset space, putting them up 4-1 early. While OAT didn't immediately crumble, they weren't able to generate any breaks in the first half, while the Condors' D- line scored once again to take a 7-3 lead into halftime. In the second half, SoCal extended their lead to 9-4 over OAT before the game wrapped at 12-7, easing Condors into the final against Revolver.
Between their history of regional success, a dominant run through pool play that saw them give up just 14 goals through four games, and the favorable advantage of playing in front of a home crowd, conditions certainly seemed primed for Revolver to once again cleanly claim a Southwest title. The first point of the final would only further that perception, as San Francisco's newest defensive weapon Michael Ing notched a huge layout block against Goose Helton to give the Revolver D-line an early look at a break. While they turned it over on their first chance, SoCal gave them a second bite at the apple after turning over a huck and San Francisco started the game with a break, looking like they were on their way to yet another victory over their closest in-state rivals. Instead, those would be the only two turns coughed up by the Condors O-line all half.
From there, Travis Dunn and Sean McDougall went to work. Dunn took off deep on the second point and hauled in a huck to tie the game at 1-1. On the next SoCal O point, Dunn turned provider, assisting to McDougall after Condors patiently worked it down the field against a high-pressure Revolver defense. SoCal earned their break back on San Francisco's first offensive turn to go up 3-2, and the teams traded clean holds the rest of the way through the half, with Dunn again finding McDougall for his third goal of the half to send Condors into the intermission up 7-6.
For Revolver, Dillon Whited had a fantastic first half, consistently finding open space with his quickness and picking up a pair of goals himself. The San Francisco defense also played well on the whole, but they just couldn't pressure SoCal into making mistakes in the calm, sunny conditions.
It was the Condors defense that would strike first in the second half. Sending poaches into the open lane to disrupt Revolver's side stack pull play, SoCal forced Michael Spear into a reset turn and then they quickly attacked deep the other direction, with Brandon Severson running down the throw from Calvin Brown for a momentum-building break out of the half. Spear delivered a nice goal throw to Whited on the ensuing point to get Revolver back within one, but Condors made quick work of their first O-point of the second half, punching in a two-throw hold.
Revolver's offense blinked again, with a miscommunication and high stall leading to a huck to no one. Condors, smelling blood in the water, were quick to capitalize, with another huck for a break, this time to 20-year old Seamus Robinson. At 10-7, San Francisco were having trouble getting their offense off the field.
They finally switched up their tactics, running a dominator set through their handlers before Elijah Kerns was able to shoot deep to Adam Rees, who came down with the goal as three Condors defenders challenged him in the air. San Francisco finally coaxed a turn out of SoCal and got a short field opportunity that Byron Liu punched in to Evan Magsig to get within one at 10-9. Revolver wouldn't score again.
After yet another patient Condors hold, the SoCal defense got a coverage sack leaving Rees with no good options. They shot deep to Robinson again, who got tangled up with Simon Higgins in the end zone resulting in a questionable blue card for Higgins. Condors converted from the end zone line to get to game point. With Revolver needing to go on a run, Robinson made another big play, getting a hand block on Markham Shofner. SoCal eventually closed it out to hand San Francisco their first Regionals loss since 2008.
It was a crowning achievement for the Condors program — only their second-ever victory over Revolver, and the first since 2007. They pulled off one of the biggest upsets of the postseason so far through a tremendously patient offense that was stingy with the disc and never allowed Revolver to build any momentum. Having picked up losses to a few middle-of-the-pack Nationals teams earlier this summer, Condors may not head to San Diego seeded high, but they have proven capable of hanging with just about anyone and could be a dangerous threat in the bracket if they're able to maintain their composure.
Revolver Rebounds And Races to Runners-Up
After losing their regional crown to Condors, Revolver faced off against San Diego Streetgang in the game-to-go, having just beaten them 13-5 earlier in the day in the last round of pool play. The game started off evenly with the teams exchanging holds up to 3-3, with Streetgang looking far more energetic after back-to-back one-point wins to reach this final round. Revolver nearly even gave up an early break to Streetgang when their handlers played too casually in the backfield, leaving San Diego the disc just a few yards out. Streetgang were not able to convert, however, and that was the last break chance they got.
At three-all, San Diego missed early in their offensive possession and Revolver's handlers punched it in for the first break, 4-3. Michael Ing got the block on the next Revolver defensive point and Nick Tolfa finished the point off, 5-3 to San Francisco. Two points later and Eli Kerns played provider to give Revolver their fourth straight break and a 7-3 lead, and Streetgang never got back into it. The game finished 13-3 to Revolver as they rolled off 10 straight break opportunities and got production from up and down the roster, with Nick Murphy and Evan Magsig combining for the final goal.
Talking about the bounce-back after the loss to Condors, Revolver rookie and current UCLA Smaug player Riley Kirkman-Davis suggested that it will help them as Revolver looks forward to Nationals. "I think you can always take those types of losses as a wake-up call," he said. "It woke us up for this game, it's definitely going to wake us up for Nationals too. We'll be going from game one and I think that'll be a good place to be."
Best Of The Rest
Coming into the weekend, no.3 seed Livermore OAT looked to be the closest competitors to Condors and Revolver, and while they did win their pool it was by fine margins as they pulled out a 12-10 win over Berkeley Zyzzyva. Against Condors in the first place semis, though, OAT did not really push their SoCal opponents, going down 7-3 at half and 9-4 before trading points to end the game with a 12-7 loss. This dropped them into the backdoor bracket, where they took a close loss to San Diego Streetgang in the game-to-go-to-the-game-to-go.
Despite ending up in the game-to-go, Streetgang's weekend did not start well as they lost to Santa Cruz Wavestorms 12-10. By virtue of a tiebreaker, they finished second in the pool, and won out from there until their matchup with Revolver, albeit by small margins with one-point wins over Zyzzyva and OAT along the way. Streetgang remain second-best in SoCal, but within the region it's a more muddied picture.