Two rising programs clashed in quarters.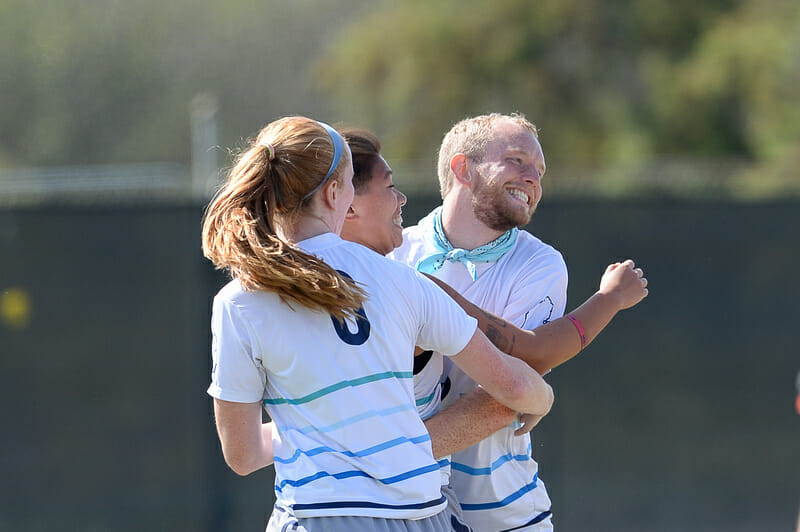 Ultiworld's 2021 coverage of the club mixed postseason is presented by Universe Point cleats; all opinions are those of the author(s). Check out Universe Point if you are looking for a comfortable, ultimate-specific cleat with a patented stud pattern that can give you an edge every time you're on the field.
To say that an #7 Ann Arbor Hybrid and #10 Arizona Lawless matchup in quarterfinals was a surprise is an understatement. These two first-time qualifying teams added multiple giant slayings to their resumes to arrive at this moment, with wins over heavyweights like Minneapolis Drag'n Thrust and Washington D.C Space Heater. Given that both squads identify as gritty, defensively-minded teams, this matchup was likely to be a rollercoaster of a game–it delivered. Hybrid survived a second half surge to win 10-9 and earn a spot in the national semifinals.
The game got off to a clean start, but with gusty winds swirling through the valley, misthrows and executions were an inevitability. Still, Arizona and Ann Arbor kept things tight for the first several points. Lawless's Sean Ham had a particularly dominant start to the game. Hybrid did their best to neutralize him, with tight defense from Nathan Champoux, but even when he got shut down in the handler set, Ham turned into a threat in the deep space. Dan Donovan, Hybrid's top scorer, was a big threat as well and made key grabs, including a catch in the endzone that ended up going back to the thrower after his defender called an offensive foul.
Lawless received trailing 5-4, setting up a critical turning point in the game. What had been a back-and-forth series of well-executed holds turned into a windy huckfest of marathon points. During this almost ten minute point, Lawless fought hard to maintain their hold but gave Hybrid opportunity after opportunity; Ann Arbor squandered them time after time. Finally, Mark Whitton was able to get on the board and push Hybrid's lead to two.
Michigan made smart defensive choices to neutralize Arizona's deep game, particularly their women-matching defensive threats, and capitalized on Arizona's lack of experience adjusting to the wind. Ann Arbor forced into the wind and generated the turn they were looking for, which they converted quickly to extend their lead to three. Anyone familiar with Lawless, however, knows they are the most dangerous when they are down. Their squad grinded through another almost 10 minute long point but came out ahead this time thanks to the determination of their women-matching players like Jamie Eriksson, who had a major sky to block a potential Hybrid score and later threw a score to captain Lindsey Doyle to lock in the hold at 7-5. Arizona looked poised for a comeback after getting another break, but Hybrid closed out the half 8-6 shortly after.
Arizona came out of half with hungry underdog energy, fending off strong defensive pressure to hold and subsequently force yet another marathon point. These teams may have incredible athletes but long points and tight matchups will take a toll on anyone, which showed up in the tired huck fest that ensued. They traded ill-advised hucks before Lawless's Merideth Byl saved her team from the umpteenth turnover of the point with a layout. Lawless tied it up 8-8.
The tenor of play shifted a bit, with both teams seemingly recognizing the gravity of reeling in this point with soft cap quickly approaching. Hybrid and Lawless both worked the disc right to their endzone and failed to convert multiple times. Two timeouts and several turnovers later, Arizona came out on top to take the lead 9-8.
Arizona pulling ahead could very well have been the end of the story. After a quick Hybrid hold, Lawless received to start double game point. A game that had been a rollercoaster ended a bit flat. The pressure of the moment rattled Arizona, with an easy drop opening a window for Hybrid. Fighting to get the disc back, Lawless players looked for big D opportunities and smart poaches but ended up getting punished for abandoning the fundamentals. Sara Nitz found herself unmarked in the endzone and reeled in a simple score to clinch Ann Arbor's spot in semifinals.
"We pride ourselves as a team that can punch but also be punched back," said captain Bailey Besser. "We're never mentally out of it, we're always trying to stay level. Having that mindset helped us to ultimately take the win in a tight game."
Although the ending of Arizona's journey through bracket play was a bit flatter than the rest of the battles they waged throughout the weekend, this debut team has so much to celebrate and can hold their heads high. "We definitely came out to play for ourselves, but we're playing Arizona as a whole, the whole community…we want to show on the Nationals stage that Arizona can ball, we'll be here again," said Doyle, gleaming with pride for her team. "We went from 0 to 100 in a very short season…this team really showed mental fortitude to ride those highs and those lows to come back and peak at the end of the season."