Hybrid's high-flying approach paid dividends as they dominated the deep space to beat Madison NOISE and advance to their first national final.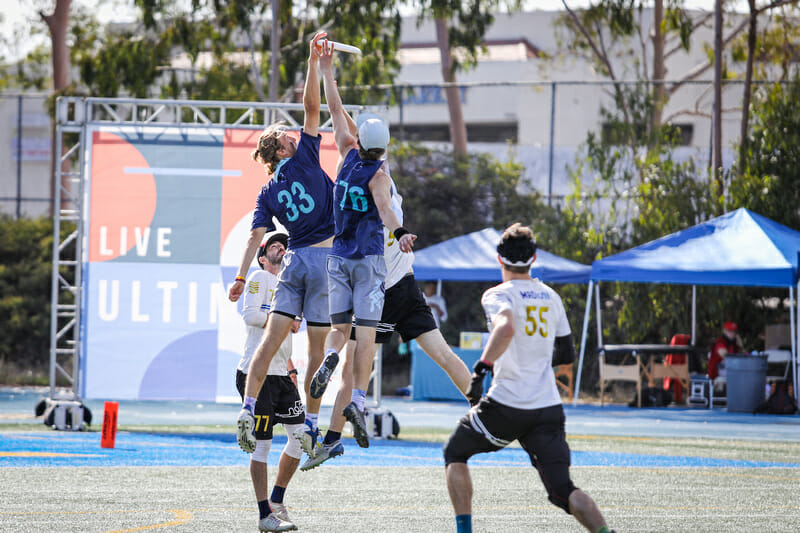 Ultiworld's 2021 coverage of the club mixed postseason is presented by Universe Point cleats; all opinions are those of the author(s). Check out Universe Point if you are looking for a comfortable, ultimate-specific cleat with a patented stud pattern that can give you an edge every time you're on the field.
Fending off a late Madison NOISE comeback, #7 Ann Arbor Hybrid hucked their way into the mixed final with a 14-12 win on Saturday afternoon.
The game started with both teams' offenses flowing easily. With a calm breeze and a sunny day as the tournament transitioned to the Mira Mesa showcase stadium, conditions were much calmer than the rest of the tournament and defenses had trouble forcing turns. Each team held twice to start. Hybrid had the first chance to break when Dan Garlock's swing to Glenn Poole hit the turf. Jake Steslicki picked up and immediately fired to the end zone where James Hill skied a pile and Hybrid took a lead they would never give up.
That point exemplified the story of the game. Madison made one too many mistakes and Hybrid trusted their men-matching athletes to make plays downfield. Setting up a game of runs, NOISE turned to their D-line offense to hold the next point and earned their break back with intense pressure that forced a short field reset turn. Later in the first half, Hill earned a key block that led to another Hybrid break to give Ann Arbor a 7-5 lead.
With the possibility of being down three points at half, NOISE turned up its defensive pressure again and forced a first throw turn. Dylan DeClerck caught back-to-back goals to tie the game at seven and set up a galaxy point1 to take half. True to form, Hybrid hucked for the score and went into halftime with an 8-7 lead.
In all three of their pool play games, NOISE came back from halftime deficits and they were not phased by the prospects of mounting a comeback. Hybrid made that tougher when Mark Whitton snagged a block on an in cut and Connor Lukas found Hill on another huck as Hybrid rebuilt its two-point lead. NOISE's D-line offense kept Madison in the game, holding right away each time after getting broken to this point. Clea Poklemba, DeClerck, and Rami Paust did most of the heavy lifting in the backfield. Paust led the team with three assists while DeClerck was Madison's leader with four goals.
James Highsmith, who had not played since hyperextending his knee during the first game of pool play, came back to play this game. With the score 10-9, he caught a long huck to set up a clean end-zone set and spark a Hybrid run to pull away late in the game with victory in sight. Sara Nitz's defensive pressure forced Margaret Walker's pass too far for Robyn Fennig. David Yu then found a streaking Nathan Champoux for another break to go up 12-9.
Nitz deserves credit for taking on a tough matchup in Fennig and doing enough to slow her down. "I wanted her," Nitz said after the game. "I've played against her in ladies. She's a great player with great spirit and I was looking forward to it."
Hybrid's run continued when Poklemba launched a huck out of bounds. Hill came down with a massive huck going the other way and Hybrid quieted the NOISE sideline by taking a 13-9 lead.
Madison is no stranger to a late comeback, but needed to turn the game around quickly. When Garlock dropped the ensuing pull, it looked like NOISE's hopes would be quieted. Yu found an open Adam Stautberg, but his blading flick went too far and Margaret Walker found Katy Stanton going deep for a crucial NOISE hold. With their backs against the wall, the NOISE defense was pressing for a turnover. Lukas, who had been taking shots all game, fired one too quickly for Highsmith, and the pass tipped off his hands. NOISE carefully worked the disc up the field and Paust ripped a cross-field hammer to Matt Grinde to close the gap to two at 13-11. With momentum and energy on their side, NOISE forced a coverage sack when Lukas's huck to space was blocked by Ness Cannaday. Each team worked through an additional turn before Cannaday reeled in the goal to bring the score to 13-12 as the soft cap went off to signify a game to 14.
Hybrid strategically brought out its D-line for the next offensive point, knowing it would have another shot with its starting O-line if it got broken again. There would be no such need. Hybrid moved the disc swiftly upfield and won the game when Whitton lofted a blade over the isolation cut to a waiting Nitz in the middle of the end zone.
Hybrid was able to win this game without a superhuman performance from any individual player. Hill led the way with four goals, Justin Perticone had two goals and four assists, and Lukas finished the game with two goals and three assists. Madalyn Simko led women-matching players with a goal and an assist each.
There was a lot of chatter on the sidelines and on Twitter that Hybrid did not use its women-matching players effectively.
It's been 4 points since Hybrid has thrown to a woman. Thought this was the Mixed semifinal?

— Brianna Stedman (@briannastedman) October 23, 2021
While the win will provide some rose-colored glasses, that wasn't the impression Hybrid has of itself. "We have some people who have very strong connections that go back from before Hybrid," said Nitz, who caught Hybrid's game-winning goal. "I tell everyone that every line is a hot line and I have complete faith in every one of our players to get the disc, take care of the disc, and make plays."
Despite how well-known Hybrid's strategy was, NOISE's defense couldn't stop it. "We knew that they like to huck to their male-matching players," said NOISE captain Tom Annen. "The main objective was to go [force middle] or straight up on the throwers and downfield we were pushing out. They did a good job creating space for each other. We covered the first cut but the second and third cut is where they got us."
Though NOISE didn't advance to the final, this season was ultimately a rousing success for the Madison program. "I'm a Madison local and there are a lot of Madison players on here," Annen said. "When we made this team, the expectation was to go deep into Nationals. No one really knows the players that are on this team, but we knew the talent that we had when we built this team. So we definitely expected to go deep. I know we didn't get that credit upfront, but we came here and we showed that we could play with the top teams. No Madison team has ever won pool play and no Madison team has ever made it to semis. We did that and that's awesome. Everyone's really proud of that."
For Hybrid, they immediately turned their attention toward the final, facing a strong BFG team on Sunday afternoon with a chance to win an unexpected title. "I'm looking forward to this team continuing to improve and play our best ultimate," Nitz said. "Good spirit, good ultimate, all the way to the end."
---
A point where both teams have a chance to take half. ↩