The Nationals guest list is beginning to take shape in all four divisions.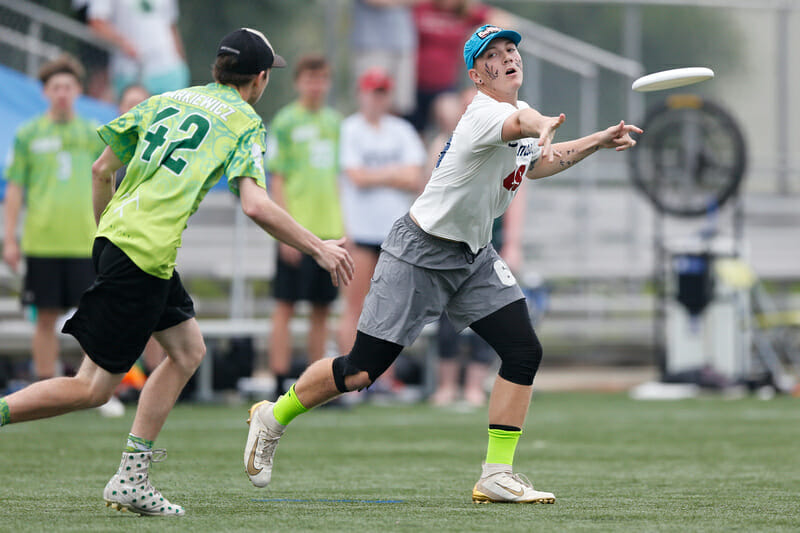 Our coverage of the 2021 college Series is presented by Spin Ultimate. Please support the brands that make Ultiworld possible and shop at Spin Ultimate!
After a long eighteen months with no sanctioned college ultimate to speak of, the fall 2021 college Series is already in full swing, with the first round of Regionals tournaments taking place across the country the weekend of November 6-7. Teams in four regions vied for bids to Nationals in the D-I women's, D-I men's, and D-III men's divisions (D-III women's will be back in action next week after several teams qualified in October).
See our live thread of Nationals qualifiers here, and check out this week's action below.
D-I Women's
Atlantic Coast
#2 North Carolina took the first of this region's two bids all but uncontested — allowing just eight points across three games of Saturday pool play and ultimately winning the first place game by a comfortable eight points — but runners-up #24 Virginia put up strong showings against the rest of the field. Dusting off their 13-5 loss to Pleiades in the final, Hydra came out strong in the second place game against #17 Appalachian State, defeating them 15-6 in an encore performance of their 12-9 win over the same team in Saturday's crossover round. Virginia also had some lopsided matches in pool play, with just four points scored by William & Mary and none by Towson. It is clear that North Carolina and Virginia dominate the Atlantic Coast in D-I Women's.
Great Lakes
The Great Lakes region saw some fantastic competition this past weekend from Nationals regulars and emerging challengers alike. In Pool A on Saturday, #14 Chicago, Purdue, and Michigan each rock-paper-scissored their way to a 2-1 finish: Purdue took down Chicago 11-9, Michigan beat Purdue 9-8, and Chicago beat Michigan 12-6. Illinois topped the other pool 3-0 with two close games against Notre Dame and Northwestern. In the semifinals, Chicago took down Notre Dame and Purdue took down Illinois — both with a five-point difference. The final, a rematch of a close Purdue win from pool play, went Chicago's way the second time, and not as closely: they won 13-5, taking the region's first bid. In the second place bracket, Michigan played competitive games against Notre Dame and Illinois to earn a berth in the game-to-go against Purdue. Michigan, who had managed to beat Purdue on Saturday, did it again on Sunday in another close game that finished 10-8. Chicago and Michigan secured their bids to Nationals after a close, competitive, hard-fought Regionals tournament.
Metro East
This region's top contenders, Yale and SUNY Binghamton, emerged at the top of their pools, with Yale's closest challenge coming in an 8-5 win over 2019 Nationals team Cornell and SUNY Binghamton's in a similarly low-scoring 8-4 game against SUNY Stony Brook. SUNY Binghamton won the final 11-8 over Yale, capturing the Metro East's one bid and sending a women's team to Nationals for the first time in school history since 1989.
"We were just excited to be at Regionals," said SUNY Binghamton captain Danielle Dattler. "My freshman year this would never have even been a thought, and now that I'm a senior it's amazing."
SUNY Binghamton had not even made Regionals since 2017, where they lost all of their games. But a confident deep game and strong play from #14 Samantha Gonzalez drove this year's offense, and they generated consistent turnovers behind an athletic defense and #25 Jolie Krebs. Their energetic sideline and large roster helped them down the stretch against a much smaller Yale team. But winning the tournament and qualifying for Nationals was never on their mind.
"We thought, you know what, it would be cool if we went to Regionals," said Dattler. "We're going to Natties!"
Northwest
#3 Washington and #7 Western Washington crushed their respective pools 2-0 at the Northwest Regionals tournament, with the regional favorites taking only four points each before advancing to title contention. Both secured bids to Nationals, with Washington beating Western Washington 10-7 in the final and Western Washington taking the second bid against #21 Utah in a 12-7 game-to-go.
D-I Men's
Atlantic Coast
In first and third, two UNC-system legacy programs; in second, a program on the rise building up their Nationals streak after ending a ten-year drought in 2019; in the wings, a handful of other contenders you'd be unwise to count out: the Atlantic Coast is hanging onto its reputation as one of the more competitively interesting regions in D-I men's — even in a year where both North Carolina teams have so far vastly outpaced their competition. Bid earners #1 North Carolina, #8 NC State, and #15 UNC Wilmington all dominated their respective pools before entering title contention, but North Carolina truly took the crown in this tournament: no team put up double-digit points against North Carolina, and no one got closer than NC State in their 13-8 final. Even so, competitive games did take place. Though just missing out on a bid, #23 Virginia Tech played close matches twice against UNC Wilmington, including in the game-to-go, losing each by only two points.
Great Lakes
The two-bid Great Lakes tournament was an interesting weekend for three of the region's competitors. #11 Michigan and Indiana took first in their respective pools. Michigan's closest game in pool play was 13-8 against Kentucky, whereas Indiana had two very close games against Purdue and Chicago, winning each by only one point. Michigan and Indiana faced off in the final, and Indiana put up a good fight but ultimately lost 13-10 — Michigan's closest-scoring game of the weekend. In the second place bracket, Illinois fought their way to the game-to-go, winning a 13-10 backdoor quarters match against Purdue and a 15-8 backdoor semi against Kentucky. When Illinois and Indiana faced off to play for the last Great Lakes bid to Nationals, Illinois was able to pull ahead and beat Indiana 12-10. Despite Indiana's impressive showing through the final — and Illinois managing to put just six points on Michigan in their only matchup of the weekend — Illinois and Michigan will be taking the region's two bids to Nationals.
Metro East
Second-seeded Cornell defeated Rutgers 13-11 to win the Metro East region for the first time since 2015. The two teams looked to be on a collision course in the final even before the start of the tournament, with Rutgers having proven to be the best program in the region in recent years and Cornell flush with alumni.
"When I came in as a freshman, I think that the team had such a good history — we are this powerhouse team," said alumni captain David Maniloff. "And over the next three years, we just didn't put in the work we needed and we always fell short. And I think it was really a tough thing for us to go through. And in 2020, we said, 'Hey, we're going to go for it. This is the year for us.' And then obviously the pandemic hit. We felt like it was our year, and then everything was taken away…Once we finally had this opportunity, we knew we had to make it special."
Cornell took an early two goal lead despite Rutgers having four break chances in the first four points of the game. They extended it to three before halftime, but Rutgers roared back to tie the game at 8-8 with a 3-0 run to start the second half thanks to some big plays from Chris Iglesias.
Cornell captain Max Tomsick made some crucial plays of his own to prevent Rutgers breaks and put goals on the board. "Even coming out with that lead evaporating, I still felt like it was our game and we were in control, and it was our choice if we wanted to score every O point," he said. Cornell was not broken again in the game and added some cushion with a break to go up 11-9.
Rutgers was not allowed by their university to play with any recent graduates; Cornell had a large group of alumni, playing together for the first time since February 2019, after jumping through numerous hoops to get them approved.
Northwest
#4 Washington dominated the Northwest tournament, going 3-0 in pool play and crushing Utah State 15-6 in the final; across five games on the weekend, five separate opponents scored an average of just under five points each on the eventual regional champions. Utah State also went 3-0 in their pool, but their path to the final was much more contested, with two one-point victories to their name by the end of Saturday play. In the game-to-go, Utah State beat #24 Utah 12-9. It was not the first time Utah State and Utah faced off over the weekend, as Utah State has also defeated Utah 10-9 in the first-place semis. Despite these two losses, Utah played well over the weekend, going 2-1 in their pool with their only loss to unstoppable Washington; they also pretty comfortably won their games in the second-place quarters and second-place semis.
D-III Men's
Atlantic Coast
#1 Richmond took control of the two-bid Atlantic Coast to secure a place at Nationals. They went 3-0 in pool play — no team could put up more than five points against them. In the first-place semifinals, Richmond crushed Christopher Newport 7-1, advancing to a final with Mary Washington. Richmond had already seen Mary Washington in pool play and defeated them 13-5; in the final, they were able to do it again, winning 12-6 to seize the bid. Hunter Lang, Emmett Rice, and Liam Day made big offensive plays for the Spidermonkeys, while Max Wallach generated numerous turns for them on defense. Richmond heads to Nationals with a total of 17 points put up against them at Regionals.
In the other pool, #22 Navy held their own despite a close 11-10 game against Christopher Newport. However, in the first place semifinals, Mary Washington gave Navy a run for their money and took them down 9-3. Despite this loss, Navy bounced back in the second-place game-to-go to avenge themselves 13-10 against Mother of George, securing the second bid to Nationals from the Atlantic Coast.
Great Lakes
Throughout the weekend, the Great Lakes regionals saw steady winds that made the going tough for all teams in attendance. Breaks were at a premium and, with a number of returners and skilled throwers, North Park was able to weather the storm and convert a handful of upwind breaks that their opponents simply could not. Cory Wallace leads a group of athletic young players, complemented by skilled returners, who will represent the Great Lakes at the D-III College Championships this December. The Lost Boys have now won their region six times since the division's inception.
Additional reporting by Zakk Mabrey and Fiona Nugent.