Some lower-seeds caught our attention, but so did the top seed.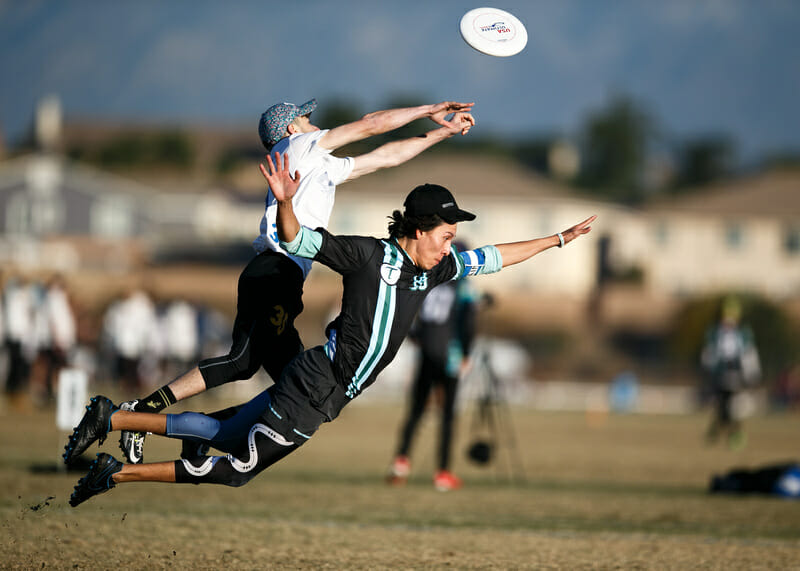 Our coverage of the 2021 College Series is presented by Spin Ultimate. You can get 15% off all college uniforms and swag right now at Spin Ultimate!
For the first time in what feels like forever, college ultimate is back on the national stage. And while the biggest story of the day may have been about who didn't get to play today, we want to focus on what we saw on the field.
Without a conclusion to the season in 2020 and a delayed 2021 finale, we knew less about teams across the country heading into Nationals than ever before. With two pool play games in the books — even if Washington and UNCW only really played one each — we are able to form some early reactions about the Men's division. Here are our first impressions of the action from Southern California.
Darkside Might Be in a Tier of their Own
Top-seeded North Carolina entered the weekend as the favorite to win a title and did nothing to shake the general public confidence bestowed upon them. Following convincing and comfortable wins over pool second seed Texas (15-10) and UC San Diego (15-9), it is fair to wonder if UNC separated itself even more. The 2018 champs flashed moments of genuine greatness, but also at times looked a little rusty. That they still managed such winning margins without yet playing at peak efficiency is a scary prospect for opponents — it is hard to point to any challenger who has shown quite as much promise and potential as Darkside thus far.
No.2 seed Colorado needed a late comeback to get past Cal Poly SLO in an exciting match to close out the day, winning 14-13 on universe point. Perhaps the final round result calls into question Colorado's status as a true contender or perhaps it serves as their wake-up call — or maybe it ultimately says more about Cal Poly's championship credentials. Elsewhere, no.6 seed Carleton dropping out of the tournament deprived no.3 Washington a chance to square off against a top opponent to show off their own potential. No.5 seed Pittsburgh lost both their games on Friday. No one escaped Day 1 without at least a little sloppiness creeping in.
Washington and no.4 seed Brown — both sitting at 2-0 after Day 1 — will likely have their say in the coming days, but the initial impression is that #1 North Carolina stands alone in a different tier atop D-I men's college ultimate.
That Said, the Gap Between the Top and Bottom Teams is Narrowing
More so than in past years, the gap between D-I Men's teams at Nationals this year seems to be significantly smaller. Through just one day, it felt like we have seen more close games, especially involving lower-seeded teams, than in past years. No.14 seed Northeastern went to double game point with #9 Cal Poly SLO — who then went to double game point with Colorado — and lost by only two to Georgia. No.16 seed Tulane played two universe points, beating Pitt and narrowly losing to NC State. No.19 Cornell took Ohio State to DGP and stayed even with Washington through 10 points. The list goes on; across the board, the lower-seeded teams are leaps and bounds ahead of the bottom tier at previous Nationals, a trend that has been building over the last several years.
Tulane More than Just a Feel-Good Story
Speaking of teams closing the gap: Look out folks, the #23 Tulane Tucks are for real. Knocking off #6 Pitt to open pool play on Friday could easily have been chalked up to a fluke, but Tulane then took #8 NC State to universe point as well. The Tucks probably should have won against Alpha, leading 8-5 at halftime. Give NC State credit for engineering the comeback, but Tulane definitely left a few points on the field.
Still, that result solidified the Tucks as a legitimate Nationals-caliber team. They brought a ton of energy into both games, with a rowdy sideline and a fearlessness that makes them dangerous. There are a few players making a name for themselves, too. Max Lang had a phenomenal game against NC State and is the spark plug for the team. He has an infectious bravado that truly elevated the play of many of his teammates.
"We knew we would play every team close," said Lang. "It was nice to get some of the nerves out in that Pitt game and then just ride our energy with the NC State game."
He added, "We're glad we hopefully earned some more respect today."
Lang was far from a solo show. The handler duo of Charlie Smith and Charles Lieberman were both fantastic as well. The two Miami El Nino players facilitated the offense, oftentimes working in long stretches without throws downfield. When they did find receivers in space, it was usually Everest Shapiro or Kai Durvasula. Durvasula in particular acted as the connector for the offense much of the day and became the focal point of many offensive possessions.
Essentially, the offense is up to par with the best teams in the pool — neither NC State nor Pitt could really slow them down for long. Unfortunately, the defense does not quite match yet. Tulane is certainly deeper than many thought, but they don't have an elite defense capable of shutting down opposing teams' top players. They were very opportunistic after the turn, punching in a number of break opportunities off of unforced errors. However, when it mattered most down the stretch, they simply could not stop Trevor Lynch.
We hinted at in our pool preview, but Tulane is an easy team to root for. They have a positive, fun vibe at all times and are working towards supporting a fantastic cause back home. The Tucks came very close from setting up a monster showdown with Brown on Saturday where both teams would have been 2-0. Still, the path to prequarters for this team, while far from easy, is straightforward. Take care of business against Illinois and they keep themselves in the conversation. Shock Brown and they might just win the pool. Bottom line: don't sleep on the Tucks. They came to play.
Northeastern has the Talent to Compete with Any Team
#13 Northeastern simultaneously had one of the most impressive and most disappointing 0-2 days you will ever see in ultimate. After taking half on Cal Poly SLO in round one, Northeastern stormed out of half to an 11-8 lead before faltering down the stretch, eventually falling 13-12 on double game point. However, that did not discourage the Huskies as the very next game against #10 Georgia they again came out hot, taking half and again stretching their lead to 11-8 before falling off late, losing 15-13.
The Huskies showed all makings of an incredible team today, with top-level talent and performances on both sides of the disc from Gus Norrbom, Ben Field (who is playing with a broken thumb and torn ligaments in his hand), Peter Boerth, Simon Carapella, and Allen Shen. Northeastern showcased an impressive amount of depth as well, with contributions and big plays coming from up and down the roster.
Northeastern's coaching staff also looked plenty ready for the big stage today. Between making game-by-game adjustments to limit the impact of Cal Poly SLO's Calvin Brown and KJ Koo with a junk defense to mostly stopping an athletic and tall Georgia team, head coach Dan Hourigan and assistants Angela Zhu and Timothy Bobrowski proved ready to handle any challenge.
Georgia coach Liz Leon had strong praise for Northeastern after their Round 2 game, stating, "I was super impressed by their grit and determination. Kudos to them for coming off a tough loss to Cal Poly SLO and immediately being ready to fight out of the gate. That's not always an easy thing to do."
In the end, Northeastern was just a few plays away from ending the day 2-0 and heading into a very different-looking Saturday morning.
Attempting to Guard KJ Koo: "He's a Lunatic"
We saw some fantastic individual performances on Friday, but no one matched KJ Koo. When Calvin Brown went down with an injury against Colorado, the whole Cal Poly SLO offense changed. Instead of riding Brown's hucking ability, SLOCORE switched to a much more possession-based offense predicated on quick handler movement and following throws for continuation passes. At the heart of it was Koo.
"I have a short memory," Koo admitted when asked about the loss of Brown. "So, I just move right on. I'm like 'Alright, this is going to be fun. We get to work even harder.'"
Most points, he went every other throw, working his team into scoring range. He dropped a few dimes, beat a number of Colorado defenders upline, and consistently broke the mark. The 2020 DPOTY runner-up looked largely unstoppable.
"He's a lunatic, man," said Colorado's Quinn Finer after the game, meaning it as a compliment. "He doesn't stop running. It's really hard to guard him in the lane for seven seconds when he is just booking around full speed. Kind of hate playing against him, but he's a good player."
Mamabird entered as one of the biggest favorites to win a national title following an impressive club season where most of their roster competed as Boulder Lotus, which culminated with a trip to club nationals. Colorado should have cruised to a win against SLO, especially with the other side missing its best thrower. Instead, Koo put in a Herculean effort to help Cal Poly build a lead, but the offense crumbled in the closing minutes of a 14-13 loss.
"I'd rather play a game like that and lose, than win by a large margin," said Koo. "Those games, that's why we play. That's the best thing to do. Just play those universe points. Outcome sucks, but we learn a lot more from those than we do from crushing teams."
Questionable Field Conditions
Torn-up fields are a staple for many college ultimate players. There is a different expectation though at Nationals. People want to see sweeping grass lawns, bright green colors, and as little mud as possible. That was not the case in Norco on Friday. The showcase field where the men's games were being filmed was a mess. Players regularly slipped and fell throughout the day. Several suffered tweaks and injuries.
It is incredibly difficult to find a complex to accommodate 72 college teams, coaches, spectators, media, and more all in one place. However, it would have been nice if the fields did not seem so overused. They were chewed up before players ever set foot on them. As the day wore on, the conditions only got worse. Winter conditions likely contributed to some of this slippery surface, but countless soccer, lacrosse, and whatever other sports are booked at SilverLakes Sports Park clearly led to a deteriorated surface that impacted the level of play.
Athleticism Goes a Long Way in a Short Season
Whether it was field conditions, a lack of polished systems, or overall lack of team chemistries, one thing was clear: athletic plays dominated. Today was full of big skies, bigger layouts, and speed. Across the division, throws were not as accurate and tight windows became death traps for any offense. When teams are having trouble squeezing throws into tight spaces, hucking and floaty throws reign supreme. From Utah State and Georgia's huck-happy offenses to Cal Poly's Calvin Brown and UNCW's Connor Russell slinging it around the field, the deep shots were rolling all day today.
Although we expect offenses to get cleaner as the tournament rolls on, the importance of athleticism and the deep game is unlikely to become less prevalent. Teams simply have not had as much time together as usual to work on their team chemistry and offensive sets, leaving much to be desired in the small-ball game and leading teams to one conclusion: when in doubt, huck it.
Quick Hitters
In a somewhat rare instance where a team raved about an opposing player, Ohio State's leadership was quick to praise UNC Wilmington's Connor Russell for his performance in Leadbelly's double game point victory over the Seamen. A rare player who is both the best thrower and the biggest deep threat on the field at the same time, Russell's 6'5″ frame allows him to break any mark at will, zipping pinpoint 50-yard blades around the field, and even going every-other for an entire point in a dominator set. A stud on Ring of Fire's D-line, the lefty may be one of the best X-factors a college team could ask for.
A number of key players are dealing with injuries. Calvin Brown left vs. Colorado and his status for Saturday and the rest of the weekend is unknown. Colorado's Alex Atkins is reportedly 50-50 to play Saturday after suffering a knee injury against Cal Poly SLO. Austin von Alten sat out NC State's first two games but could be in line to play later in the tournament. It remains to be seen if Wisconsin's Saul Diaz will suit up after missing out on Friday as well.
Pitt faces three must-win games tomorrow. Pool play games against Illinois and NC State are musts if En Sabah Nur want to reach the bracket, which would set them up for a prequarter matchup in a crossover with a tough Pool A.
Although their two Day 1 wins came against the bottom seeds of their pool, #10 Georgia's physicality, aggression, and athleticism cemented them as a good candidate to pull off an upset in their games against Cal Poly SLO and/or Colorado on Saturday.
As usual, chaos has come to college nationals; expect more excitement and upsets on Day 2.