Jojah makes the penultimate round of the national championships for the first time in 15 years.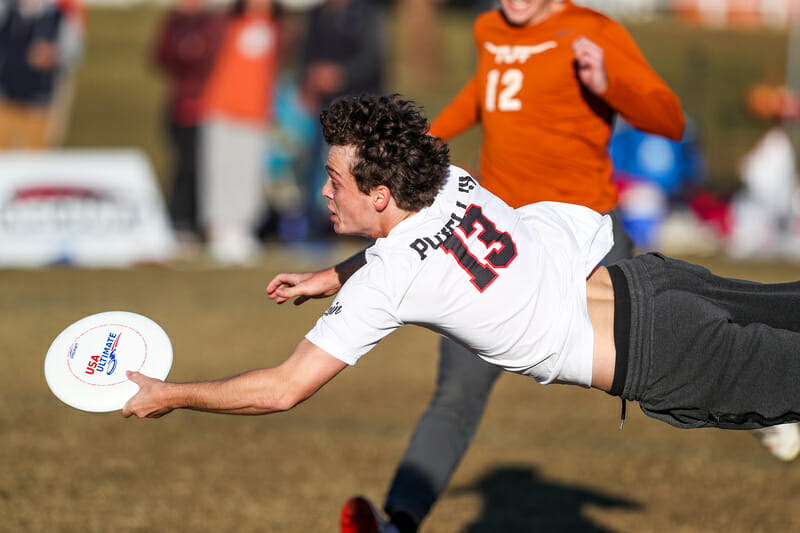 Our coverage of the 2021 College Series is presented by Spin Ultimate. You can get 15% off all college uniforms and swag right now at Spin Ultimate!
For two teams that have been praised for their defensive prowess, it was a bit surprising to see #10 Georgia Jojah and #7 Texas TUFF put on a clinic of efficient, explosive offensive with just three breaks between the two teams. In the end, it was Jojah who secured the critical extra break to earn a 15-13 victory and claim a spot in the national semifinals for the first time in a decade and a half.
Georgia had an early edge in the game, at least mentally. "We were kind of pissed," Hayden Austin-Knab said after the game. "Texas was pretty stingy on not letting us wear our reds. That kind of gave us some fuel."
Stingy was the name of the game on both sides in the early going, as it took ten points before we saw either offense give the defense even a whiff of a break opportunity. Jojah ran its offense through the terrific trio of Austin Downey, Hayden Austin-Knab, and Matt Cook. Georgia leaned into its identity as a long-ball offense with ton of hucks early on, but Texas seemed to have no answer for them. Cook was the catalyst for many of those early deep looks, winning in the air with consistency. However, he never scored, instead tossing five assists.
Finally, with the game tied 5-5, we had our first turnover. Texas's Matt Chambers overthrew Jake Radack looking for a goal, but Georgia was unable to capitalize. That throwaway was one of the few low lights for Chambers, who picked up five assists in the game. Many of them went to Shane Heath, who finished with three goals and four assists of his own.
It took until 6-6 for us to get a break. Drew Di Francesco came up with a massive layout block and then scored the ensuing goal to give Jojah its first lead of the game at 7-6.
Georgia took an 8-7 lead into halftime and opened the second frame with a clean hold. As Texas began to adjust to the deep shots, Jojah started grinding unders.  Jake Powell and Ryan Flick worked hard to create space and hit continuation plays, often finding Austin-Knab or Downey for half-field shots. Downey scored four goals, but it was Austin-Knab who really dominated. He posted four goals and four assists in the type of performance that puts him in the Offensive Player of the Year and First-Team All-American conversation.
Texas was not done though. Trailing 10-9, Texas punched in its first break. Noah Chambers came inches away from a clean block, but the next throw landed in the hands of Matthew Armour. Gavin Babbitt swung it to Saaketh Palchuru, who showed good awareness to get his feet into the end zone for the goal. Suddenly, TUFF had new life tied at 10.
They could never earn another break though. Jojah settled down immediately and punched in a clean hold. Georgia continued to lean into its zone defense, despite their only forced turnovers of the game coming when they transitioned to person defense. Coach Liz Leon said they wanted to continue to work on their systems and felt good about how the defense played.
Her faith was rewarded as Adam Miller swatted a short reset and Georgia called timeout. Out of the timeout, UGA went to a dominator set and Miller found Jared Bennett for the game-winner. Georgia stormed the field as it clinched its first semis appearances since 2006.
Downey and Austin-Knab preached trust throughout the team. "We've been getting better every game this tournament," said Austin-Knab. "I know my guys are going to get open."
For Texas, it was an excellent game where they came up just a few plays short. Their inability to turn Georgia over was the biggest difference in the game. There are some exciting young playmakers on this Texas squad though, which bodes well for the future. Aaron Barcio made one of the plays of the game with a sensational layout catch for a score. Xavier Fuzat scored nine goals between the prequarters and quarters. As Matt Chambers put it, "I have the best receivers on the field."
Meanwhile, Georgia will now turn its attention to Michigan in the semifinals. Everyone on the Georgia sideline seemed excited about the stage it will bring.