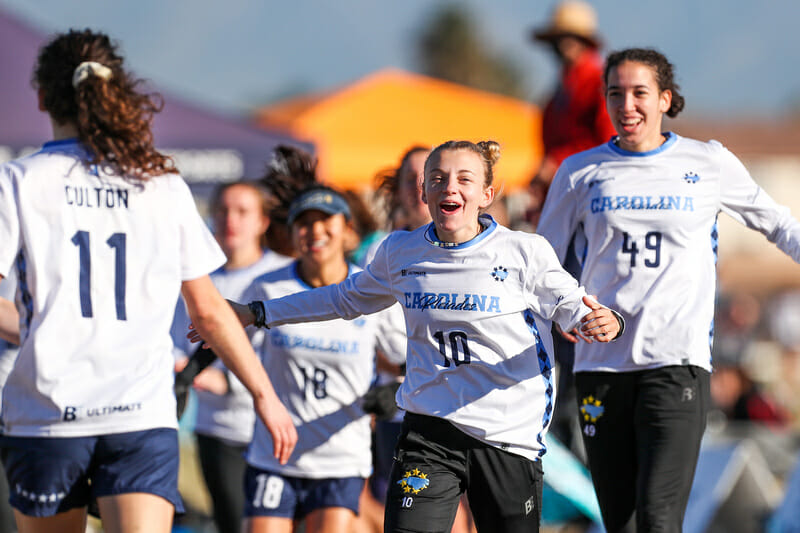 Our coverage of the 2021 College Series is presented by Spin Ultimate. You can get 15% off all college uniforms and swag right now at Spin Ultimate!
#2 North Carolina Pleiades looked like the strongest team in the women's field coming out of pool play having comfortably dispatched all of their Pool B opposition. On Sunday morning, they proved that their performance over the first two days in Norco wasn't an illusion, going unbroken against #5 UC San Diego.
Let's say that again and let it sink in. D-Co, the reigning national champions and top 5 ranked team in the country could not earn a single break against this pristine Pleiades' offense.
UNC got up early and stayed there. They were able to build their lead via pinpoint hucks with the help of Tyler Smith, who was previously unavailable for all of pool play due to a calf injury that happened just a week ahead of Nationals at practice. Smith tested it out in this quarterfinal round and she proved to be her typical valuable self.
"It's pretty easy to threaten deep with athletic receivers," said Smith. "I just put it up and they'll go get it. We'll continue to look for that."
The Pleiades held a constant two-point lead over UCSD through the first frame, then broke into the half with a score of 8-5. While the break opportunities were there for Dragon Coalition, they couldn't convert.
Carolina's offensive line continued to crush it in the second half, refusing to allow UCSD to close the gap. On the other side of the disc, Dawn Culton proved more than capable of guarding anyone on UCSD, including Alex Diaz, as she denied the D-Co star a deep score. Culton then threw an assist for the break, with the Pleiades now really pulling away from D-Co, 10-6.
The UNC O-line flowed and when it was time for them to take a break, the Culton calvary held it down on defense, giving UCSD fits and making a credible case for inclusion in the DPOTY conversation — if not outright POTY. D-Co occasionally found some room to work, but they couldn't keep it up with the consistency necessary to claw back into the game. The Pleiades hit 15 at a trot, more than doubling up their illustrious opposition and further establishing their favorite status this weekend.
The defending champions made it arguably further than most expected after losing much of their team from 2019, so have much to be proud of despite the lopsided scoreline in this one. This game will be the last for many on this team, like graduates Lauren Stuart and Sara Zhang. "This team is a huge part of our life, the friendships, the family," said Stuart. "It's not about how far we make it but how much fun we have." Zhang also shared some key players to look out for on D-Co because 2022 College Nationals is not that far far away. "Freshman Abbi Shilts skies everyone," said Zhang. "Oh and Emma Ellefson-Frank is going to be really good — both her parents played frisbee."
Editor's Note: A previous version of this story included a misquote from North Carolina's Tyler Smith. The error has been amended.