"While Syzygy had some uneven performances in pool play en route to a perfect 4-0 record, there was no such derailment of the Carleton train in quarterfinals."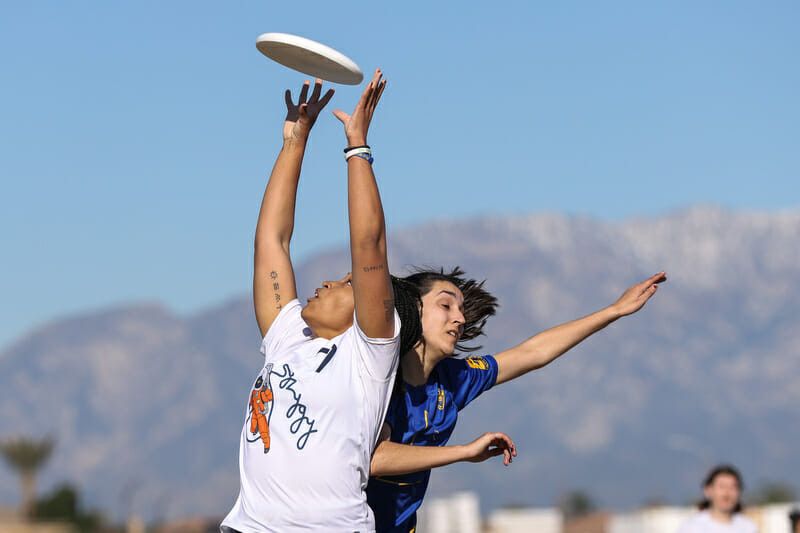 Our coverage of the 2021 College Series is presented by Spin Ultimate. You can get 15% off all college uniforms and swag right now at Spin Ultimate!
Coming into the weekend, no. 1 overall Carleton Syzygy appeared on a path to destiny across the bracket from no.2 seed North Carolina Pleiades, looking for redemption after an incredible universe point loss to UC San Diego in 2019 ended a promising run in the quarterfinal round. While Syzygy had some uneven performances in pool play en route to a perfect 4-0 record, there was no such derailment of the Carleton train in quarterfinals as they beat no.6 Pittsburgh Danger 15-8 with a decisive 8-3 advantage in the second half making up the bulk of the margin.
The opening exchanges didn't foreshadow the eventual lopsided result, with Danger taking the first point with a comfortable hold to Celeste Picone. The veteran cutter's consistent excellence downfield was a welcome outlet for Pittsburgh's stable of handlers — Annelise Peters and Miranda Kosowsky led from the backfield — and she also linked up well throughout the weekend with 2020 Callahan nominee Linn Bjanes.
However, while Pittsburgh were able to remain level with Carleton through the first ten points, Syzygy opened up a three point lead going into halftime as their top-end talent started to shine through. Well-known names Kate Lanier, Carly Campana, and Nariah Sims combined to fill up the stats sheet, but it was Tori Gray and Lauren Yamasaki-Liske who stood out from the talented crowd. Gray put up an incredible stat line of three goals, two assists, looking at times like the fastest player on the field, while Yamasaki-Liske came up with big play after big play on both sides of the disc, either diving to save possession on the opening score for Syzygy, or getting up big to force a turn from Danger.
However, Carleton's entire roster of nearly 30 contributed to their success, something their opposition acutely felt during the game. "Every single person there always was able to give one-hundred percent," observed Pittsburgh veteran Miranda Kosowsky. "We would tip discs and we'd think 'Oh okay, now it's our turn to play offense,' and they would have someone bidding to grab it and just keep the point alive for them, and that's the kind of athleticism that gets you into the semis."
Receiving out of halftime, Carleton used that athleticism to generate easy open looks for the 9-5 hold, and then Gray effectively made the following Syzygy score happen all on her own. Pitt turned it on a reset throw on the goal line while threatening to score, and Gray got the disc in position to throw a huck to Eleanor Vandel, eventually catching the goal for the break and the 10-5 Carleton lead. As part of that impressive 8-3 second half, Syzygy had two more pairs of back-to-back goals as they extended their lead and ensured Pittsburgh couldn't make any sort of real comeback, with Danger only able to generate a single first-half break.
Syzygy face off against Washington Element in the semifinal nightcap, and looking ahead to that game Carleton coach Logan Weiss emphasized the intention to continue to grow together as a team even as Carleton try to make their first national final since 2013. "We, even though it's called Nationals here, haven't had the typical lead up into it that we would for a traditional Nationals," he noted. "So we've been doing a lot of learning both in terms of strategy and also building chemistry and remembering what it's like to play with this group of people." Through their first five games, including this comprehensive win against Danger, Syzygy have shown their learning edge and they'll look to put it to good use in that late-night semifinal.