Highlighting players who took a leap toward stardom in the division this fall.
Ultiworld's 2021 College Awards are presented by the National Ultimate Training Camp; all opinions are those of the author(s). NUTC helps young players become better athletes and community members.
Each year, Ultiworld presents our annual College Awards. While the 2021 college season certainly wasn't typical with its quick course through a fall Series to a first-ever December College Championships, we still want to celebrate and honor the tremendous performances we saw.
The Breakout Player of the Year recognizes players who made themselves known in a new light this season. Typically reserved for rising juniors and seniors, we have temporarily expanded the eligibility for this award due to the unusual nature of the fall Series and multi-season pandemic hiatus. While our nebulous definition of "breakout" reflects an evolving set of criteria, rather than celebrating the improvement of those from whom big things were already expected, we aim to use this award to celebrate the emergence of those who previously have not been on the national radar. Whether it be through growth in ability, role, or both, the Breakout Player of the Year and runners-up honor those who rose to the occasion with improved and high-impact performance on a new level this fall — putting them squarely in the spotlight moving forward.
Breakout Player of the Year Award
---
D-III Women's 2021 Breakout Player Of The Year
Sophie Havranek (Occidental)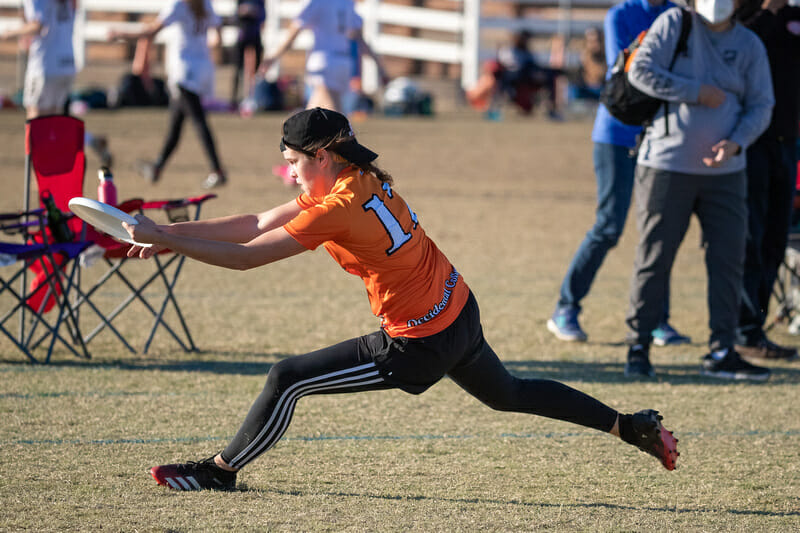 Coming into Nationals as the no.9 seed, Occidental arrived in Norco with a fire fueled by standout cutter Sophie Havranek. Throwing 5 assists and scoring 6 goals across two bracket games at Nationals — notably carrying the endzone offense in prequarters against Rochester — Occidental's success would not have been possible without Havranek.
Undaunted by the big names coming into this tournament, Havranek took on the hardest matchups on the field and repeatedly forced turns against eventual-finalist Portland in the quarterfinals. After all, UPRoar's tightest victory of the weekend was against the Women's Air Corps.
It is clear why Sophie Havranek is one of Occidental's captains. The team utilized her confidence with the disc and defensive skills to secure their fifth-place finish. Looking to the spring, Havranek, a senior at Occidental, will be returning to lead her team once more. This time, she will be a player to watch now that she has firmly established herself as a force to be reckoned with in the division.
1st Runner-Up
Alouette Batteau (Vassar)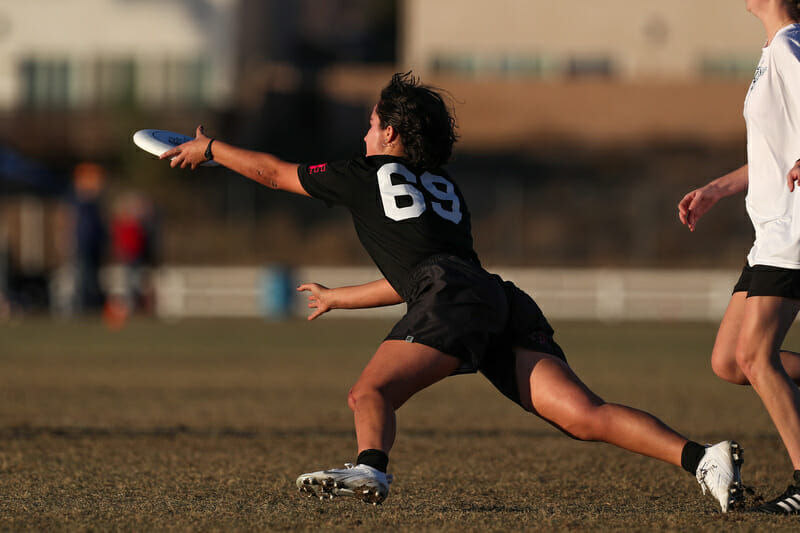 Vassar's success at Nationals would not have been possible without junior captain Alouette Batteau's dominant performance for the Boxing Nuns. Batteau was critical to her team's exhilarating victory over Rice in the prequarters, saving questionable throws with layout grabs, finding her teammates in all corners of the field with picturesque hucks, and connecting for a game-high seven assists.
Ultimately, Vassar finished 8th at Nationals, achieving the captains' goal of breaking seed. The Boxing Nuns are certain to utilize Alouette Batteau's talents this spring, and following their experience playing the high-level field in Norco, the whole roster is sure to return with fiery excitement.
2nd Runner-Up
Anna Sivinski (Lehigh)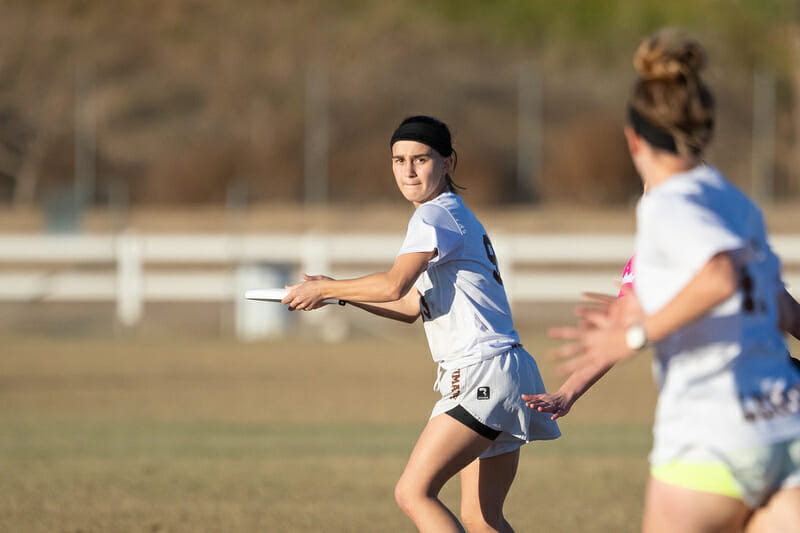 Senior captain Anna Sivinski is a versatile and gritty player who quickly proved herself as a crucial part of Lehigh Gravity's offensive and defensive lines. Sivinski was comfortable in every position on the field, directing the offense as a center handler and then streaking deep to catch hucks — not to mention highlight layout grabs to maintain possession or score. Notably,1 Sivinski was so dominant in Lehigh's game against Rochester, that she found herself faced with a box-and-one by the EZ's defense, and took the added challenge in stride.
This year seemed to be a building year for Lehigh, with a 19 person roster divided evenly by seniors and underclassmen, Sivinski led her team through her experience. Lehigh's record from Nationals may not be picture-perfect, but they are sure to come back with a determined full roster in the spring.
---