Celebrating the best offensive performances of the fall season.
Ultiworld's 2021 College Awards are presented by the National Ultimate Training Camp; all opinions are those of the author(s). NUTC helps young players become better athletes and community members.
Each year, Ultiworld presents our annual College Awards. While the 2021 college season certainly wasn't typical with its abbreviated regular season and the first to host a fall Championship Series, we still want to celebrate and honor the tremendous performances we saw.
The next of our awards is the Offensive Player of the Year, highlighting the elite offensive threats the division has to offer. This winner, as well as each of their runners-up, was a consistent and overwhelming offensive presence that dominated the season.
Offensive Player of the Year Award
---
D-I Men's 2021 Offensive Player Of The Year
Alex Davis (North Carolina)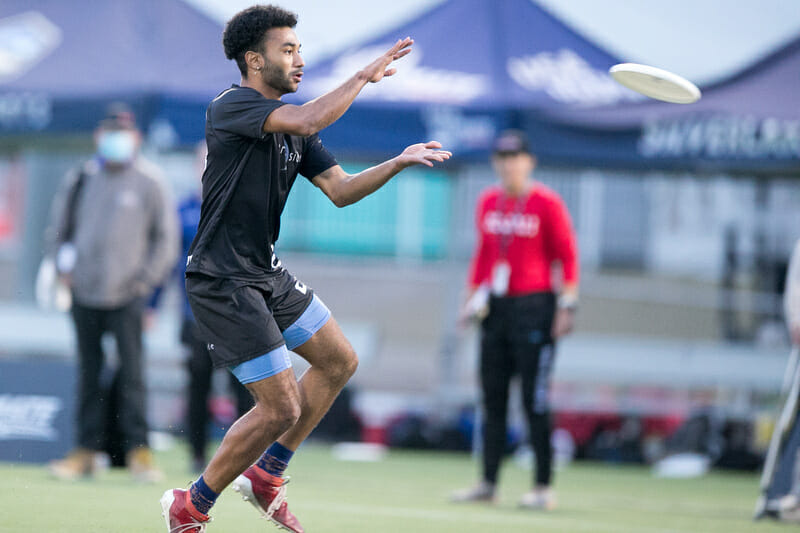 Alex Davis knows he's faster than you. You know it. He knows you know it. And he knows just how to make you feel it on the field.
That isn't all of Davis's game – far from it – but it's the cornerstone. The fundamental knowledge that there was no way for you to get to the disc before him drove the most spectacular offensive performance of the year. He leaned on straight-line speed in the deep space like a power pitcher on his fastball – defenses had no choice but to sit on it and hope to adjust if he did anything else. Not that planning for Davis' Plan A did much good. If he spied a thrower with just a sliver of daylight past the mark, chances are he broke for the end zone, no matter how well his defender had him positioned.
The upshot? Buckets. Lots of them. There are no stats for North Carolina's pool play games from Nationals, so you'll have to extrapolate the numbers there from his scorching bracket line: 12 goals across three games against arguably the best three non-UNC teams (Colorado, Brown, Georgia) at the tournament, and a pair of assists in the final for good measure. And none of it cost UNC so much as a single possession: Davis played turnover-free ultimate.
The numbers alone don't do justice to the Davis show. Between the ability to beat his matchup deep or under, stretch the defense with the threat of his legs just by being present on the field, or – and this was a layer to his game that fully bloomed for the first time in 2021 – regularly bend throws somehow into the mark's shadow just when they thought he would be forced to take a less advantageous reset, he was the skeleton key that unlocked every situation for the Darkside offense. Whether they moved the disc through him or not, UNC always had plenty of room to operate because Davis was on the line.
Maybe there's something in the water in Chapel Hill – Davis is the third consecutive Darkside player to win this award.1 This one, though, carries a special weight. A torn ACL derailed what would have been a remarkable 2020 for him. After that setback, not to mention the subsequent catastrophic loss of almost two years of competition to the pandemic, a little reckoning with Fate was in the offing. How wonderful, then, to witness Davis take back, in breathtaking fashion, so much more than his share of what was lost.
1st Runner-Up
KJ Koo (Cal Poly SLO)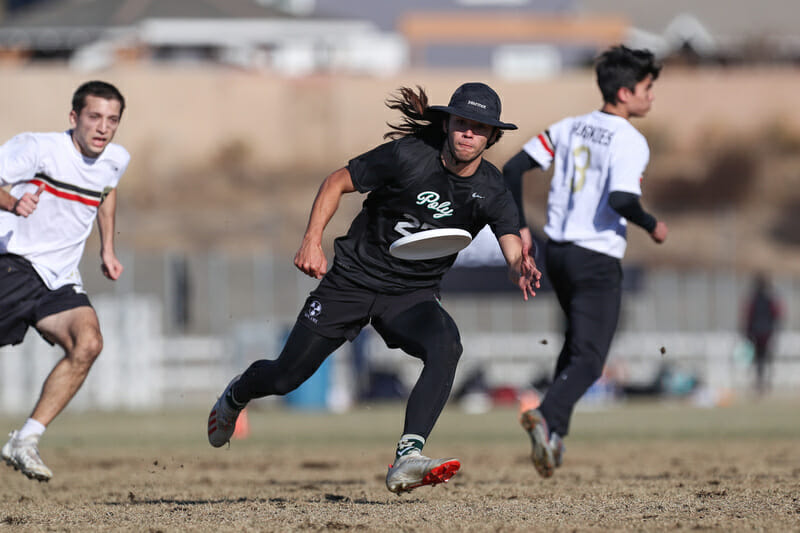 Perhaps no player at Nationals accounted for more of their team's offense than KJ Koo did for Cal Poly SLO. After SLOCORE's star center handler Calvin Brown went down in their second game with an injury and could not play for the rest of the tournament, Koo erupted, exchanging his downfield role for the role of being virtually their entire offense.
Koo was as close to unstoppable as a college player could possibly be, going every other on what seemed like every single SLOCORE hold, and he did it all while battling through health issues of his own and while thrust into a larger role than his team had surely planned for. Koo has an arsenal of every throw imaginable, consistently creating space for his receivers. Simultaneously, Koo gets open on every cut, stopping his defender in their tracks with his jukes and creating massive throwing windows.
The 2020 DPOTY runner-up, with the help of SLOCORE's supporting cast, nearly willed Cal Poly back to the semifinals, falling to Brown on double game point, a universe point where they had the disc on Brown's endzone line. Koo's value to SLOCORE was demonstrated clearly in their game against Ohio State in the prequarters; when leading 13-7, SLOCORE decided to give their ailing senior captain a rest. The lead quickly dwindled to 14-11 without Koo, who then subbed back in to secure the victory. KJ Koo was a one-man wrecking ball on the offensive side of the disc.
2nd Runner-Up
Anders Juengst (North Carolina)

The 2020 D-1 Men's Offensive Player of the year is back on the podium for a second straight season, this time bringing home the third spot. While it may seem shocking to see Anders Juengst drop two spaces on the podium this time around, it's important to remember just how deep and balanced UNC Darkside's roster was, also featuring the guy at the top of this article, POTY runner-up Elijah Long, and a handful of other stars that are easily All-American talents.
In his final season with UNC, Juengst was the motor that made Darkside's offense run, consistently leading the team in touches, and turning in a 1 goal, 6 assist performance in the national championship game. Juengst field-generaled a Darkside O-line that was largely unchallenged throughout the weekend, and likely would have been even more productive if Darkside had needed it.
The 23-year-old grad student consistently gets open with his lightning quickness, is capable of hitting any break throw that Darkside's offense needs, and is the best in the division at what he does. Fresh off an AUDL title with the Flyers and a club championship with Ring of Fire — both teams where he also played an important role — Juengst completed an unprecedented run of success in 2021. He has developed into one of the world's elite offensive players on and his impact on the college division won't be soon forgotten.
---
Liam Searles-Bohs and Anders Juengst won it in 2019 and 2020, respectively. ↩